Atlanta
12. Marine Grade
Atlanta Rescue Boat
Atlanta Rescue Boat, another innovative product of Atlanta Industries, Inc. It is made with Marine Grade PVC Tubes for maximum buoyancy. Atlanta Rescue Boat is manufactured and tested in accordance with ASTM/ISO standards and can accommodate both inboard and outboard engines. Up to 900kg or 15-18 persons lifting capacity. This Watercraft Concept is Patented and registered with Intellectual Property Philippines.
FEATURES & BENEFITS
Catamaran Design – less drag for greater speed allows rescuers to arrive target points swiftly, and this design also adds stability and maneuverability in rough and tight situations.
Practically no Keel for ultra-low draft (can run in knee high water)
Large, flat deck space for carrying massive cargo and easy stacking, as well as maximizing seating capacity with safekeeping compartments.
No Puncture unlike most Rubber Boats.
All Panels of the guardian (side panels, deck, engine housing) are made of our proprietary Ultra-low Density synthetic wood for Superior Lightweight and Floatability Technology.
95% of the whole watercraft is made of buoyant materials.
Any part of the whole watercraft can be secured anywhere in the whole archipelago. (For Briggs and Stratton)
Most Cost Effective in all water crafts and can last for Decades.
Bottom 6 pipes filled with Extruded Polystyrene Foam to enhance 100∞ floatation.
Fire Retardant components added to ensure protection even when exposed to open fire
Can be customized to be amphibious or side wheels for vertical transport thru traffic jams.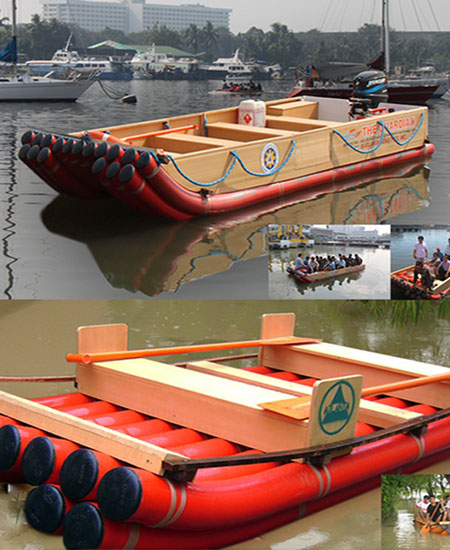 sponsored links
SIMILAR COMPANIES/PRODUCTS/SERVICES
Terms of Use/Privacy Policy Advertise Buy me coffee