4. Distribution Piping Products
Atlanta Molecor High Pressure Water Distribution System
Atlanta FlowGuard Pipe & Fittings Hot and Cold Potable Water Distribution System
Atlanta Watermain uPVC Potable Watermain Distribution Pipes & Fittings
Atlanta PPR Hot & Cold Piping System
Atlanta Irrigation Pipe Golf Course Pressured Irrigation System
Atlanta HDPE High Density Polyethylene Pipes & Fittings
Atlanta Compression Fittings PP Compression Type Pressure Fittings
Atlanta Molecor
Atlanta PVC-O pipes are the most advanced pipes for the conveyance of high-pressure water currently available on the market, with a number of exceptional features for this kind of application, thanks to the process of Molecular Orientation.
PVC is essentially an amorphous polymer in which the molecules are located randomly. However, under certain conditions of pressure, temperature and speed, by stretching the material, it is possible to orient the polymer molecules in the same direction as which the material has been stretched.
Depending on the process parameters used and mostly stretch ratio, a higher or lower orientation degree will be obtained. The result is a plastic with a layered structure which layers can be seen at a glance.
FEATURES & BENEFITS
Unbeatable Impact Resistance – Atlanta Molecor pipes have a high resistance to shock. This means that are minimized breakages during installation or during on-site trials caused by dropping or by impacts from stones. Furthermore, Molecular Orientation prevents the propagation of cracks and scratches and eliminates the risk of rapid crack behavior. The result is a spectacular increase in the product's useful life.
High short - and long-term hydrostatic resistance – Atlanta Molecor pipes offer a resistance to internal pressure of up to two times the nominal pressure (32 bars in PN16 bar pipes or 400 psi in PN200 psi), which means they can bear sporadic excessive pressure such as water hammers and other malfunctions in the network. Moreover, the material creep behavior is very low, ensuring the durability of the pipe working at nominal pressure for over a hundred years.
Excellent response to water hammers - TOM® pipes offer lower celerity than other piping systems (four times less than ductile iron pipes), which means less water hammers caused by sudden variations in water volume and pressure. This reduces and almost eliminates the possibility of breakage during opening and closing in the water network and when pumping gets under way, protecting every component of the network.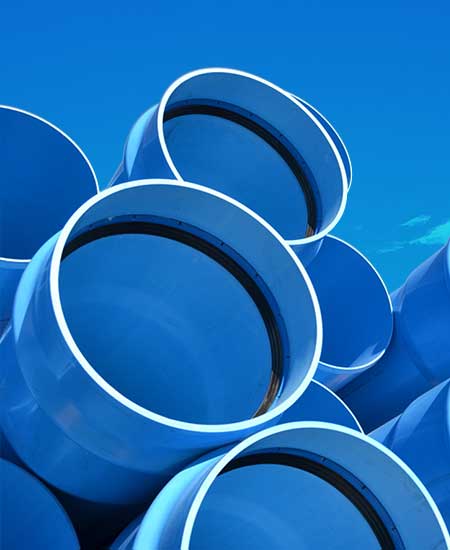 Atlanta FlowGuard Pipe & Fittings
Flowguard™ Plus is a Hot and Cold Potable Water Distribution System made of chlorinated polyvinyl chloride (CPVC) for use in single and multi-family homes, apartments, high-rises, hotel-motels and commercial installations. Flowguard™ Plus CPVC has been used for hot and cold-water distribution in the United States since 1960. It has a history of superior performance and competitive prices compared to metal and other alternative piping systems. Solvent cementing that, through chemical bonding, essentially makes pipe joints CPVC pipe and fittings and fittings become one continuous piece. Flowguard™ Plus  CPVC meets requirements of both NSF/ANSI Standard14 – Plastic piping system components and related materials and NSF/ANSI Standard 61- Drinking Water System, components-health affects.
Atlanta Industries Inc. is the licensed manufacturer of Lubrizol USA, formerly BF Goodrich, for Flowguard™ Plus plumbing systems in the country. Flowguard™ Plus pipes & fittings are made from specialty plastic, chemically known as Chlorinated Polyvinyl Chloride (CPVC). These CPVC compounds meets cell class 24448 B as defined by ASTM D1784 and have a design stress of 2000 PSI and a maximum service temperature up to 93ºC.
Pipes are produced in Copper Tube Size (CTS) from 15mm (1/2") to 50 mm (2") with the standard dimensional ratio = SDR 11 and SDR 13.5. All Atlanta CPVC pipe and Fittings in SDR 11 and SDR 13.5 are made from the identical CPVC compound having the same physical properties. Pipes and Fittings produced as per SDR 11 meet the requirement of ASTM D2846 where as the pipes produced with SDR 13.5 meet the requirement derived from ASTM F442, specific to CPVC Copper Tube Size (CTS) dimensions.
Atlanta Industries, Inc. also produces Flowguard™ Plus in Iron Pipe Size (IPS) available sizes are 65mm (2-1/2") to 150mm (6") in SCH 40 and SCH 80.
FEATURES & BENEFITS
Biofilm Formation Resitance – Biofilm is aglue-like substance that forms when cateria adhere to surfaces in aqueous environments. Multiple international studies have confirmed the superior antimicrobial performance of CPVC over other piping materials, especially polypropylene (PPR).
Biofilm Formation Potential  (BFP): Potential growth of bacteria on a material surface that is in contact with water (e.g., pipes, flushing containers, storage containers).
Turbidity Resistance – Study conducted by Prof. F. L. Hart of the Worcester Polytechnic Institute for the US Fire Administration, Federal Emergency Management Agency – 1996.
Bacteria Resistance – During a biofilm formation potential study of pipe materials, the growth of Legionella bacteria in the water was low when using Flowguard™ Pipes and Fittings.
Internal installations for H.R. Veenendaal I D. van de Kooiy – KIWA, the Netherlands, 1999.
Chlorine Resistance – Flowguard™ Plus Pipes and Fittings has been tested for chlorine resistance according to NSF P171 Protocol. After 23 Years of use, there was no erosion of the pipe wall and no decrease in long-term hydrostatic performance.
Corrosion Resistance – Unlike other materials, like metals, Flowguard™ Plus will not corrode and deteriorate due to oxidation.
Fire Retardant – Flowguard™ Plus Pipes and Fittings inherently exhibit outstanding fire performance characteristics in terms of limited flame propagation and low smoke generation. Flowguard™ Plus Pipes and Fitting have been evaluated by Underwriters Laboratories Institute (ULI), South Research Institute (SWRI) and Factory Mutual (FM). Flowguard™ Plus Pipes and Fittings have also been tested according to the EU fire classifications and obtained the best possible results for a synthetic material.
Flash Ignition – Flowguard™ Plus has a flash ignition temperature of 482ºC, the highest of any piping product.
Fire Safety – Flowguard™ Plus Pipes and Fittings have a Limiting Oxygen Index (LOI) of 60. Thus, Flowguard™ Plus Pipe and Fittings do not support combustion and won't spread flames or generate smoke like other plastics. It also does not  increase the fire load of a property.
Thermal Conductivity – Flowguard™ Plus plumbing systems have low thermal conductivity, helping hot water run more efficiently.
Tenacity – Flowguard™ Plus Pipes and Fittings has high tensile strength compared to other thermoplastic materials.
Weather Resistance – In-use applications, including many long-standing outdoor installations, demonstrate that Flowguard™ Plus Pipes and Fittings can withstand long-term exposure to environmental elements without significant adverse effects.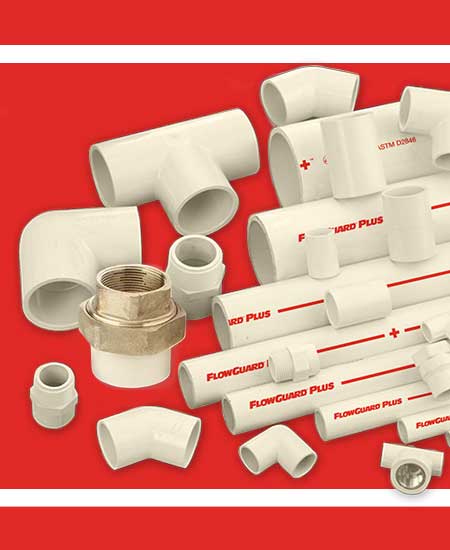 Atlanta Watermain uPVC Potable Watermain Distribution Pipes & Fittings
Atlanta Watermain is ideally applicable for Potable Watermain distribution system. It is duly accepted & approved by MWSS & LWUA. Conforming to ISO Standards, BPS PNS-65 & ISO R-161.
FEATURES & BENEFITS
Lightweight
High Strength
Corrosion Resistance
Economical
Easy to Install
Long Service Life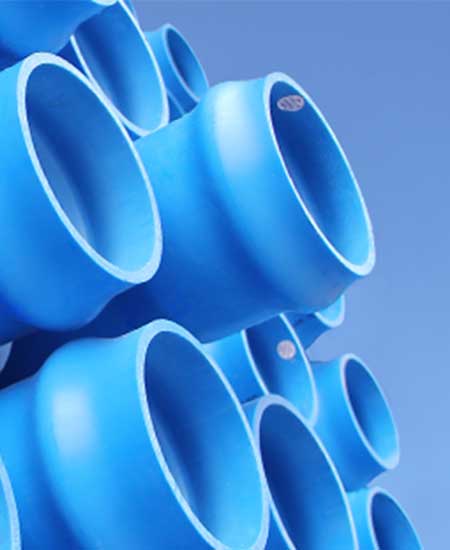 Atlanta PPR Hot & Cold Piping System
Atlanta PPR Pipes and Fittings is the first and most trusted PP-R pipes proudly Philippine made. It conforms to DIN8077 & DIN 8078 standards for pipe and DIN 19560/16962 for fittings.
FEATURES & BENEFITS
No calcification
Non-corrosive
Leak proof
Non-decaying & Non-deforming
Non-Contracting Diameter
Wide variety ranging from 20mm to 200m to suit your diverse needs
Smooth inner surface thus reducing the operational pressure required by the motor/pump
High Chemical Resistance, physically neutral
No bacteria & moss reproduction within the pipe
Resistance to high temperature (93ºC)
Heat preservation & energy saving (No need for insulation)
Taste & odor neutral
No reaction with salts & acids
UV Stable from sizes 25mm & above
Available in different pressure ratings for diversified usage from economy range to premium coverage.
Recyclable – for the benefit of environment
Unique & Unrivaled jointing techniques with security for a lifetime.
Convenient & Reliable installation
Low laying time & cost.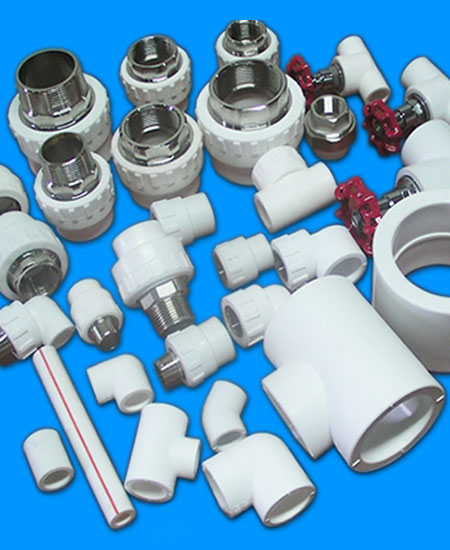 Download brochure
Atlanta Irrigation Pipe Golf Course Pressured Irrigation System
Atlanta Irrigation pipes is another quality product of Atlanta Industries made from PVC material, specially made for transmission line, potable water distribution and golf course irrigation system.
FEATURES & BENEFITS
Economical
Easy to Install
Non-Toxic
Rust Free
Available in Solvent Cement Type and Rubber ring connection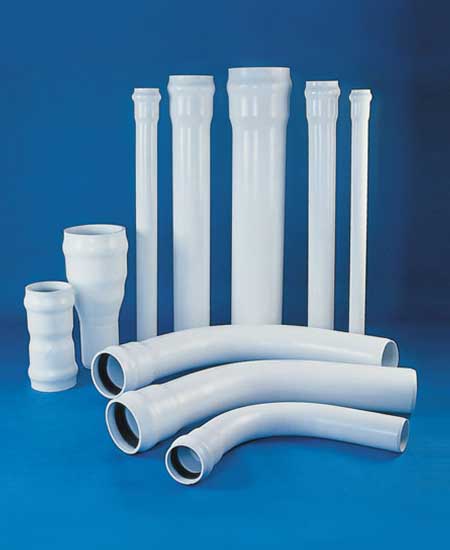 Atlanta HDPE High Density Polyethylene Pipes & Fittings
Atlanta HDPE is used for potable water main distribution and service connection system & industrial application. It conforms to ISO R161/1/ISO 3607 Series, SDR PR based on controlled outside diameter and in accordance to PNS ISO 4427-2002.
FEATURES & BENEFITS
Ease of Handling – Atlanta HDPE pipe weighs considerably less than pipes made from conventional materials. Typically, it is only ¼ to 1/10 the weight of cast iron, steel or concrete pipes used for the same service. This affords significant savings in transportation and installation by reducing manpower and equipment needs to a minimum.
High Chemical Resistance – Atlanta HDPE pipe has replaced steel, stainless steel, cast iron and concrete piping where chemical or corrosion resistance is required. It is resistant to attack by acids, bases, salts and many hydrocarbon materials. In addition, even the most aggressive soil will not corrode Atlanta HDPE piping.
Safe for Portable Water and Other fluids – Because Atlanta HDPE Piping does not contaminate fluid with metallic ions; it is of then used in the transport of pure materials, including deionized water. Atlanta HDPE piping materials also meet with the approval of the Bureau of Product Standards for the transport of potable water.
Flexibility – Atlanta HDPE pipe is flexible, providing ease of installation. It can be curved, snaked, inserted or laid along natural ground contours, thereby reducing installation costs and equipment requirements.
Abrasion Resistance – Atlanta HDPE pipe has smooth, tough interior surfaces which make it an excellent material for conveying a variety of abrasive slurries.
Lowest Flow Resistance – The smooth interior of this pipe provides for higher flow design factors. The Hazen-Williams water flow coefficient for Atlanta HDPE pipe 150 to 155, and the Manning "n" value is approximately 0.009, Resistance to scaling and corrosion allows the pipe to maintain its excellent flow properties throughout service life.
Tight Joints – A choice of jointing systems is available depending upon the application and the size of the Atlanta HDPE pipe. These include butt fusion, electrofusion, socket fusion, extrusion welding, mechanical connectors and compression type fittings.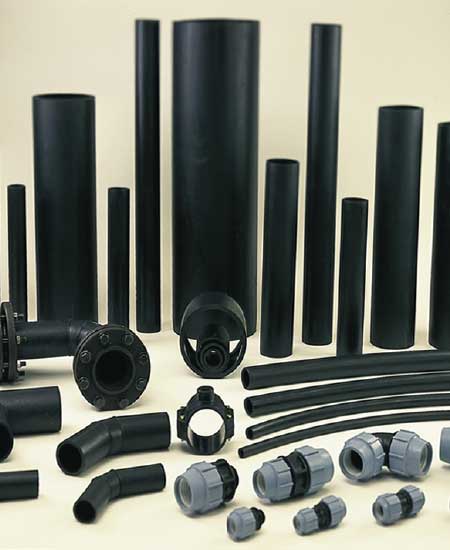 Atlanta Compression Fittings PP Compression Type Pressure Fittings
Atlanta PP Compression fitting is mainly used for potable water main distribution & service connection system. Made from formal High-grade Polypropylene, conforming to ISO R-161.
The compression fittings line has been designed for quick, simple insertion of the tube, considerably reducing installation time: simply loosen the nut (without removing it), and insert the pipe.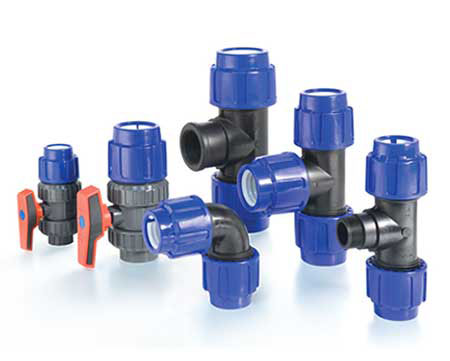 sponsored links
SIMILAR COMPANIES/PRODUCTS/SERVICES
Terms of Use/Privacy Policy Advertise Buy me coffee