THE ALPHA ENTERPRISE is a unique business. We are the only direct importer of chemicals for water disinfection of drinking water and waste water while focusing on developing our own product since 2011. Our management has more than 15 years of marketing experience this ensures the expertise of understanding of the need of the market and its potential. The Alpha Enterprise, has developed customer's loyalty and trust when it comes to the quality of our product and on time delivery.
The Alpha Enterprise already has served all the major water districts in the Philippines and continue to be running as the number one chlorine supplier and importer in the country. We are maintaining our goal to build chlorine supplier and importer in the country. We are maintaining our goal to build the competition by winning 80% of government tenders for chlorine granular in 2016.
We are ensuring quality products through continuous product research and development specifically through on site visitation of the best manufacturing company in Asia. We are requiring the producers to have proper international standardization certifications such as
NSF - choosing a product certified by NSF lets you know the company complies with strict standards and procedures imposed by NSF. From extensive product testing and material analyses to unannounced plant inspections, every aspect of a product's development is thoroughly evaluated before it can earn NSF certification
International Standars Organization (ISO)
EPA - the United States Environmental Protection Agency is an agency of the Federal government of the United States which was created for the purpose of protecting human health and the environment.
Products - Chlorine
Omega Pure Japan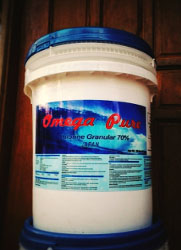 JAPAN QUALITY
30% more affordable than the competitor
Less residue
Added calcium protects the surface of pebble and concrete pools and provides stronger teeth and bones for community drinking water treatment
Very strong chlorine means less used and therefore greater value for money
It has easy dissolution property
Guaranteed no less than 70% chlorine content
Winchlor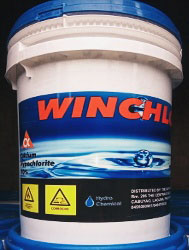 Knowing how to make your water safe to drink can not only keep you healthy – it could save your life. We often take for granted access to safe, uncontaminated, potable water. So much so that many people do not have the means or knowledge necessary to destroy disease causing organisms that may be lurking in their water supply.
WHY IS USING CHLORINE GRANULAR IS STILL THE SAFEST CHEMICAL FOR DRINKING WATER?
In 1896, hypo chlorites were used in typhoid epidemics in Austria-Hungary on the Adriatic Sea. Chlorination was introduced in England during 1905 to eliminate typhoid fever from the water supply. One of the most significant advances in public health, chlorination and filtration in the United States eliminated typhoid, cholera, dysentery and hepatitis A.
USES OF WINCHLOR
Winchlor is a chlorine compound highly effective against bacteria, algae, slime, fungi and other harmful organism.
It is used to purify drinking water, effective in treating wells, in controlling algae in reservior, filters and other water equipment.
It can also be used in waste water treatment
Used in sanitizing foods and breverage containers and production equipment in dairies, restaurants, hospitals, and even farms.
It has easy dilution properties
No less than 70% based on the regular test conducted at the Philippine Institute for Pure and Applied Chemistry (PIPAC)
Aquafit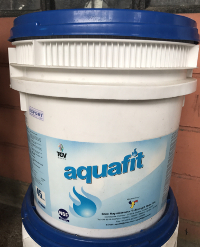 Aquafit is a brand of chlorine that has NSF Certification.
The importance of NSF
This is to protect your consumer that the product used to treat their drinking water is safe for them to drink because choosing a product certified by NSF lets you know the company complies with strict standards and procedures imposed by NSF. From extensive product testing and material analyses to unannounced plant inspections, every aspect of a product's development is thoroughly evaluated before it can earn certification.
Most importantly, NSF certification is not a one-time event, but involves regular on-site inspections of manufacturing facilities and regular re-testing of products to ensure that they continue to meet the same high standards required to maintain certification over time. If for any reason a product fails to meet one or more certification criteria, NSF will take enforcement actions to protect you, including product recall, public notification or de-certification.
Products that earn NSF certification are said to be "NSF certified" or "NSF listed" and display the applicable NSF certification mark to show that they have been test- ed by one of today's most respected independent product testing organizations.
The manufacturer is ISO Certified and EPA (Environmental Protection Agency). The United States Environmental Protection Agency (EPA, or sometimes USEPA) is an agency of the federal government of the United States which was created for the purpose of protecting human health and the environmentby writing and enforcing regulations based on laws passed by Congress.
Download adulteration warning letter
A-chlon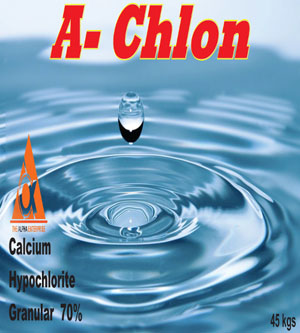 Widely used for water treatment both for drinking water and waste water treatment
Low Residue
ISO Certified Manufacturer - ensures that the manufacturer conforms on the International standards of quality, safety and environmental international standardization.
NSF Certified
Euro Chlor Certified - Euro Chlor effectively represents the interests of chlorine producers in Europe. It works hard to provide a focus for communications with key influence groups on chlorine issues and benefits. Euro Chlor promotes also the best practices in safety, health and environmental protection throughout the industry and has proved a sound defender safeguarding appropriate and essential applications.
EPA Certified - more and more businesses are requiring an EPA Certification to qualify for their positions. Having the certification is also a federal requirement. Those who go through the EPA process gain a better awareness of the many laws and rules that come with handling HVAC chemicals.
Products - Chemicals
Polyaluminum Chloride (PAC)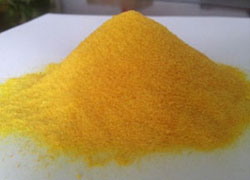 Polyaluminum Chloride compounds were developed to provide better performance than alum could offer. While they accomplished this goal, they also provide additional cost benefits when compared to alum. PAC has a minimal impact on pH and therefore minimized the need to feed adjustment chemicals. And it is able to do a better job while using 30-60% less aluminum on average. This translates roughly to a similar percent reduction in the amount of sludge produced.
The growth rate of PAC has been very impressive. In many areas where PAC has been marketed for a reasonable time period it has replaced over 75% of the total alum demand. Around the same time the PAC was developed, organic polymers, which aided the coagulation process, were also introduced to the water treatment industry. These polymers were generally not effective as primary coagulants but when used in conjunction with aluminum, helped to improve overall performance.
Uses of PAC:
Community Drinking Water
Waste Water treatment
Industrial uses
Aluminum Sulfate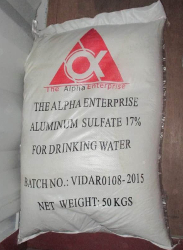 Aluminium Sulfate, commonly known as ALUM, in bicarbonates reacts to alkalinities present in water and forms a gelatinous form. This flocullation effects attracts other fine particles and suspended material in raw water,after binding with the floating impurities of water, it settles down at the bottom making the water free from residues and floating materials for crystal clear effect.
Aluminum Sulfate is a coagulant which explains that Flocculation and coagulation treatment chemicals are used in effluent water treatment processes for solids removal, water clarification, lime softening, sludge thickening, and solids dewatering. Coagulants neutralize the negative electrical charge on particles, which destabilizes the forces keeping colloids apart.
It is used for many industrial waste water treatment applications.because it is so efficient in treating both drinking and waste water due to its high efficiency, effectiveness in clarification, and utility as a sludge dewatering agent. The chemical leaves no residual colour, removes turbidity, and also has a non ferric quality that suits drinking water.
Typical Applications:
Industrial and sanitary wastewater treatment
Inks, food, metals, and oily wastes
Phosphorus removal & color reduction
Paper & pulp wastes
Sludge dewatering
Typical Properties:
Can be diluted in water to 48% by wt.
pH at 1% = 3.5 Standard Units
pH at 50% =< 2.5 Standard Units
Packaging and Handling:
Please refer to the PDF Material Safety and Data Sheet (MSDS)
Various Forms of Alumminum Sulphate:
Alumnium sulphate Ferric - contains about 1-3% of Ferric Oxide (Fe2O3). Aluminium sulphate Ferric is available in

Powder
Granule
Flake
Particle

Alumnium sulphate Non-Ferric - contains only 0.01%(max) of Ferric Oxide (Fe2O3). Aluminium sulphate Non- Ferric is available in
Industrial Organic Deodorizers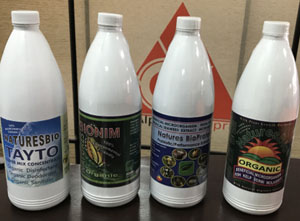 Goal:
Clean facilities
Less/No Odor
No pest infestation
No danger of dengue
Safe for the community
Doesn't affect the health of people
Process of Dilution Sample:
GARBAGE STINKS! In the landfill industry / business controlling odor is critical. Philippine law maintains waste must be sent to a Sanitary Landfill for final disposal. Engineered structures can be installed to control liquid so that groundwater contamination is prevented but odor, on the other hand, is much harder to control. Soil is placed daily over the fresh waste but odor can still be a real problem. At the Bulacan Engineered Sanitary Landfill in San Jose del Monte Bulacan the landfill has been accepting waste since 2009. In that time at least three products have been utilized to control odor. All have been organic in nature and have been applied as a spray to the incoming waste and waste that has been deposited into the landfill.
Recently we were introduced to a new product, TAYTO BIO CLEAN. The product is diluted at a ratio of 1:400, that is, we mix 500 ml of Tayto Bio Clean concentrate with 200 liters of water and we spray our waste as it comes into the Site and after it has been emplaced. It takes about 45 minutes to distribute 200 liters in a spray form. After 4 to 5 hours the process is repeated over the whole day, 24 hours.
Natures Bio Cleanser Organic Disinfectant / Deodorizer is a 100% organic Deodorizer / disinfectant / sanitizer with environmental friendly ingredients as follows:
Natures Beneficial Photosynthetic Bacteria
Fresh Coconut Sap
Tropical Seaweed Extract
Lemon (Calamansi) Peel Extract
Green Papaya Peel Extract
Pineapple Core/Peel Extract
Processed through 100% natural fermentation, it cleanses, disinfects, sanitizes and controls foul odor and eliminates bad bacteria. It can be used for piggery, poultry, drainage, landfill, wet market, garbage, hospitals.
Sodium Hypochlorite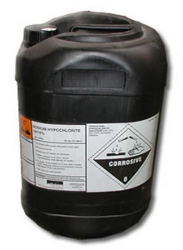 Sodium hypochlorite (NaOCl) is a compound that can be effectively used for water purification. It is used on a large scale for surface purification, bleaching, odor removal and water disinfection. Most water treatment facilities most especially the largest in the Philippines use Sodium Hypochlorite instead of Chlorine Granular.
Sodium hypochlorite is unstable. Chlorine contents evaporates at a rate of 0.75 gram active chlorine per day from the solution. When heated sodium hypochlorite disintegrates. This also happens when sodium hypochlorite comes in contact with acids, sunlight, certain metals and poisonous and corrosive gasses, including chlorine gas. The only way to provide the market is to produce it here in the Philippines.
The Alpha Enterprise manufactures Sodium Hypochlorite using the principles of membrane cell electrolysis.
Contact Us
The Alpha Enterprise
Address: VRL Compound, Barangay Nueva, San Pedro City, Laguna 4023, Philippines
Phone: +630 49 545 3302
Mobile: +63 998 860 8398 | +63 923 719 0007 | +63 998 596 6981 | +63 975 776 3015
Fax: +63 49 508 0987
E-mail: thealphaenterprise@gmail.com
Find us on Google Maps
sponsored links
SIMILAR COMPANIES/PRODUCTS/SERVICES
Terms of Use/Privacy Policy Advertise Buy me coffee