6. Insulated Industrial Door
The reason why WEAL Industrial Doors are locally fabricated is the concept of swiftly attending to our clients needs. Doors are prone to damage since they are the most used part of the cold room. WEAL can easily repair the damage within a short span of time thus preserving frozen food products.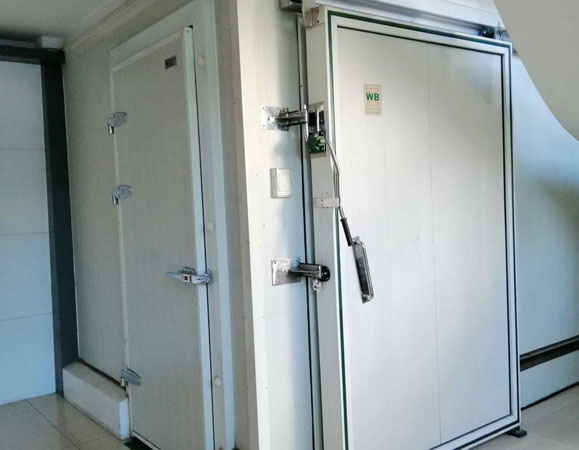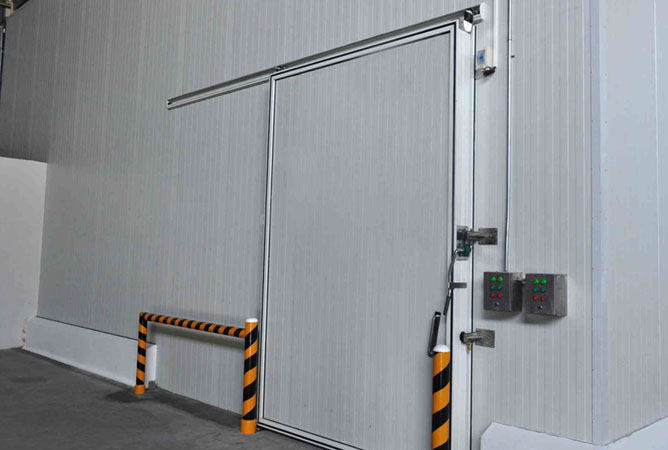 WEAL Industrial Doors: Locally Fabricated
Sliding Type Door
Swing Type Door
Bump Type Door
The Cold Room Doors
The Door Leaf is made of prefabricated insulated panels with pre-molded powder-coated aluminum door-surround which can easily be taken apart during quick replacements if the door is damaged. It has a continuous rubber gasket along its perimeter which seals the door from its upper ledge to the floor. An electrical heat cable wire with threshold is provided for negative temperature.
Sliding Track Features System
Aluminum Molded Door Track is corrosion resistant.
Rail Guide provides rollers for inward and downward movement in opening and closing the door, which positively seals the door opening.
The end cover of the door track has rubber bumpers cushioning the door when opening and closing.
The door track has anti-lift features preventing the rollers from derailing and is designed for easy repairs and adjustment of rollers.
TYPES:
For Positive Temperature:
-SLnH50- -SLnH75-
For Negative Temperature:
-SLH75- -SLH125- -SLH100- -SLH150-
Other Features:
Large diameter PU roller with an additional ball-bearing provides the door a smooth travel even at its maximum weight
The side-mounted adjustable stainless-steel boogey assembly is for an easy maintenance in adjusting the doors.
Heavy-duty, stainless-steel handle is for comfortable and easy handling of the door.
The locking hardware accepts standard padlocks and has an inside emergency safety release device.
Adjustable Low Profile Floor Guide is made of a PU channel with stainless steel support that will provide an additional firm seal on the door.
Heavy Duty Lever Type Stainless-Steel Door Opener will help in providing an easy opening even at the maximum load of the door.
Floor Mounted Adjustable Rubber Stopper is a heavy-duty stainless-steel adding cushion to the door at the end of its travel.
sponsored links
SIMILAR COMPANIES/PRODUCTS/SERVICES
Terms of Use/Privacy Policy Advertise Buy me coffee
Weal Builders, Inc.