9. EP Equipment Pallet Truck
Manual pallet jacks were invented and used since the early 1920s. The earlier model types lifted the forks and loads solely with mechanical linkages. The more modern types of pallet trucks use a hand-pumped hydraulic jack in order to lift.
A pallet truck is often known as a pump truck. This type of equipment plays a vital role in the day to day activities of large industries and companies. Many years ago, warehouse owners utilized bulky and large machines in order to transport their products and move commodities from one area to another.
Pallet trucks have become the modern antecedent to the more traditional large-scale warehouse transportation vehicles. A pallet truck works by lifting the packages using a hydraulic system that is installed at the front of the jack in order to raise the load slightly above the ground and be moved. Depending on the application, there are many varieties of pallet trucks that are available in the market that are manufactured to handle specific weight loads.
The general types of pallet trucks are either: automatic or manual.
Pallet trucks have made handling, loading, unloading, and upgrading of products an easier task.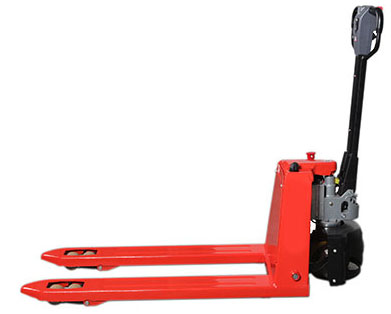 Electric Pallet Truck
Electric-powered pallet trucks are a good investment for any business because they come with many long-term benefits. These small-sized machines are specifically designed with the purpose of easy access and convenience that entails taking up less space with more efficiency.
The turning radius of these pallet trucks is brilliantly designed so that these machines can easily be maneuvered. Health and safety is also another advantage of using a pallet truck because their overall structural design is meticulously developed as to prevent mishaps and various types of common warehouse or industrial site accidents.
Reach Truck
This is a type of pallet truck machinery that has been given more ability and development by manufacturers as to handling heavier loads and transporting them from one place to another without inefficient tendencies or hassles.
Ultimately, these machines lower overall production costs by reducing the number of workers it requires to perform a specific job.
Typical Pallet Truck Dimensions
7-inch width for each fork
Outer edges of the forks: 20 ¼ inches or 51.4 cm and 27 inches or 68.6 cm
Fork length: 36 inches or 91.4 cm, 42 inches or 106.7 cm, 48 inches or 122 cm
Lowered Height: 2.9 inches or 7.5 cm
Raised Height: 7.5 inches or 19.1 cm
Operational Limitations
Reversible pallets cannot be used
Double-faced non-reversible pallets cannot have deck boards in the area where the front wheels extend to the floor.
Cab only enable two-way entry into a four-way notched-stringer pallet because the forks cannot be inserted into the notches
Advantages of a Pallet Trucks
One of the main advantages of operating a pallet truck is that maintenance costs are significantly more frugal than that of a forklift. Given the fact that there are two types of pallet trucks, whether manual or electric powered, both require simple service such as lubrication and charging of the battery for relatively low prices.
Pallet trucks only require a small allocation of space for storage and do not require high amounts of training in order to fully operate. Pallet trucks are widely used in the industrial sector and even in supermarkets as to lift and transport many loads and packages.
The small front wheels of a pallet truck are mounted inside the end of the forks while the larger back wheels are immediately found under the truck's control arm or handle. The forks are turned and maneuvered into slots found at the side of the pallet. The pallet is lifted slightly off the ground and moved with easy access.
Pallet Trucks by EP Equipment
EP Equipment is a company that has grown to become a full portfolio supplier of small warehouse trucks. They focus their efforts on the retail, manufacturing, and distribution needs of the industry. The electronic equipment and flexible production management can efficiently fulfill the requirements of customers.
EP Equipment has developed pallet trucks with the basis of a strong HPT chassis in order to ensure durability in combination with their highly-reputable electric drive units and robust manual pumps for both lifting and lowering. These semi-electric pallet trucks have significantly improved the ergonomics in thousands of companies all across the globe.
Whether its retail, manufacturing, or distribution, EP Equipment pallet trucks and their 4.5mm strong steel chassis are built to last and can assist in reducing strain and pain while boosting operational efficiency.
EP Equipment with MULTICO
MULTICO is an all-in-one industrial hub that supplies generator sets, material handling equipment, air compressors, air treatment, heavy equipment, spare parts, and accessories that can support various applications for all types of industry.
One of the heavy equipment we supply is EP equipment, which has been deemed necessary by some sectors in the country.
sponsored links
SIMILAR COMPANIES/PRODUCTS/SERVICES
Terms of Use/Privacy Policy Advertise Buy me coffee
Multico Prime Power, Inc.