8. Clark Forklift
Forklifts are powerful industrial trucks that are used to lift and move materials from small distances. The major forklift trucks are diesel powered, LPG or petrol powered, and electric powered.
Diesel Powered Forklifts are one of the strongest pieces of machinery when it comes to material handling; they have the capacity to fit great amounts of unit loads and can endure even the most severe of outdoor work
Capacity: 1,000 kg up to 10,000 kg.
LPG or Petrol Powered Forklifts provide incredible performance with great fuel economy and low emissions.
Capacity: 1,000 kg up to 7,000 kg.
Electric Powered Forklifts are able to perform at the strongest, most reliable, and comprehensive ranges; they are also an eco-friendly means for handling a broad range of unit loads.
Capacity: 1,000 kg up to 3,500 kg.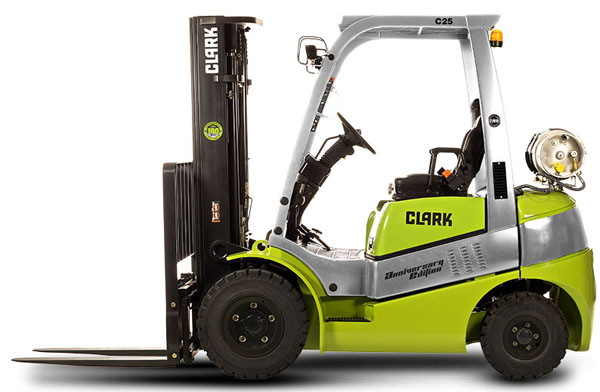 Common Business Uses for Forklifts
Forklifts are arguably one of the most vital tools for many business proprietors across a wide array of industries. The heavy lifting capacity that forklifts have make it possible for businesses to rapidly and securely transport heavy materials.
There are many factors that go into the price ranges of a forklift: size, capacity, and attachments—all depending on how the operational manager plans to utilize it.
Indoor Material Movement
Many people are aware that forklifts are used in indoor areas such as attached and detached warehouses as well as distribution centers. Forklifts serve as loading and unloading trucks that are capable of transport, stacking, and picking.
Forklifts used for indoor purposes are generally used to lift or pull pallets, however, large single and stacked boxes, drums, crates, and other equipment can also be transported without pallets. Forklift designs vary to manage different cases, which include side-lifting, and for small aisles and high shelf areas.
Outdoor Material Movement
Besides lumber, hardware, and home or garden areas, forklifts are also commonly used in outdoor construction areas. The more rugged designed forklifts are typically used to move construction materials and construction-related items such as dumpsters and portable toilets.
Outdoor forklifts are normally found in container yards, junkyards, and docks or any other similar areas that have pallets of materials and shipping containers that need to be moved.
Transporting People
Forklifts have been used by many business owners as an alternative tool for aerial platforms that lift people both indoors and outdoors. However, it is also important to note that this should only be practiced under the official safety forklift measures as to prevent falls, such as using cages and platforms.
With this option, people can manually pick and stack items, perform inventory and maintenance duties, and clean difficult-to-reach areas. All in coordination with the forklift manufacturer's approval.
Specialty Uses
A broom attachment for a forklift can be used as a sweeper for wet or dry warehouse floors, dock grounds, and even parking lots. Many business owners also add a boom attachment in order to use their forklifts as loading cranes.
Training Tools
It also goes without saying; forklifts are being used to train new operators and mechanics. Used forklifts are ideal for this type of work due to the fact that business owners do not have to worry so much about monetary concerns due to employee-caused damages while learning.
The Historic Strength & Durability of Clark Forklifts
In the year 1917, Clark invented the world's first forklift truck and, since then, the company has gone to manufacture over a million units across the world, with 350,000 operational Clark Forklifts at work today.
Clark has one of the largest support networks in the material handling industry. With over 250 dealers and 550 locations across the globe, the innovation, service, and excellent value that Clark provides all stems from the 'Built to Last' tradition that has become synonymous with the Clark name.
The Clark GEN2 C20-series proudly adds to the great history of the world's best and leading forklift manufacturing conglomerate. These forklifts are the embodiment of evolutionary power, safety, durability, and performance. Designed for distribution in manufacturing and warehouse settings of all types, these models are ready to handle even the toughest of conditions.
Last 2017, the Clark Forklift has celebrated its 100 years, which really proves that this piece of equipment has stood the test of time as well as has been a trusted brand by many.
Clark Forklifts with Multico
When it comes to forklifts in the industrial sector, Multico is a one-stop shop for distributing Forklift Trucks and many other material handling equipment. Our strength and reputation as a business are deeply rooted in our strategic alliances and networks with leading global equipment brands.
Our group continues to strive in being Asia's leader in engineering equipment distribution. In 2013, Multico was appointed as the Exclusive Distributor for the Clark brand of forklift trucks. We provide great deals in the retail and rental of forklift trucks. We provide complete solutions for installation, turn-key projects, technical training, and after sales and preventative maintenance support.
sponsored links
SIMILAR COMPANIES/PRODUCTS/SERVICES
Terms of Use/Privacy Policy Advertise Buy me coffee
Multico Prime Power, Inc.