5. Sinomach
Many equipment owners and handlers identify wheel loaders as both durable and versatile pieces of machinery due to the fact that they hold the capacity to withstand several long hours of usage in transporting heavy loads while operating with multiple attachments.
Wheel loaders are in essence, versatile mobile shovels that transport materials from stockpiles to trucks, or transfer material around the areas of a job site. The bucket sizes for a wheel loader range from 1 cubic yard (for small utility machines) to 10 cubic yards (for larger model mining applications).
Small and mid-sized wheel loaders can often work with other tools such as forks, brooms, and lifting jibs.
A mobile crane is basically a cable-controlled crane that is mounted on rubber-tired carriers or crawlers, or a hydraulic-powered crane that comes with a telescoping boom that is mounted on truck-type carriers or as self-propelled models.
Mobile cranes are designed to basically transport materials to a site and used with different types of load and cargo with little setup and assembly.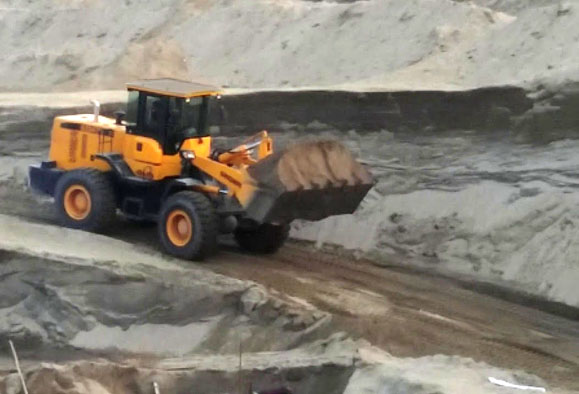 Sinomach Wheel Loaders
Wheel loaders are also known as bucket loaders or front loaders. This piece of construction equipment is designed and crafted to load loose materials such as soil and sand into another type of machine. Wheel loaders are also utilized in light-duty digging of mineral ores and hard soil.
SINOMACH is a wheel loader manufacturer in China that offers front-end loaders with a loading capacity of 3 tons to 7.5 tons and engine power ranging from 45KW to 250KW. The fast and easy operation along with high-efficiency rates of the wheeled loading shovels are used in highway, airport, bridge, railway, building, water conservation projects, construction, and mining industries.
The SINOMACH wheel loader has many distinct advantages such as:
Lighter weight
Faster speed
More flexible operation
Greater operation efficiency
The loaders feature high economy as it is fully-equipped with a Cummins engine or Shangchai engine. The loader's engine perfectly matches with the torque converter and is able to offer high fuel efficiency with low to non-existent failure rates.
SINOMACH wheel loaders are produced with high strength working devices and vehicle frames that assure high safety, which makes them ideal for even the most severe of working conditions. In order to develop a more comfortable environment for workers, the equipment comes with a cab design based on the ergonomics principle. Operator-friendly handling with the steering wheel makes the construction machinery easy and completely flexible for operations. An air conditioning system is also available to secure proper temperature levels within the cab, regardless of season.
936 Wheel Loader
937H Wheel Loader
956 Wheel Loader
957H Wheel Loader
867H Wheel Loader
ZL75H Wheel Loader
ZL50G-6 Wheel Loader
ZL50G-7 Wheel Loader
932 Wheel Loader
933 Wheel Loader
957S Wheel Loader
957Z Wheel Loader
980H Wheel Loader
996 Wheel Loader
Sinomach Truck Cranes
A truck crane is a crane that is mounted on a truck chassis, which provides for good mobility. Generally speaking, these cranes are able to travel on highways, so as a result, there is no need for special equipment in terms of transportation.
Truck cranes can lift heavy objects with ease and transport them to other areas or locations. The cranes play a crucial role in reducing labor intensity, lowering overall construction costs, and significantly improving construction quality while simultaneously speeding the construction process. Truck cranes are widely used across many fields and industries.
SINOMACH crane designs and produces 6 models of truck mounted cranes for customers to select from. Lifting capacities range from 8 tons to 130 tons, and fully extended boom maximum lift heights from 17.3 m to 49.1 m. The range of cranes is sure to meet your needs.
QYE12-1 Truck Crane
QY8F-1 Truck Crane
TTC025G Truck Crane
TTC036G Truck Crane
TTC055G Truck Crane
TTC070G Truck Crane
TTC100G Truck Crane
SINOMACH truck cranes provide reliable performance levels and low fuel consumption while adhering to noise emissions standards. The driver cab is separate from the control room that maneuvers the movement of the crane.
The slewing unit allows for 360-degree rotation of the hoisting equipment, which greatly expands the operational range. SINOMACH truck cranes are equipped with all the necessary safety devices that ensure safe and reliable lifting.
Sinomach Equipment with Multico
Multico is an extensive industrial hub that supplies Marine Generator Sets, Material Handling Equipment, Air Compressors, Air Treatment, Heavy Equipment, Spare Parts and Accessories to support the various applications and needs for a wide range of industries.
Multico is the leading distributor of wheel loaders and other heavy equipment products of the SINOMACH brand, completing our range for the mining and construction sectors.
Our 45 years of experience in distributing engineering equipment has fueled our deep understanding of market trends and customer expectations.
With Multico, you can be assured that all of your equipment is from well-known and well-trusted brands from all over the world.
sponsored links
SIMILAR COMPANIES/PRODUCTS/SERVICES
Terms of Use/Privacy Policy Advertise Buy me coffee
Multico Prime Power, Inc.