1. About Us
Asia's Equipment Specialist
Multico Prime Power, Inc. (MPPI), is a "One Stop Shop" for the supply of Industrial and Marine Generator sets, Material Handling Equipment, Air Compressor, Air Treatment, Heavy Equipment, Spare Parts and Accessories to support various applications and needs for all type of industry.
Since incorporation, the strength of Multico Prime Power, Inc. lies in its strategic alliance and global partnership with leading equipment brands.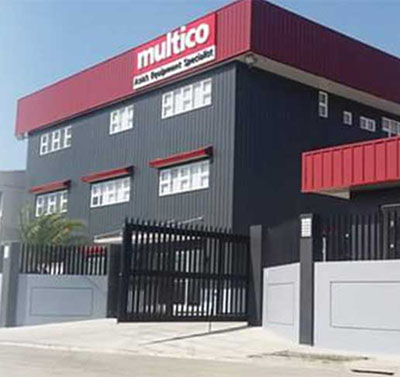 Multico Prime Power, Inc. (MPPI), established in 1998, is a "One Stop Shop" distributor of Generator Sets, Mobile Compact Crusher, Vibratory Screens, Forklift Trucks and other Material Handling Equipment, Heavy Equipment (Wheel Loader, Vibro-Compactor Roller, Excavator, Motor Grader, Paver, Bulldozer), Truck Crane, Construction and Mining Pumps, Spare Parts and Service to support various application and needs for all types of industry.
We provide a complete solution on your standby or prime power needs including the installation, turn-key projects, technical training, after sales and preventive maintenance support.
On 2013, we were appointed as the Exclusive Distributor of the "Clark" brand of Forklift Trucks and distributor of the "Bishamon and EP" brand of Material Handling equipment. We do retail and rental of our forklift trucks, fleet management, parts and service including the supply of accessories, attachments and provide you solution to your warehouse and material handling needs.
On 2016, we were also appointed as the Exclusive Distributor of the "Rubble Master" brand of Mobile and Compact Crusher, Scalper and Screens. We are the world leader in the mobile compact class.
On 2017, we were appointed as the Exclusive Distributor of the "Atlas Weycor" brand of Wheel Loader and Vibro-Compactor Rollers heavy equipment and distributor of the "Sinomach" brand of other heavy equipment to complete our range for the mining and construction sector.
Forty Five (45) years ago, our parent company in Singapore, Multico Infracore Holdings Pte. Ltd. was formed and is destined for rapid growth with vast inroads also into Malaysia, Indonesia, Thailand, Taiwan, Thailand, Vietnam, Cambodia, Laos, and Myanmar.
Building upon the existing strength of our principal as the foremost supplier and regional distributor of these equipment, Multico has made rationalization an important part of their long-term plan.
As the Group strives to be Asia's leader in engineering equipment distribution, it remains focused on building trusted, long term partnerships founded on superior quality equipment with emphasis on strong customer service and commitment to serve the solution to your Engineering Equipment needs.
We also carry a substantial inventory of the equipment we are distributing including the parts, filters, and accessories to support the entire operating life of your machines.
Main Products
RUBBLE MASTER & POWERSCREEN CRUSHER & SCREENS
HEAVY DUTY INDUSTRIAL DIESEL GENERATOR SETS
CLARK FORKLIFT TRUCK
BISHAMON & EP MATERIAL HANDLING EQUIPMENT
ATLAS WEYCOR WHEEL LOADER AND COMPACTOR
SINOMACH HEAVY EQUIPMENT AND TRUCK CRANES
BBA PUMPS (DEWATERING, WELL POINT PISTON, SLUDGE, SELF PRIMING CENTRIFUGAL PUMPS, PIPES AND COUPLINGS)
SENNEBOGEN HEAVY DUTY CRANES AND MATERIAL HANDLING
sponsored links
SIMILAR COMPANIES/PRODUCTS/SERVICES
Terms of Use/Privacy Policy Advertise Buy me coffee
Multico Prime Power, Inc.