1. About Us

Our Core Capabilities
... Mastery Through Years Of Experience ... Since 1973.
Turn Key Solutions - Asiaphil Manufacturing Industries, Inc.
Electrical Switchgear Manufacturing - Asiaphil Electric Pampanga, Inc.
Distributor/Agent/Stockist of Electrical Tools, Components & Equipment - GTB Industrial Network Inc.
Power Quality Solutions & Testing Services - Asiaphil Energy Solutions Inc.
Relay Protection & Control, Substation Automation - Asiaphil Systems Automation Inc.
Substation Rentals - Asiaphil Hope Inc.
Metal Fabrication & Coating - Asiaphil South Luzon, Inc.
Transformer Oil Testing Services - USTESTING, INC.
Investment Activities - Asiaphil Management Resources Inc.
Channel Sales Network - Asiaphil Market Reach and Coverage Strategy
Our Legacy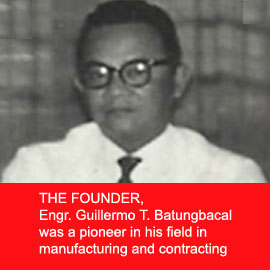 Asiaphil Manufacturing Industries, Incorporated or AMII
was founded on July 11, 1973 by Guillermo T. Batungbacal (known as GTB in the industry)
started as a distribution agent for a company called ITE World Trade USA
engaged in manufacturing/assembly of electrical panel boards and switchgears
outsourced its sheet metal fabrication from a manufacturing plant in Bulacan with assembly done in GTB's own backyard
1976 AMII moved operations to its present location in a 4,000 square-meter property in Paco, Manila
location included a warehouse for its product distribution business
established a fully-integrated sheet metal fabrication
improved its switchgear assembly operation
started field installation of switchgear for contractors
1980 AMII was renamed Asiaphil Cutler-Hammer, Inc. to accommodate Eaton Corporation of the USA as a 30% equity investor, focus of which was to be a distribution hub for Asia Pacific. Despite challenging times for the entire country and the value of AMII shares plummeting to negative, with GTB's perseverance, business survives.
1990 AMII restructured financial obligations and started to expand again, to include:
modernization of its sheet metal and fabrication line
spin-off of product distribution business to a company called GTB INDUSTRIAL NETWORK, INCORPORATED or GINI
1998 AMII received ISO certification
2000 AMII
AMII ventured into power generation by establishing GTB POWER, INCORPORATED, whereby two land-based power plants were constructed and operated in Bulacan and Catanduanes Island
established the first type-tested (according to IEC standards) low voltage switchgear in the country
ventured into operation of PELCO3, an electrical distributor utility through an investment management contract recognized by the IMF and World Bank
established overseas offices in Hong Kong and Singapore
established more sales business units all over the country
AMII started to spin off business units to focus on core products and services:
Asiaphil Electric Group to focus on switchgear assembly with factories in Pampanga and Batangas
Asiaphil Energy Solutions to focus on power quality solutions and maintenance services located in 7 offices in the country
Asiaphil Systems Automation to focus on Relay Protection and Control
Asiaphil Hope, Inc. to focus on substation rentals
Asiaphil Management Resources to focus on investments
The ASIAPHIL GROUP continues to expand overseas by establishing offices in Vietnam (Hanoi and Ho Chi Minh)
2006 AMII 1st inter-island submarine cable project in Boracay
2012 The Asiaphil Group established 26 business units
2014 2nd inter-island submarine cable project
2015 42 years in the industry
2016
43 years in the industry
1st turn-key complete substation for NGCP
Transformer Oil testing laboratory established in Batangas
Products & Services
Power Distribution Products
Recloser
Sectionalizer
Fuselinks
Lightning arresters (LA)
Suspension insulators
Fuse cut-outs (FCO) + accessories
Disconnect switches (DS) outdoor 34.5kV
CT & PT (outdoors) up to 34.5kV
Splice cord
Connectors & Terminals
Line Spacer System
Pin insulators
Pole mounted transformers
Isolation transformers
MV AVRs
Contractor's Products
Molds, Powders, Tools & Accessories
Termination Kits
Load break switches (LBS) outdoor 34.5kV
Grounding clamps & clusters
Hotline Tools and safety equipment
Reliable Tools
Substation Equipment
60kV Lightning arresters (LA)
72.5kV Capacitive Voltage Transformers (CVTs)
72.5kV Current Transformers (CT)
72.5kV SF6 Live Tank CBs
72.5kV SF6 Dead Tank CBs
72kV Disconnect switches (DS)
XLPE power cables
Oil immersed transformers 5/10/20 MVA
Battery
Battery chargers
Power Transmission Line Products
Insulators
Trunion
Circuit Breakers/Controls, Power Quality/Indoor Switches
LV MCBs
LV MCCBs
LV ACBs
MV VCBs
LBS and DS Indoor up to 34.5kV
Magnetic contactors
Motor protection CBs
Overload relays
Timers
Accessories
LV capacitors, reactors, controllers, contactors
MV capacitors, controllers, vacuum contactors
Panel Builder and Components
LV CTs
LV PTs
CT & PT (indoors) up to 34.5kV
Pilot devices
Heat shrinkable tubes
Terminal blocks
Fan & Filter sets
FR4s
Hinges, handles, locks
Thermo-/Hygro-stats
Glass Relays
Hardware
Cable ties & holders
Insulators (red poly)
Bus bars
Lugs & connectors
Earthing switches
Zack strips
Electrical Switchgears
Robie 5/15kV MVSG
Robie 5/15kV LBS
Robie 36kV MVSG
UNA MVA SWGR
BEA LVSG
BEA Synchronizing Panel
BEA MCC
BEA DP
ALDO CAPBANK
VICTORY MC
ECB
ECONO PANEL
SERIES4
CDP
CPP
Metal Fabrication and Coating
Sheet Metal Fabrication

AE Enclosures
Telecom Cabinets
Cable Trays
Furnitures / Fixtures
Fire Rated Doors
Lightning Fixtures
Fences
Services
Grounding Mats
Battery Racks

Metal Structure

Gantry
Steel Structure
Transmission Towers
Pole Line Hardwares
Services

Coating

Painting Services

Busbar Fabrication

Services

Kiosk
Electrical Installation and Testing Services
Preventive Maintenance
Retrofits
Upgrades
Emergency

Diagnostics

PQA
Thermal Scanning
Transformer Diagnostics

Testing

CB Test
Insulation Power Factor
CT/PT Analysis
Relay Test
Hi-Pot
Relay Protection and Control
Relay Protection & Control

Protection Relays
Protection Panels
Programming of Protection Relays
Commissioning of Protection System

Substation Automation

Digital Meters
RTU
Event Recorders
Control Panels
SCADA systems
Commissioning of Substation Automation
Rent-To-Own Substation
Package No. 1 69Kv Primary Metering
Package No. 2 69Kv Primary Protection
Package No. 3 Power Transformer ( 5, 10 & 20 MVA )
Package No. 4 15kV Switchgear ( 2, 4 & 6 feeders )
Package No. 5 Substation solution ( 5, 10 & 20 MVA )
Package No. 6 69kV Transmission line
Turn Key Power Solutions
Grid Connection
Inter-Island Submarine Cable Connection
Turnkey Substation for Generation / Transmission / Distribution / Industrial / Commercial
Overhead Transmission Line Installation
Installation of Power Generation Equipment and Peripherals
Underground Cabling
Installation of Grounding Systems
Infrastructure
sponsored links
SIMILAR COMPANIES/PRODUCTS/SERVICES
Terms of Use/Privacy Policy Advertise Buy me coffee