Celadon Manila by Ayala Land
The rise of an innovative integrated development charts a new frontier in Manila as it is given a lifestyle anchor consistent with the city's progressive potential. Celadon Manila, the leisure community from Ayala Land's subsidiaries, offers the opportunity for people to live, work, shop, meet, and relax in one integrated neighborhood-underscoring a vibrant lifestyle experience.
Celadon Manila's integration of a distinctive retail experience, career advancement and an uptown leisure lifestyle complements the rich and diverse culture of Manila. The seamless synergy of retail, commercial and residential developments in an urban ecosystem managed by Ayala Malls, Ayala Land Commercial Business Group and Community Innovations, paves the way for a holistic transformation of the city.
The 6-hectare in-city development is comprised of three distinct elements that characterize a cohesive urban ecosystem:
Shops at Celadon
Business Process Outsourcing (BPO) site
Residential District (Celadon Residences Townhomes and Celadon Park Condos)
Shops at Celadon (Ayala Malls)
Offering a lively variety of shopping, dining and leisure options, Shops at Celadon by Ayala Malls is set to define a new retail experience in Manila. Anticipated to provide a distinctly intimate leisure experience, the retail venue will offer a tenant mix that is attuned to the needs and lifestyles of those living and working within the development.
The retail and commercial development will be located on Felix Huertas Street and will occupy about 3,000 square meters of shops, dining and leisure establishments.
Business Process Outsourcing site (Ayala Land's Corporate Business Group)
The ease of living and working in the city is further emphasized by the development of the biggest BPO (business process outsourcing) site in Manila, courtesy of the Ayala Land's Commercial Business Group. Strategically planned to address the industry's unique requirements, Celadon Manila's BPO center will be the first call center site in Manila with retail and leisure amenities open at extended hours to complement the industry's demanding work environment.
The BPO sites strategic location near the university belt along Felix Huertas Street is ideal for increasing participating BPO's visibility and exposure to the students of surrounding universities.
The BPO project is expected to generate about 13,000 jobs when fully built. Major BPO players like Convergys and PeopleSupport are expected to be one of the first occupants.
Residential District (Community Innovations)
Celadon Residences (townhomes) and Celadon Park (condominiums), offer a refreshing take on residential living in Uptown Manila. The two residential districts within Celadon Manila, developed by Community Innovations, promises a vibrant lifestyle experience within this progressive development, combining the ease of urban essentials inside an integrated community with leisure at its core.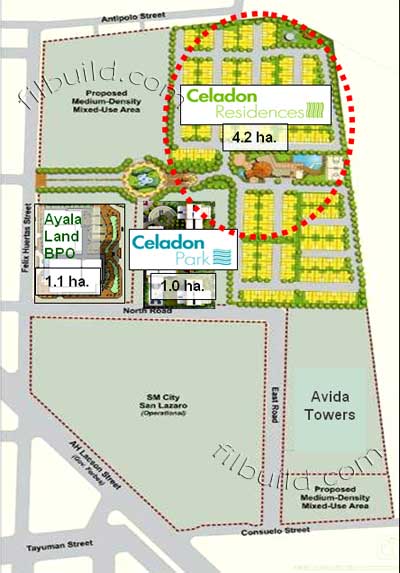 Site Development Plan
Celadon Manila Audio Visual Presentation
About the Developer
Ayala Land, Inc. is the real estate arm of the Ayala Corporation, one of the Philippines' biggest and well-established business conglomerates. Established in 1834, Ayala Corporation consists of five major subsidiaries and three affiliates that are leading players in the areas of banking, insurance, automotive, real estate, telecommunications, information technology and water utilities.
Its real estate interests are consolidated under its full-owned subsidiary, Ayala Land, Inc. whose projects include:
Development of prominent high-end and middle-market residential subdivisions and condominiums;
Construction of high rise commercial and residential buildings;
Conversion of vast tracts of land into industrial business parks; Development and management of shopping centers;
and Management of cinema, hotel and entertainment operations.
Through its over 50 years of experience in real estate, Ayala Land, Inc. has earned a reputation as the country's leading real estate developer. It is primarily credited for Makati City's metamorphosis from grasslands back in the 1940's into the premiere business district it is today. To this day, it is the preferred business location of the most prestigious corporate, commercial and residential addresses, site of many international hotel chains and home to exclusive high-end residential areas developed by the Ayala group over the past 50 years.
Each and every product development undertaken by Ayala Land, Inc. is a solid testimony to the quality of its work and its integrity. Its successes as a real estate developer and a company as a whole have been recognized internationally by various awards and accolades:
Best in Corporate Governance in the Philippines (Institute of Corporate Directors, 2005)
Ranked fourth in Corporate Governance in Asia (FinanceAsia Survey, 2005)
Ranked first among the Best Financial Management Companies (AsiaMoney Survey, 2002-2003)
Ranked second in Corporate Governance (AsiaMoney Survey, 2003)
Best in Investor Relations among all Philippine companies (Institutional Investor Survey, 2003)
Best in Corporate Governance (Institutional Investor Survey, 2003)
Ranked top 10 among the Best Managed Companies (AsiaMoney, 2002)
Behind Ayala Land's success is a continuing commitment to a time tested approach to real estate development that has resulted in the most trusted brand in Philippine property development. We aspire to build best-in-class products and services, we move with scale, and maintain a strict financial discipline throughout the company.
However, Ayala Land, Inc. believes that ultimately, it is the satisfaction of the customers, patrons, shareholders and other stakeholders it serves that is the true measure of success.
Innovation, integrity, imagination and impassioned service define Ayala Land Inc.
Mission and Vision
We shall establish and maintain preeminence among real estate companies in Asia. Our primary goal will be to continue being the best at what we do, and the most respected for what we have accomplished. We shall do so while acting in accordance with the highest standards of integrity that have always lent moral strength to the policies and practices of Ayala Land.
Our preeminent position will be measured primarily in the marketplace, where we will be the preferred choice above all others. This will be the natural outcome of consistently exceeding the customer's aspirations for a better lifestyle and a more effective business environment, and of good work done by a highly-motivated and empowered team of employees with genuine concern for customer needs and consequent satisfaction.
We shall accomplish our market objectives by enhancing land and enriching lives as only Ayala can - primarily by building and nurturing communities that will thrive through time, as living and breathing testaments to the dreams and aspirations of those who build them and those who live and work in them. These communities will embody our lasting commitment to nation-building by promoting the betterment of the Filipino.
Whenever quality of life is spoken of with pleasure and admiration, the inevitable byword will be Ayala Land.
Our Credo
We believe in...
Enhancing the quality of life of our customers by providing products and services second to none.
Inspiring our employees, developing their talents, and recognizing their needs and contributions.
Building long-term, mutually-beneficial relationships with
our business partners.
We conduct our business by...
Adhering to a high level of integrity.
Creating a work environment where people are empowered.
Pursuing excellence in everything we do, building on our collective knowledge and learnings, and ensuring that quality is a way of life.
Displaying a strong bias for results.
We are driven by our desire to play a vital role in...
Creating model communities which progress and appreciate in value over time, and ultimately,
Leading the business community towards the noble task of nation-building.
Blueprint for Growth
Ayala Land's diverse undertakings are supported by prudent financial policies including a selective reliance on bank debt, which has allowed Ayala Land to hold on to its properties over extended periods and downcycles. We engage in financing activities such as equity partnerships and pre-sales to fund our huge acquisitions and development programs.
As the country's largest and only full-line property developer, we have the unique advantage of being a major player in each of the key real estate segments. Our primary drivers of value are residential development, shopping centers, and strategic landbank management, each involving different combinations of investment requirements, value appreciation and cash flow returns. Our Residential Development business, with its fast cycle times and high margins, allows us to capitalize on quick-strike opportunities. The shopping Center business in turn stabilizes our revenues across the movements of the business cycle, with its large and steady cash flow returns. And our Strategic Landbank business gives us both a platform for creating strong and lasting value appreciation in our major landholdings, as well as growth areas for our other business lines.
In addition we have two smaller but rapidly-growing core businesses, our corporate business and Vis-Min units. Finally, our three strategic support businesses provide proprietary competitive advantages to each of our core business lines.
In each of the games being played across the industry, we are a leading player. This results in our being able to leverage the benefits of being in every game: scale, real value-added synergy, the financial wherewithal to ride out downturns in the cycle, and the flexibility to capitalize quickly on opportunities. This thus gives us a profit upside that is unique, in that we can profitably allocate resources to all the plays in the real estate development industry, and capture additional margin by combining products in a single project.
Developer Audio Visual Presentation

Community Innovations

Ayala Land
Attention Our Valued Users
The particulars and visuals shown herein are intended to give a general idea of the project and as such are not to be relied upon as statements of fact. While such particulars and details on present plans which have been prepared with utmost care and given in good faith, buyers are invited to verify their factual correctness and subsequent changes, if any. The contents herein are subject to change without prior notice and do not constitute part of an offer or contract. For more information please see our Terms of Use.