We are a wholly owned subsidiary of Furukawa Kogyo Co., Ltd of Japan. It is strategically located at Narra Rd., Barrio San Antonio, San Pedro, Laguna with a land area of 16,635 sq. meters. It was established and registered with the Security Exchange Commission on February 1, 1994. The company is also registered with the Philippine Board of Investment (BOI) with a Pioneer status.
FVC Philippines, Inc started the trial operations of its Foundry and Machining plant on November 2, 1994. After successfully completing the test operations, FVC Philippines, Inc. started its commercial operations in August 1995 by exporting its products to its mother company in Japan. In 2001, the management decided to expand its operation by opening up an assembly plant and venturing into the local market.
The Foundry of FVC uses the Furan molding system in producing the high dimensional-accuracy castings. The foundry utilizes the Low Frequency Induction Furnace from Sinto Co. of Japan and the Medium Frequency Induction Furnace from Fuji Electric of Japan in producing the molten metal for the castings. It has the capacity to produce approximately 100 metric tons of castings per month. The foundry also has the capacity to produce different types of cast iron that includes FC 200, FC 250 and FCD 450.
The Machining plant of FVC has sufficient number and variety of machines to meet the demands of the customers. With our highly skilled machine operators, the company is assured of delivering high-quality.
Stringent quality control is ensured at all stages of our operation. It starts from the selection on the raw materials for the castings, machining of the castings, up to assembly and packing of the finished product. The company only purchases raw materials from reputable suppliers. It also ensures strict compliance with the Japan Industrial Standard in all its production and inspection activities.
The company's product line includes gate, globe, check, air pinch, cock and EP (seawater valves attached with electrolytic corrosion preventive device) valves. The valve sizes range from 1 1/2 in., (40 mm) up to 44 inches (1,100 mm).
Valve classes include JIS Rating 2 kgf/cmZ , 5 kgflcm2 , 10 kgf/cm2 , 20 kgf/cmz, 30 kgf/cm2, 40 kg f/cm2, ANSI 900lbs, 15001bs, BS, DIN, AS, GOTC, ISO, ratings. Special types of valves are also available like motor-operated valves, cylinder-operated valves, and valves with extension stem.
FVC's Integrated Management System (IMS) is designed to comply with the ISO 9001:2015, ISO 14001:2015 and OHSAS 18001:2007 Standards and is certified by NQA. FVC Philippines, Inc, also obtained UL/FM Certificate of Compliance. With this one system, the company will not only focus on the quality of its product but also the welfare of its employees, its community and its environment. All of which are in line with the company's vision of becoming a world-class organization producing Industrial Valves and Other Metal Castings.
Industries we serve
Since 1931 we have been producing top qualiy valves for the following industries:
Petroleum and Chemicals
Machinery and Shipbuilding
Paper Manufacturing and Spinning
Electric Power
Gas and Water Service
Our Products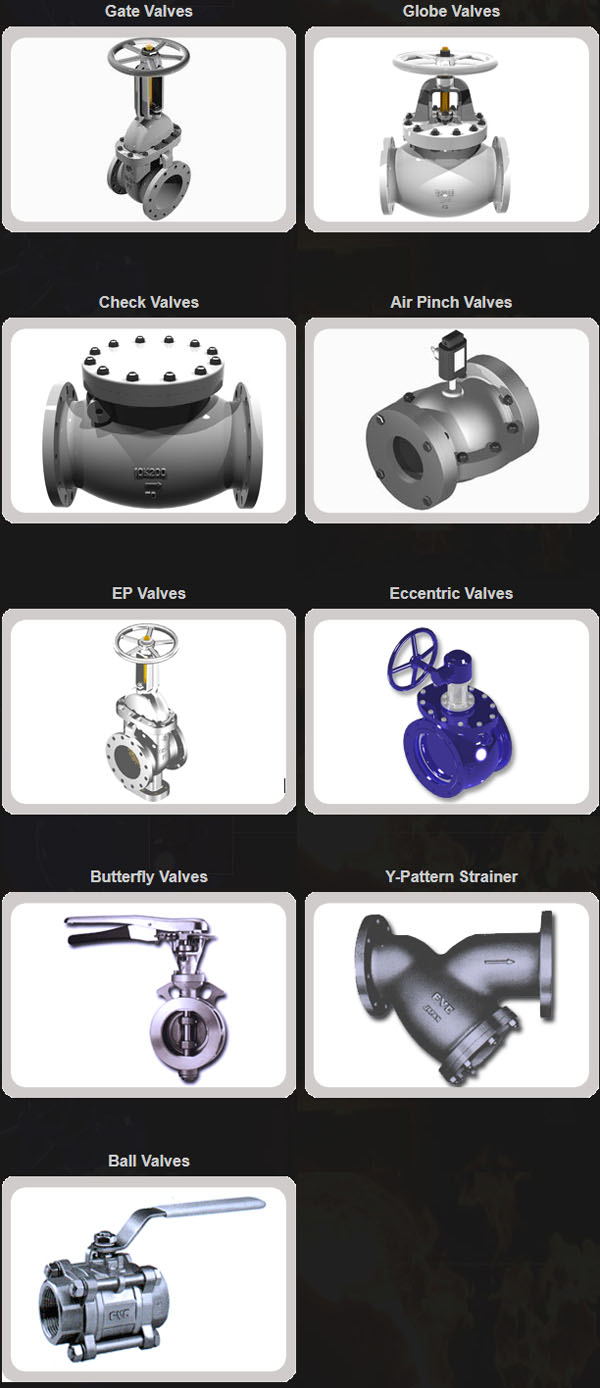 Download product specifications
Machines & Equipment
Foundry
Melting

2 units 1 tonner Fuji Electric Medium Frequency Induction Furnace (MFIF)
1 unit 2 tonner Shinko Electric Low Frequency Induction Furnace (LFIF)

Molding

3 units semi-automated molding to sand reclamation (WES)

Coating

1 unit overpour or flowcoat system Heat Treatment - Nabertherm W1500 Electrically heated bogie-hearth furnace
Quality Control
3 units Leak testing machine
2 units Shimadzu Brinell Hardness Tester
1 unit Nikon Metallurgical microscope
1 unit Measuring Microscope
1 unit Shimadzu Optical Emission Spectrometer PDA-7000
1 unit Shimadzu Universal Testing Machine UH-500kNI
1 unit Metallurgical Polisher 1 unit - Yamato Muffle Furnace
1 unit Shimadzu Analytical Balance
1 unit Mitutoyo Coordinate Measuring Machine
Machine Shop
21 units Lathe machine
8 units Multi-spindle machine
8 units Facing exclusive machine
5 units Upright drilling machine
4 units Vertical milling machine
3 units Radial drilling machine
3 units Exclusive gland machine
3 units Exclusive body threading machine
2 units Exclusive disc machine
2 units Press machine
2 units Exclusive cover facing / drilling / boring machine
2 units Exclusive seatring machine
1 unit Spot facing machine
1 unit Exclusive 3 face drilling machine
1 unit Exclusive sleeve machine
6 units Takisawa CNC Lathe machine
1 unit DMG Mori Seiki NHX6300 Machining center
2 units DMG Mori Seiki NHX4000 Machining center
1 unit Kubota Horizontal Boring machine
1 unit Compressor
Engineering
1 license Autodesk Inventor Simulation Suite 2010
1 license AutoCAD Mechanical 2010
2 licenses SolidWorks Premium 2017
1 license SolidCam 2016
Contact Us
FVC Philippines, Inc.
Plant Address: Narra Road, Barrio San Antonio, San Pedro, Laguna
Telephone: +632 556 7838 | +632 556 7839 | +632 556 7861
Facsimile: +632 556 7944
E-mail: fvc@fvcphilippines.com | sales@fvcphilippines.com
Mailing Address: P.O. Box #205 Postal Corporation, San Pedro, Laguna Branch, Pacita Complex, San Pedro, Laguna
Find us on Google Maps
FURUKAWA KOGYO CO., LTD.
Head Office: 726 Furusawa-cho, Hikone City, Shiga, Japan
Telephone: +81 749 22 1800
Facsimile: +81 749 22 1154
E-mail: info@furukawa-valve.co.jp
Tokyo Office
Address: 2-4-2 Irifune Chuo-Ku, Tokyo, Japan 104-0042
Telephone: +81 3 3551 0307
Facsimile: +81 3 3551 3007
E-mail: info-tokyo@furukawa-valve.co.jp
sponsored links
SIMILAR COMPANIES/PRODUCTS/SERVICES
Terms of Use/Privacy Policy Advertise Buy me coffee
FVC Phils, Inc.