The Hillside at The Highlands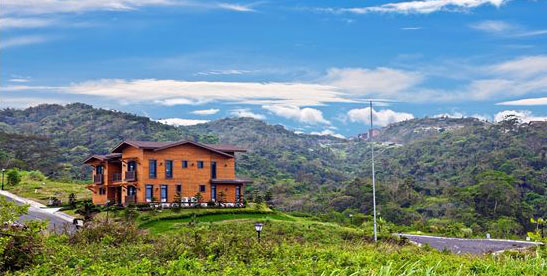 This is the life — waking up to a day of perfect bliss — bird trills, the rustle of leaves in the cool morning breeze, the sweet scent of pine clusters, and majestic views as far as the eye can see to the east.
The best part of all this may be enjoyed in a home at The Hillside in Tagaytay Highlands. 
The first and only residential lot development in the Highlands complex offered by Highlands Prime, homeowners build their own dream mountain lodges, choosing from sample log cabin designs, or designing their own to conform to Highlands Prime standards inspired by similar homes in northern United States and Canada. 
A total of 156 residential lots terraced on sloping terrain covers over 16 hectares of land, with lot sizes ranging from 405 to 641 square meters. Meticulously master-planned by SC & A Architects and Planners, the development offers an escape from the city's frenzied lifestyle to wind-swept ridges with a brook running through it. 
Surrounded by views of mountain ridges nestled amid towering pine trees, the site looks down on the verdant plains of Canlubang and Highlands communities like the log cabins of Woodlands Point and timber-and-stone Woodridge and Woodridge Park. 
Adjacent to Camp Highlands, the site is a few minutes away from leisure hotspots. Member-homeowners of Tagaytay Highlands have unlimited access to world-class amenities including two 18-hole championship golf courses, state-of-the-art sports facilities, more than 20 restaurants, clubhouse, swimming pool with gazebos, and parks galore. 
Country living at the Hillside offers a fresh alternative to city life and gives home-seekers a chance to go wild with their imagination, building and designing a home they will love and can truly call their own in every respect.
Be one of the discriminating affluent who reside at the exclusive residential lot development of The Hillside where one's creativity as a homemaker is challenged by the opportunity to design and build his own dream log cabin on gently sloping terrain. At The Hillside, open green spaces and wide road networks provide families with ample room to live and play.
Features & Amenities
16.4 hectares of gently sloping lands
156 residential lots
Lot sizes: 405 to 641sqms
The Hillside will feature contemporary log homes inspired by the mountain cabins of Northern United States and     Canada
Spacious open spaces and sidewalks will be lined with trees. A wide landscaped greenbelt situated at the     center of the development will be ideal for cozy walks, jogging, biking and playing.
Underground development utilities
Gated community with 24-hour security
Sufficient water supply
Emergency power supply system
Minimum construction cost of Php 4,000,000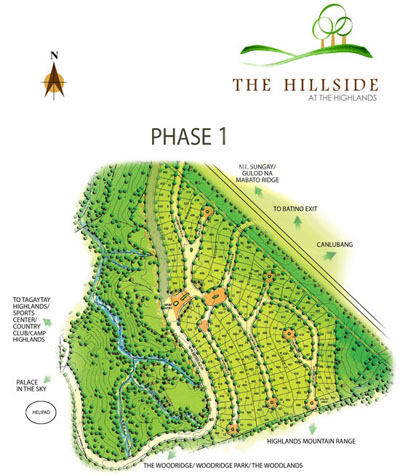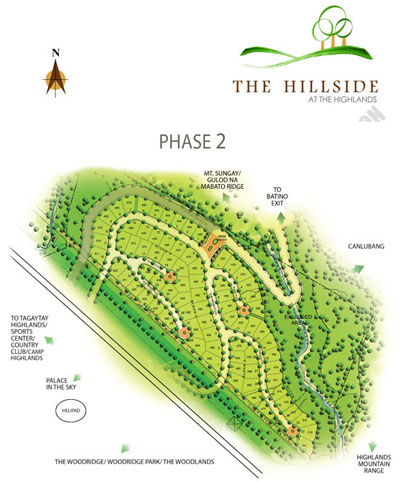 back to Real Estate Philippines - New Homes by Property & Land Developers homepage