Studio One by Filinvest Land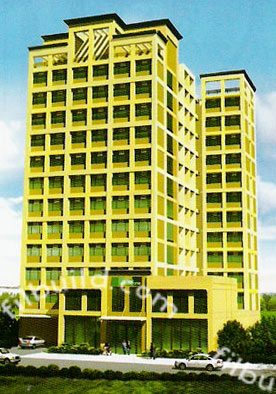 Studio One
Introducing Studio One, a place that you can call your own that will stand for everything about you and your future. Where dependence stops and self-fulfillment begins, where hassles are forgotten and new freedoms are embraced. Live in your own place, at your own pace!
Buying your own unit at Studio One is actually more affordable than renting a place at a nearby alternative. Plus, living this close to work, the malls and everything else means big savings for you on gas, toll and other commuting expenses.
Having your own unit at Studio One opens up endless possibilities for you! No more midnight curfews or finding a way to get home late at night for you to worry about and none of the other troubles that come with living somewhere else.
Having your own Studio One unit means having independence, freedom and a chance for you to enjoy the lifetsyle you want. More gimmicks, more fun and more life! Live in your own place, at your own pace!
Location
Studio One is located right in the bustling heart of Filinvest Corporate City. This means having everything you'll ever need within your reach.
Imagine living just a few paces away from the call centers, Westgate Center, Festival Supermall, St. Jerome Church and Palms Country Club.
Living this close means less time for you to be stuck in traffic, more time for yourself and the things you want to do!
Facilities & Amenities
Reception Counter
2 Passenger Elevators
Multi-Purpose Hall
Work-Out Room
Cafeteria / Mess Hall
Centralized mail room
Stand-by Generator Set
24-hr Security Center
Sprinklers with automatic smoke and heat detector
Administration Office
Overhead water tank
Cistern
Featured Rooms
Multi-purpose Hall
Available for the use of its residents, Studio One's Multi-purpose hall is the perfect venue for your social gatherings, functions or if you just need a private and convenient place to work or study with your colleagues.

Workout Room
Feel better about yourself! Stretch, play and sweat it out! Enjoy aerobics, yoga or pilates classes at the workout room, for the use of the Studio One residents.

Lounge
You deserve a break! Listen to your favorite music, catch up on your reading or simply relax with your friends at The Studio One Lounge. Enjoy the relaxing ambiance of a fully furnished, quiet and relaxing Lounge for the use of Studio One residents.

Cafeteria
You don't even have to leave the building to enjoy good food. A cafeteria will be available to serve your dining needs.
Pricing
Units are priced at PhP 900,000 to PhP 1,200,000.
On a 10-10-80 scheme under in-house financing, monthly payments start at PhP 5,974.97 during the first 12 months and PhP 10,656.31 monthly for 10 years.
Studio One Audio Visual Presentation
About the Developer
The name Filinvest has become synonymous with property development.
For over 50 years, Filinvest has been a leader in property development. Guided by the Gotianun tradition of integrity, quality and service, it forges ahead with renewed dynamism and the promise of even greater triumphs.
Beyond building homes and communities for Filipino families, Filinvest comes to the fore of building a bright future for the Filipino.
Developed over 1,800 hectares of land, home for over 100,000 families
Created over 400,000 square meters of prime office, residential and retail spaces
50 years in business and P30 billion in equity
Built on the Gotianun tradition of integrity, quality, and service
Developer Audio Visual Presentation

Filicity

Filinvest Land
Attention Our Valued Users
The particulars and visuals shown herein are intended to give a general idea of the project and as such are not to be relied upon as statements of fact. While such particulars and details on present plans which have been prepared with utmost care and given in good faith, buyers are invited to verify their factual correctness and subsequent changes, if any. The contents herein are subject to change without prior notice and do not constitute part of an offer or contract. For more information please see our Terms of Use.