Zumicon Coating & Waterproofing is recognized as one of the country's best waterproofing and epoxy floor coating contractors.
An advanced applicator and installer of various brands of coating and waterproofing system in the country, Zumicon provides excellence in contract projects together with timely service to supply and install quality solutions to suit every project need.
Zumicon believes that success depends on quality and trust. Every project has its unique requirements, but our fundamental values remain the same – to listen to our customers and deliver value.
We are an all-Filipino owned and managed company, fully insured and an approved applicator for major suppliers.
Our qualified and experienced team of engineers, project and sales personnel will customize all solutions to cater to your desired quality, technical and aesthetic requirements.
Products
Primers and Topcoats

Waterproofing

Structural and Concrete Repair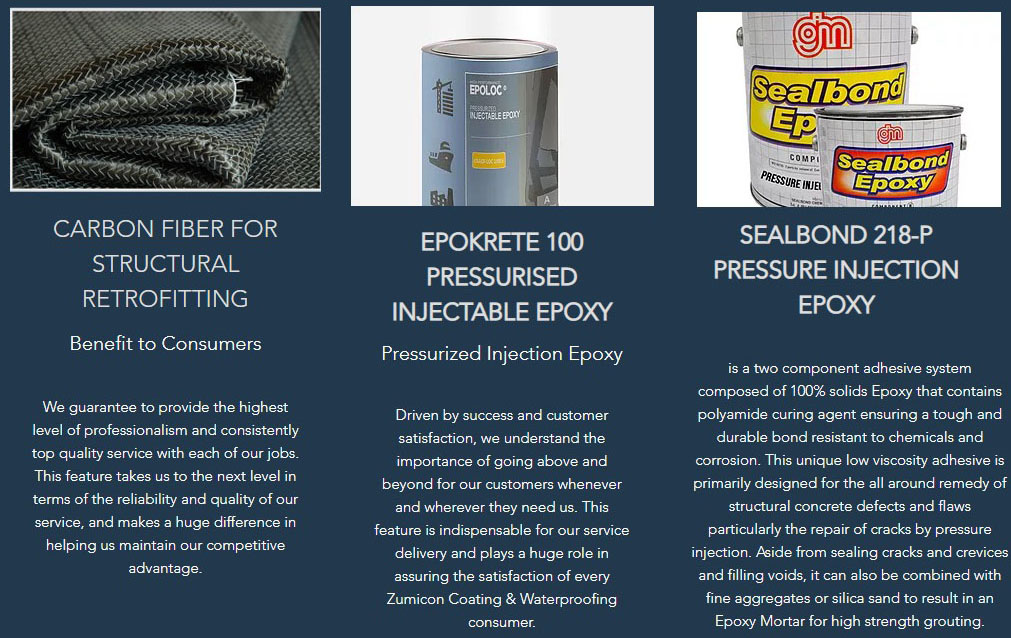 Services
FLOORING
We bring innovation on the surface.
When used in flooring applications, an epoxy coating will result in a durable, long lasting flooring solution. Epoxy coatings are used over concrete floors in a variety of commercial and industrial applications such as in manufacturing plants, commercial and retail stores, industrial plants, warehouses, hospitals, showrooms, garages, airplane hangars, and more. Epoxy coatings and floor paints provide a decorative, high gloss finish that is available in a variety of colors and styles. Decorative options that are available when using an epoxy coating on floors include terrazzo flooring, chip flooring, and colored aggregate flooring. An epoxy floor coating offers an easy to clean and chemically resistant flooring solution, which can be applied directly over new or old concrete floors.At Advanced Environmental Services, we use durable epoxy coating compounds to offer epoxy floor paint application services. If you are interested in learning more about how our epoxy coatings can create a durable and attractive flooring surface for your commercial or industrial facility, please feel free to contact our epoxy floor application company. Using our durable epoxy coatings, which are available in a variety of colors and styles, we can offer a solution to make your flooring more functional and attractive.
PU FLOOR MORTAR

CAR PARK FLOORING

DUSTPROOF FLOOR

FLOOR HARDENER

EPOXY COATING SYSTEM

EPOXY MORTAR SYSTEM

HIGH BUILD EPOXY SYSTEM

SELF LEVELING EPOXY

SELF-LEVELING SCREEDS

CONCRETE GRINDING
WATERPROOFING
We are your leak-free solution.
Zumicon Coating & Waterproofing has been a reliable leak-free solutions provider in the industry for years.Being a great service provider means having complete and total confidence in the people providing those services, and we're proud to have the best pros in the business working with us. With a focus on personalized service, competitive rates, and customer satisfaction, we're always striving to meet and exceed our high standards and our clients' expectations.
TORCH ON MEMBRANE

ANTI-ROOT WATERPROOFING

SPRAYED POLYURETHANE FOAM

EXPOSE-TYPE POLYURETHANE

EMBEDDED-TYPE POLYURETHANE

ACRYLIC WATERPROOFING

ELASTOMERIC WATERROOFING

CEMENTITIOUS WATERPROOFING

EPOXY TANK LINING

SEALANTS
RETROFITTING AND CRACK REPAIR
We are your leak-free solution.
CFRP has become a notable material in structural engineering applications. Studied in an academic context as to its potential benefits in construction, it has also proved itself cost-effective in a number of field applications strengthening concrete, masonry, steel, cast iron, and timber structures. Its use in industry can be either for retrofitting to strengthen an existing structure or as an alternative reinforcing (or pre-stressing) material instead of steel from the outset of a project.
Retrofitting has become the increasingly dominant use of the material in civil engineering, and applications include increasing the load capacity of old structures (such as bridges) that were designed to tolerate far lower service loads than they are experiencing today, seismic retrofitting, and repair of damaged structures. Retrofitting is popular in many instances as the cost of replacing the deficient structure can greatly exceed its strengthening using CFRP.
CARBON FIBER FOR STRUCTURAL RETROFITTING

PRESSURIZED EPOXY INJECTION

CEMENT BASED SELF-LEVELING SCREEDS

EPOXY BASED GROUTS
Projects

Contact Us
Zumicon Coating & Waterproofing
Address: 306 Saunterfield Bldg. Ortigas Avenue, Cainta, Rizal
Phone: 531-6340 | 925-3979 | 782-9626 | 531-6340
E-mail: teamzumicon@gmail.com
Find us on Google Maps
sponsored links
SIMILAR COMPANIES/PRODUCTS/SERVICES
Terms of Use/Privacy Policy Advertise Buy me coffee