WEL Contracting Corporation is an ISO Certified & AAA General Building Contractor provides construction services ranging from Civil, Structural, Architectural, Mechanical & Electrical Works. Our company approaches every project with professionalism and a dedication to the client's satisfaction. We provide our clients with a guaranteed price and a guaranteed delivery date before the project begins.
The company was originally a sole proprietorship under the name WEL ENGINEERING, founded by Engr. Winefredo R. Sollano, a Registered Electrical Engineer, in 1994 engaging in the implementation and execution of civil, electrical and mechanical works. With his twenty-two (22) years of experience in construction business( local and overseas ); with the handful back-up assistance of his experienced and reliable engineers and staff, WEL ENGINEERING implements and executes various aspects on civil, electrical and mechanical works.

Among its satisfied clients are Romago Inc.; Connaire M&E Phils. Inc.; Kinden Phils. Inc., PHPC Co., Ltd., Inc., Shinryo Philippines, Inc., Toenec Philippines Inc., Philippine Airlines; Ebara Engineering (Singapore); Himex-TESDA; San Miguel Properties (Phils.) Corporation; Tram Realty and Development Corporation; Police Savings and Loans Association, Inc. (POSLAI); Samsung Engineering; Taikisha Philippines, Inc.; Sumisetsu Philippines, Inc.; Seman Builders, Inc.; Subic Bay Metropolitan Authority (SBMA), Maynilad Water Services, Inc. and Bayside National High School, Calamba, Laguna.

Services
Electrical Works​​
​​Overhead and Underground Electrical Power Distribution System (High and Low)​
​Roughing – in and wiring for ACMV controls, motors and controllers
Street, Parks and Traffic Lighting System
​Building Fire Alarm System​
Public Address System
​Substation
​Generator Set
​Transformers
​Panel Boards
​Auxiliary System​
Communication (Telephone)​
Security

MATV System
CATV System
CCTV System
Mechanical Works​
Air-Conditioning & Mechanical Ventilation System​​

Piping Works (Refrigerant, Chilled Water & Cooling Water System)​
Ducting Works​
Installation of Mechanical Equipment (Chiller, Cooling Tower, AHU, FCU, CHWP, COWP etc.)​

Fire Protection System​ (Fire Hose Cabinet & Sprinkler System)​
Utilities System​

Piping Works
Installation of Mechanical Equipment

Water Treatment ​
Compressed Air Systems​
Boiler & Generator Set Installation​
Plumbing & Sanitary​
Civil Works​
​​General Building Works
​Structural
Architectural
​Painting
​Road Pavement
​Sewer Manhole
Major Clients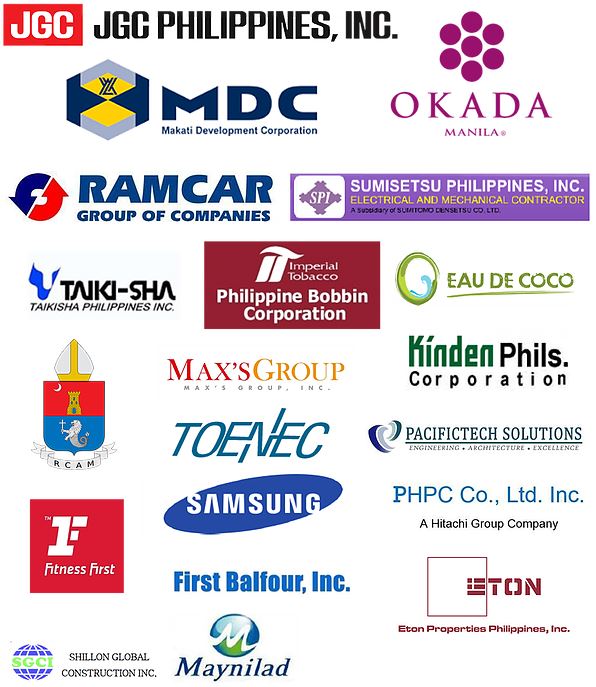 Contact Us
WEL Contracting Corporation
Address: 1949 Campillo Street, Malate, Manila, Philippines, 1004
Telefax: +632-400-4768​ | +632-313-8386 | +632-313-8385
Mobile: +63917-537-5646
E-mail:
General Inquiries - info@wel.ph

Technical Deparment - engineering@wel.ph

HR & Admin - hr-admin@wel.ph

Purchasing Department - purchasing@wel.ph
Find us on Google Maps
sponsored links
SIMILAR COMPANIES/PRODUCTS/SERVICES
Terms of Use/Privacy Policy Advertise Buy me coffee