THE GENERICS PHARMACY (TGP) started out as small pharmaceutical company in 1949. Acknowledging the dire need for quality medicines but at affordable prices, the company focused on generic medicines to provide the Filipino with a more affordable alternative.
In 2001, the company ventured into retail, starting only with a single outlet. As demand grew, the company decided to bring their medicines more accessible to all the far reaches of the country through the FRANCHISING business model.
Now as TGP, it revolutionized the entire Pharmaceutical healthcare industry and pharmaceutical retail with its bold and different path for growth. Who would think that a pharmacy or a drugstore with pure generic drugs rapidly take off? After the initial struggles and birth pains, the healthcare landscape has embraced and accepted generic medicine as it has proven to be effective and of high quality standards and yet, truly affordable for everyone.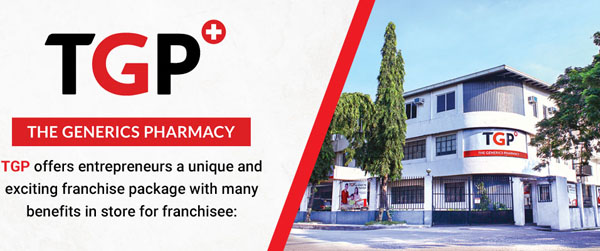 Why franchise TGP?
Huge Market Potential
With this broad line of affordable and value-added generic medicines, TGP continues to be the leading retailer of quality cost-effective generic medicines. We offer entrepreneurs a unique, exciting high-profitable and stable investment alternative.
Franchise Success Rate
Franchising has seen phenomenal growth over the years. It is a dynamic business format with a 90% success rate in the country. It does well when the economy is good, and does even better during difficult economic times.
Total Support Package
Our franchise comes in total support package derived from a strong operational and support system which allow our franchisees to run the business successfully while enjoying an investment with proven economic viability.
Frequently Asked Questions
What is Generic Name?
Generic Name or Generic Terminology is the identification of drugs and medicine by their scientifically and internationally recognized active ingredients or by their official generic name as determined by the Bureau of Food and Drugs of the Department of Health.
How much is the total franchise investment?
The total investment for TGP franchise is about P600,000 to P800,000 for an outlet. This includes the franchise fee as well as a total support system necessary to run TGP.
What does the franchise fee cover?
The franchise fee covers the cost of providing you with pre-opening and start-up assistance, initial training and other support and business development services.
How to become a TGP Franchisee?
Submit the following:

Letter of intent
Vicinity or location map of the proposed site
Filled-out Franchise Prequalification Form
Resume with colored ID

We will review and evaluate your qualifications thoroughly.
If qualified, we will invite you to a business meeting to discuss the details and terms of the franchise prior to signing the franchise agreement.
How do I start the whole process?
Attend TGP Business Seminar at the scheduled date.
Call Mr. Emer Sanchez at 821-1111 local 417 to register.
Look for location and have it approved by TGP Franchising Corporation. Location must be 1 kilometer away from the nearest TGP drugstore or inside a mall with cinema house(s)
Register with DTI if single proprietorship and SEC for Corporation.
Get a lease contract from landlord.
Proceed with the renovation (shelves and signage)
Look for a licensed pharmacist.
Complete the FDA requirements and send to TheGenerics Pharmacy.
Apply City Hall permits.
Apply BIR permits.
Apply permit for POS and/or Sales Invoice & O.R.
Be prepared for actual training (franchisee, pharmacist, and assistant)
Registered and Licensed Pharmacists
By law, the operation of a retail drugstore requires the supervision of a registered pharmacist as mandated under section 29 of RA No. 5921 which provides, thus:
"Every pharmacy, drugstore or hospital pharmacy whether owned by the government or a private person or firm shall at all times when open for business be under the personal and immediate supervision of a registered pharmacist: Provided, That no pharmacist shall have personal supervision of more than one such establishment. In cases where a drug establishment operates in more than one shift, each shift must be under the supervision and control of a registered pharmacists."
TGP shall help the Franchisee comply with this by providing a list of Pharmacists that who recently received their license. This list is updated during every of Pharmacist Oathtaking batch.
When should I pay for the initial stocks delivered?
When it is sold, then you will order, the company will deliver additional stocks also on consignment. The franchisee will pay the oldest account first per invoice.
What is the term of the franchising agreement?
The initial term of the franchise agreement is three (3) years, renewable to 2 additional 3-year terms for a total of 9 years.
What if the space is less than 15 sqm?
It will not be approved by FDA.
Will I have exclusive territory?
You will not receive an exclusive territory. However, The Generics Franchising Corporation will see to it that each site will service the population to the fullest to make the business viable.
What are the opening hours?
Each franchisee will decide dependent on the market demands.
Where will I get my Stocks? How do I pay for them?
All Pharma Products are exclusive supplied by TGP. Before you open your store, TGP will provide a complete set of Initial Stocks worth approximately Php 300,000.00.
You will enjoy a credit line of Php 300,000.00 payable in 60 days. You may also opt to pay in cash and enjoy a 4% cash incentive.
Non-Pharma items may be purchased from TGP accredited suppliers.
When do I return unsaleable stocks?
Within 90 days from the date of purchase.
Deliveries
Stores within Metro Manila enjoy free delivery twice a week. For stores outside Metro Manila, Franchisee may opt for one of the following:
pick up from our Warehouse in Paranaque
delivered to your chosen third party courier within Metro Manila
delivered to your warehouse/assigned delivery location within Metro Manila
All incidentals for the delivery like gate stickers shall be shouldered by the Franchisee
Advertising Fee
All stores are required to pay 1% of the gross sales as advertising fee. This is paid on or before the 15th of the succeeding month.
How much is the royalty fee?
The royalty fee is 1% of gross sales for continuing support services.
Will franchisor increase franchising and royalty fees in the future?
Yes, depending on prevailing situation.
What other continuing support will I receive?
As our franchisee, our representatives will provide advice and guidance, and check quality control compliance, and may be consulted on any matter you may encounter as you operate the business. Refresher trainings may also be provided as needed.
Training
There are three (3) mandatory types of training for the TGP Franchisees
Community Pharmacy Training - designed for store personnel
Pre-Operations Training - designed for Franchisees
Continued Franchise Education Seminar - designed for both or depending on the topic
All of these are given free to a franchisee.
Will we be trained on TGP system of operations?
Yes. At our company owned outlets, franchisees and their staff will be given 3 days training on pharmacy operations, services as well as orientation of generics products and customer service. Training is done 15 days before grand opening.
Will we get a comprehensive operations manual?
Yes, after you sign a franchise agreement, you will receive a copy of the Confidential Operations Manual containing policies and procedures involved in running the business.
Contact Us
The Generics Pharmacy
Address: Km. 14 Edison St. cor. Cul de Sac, West Service Road, Sun Valley, Parañaque City
Phone: (02) 821 1111
Find us on Google Maps
sponsored links
SIMILAR COMPANIES/PRODUCTS/SERVICES
Terms of Use/Privacy Policy Advertise Buy me coffee