Steelfab Water Solutions is a Western Australian company that has earned an international reputation as an industry leader in designing steel bolted, lined water tanks. With more than 50 years combined experience in the water storage industry, Steelfab's in-house engineers have passionately worked to raise their standard of excellence, and design a product that is both innovative and environmentally responsible. We now provide a world-class product to many countries; a product that delivers engineering excellence and gives every Steelfab client a totally safe, reliable, cost effective and proven water storage system.

We are one of the most experienced, well-established water tank manufacturing companies in Australia.
Our depth of experience means we can give you the best advice on tank and pump combinations to maximise the efficient and cost-effective storage and pumping of liquids and water.
Steelfab Water Solutions tanks are ruggedly designed for use in the harsh climatic conditions found in Australia and elsewhere around the world.
Tank sizes range from 9,235 litres to more than 10,000,000 litres. With our extensive experience and industry specific skills, we are uniquely suited to custom design and build the right water storage solution for your specific needs.
Products
Commercial and Industrial Water Tanks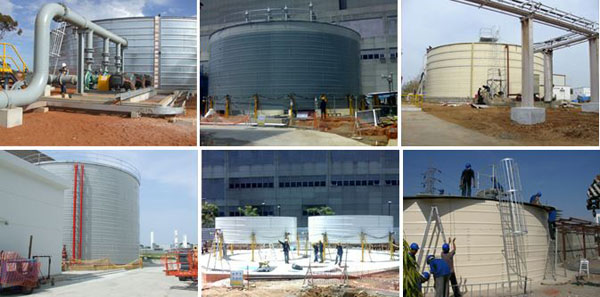 Commercial and Industrial water tanks can cover a wide range of applications. Some of these may include: potable water tanks, rainwater tanks, waste water treatment tanks, RO water tanks, process water tanks, and in some cases chemical storage tanks and fuel storage tanks.
Steelfab tanks and reservoirs can be modified and designed to your custom parameters to ensure that the tanks will fit into a pre-determined space and meets the design parameters of the project.
Steelfab tanks are designed to meet or exceed the expected life span of the project for which they are created. Specialized liner membranes are available to suit the storage of most liquids. Simply contact our team for further information and we will be happy to work to your requirements and offer a solution for your project.
Steelfab also offers pipework services for the tanks, or for supply and delivery manifolds to and from the tanks. We are happy to provide prices for this additional work, separate to the tank proposals we provide.
Domestic Water Tanks

A reliable safe water storage tank is one of the most important items you will ever invest in, after all we cannot live without clean water! At Steelfab we really understand this and that is why we have used our design expertise and the very best materials to develop our standard domestic ranges Aquadome water tanks.
With our commitment to providing tanks that are of a high quality, cost effective and have longevity we have produced our extensive range of water storage tanks. The Aquadome and Statesman ranges of water tanks are available in a wide range of sizes and colors and are back by our steel-clad Pro-Rata warranty that covers parts and labor.
These tanks are designed to all relevant Australian Standards and rated for the storage of potable or drinking water. This means that you can have complete peace of mind when you invest in a Steelfab water tank.
The following accessories are standard on all our domestic water tanks:
50mm outlet with full flow poly ball valve
50mm fire outlet with full flow poly ball valve and camlock adaptor
50mm overflow with PVC overflow pipe to ground level and away from the tank
Sliding access hatch fitted to the roof
Steel filter box with sliding covers and insect proof screen
Roof mounted whirly bird ventilator
Edge flashing to roof sheeting for safety and to provide a neat finish and appearance
Bolt cover caps to all tank bolts
Hot Dip Galvanized trusses for longevity of the roof support system
All of these fittings and accessories are of the highest quality to ensure longevity and reliability. Steelfab Water Solutions are the only company to manufacture our own solid liner in-house to Australian Standards AS4020. The superior quality of our liner gives you complete peace of mind as it secures your water better than any other liner can. It's strong and flexible, with a 250% stretch factor. The Steelfab Water Solutions design team is available to assist with the design of your catchment system. When relying on rain water for your total water supply, the catchment system to collect the rain water and get it into your new Steelfab water tank is a critical part of the overall system.
Our design team will assist you with the design of this system as part of our service to our clients. Working with you and your drawings or sketches of your property we will design the most efficient system for your property. This is a no-charge service for our valued customers.
Farm Water Tanks

Farms predominantly utilise stock water tanks or portable water tanks. However recently, farmers have found that rainwater is extremely beneficial when used with sprays for crops, fertilisers and weed control. As a result, farmers are beginning to request in increasing numbers, rain water tanks.
In many cases, dam water or bore water has impurities or PH levels that reduce the effectiveness of the sprays and rain water has been found to offer the best and most consistent results.
As a result of this, many farmers are putting in large rainwater tanks to collect and store large capacities of water for their spraying regimes.
Our tanks have also been utilised by farmers for special applications including bore water tanks for irrigation, and as hydroponic tanks for mixing and storage of chemicals. In addition we now carry aquaculture tanks that are utilized for fish farming.
Dams are also being re-considered in favour of large water tanks due to the loss of water through evaporation and also due to contamination from various sources that render the water un-usable. Steelfab specialise in the design of water tanks for every and any purpose.
Fire Water Tanks

Fire water tanks are a specialised industry.
The design of the tank and all associated fittings, accessories and pipework, must meet strict requirements and design specifications to ensure that the finished installation not only complies with all reasonable and industry standards and regulations, but also to make cetain that they provide the required longevity and flexibility for years of trouble free operation.
Fire water tanks currently are not covered by a specific Australian Standard. However there is a new proposed standard currently in draft form that if adopted, will help to regulate the industry and guarantee the customer a better product and ensure the quality and longevity of the fire water tank.
Fire water tanks are also designed to meet other specific standards including AWWA (American Water Works Association), and also FM (Factory Mutual) approval is required by some projects in order to comply with certain applicable insurance stipulations. Steelfab is currently the only bolted lined tanks provider that has received FM approval.
FM approval requires not only specific engineering design, accessories, and fittings to meet certain standards, but also that the installation itself meet or exceed FM's requirements.
"Quotes from the FM Website"
FM Global offers product certification and testing services that conform to the highest national and international standards.
FM Global offers worldwide industrial and commercial product certification and testing services through FM Approvals.
Recognized and respected across the globe, FM Approvals certification assures customers a product or service that has been objectively tested and conforms to the highest national and international standards.
FM Approvals certifies industrial and commercial products and services for companies worldwide. When a product or service meets the standards of FM Approvals, it is issued the "FM APPROVED"mark to signify it will perform as expected and support property loss prevention.
FM Approvals backs its evaluations with scientific research and testing and lists more than 45,000 certified products and services in its Approval Guide.
Metropolitan Water Tanks

This is the ideal water tank for the garden enthusiast. It's assembled on site and can be transported easily into any backyard. The water tanks can also be used for fire protection, should the need arise, so if you would like to keep your garden looking lush all year round, make a Steelfab water solutions Aquadome water tank your choice.
Tank sizes begin from 9,235 litres and can be built as large as you would like. The tank comes complete with 50mm outlet and a camlock fire adaptor, leaf filter, access hatch, overflow and a whirly bird for ventilation. When you buy your residential water tank from Steelfab Water Solutions, you automatically becomes a VIP customer. We offer our VIP customers special discounts off the purchase of their pumps or any purchase of steel through our company.
Mining Water Tanks

Mining tanks can cover a wide range of applications. Some of these will include process water tanks, portable water tanks, RO water tanks, settling water tanks, waste water treatment tanks, sewage treatment tanks and many other specialised tanks.
We strive to obtain the correct solution for every water storage challenge we encounter. Steelfab's water tanks can be custom built to meet any application and configuration required
The Steelfab team will work with you to ensure that the express objectives of the project are met and that the tanks installed by us are fit for purpose, both in configuration and in design life.
Specialised liner membranes are available to suit the storage of most liquids. Simply contact our team for further information and we will be happy to work through your requirements and offer a solution for your project.
Steelfab is also available to offer pipe work services for the tanks or for supply and deliver manifolds to and from the tanks. We are happy to provide a quote for this additional work, separate from the tank proposals we will provide.
Rain Harvesting Water Tanks

Steelfab Water Solutions strives to be an environmentally responsible company and actively promotes being "Always greener™" The old saying that the grass is "Always greener™" on the other side might have been true at some stage, but now Steelfab Water Solutions can help you to effectively harvest and manage your rain water, so its "Always greener™" for you too.
WHAT IS RAIN WATER HARVESTING?
It is the principle of collecting and using rain water from a catchments surface. In Australia, the most common method utilised is to use the roof surface of a house and or surrounding buildings as the catchment. It is a very old technology that is once again gaining popularity. Rainwater harvesting is enjoying a renaissance of sorts, although its history dates back to biblical times. Actually, extensive rainwater harvesting apparatus existed 4,000 years ago in Palestine, Greece, and in ancient Rome; residences were built with individual cisterns and paved courtyards to capture rain water to augment water from city's aqueducts.
WHY SHOULD I CONSIDER RAIN WATER HARVESTING?
The rain water that you save can be used to supply toilets, irrigation, and for other household purposes. In most parts of rural Australia where there is no scheme water supply, communities and residents are solely reliant on rain water harvesting for all their purposes. We always recommend the use of filters which will reduce any possible contaminants that may have been collected from the collection surface. By regular cleaning of gutters and also flushing the first discharge of your rain water, you can help reduce any unwanted contaminants. Steelfab Water Solutions has a trim that raps around the roof sheets of the tank, this makes it virtually impossible for birds or other vermin to enter the water storage tanks. The Aquadome water tank, is fitted with a whirly bird vent, which helps reduce condensation under the roof sheets. This method of rain water harvesting will help prolong the life of the roof and allows the tank to maintain healthy ventilation. It's important to keep your water completely free of sunlight. By doing this, your water will remain fresh and usable for an indefinite period of time. Essentially, by harvesting your rain water...you are harnessing life.
Rural Water Tanks

THE AQUADOME WAS DESIGNED AND BUILT TO WITH STAND AUSTRALIA'S HARSH CLIMATE CONDITIONS
We purposefully designed a water tank that would not only withstand the extreme weather temperatures, but was robust enough to take what ever the Wild West could throw at it. The stringently engineered Aquadome water tank gave Australian farmers and rural property owners a safe, reliable water storage facility that has greater strength and minimal liner movement. We are proud to have achieved two very important objectives, structural integrity and minimal movement of the liner. The Aquadome water storage tank is an Australian success story, that helps preserve life and is an icon on the Australian landscape.
FARMERS AND RURAL PROPERTY OWNERS WANTED LARGER CAPACITY WATER STORAGE
In the early 1990's, we responded to the needs of Farmers who wanted large capacity water storage. 'we met that need' The Aquadome which offers a total capacity of 10 million litres is more than double the capacity that most of our competitors are able to offer. With evaporation being a major problem for dams, many farmers have now safely secured their water with a Steelfab Water Solutions large capacity rural water tanks. Water storage must be safe and reliable, and we are proud to say that now, many thousands of people around Australia have entrusted the safe keeping of their water with our product. We pride ourselves on making sure our customers have peace of mind with their water storage.
HOW IMPORTANT IS YOUR WATER?
We place a very high importance on saving rural water and only use a liner that is capable of being repaired while either wet or dry. It is of paramount importance to us that people in rural or remote areas know that in the possible event of leakage, that their liner can be repaired without having to lose too much water. We service remote areas across Australia and regularly travel to this area's to build our rural water storage tanks, as well as repairing other manufacturer's water tanks, liners and towers.
In rural area's, Its now becoming more common to see multiple large capacity storage water tanks on properties especially where there is plenty of rain water catchment from multiple shed roof's. The main reason for this is that it is far more cost effective and affordable to install four 250,000 Litre tanks compared with the cost of installing a single 1,000,000 Litre tank. The other advantage of doing this is that you can always start with one tank and add to it when you are ready. Often people think if there hasn't been much rain, why? Get a larger rural water tank? The truth is that eventually the rain will come and you will need to be prepared to store it when finally does arrive. It's important to store as much as possible, when you get the chance.
Water Tanks for Schools

Steelfab Water Solutions has successfully helped many Australian schools to be "Always greener®" with the installation of large capacity rain water tanks. The project is called The National Solar Schools program, which is a Federal Commonwealth Government initiative. It replaces an earlier program called Green Vouchers, which also provided water storage tanks for all primary and secondary schools across Australia.
Steelfab Water Solutions with almost 50 years of combined experience, provides assessments of a school's water storage requirements and makes sound recommendations as to the: collection, suitable placement of the storage tanks and the redistribution options to supply toilet systems, or for reticulation of gardens, or the School Oval. We strictly follow the requirements as set out in the National Solar Schools program, so that Schools comply with Federal and State Government Authorities and the Education Department responsible for school property.
It's a program that benefits all concerned. Children are educated about the responsible use of water, and the environment is being responsibly cared for. Every effort to help the environment makes a big difference. Another big benefit to Schools who install Steelfab water solutions rain water tanks, is that the on-going water cost for that School is significantly reduced. So all in all, it's a sensible program that ensure that the Children, the School, and the Environment all win, and ultimately, Australia becomes more self sustainable. It also has an educational effect for communities where these schools are located, because industry and community groups can also enjoy the benefits if they follow the example of local schools.
Elvaline Water Tank Liners

As the world constantly changes, the advent of new technologies are providing benefits to a rapidly growing population and challenges to the environment. In a country like Australia we can't afford to take our precious water resources for granted. With the unseasonable weather conditions water storage in Australia is an extremely high priority, therefore containment methods must be matched with quality materials.
Steelfab takes pride in supplying superior quality Tank Liners to Australians with the confidence that their products will always be able to continually meet a varied and often difficult range of applications. With reliable, economical and stable industrial liners backed by our realistic Warranties, Steelfab is the leader in providing liner materials for water management solutions.
Elvaline® liners are made from a high molecular weight polymer sheet created with Dupont Elvaloy® technology. This allows our membrane liners to be used within the speciality market with confidence that our product will meet the demands of high performance, chemical resistance and ease of fabrication.
Dupont Elvaloy® is technology that has been proven over numerous decades internationally and is recognised as a superior product.
The combination of certified potability and excellent chemical resistance Elvaline® is a product that offers low volatility, ease of compounding and manufacturing and ultimately an outstanding life.
BENEFITS OF ELVALINE®
Easy to fabricate and install either by thermal or high frequency welding
Potability meets stringent approval standards
Molecular Structure is resistant to hardening and degradation
Chemical Resistant - this allows the ability to store contaminated water
Heat resistant to degradation from installation heat build-up
Services
Re-Lining
Steelfab Water Solutions is one of the only water tank manufactures that manufactures its own water tank liners. Because of this, we have vast experience and expertise in supplying and fitting liners for all types of water tanks. If your water tank has a leak, our liners will solve your problem. Our liners are ideal for corrugated tanks, concrete tanks, poly tanks, fiberglass tanks or any steel bolted water tank.
Re-Locating
Steelfab Water Solutions, provides a water tank relocation service to dismantle, remove and reconstruct water tanks. Initially we conduct an assessment of your project, to determine its feasibility. Should the tank be in good condition, we will re-erect it at another suitable site location. In most cases we fit a new liner to the tank, as a precautionary procedure to reduce any likelihood of possible leakages. If our assessment shows that the existing water tank is not suitable for re-construction, we will advise you of alternate options, which may include possible repair or replacement of the water tank.
Re-Roofing
Steelfab Water Solutions, has a roof system which includes a whirly bird. This helps reduce condensation build up, which occurs under the zincalume roof sheets. We supply a hot dip galvanised roof truss systems, that will give you trouble free water storage for many years. The roof truss system and roof sheets are all made to measure and can be supplied for self install, or we can remove the old structure and install the new water tank roof for you.
Water Tank Installation Requirements
COMMERCIAL INSTALL
The requirements for commercial installations are greatly varied.
Client & site specific requirements will always need to be considered in the planning of the project.
Our unique knowledge of the water tank industry allows Steelfab to offer project specific systems that allow the client to achieve their desired project outcomes.
DOMESTIC INSTALL
It is the Purchaser's responsibility to...
Check with local shires, councils or governing bodies in relation to relevant building licences and permits regarding Steelfab water tanks.
Provide a sand pad foundation of not less than 100mm thickness (150mm if a scour drain is fitted) the surrounding area of the tank site. The diameter of the sand pad must be 2 metres greater in diameter than the tank diameter.
Ensure that the sand pad is flat and level across the whole surface area and free of any foreign objects.
Ensure that the sand pad is screeded and free of any vehicle or other indentations. Compaction is not necessary.
Determine that the foundation is sufficiently drained of moisture that would impede the proper installation of the tank.
Provide a suitable drainage system if water run-off from a surrounding area is likely to cause erosion of the foundation.
Supply maps and or directions to the tank site if it is difficult to find or not in the street directory.
Provide clear access for the delivery vehicle & trailer to within 10 metres of the tank site.
Restrain and keep clear of the work area, all animals which may be considered a danger or a hindrance to the installers.
Supply a minimum of 100mm of water into the tank on the installation day.
Spread blue metal around the base of the tank to avoid erosion of the sand pad caused by water run off.
IMPORTANT INFORMATION
The Tank Liner sits directly on the sand pad therefore it is essential that the sand pad be constructed of pure, clean filtered river sand or pure, clean filtered yellow brickies sand - (not fill sand).
If contractors are preparing the sand pad, please give them a copy of this information.
All tank inlets and outlets will be placed at the installers discretion unless otherwise notified. If a fire fighting camlock is to be fitted, it will be positioned at 1/3 of the tank wall height measured from the base of the tank wall, unless otherwise instructed.
If the tank pad foundation is incomplete or unsatisfactory for the tank erection, rectification by the installation contractor may be made and charged by them to the purchaser at their current hourly rate. If the tank is unable to be installed, a mobilisation/demobilisation cost will be charged to the purchaser by the contractor at their current hourly rate.
Frequently Asked Questions
Why do I need a Pump?
You need a pump to get the water from your tank to your tap or reticulation. If you didn't have a Pump You would need a tank stand 23 metres high to equal the pressure of just a small pressure pump.
Can you assess the size of pump and the pipingI require to suit my needs?
Absolutely. It all depends on your usage needs — reticulation, domestic and stock requirements differ widely. We can provide you with free advice on the best pumping solution to provide the most cost effective investment for you. We want to ensure you don't make an expensive mistake by installing the wrong pump.
What pressure do I need?
Some Household hot water systems require a minimum of 210Kpa pressure to cut in. You need the correct pump providing the correct pressure to achieve this.
Can the pump handle household as well as reticulation demands?
Ideally the two need separate pumps. Household usage demands high pressure and low volume — 210 to 500kPa @ 50 litres per minute, whereas reticulation requires 100 litres per minute at lower pressure. This means that if you are under the shower and the retic comes on it will take 90% of the water… Pumps must also be specifically tuned by the highly trained Steelfab Water Solutions Pump Technician to suit the unique and individual household requirements.
What is the best brand?
The best brand is the pump that will do the job for you.
What sort of warranty will I get?
On Davey you get two years on pumps and five years on pressure vessels, on Ebara you will get one year on pumps.
Where are the pumps made?
Davey are made in Australia and Ebara in Italy.
Are parts and service readily available?
Steelfab Water Solutions carry the full range of spare parts for all pumps sold. Our technicians are fully trained. We are fully accredited Davey Master Dealers and Field Service Agents for their complete range of rural, pool and spa pumps.
How often does a pump need servicing?
Pressure systems every 6 months, retic systems every couple of years. Most pump problems can be fixed on site, in the event of something more involved then we can almost always loan you a pump in the interim.
Do I need a pressure tank?
No you don't — but the extra cost associated with purchasing and installing one will be quickly gained back. A pressure tank, depending on the size, enables you to get a glass of water or flush the toilet without the pump starting. Also If you choose evaporative air conditioning they require small amounts of water up to 10 times per hour. Pump wear and energy consumption is greatest at the time a pump starts. Pressure tanks reduce the wear and tear on the pump by preventing it from cycling on and off continually. By reducing power consumption they reduce your running costs and increase the life span of your pump.
What happens if there is a power failure?
If you have a pressure tank you'll still have water to draw-off, the larger the tank the greater the capacity. This means you can still flush the toilet. If you don't have a pressure tank — you'll have no water…
What is a firefighting pump?
An engine driven pump as opposed to an electric motor driven pump to deliver large volumes of water at high pressure. They can also be used for transferring water from dams to tanks.
How much do pumps cost to buy?
Again—this is totally dependent on your needs. Please make use of our free advisory service to help you choose the correct pump for your situation.
What sort of pressure switch is best for my application?
A careful assessment of your usage requirements by our experts will determine this for you.
What does 'self-priming' mean?
If the liquid end of the pump is full of water then, when the pump starts, it will draw up the water from the source and pump it.
Is the pump easy to install?
Yes—but it must be done correctly. You can do it yourself but you will not receive the free 'Davey 1st Twelve Months Field Warranty'. If Steelfab Water Solutions perform the installation your pump will be installed professionally, tuned correctly to the site requirements and you will receive the 'Davey 1st Twelve Months Field Warranty' — so if any thing goes wrong we come and fix it free of charge.
How do I manage if my pump needs to be taken away for repairs and the tank is my only source of water?
Firstly — don't worry! We can generally repair it the same day: if we need to take the pump away to fix then we can almost always loan you a pump in the interim.
Contact Us
Steelfab Water Solutions Asia, Inc.
Address: 28-31 Lot 49-51 Faith St., Subic Bay Freeport Zone, Zambales
Phone: +6347 250 2393 | +6347 306 5272
Fax: +6347 250 2394
E-mail: steve@steelfab.com.ph
Find us on Google Maps
sponsored links
back to business directory home page
Steelfab Water Solutions Asia, Inc.