Established only in April 1994, SOILS is among fast growing companies in the field of geotechnical engineering and soil mechanics. With people and equipment which satisfy even the toughest needs of clients, SOILS has risen to the top as far Geotechnical Engineering, Environment Research and Soil Mechanics, and Foundation Systems Analysis is concerned.



Equipment
SOILS is proud of its line of equipment for most types of soils and related investigations. SOILS utilizes mostly Koken, Toho and other Japanese brands. And for its laboratory, it utilizes mostly European such as Memmert, Ohaus and Proceq.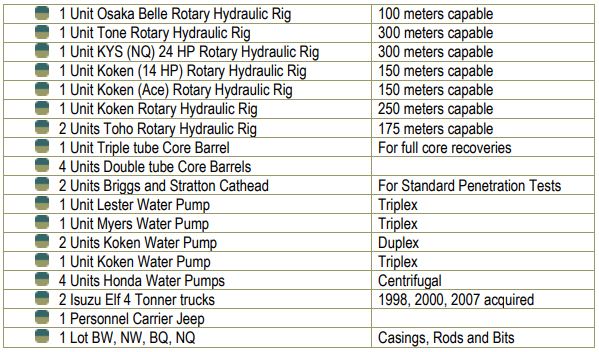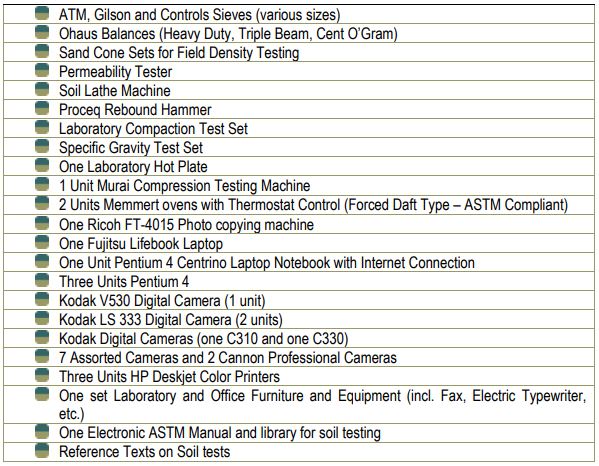 Services
GEOTECHNICAL ENGINEERING, SOIL MECHANICS AND ENVIRONMENTAL RESEARCH​​

High Rise Structures and Communication Towers
Roads, Bridges and Special Structures like Flyovers and Tunnels
Site Development, Ports and Dams

EVALUATION AND ANALYSIS OF FOUNDATION SYSTEM​​

Calculation of Bearing Capacity ​
Liquefaction Analysis
Field Density Testing

DESIGN AND EVALUATION

Deep Foundation
Foundation of Coastal and Offshore Structures
Earth Embankments
Sheet Pile Walls​​

SANITARY LANDFILLS AND SEWAGE TREATMENT PLANT

Piezometers and Monitoring Wells

SOIL SWELLING ANALYSIS​
​EARTH RETAINING STRUCTURES
DIAMOND AND ROTARY DRILLING WORKS​
GEODETIC TOPOGRAPHIC AND RELOCATION SURVEY
CIVIL ENGINEERING DESIGN AND CONSTRUCTION MANAGEMENT AND SUPERVISION​
Clients (partial list)
THE CHURCH OF JESUS CHRIST OF LATTER-DAY SAINT
MEGAWORLD CORPORATION
MANILA WATER COMPANY INC.
LOCAL WATER UTILITIES ADMINISTRATION
SAMSUNG ENGINEERING PHILIPPINES CORPORATION AND SAMSUNG ELECTRO-MECHANICAL GROUP PHILIPPINES
AYALA GREENFIELD CORPORATION
DARUMA CORPORATION
EEI CORPORATION AND THOMSON CNS
​THE IGLESIA NI CRISTO​
TCGI ENGINEERS, INC.
EMPIRE EAST
DE LA SALLE UNIVERSITY
ATENEO DE ZAMBOANGA
MIRIAM COLLEGE
UNIVERSITY OF CORDILLERAS (FORMERLY BCF)
RIZAL TECHNOLOGICAL UNIVERSITY
​DEPARTMENT OF EDUCATION
MAKATI HOPE CHRISTIAN SCHOOL
PHILIPPINE HEART CENTER​
NAPOCOR
JFE ENGINEERING CONSULTANTS (FORMERLY KAWASAKI STEEL, PHILS, INC.)
JAPAN FERROUS (JFE) CORPORATION, A MERGER OF KAWASAKI & JAPAN
ECHNOCORP
​HAWAII ELECTRIC AND INDUSTRIAL POWER CORPORATION​​​​​​
MWCI, MWSS, PPA
WOODWARD CLYDE PHILIPPINES, INC.
TYCO DEVELOPMENT CORPORATION
EUROTEL AND SOGO HOTELS
GMA NETWORK
DAELIM CORPORATION
TEAMPLAN HONG KONG
MANLY PLASTIC CORPORATION
THE RGV GROUP
SUMITOMO
GLOBAL PETROLEUM CORPORATION
EEI CORPORATION AND THOMSON CNS
NESIC PHILIPPINES, INCORPORATED
CALTEX, SHELL, AND PETRON
PHILIPPINE PORTS AUTHORITY
PHILIPPINE AIRLINES​​
PHILIPPINE FISHERIES DEVELOPMENT AUTHORITY
COMPOSITE WING SAVING AND LOAN ASSOCIATION FOR THE PHILIPPINE AIRFORCE
WATERCRAFT VENTURES, SUBIC INC.
MLD AND ASSOC.
SEURECA CONSULT
LAKESHORE II
TROPICAL HUT
SECURITY BANK
FAR EAST BANK AND TRUST COMPANY
ANTA CONSTRUCTION FOR SAN MIGUEL & PUREFOODS
STERLING GROUP OF COMPANIES
THE CITIES AND TOWNS OF DIPOLOG, SAN MARIANO, ECHAGUE, SAN LUIS, AURORA, CATICLAN, AND BAGUIO
BRAHMA KUMARIS AND RADHA SOAMI SATSANG, BEAS
SOS-KINDERDORF INTERNATIONAL
PHIL. SUPERFEEDS, INC.
OMF LITERATURE, INC.​
BANKO SENTRAL NG PILIPINAS​​
TCG PROGRESSIVE BUILDERS
MANILA TEACHERS MUTUAL AID SYSTEM
ASTRAFIL CONSTRUCTION
CATHAYLAND INCORPORATED
SWARA SUG MEDIA CORP.
SIMBULAN INDUSTRIES CORP.
KINGDOM OF JESUS CHRIST
PHINMA-BERNARDO REALTY INC.
IZUMO CONTRACTORS
DIEGO MAGSUMBOL & ASSOCIATE
REGENT FOODS CORPORATION
ARCHIPELAGO BUILDERS
ASB REALTY CORPORATION
RSI DIALYSIS CENTER
IPDI USA
FUJITA CONSTRUCTION CORP.
PHILIPPINE SUNDT
USA LANDMASTER
COPYLANDIA
PHIL CHINA GLOBAL
UNIDA EVANGELICAL COLLEGES
BETHEL CHRISTIAN ACADEMY
ASIA SCIENTIFIC INSTRUMENTS
HOLY CROSS COLLEGE
ASIA SUCCESS REALTY
Contact Us
Soils, Inc.
Address: 93 Premium Street, GSIS Village, Brgy. Sangandaan, Quezon City
Phone: +63 (2) 929 9380 | +63 (2) 928 0771
E-mail: soilsinc@yahoo.com
Find us on Google Maps
sponsored links
SIMILAR COMPANIES/PRODUCTS/SERVICES
Terms of Use/Privacy Policy Advertise Buy me coffee
Soils, Inc.