Established in Mandaue City, Cebu, Philippines in 1983, Mactan Rock Industries Inc. started as an industrial chemical manufacturer specializing in water treatment chemicals and industrial preventive maintenance chemicals. As the company grew, it began trading in water softeners, demineralizers and ion exchange resins. In just over five (5) years, it metamorphosed from its modest beginnings to a complete water and wastewater treatment company.
As the market widened, the company expanded. In order to differentiate itself from the highly competitive chemical industry, the company adopted the business philosophy that "technology must come first before the product." This policy supports sales representatives with a technical service group that monitors the water analysis of clients at least twice a week. The company also prides itself in pioneering the state of the art technology in boiler efficiency testing to all its existing and prospective clients. In less than a decade, it became one of the leading companies in water treatment and conditioning and its related fields, made possible through operating a nationwide network of branches in the Luzon, Visayas and Mindanao regions.
We are an ISO certified company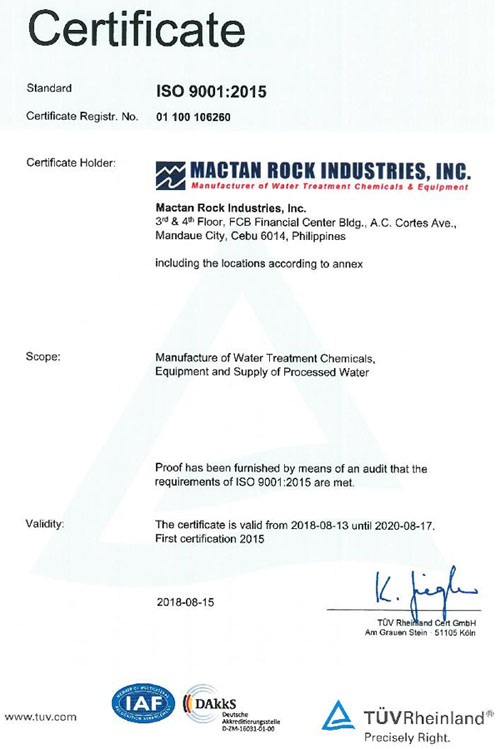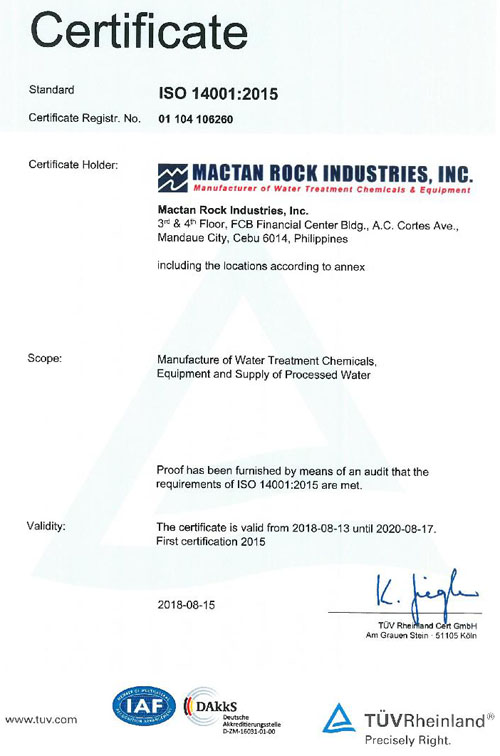 Water Supply
B.O.O.M
Build, Own, Operate and Manage is a scheme for customers who do not wish to invest or acquire the water treatment equipment. Mactan Rock will build the required equipment at no cost to the customer, operate and manage the equipment to produce the desired water quality and quantity. The customer will only be billed as per consumption or as per a guaranteed purchase volume.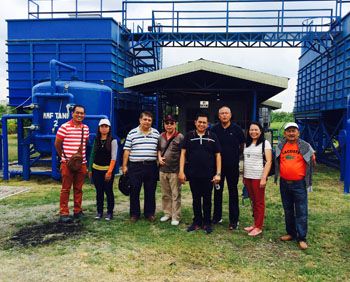 Bulk Water
Mactan Rock is one of the pioneers of the bulk water supply to water districts. It started way back in 1998 with Metro Cebu Water District (MCWD) whom we continue to serve with 5,000-7,000 Cubic Meter per Day (CMD) of water. Similarly, we have bulk water supply for Dumangas Barotac Nuevo Water District for 5,000 CMD.
Mactan Rock also supplies industrial water for the two processing zones in Mactan:
5,000 CMD for Economic Processing Zone 1, which distributes to 23 locators
3,000 CMD for Economic Processing Zone 2, which distributes thru Aboitiz Land
Made possible through the water technology provided by Mactan Rock Industries Inc., Bacolod Bulk Water Inc. (BBWI), a consortium majority owned and led by Tubig Pilipinas Group, Inc., inaugurated the Ngalan water treatment plant at Injection point 1 of the Bacolod Bulk Water Supply project on October 12, 2017, marking the start of delivery of potable water. This bulk water supply is enough to supply 75,000 residents and will greatly increase water pressure and water availability by as much as 20 hours per day in some areas of Bacolod City. It will allow Bacolod City Water District (BACIWA) to expand its capacity in providing access to safe and potable water for the under-served communities of Bacolod City.
Equipment
Clarification
Water clarification or flocculation is a water treatment process that removes suspended solids and other contaminants from raw water. This treatment process is suitable when there is a high degree of turbidity in the water, such as polluted rivers and streams. It makes use of a flocculation tank channel, where chemicals are mixed to the water. The chemicals enhance the formation of larger particles or flocs, so sediments can be easily separated from the water. The next step is in the clarifier tank, where the particles and dirt are separated from the water.
Mactan Rock provides the right quality of water for every customer's needs using various technology across different industries. It serves several communities nationwide providing clean, safe, drinking water in partnership with the Local Government Units such as our water systems in Coron, Palawan (3,500 CMD using multimedia filters and ultrafiltration), in Cabadbaran and Magallanes, Agusan del Norte (1,000 CMD using multimedia filters, clarifier and ultrafiltration) and the North Relocation Site for the Typhoon Yolanda Victims in Tacloban.
Mactan Rock is a grantee of the water franchise of Tacloban and it currently serves the areas of V&G, Suhi and Basper.
How do CLARIFIER Systems work?
Desalination
Desalination is the process of turning seawater into potable drinking water by removing the salinity or salt components.
Mactan Rock's biggest water system is a 22,000 Cubic Meter per Day (CMD) seawater facility in South Road Properties-Cebu City which supplies SM seaside and City de Mari of Filinvest. Mactan Rock also has a brackish water facility installed in Waterfront Hotel and Casino supplying the hotel requirements and this is also distributed to Cebu Buisness Park supplying Ayala Mall and Cebu Holdings. Mactan Rock also has a 2,000 CMD sea water system installed in Mabolo-Cebu which supplies SM City, Radission Blu and APM Mall. Similarly, a 2,000 CMD system is on-going installation in SM Iloilo, which is an expansion from the existing water supply of 600 CMD. Our equipment is being expanded to match the growing requirement of SM Iloilo as the mall expands.
Mactan Rock also serves private communities, we have a sea water facility established in Coral Point Gardens in Punta Engano, Mactan which also supplies Discovery Bay of Sta. Lucia and Amisa of Robinland. Another water system is also installed for the residents of Pacific Grand Villa of Phil Estates in Suba Masulog, Lapulapu and another for Vistamar residences of Sta. Lucia in Dapdap, Lapu-lapu. Both water systems are treating brackish or saline water sources.
What is DESALINATION?
Mobile Water Treatment System
Mactan Rock offers a fleet of mobile water treatment systems, which are readily available for emergency response, supplemental, and extended term services.
With the vision to provide clean water for all, Mactan Rock went out on a mission to help the evacuees of the Marawi siege by giving clean, safe and free drinking water. A newly developed emergency potable water treatment designed for remote areas through mobilization was deployed to Baloi, Lanao del Sur, a town where the evacuees are taking refuge.
The mobile water treatment can work either manually or with electric power and is capable of processing brackish, groundwater or dirty water sources.
Waste Water Treatment
Water that is no longer suitable for human consumption is converted so it can be reused and waste has the least practicable impact on the environment.
Mactan Rock is fully committed to its Environmental Policy, which includes providing quality products and services that will prevent pollution and promote waste minimization, specifically on areas of water reuse, recycling, protection and preservation of the water aquifer and development of zero waste water discharge technology. The Company strives to meet or exceed the environmental requirements of the government and other organizations.
How is wastewater treated?
Chemicals
Water Treatment (For Boilers and R.O. Systems)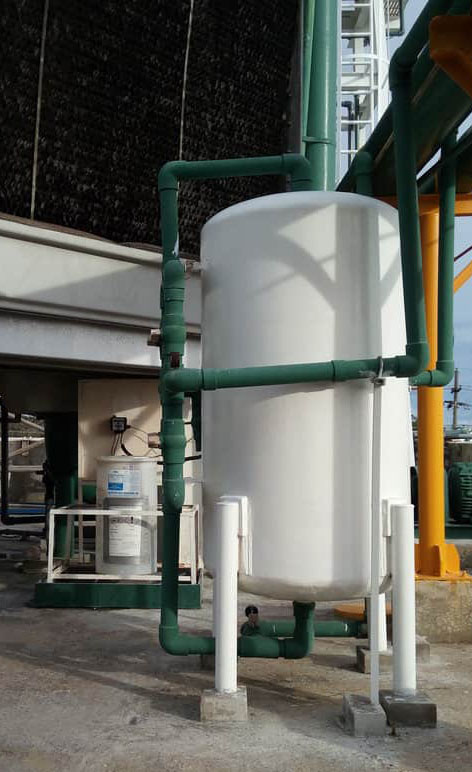 Mactan Rock Industries, Inc. prides itself as one of the leading companies in water treatment and conditioning. Our business philosophy that "technology must come first before the product" differentiates us from the highly competitive chemical industry. This philosophy means that we are continually committed to:
Being familiar with all your water treatment equipment and its frequency of operation
Keeping a written analysis of your water, indicating constituents found and in what amounts
Regularly testing your water and logging results
Interpreting results of in – house tests and making appropriate corrections to your treatment program
Establishing parameters for the use of chemicals and methods for the introduction / removal for the system
Ensuring that equipment is fed, bled and blown-down
Establishing chemical inventory and reorder points
Keeping abreast of local/national safety and environmental regulations and insuring your program meets all guidelines
Our products include chemicals for treatment of boilers, such as but not limited to:
Anti-Scalant
Sludge Conditioner
pH Adjustor
Steam and Condensate Treatment
Anti-corrosion
We also supply Reverse Osmosis chemicals, such as but not limited to:
General Purpose Anti-Scalant
Anti-Scalant for high silica waters
Descaler
Anti-Foulant
Biocide
Treatment for Cooling Systems
The water treatment for cooling towers is a fundamental part of the operational success in many industrial, commercial and manufacturing process activities. Proper treatment can yield high productivity and product quality. On the other hand, failure to treat problems to cooling systems can be expensive and may lead to loss of heat transfer, equipment breakdown, as well as health and safety problems. Thus, Mactan Rock uses its expertise to help customers in addressing these concerns.
Absolut Distillers Inc., an alcohol distillery located in Lian, Batangas, is one of the many satisfied clients taking advantage of Mactan Rock's Cooling System chemical treatment and maintenance. We provide outstanding services for their CO2 plant, including their distillation and MRC (Micronised Refined Carbon) plants. For several years, they remain as one of our exclusive clients.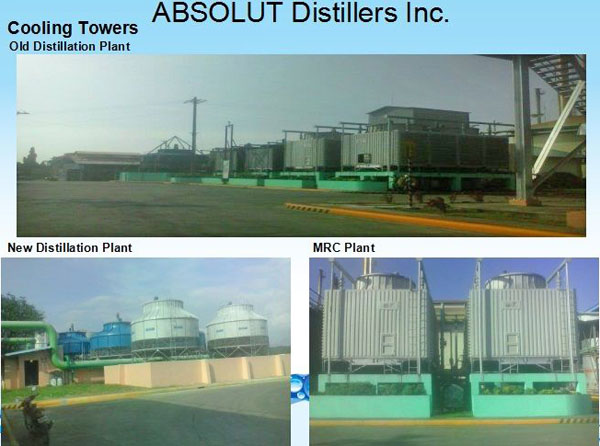 We offer scientifically formulated and effective chemicals for the following cooling water treatment applications:
Anti-Scalant
Sludge Conditioner
Algae and Slime Control
Biodispersant
Aside from properly establishing and monitoring cooling water conditions, choosing the appropriate chemicals for treating cooling towers is vital to properly maintaining and operating cooling systems.
Industrial Preventive Chemicals, Supplies and Other Products
INDUSTRIAL PREVENTIVE CHEMICALS
Descaler
Passivator/Neutralizer
Cutting Oil
Rust Converter
Motor Cleaner/Degreaser
Oil Spill Dispersant
Flushing Compound
Varnish Remover
Fuel Additive
Anti-foam
INDUSTRIAL SUPPLIES AND OTHER PRODUCTS
Filmtech NF/UF Reverse Osmosis (R.O.) Membranes
R.O. Pressure Vessels
Metering Pump/Dosing Pumps
Sediment Filters (Bag Filter) Housing & Elements
Autotrol/Aquamatic Automatic Control Valve
Spill Booms
Activated Carbon Element
Dowex, Purolite Ion Exchange Resins
Lubricants and Oil Dispersants
Waste Water Treatment Chemicals
Our products include chemicals for wastewater treatment, such as but not limited to:
Hydrochloric Acid
Caustic Soda
Sulfuric Acid
Ferric Chloride
Alum
Polymeric Coagulants
Flocculants
Oil Absorbent Products
Enzymes – Odor Eliminator
Bacteria Implant
Anti-foam
Services
Pipe Cleaning Services
Mactan Rock, with its proven track record on water treatment and conditioning, also provides pipe cleaning services. Our fully trained and experienced staff implement a thorough process that obtains the best results and sets us apart from the rest.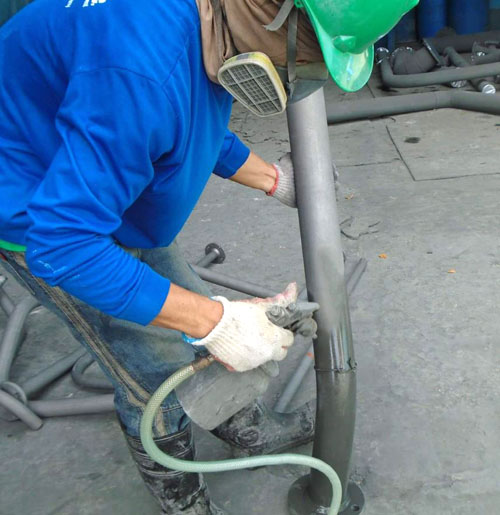 As an ISO 14001:2004 certified company, we provide high quality, high production and advanced innovative equipment for cleaning pipes in an environmentally friendly manner. Because of our expertise, Tsuneishi Heavy Industries (Cebu), Inc. (THICI), one of the leading medium-sized shipbuilders in the world, avails of our services and has become one of our most exclusive and satisfied clients for several years.
To meet the the expected results of our customers, our Pipe Cleaning Services undergo the following procedures:
Pipe Inspection and Segregation (small, medium and large pipes)
Degreasing
Flushing/Rinsing
Pickling
Dip Rinsing
Conditioning
Phosphating
Passivation
Drying
Oil Application
Painting
Sealing
Cleaning, Monitoring, Repairs and Maintenance
Serving more than 400 clients nationwide, we are an all-Filipino, total water management and solutions company.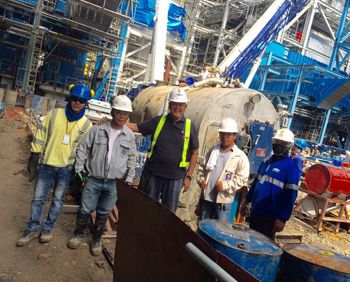 We offer services such as:
Chemical Cleaning, Repair and Retubing of

Boiler Pipelines
Radiators
Cooling Towers
Heat Exchangers
Oil Cooler Lubrication Lines

Fuel oil and general tank cleaning
Reverse Osmosis Redesigning and Retrofitting
General High Pressure and Steam Cleaning
Disinfection Sanitation Works
Membrane Cleaning, Repair and Maintenance
Energy Monitoring in line with our Water Treatment Program
Water Engineering Design and Consultancy
Mactan Rock continually acquires strategic partnership with some of the leaders in the water treatment industry. Combining the technological expertise of foreign principals and the competence of our local field personnel, we provide the right solutions to every water treatment problem our customers.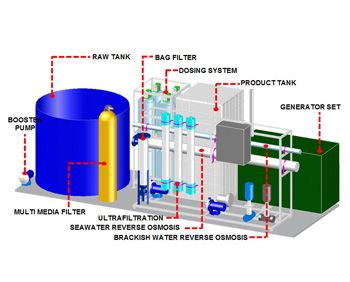 With over three (3) decades of experience and expertise, we offer services such as:
Water and Waste Water Engineering Design and Consultancy
Automation of Manual Softener or Demineralizer Operation & RO System
To keep abreast with new technologies and consistently keep pace if not outdistance the competition, consultants are retained to conduct regular research on new products, systems and applications. The company also subscribes to the membership of the Association of Water Technologies (AWT) in the USA since 1995 to present.
Chemrock Laboratories
We are equipped with water testing laboratories duly recognized by the DEPARTMENT OF ENVIRONMENT AND NATURAL RESOURCES (DENR) and the DEPARTMENT OF HEALTH (DOH).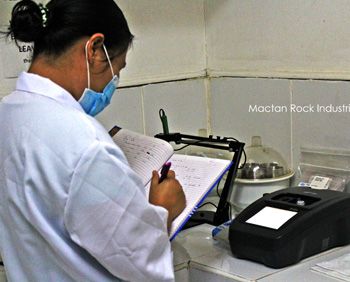 Our services include water analysis for Potable, Industrial and Waste Water, as well as Water Scale or Deposit Analysis.
Contact Us
Mactan Rock Industries, Inc.
Address: 3rd Floor FCB Financial Center Building, A.C. Cortes Ave., Mandaue City, Cebu, Philippines 6014
Phone: +63 32-414-1483 | +63 32-414-4148 | +63 32-414-4134 | +63 32-238-4354 | +63 32-414-1761 | +63 32-414-4137 | +63 32-414-1817
E-mail: sales@mactanrock.com | odt_luzon@mactanrock.com
Find us on Google Maps
Factory Office
Address: Suba Masulog, Basak, Lapu-lapu City, Cebu
Phone: +63-32-496-8100 | +63-32-495-3022
Manila Office
Address: 3/F Armal Plaza Bldg, C Raymundo Ave, Barangay Maybunga, Pasig, Metro Manila
Phone: +63-2-851-0681
Mobile: +63-922-819-7935 | +63-908-886-1357
E-mail: manila.sales@mactanrock.com
Find us on Google Maps
sponsored links
SIMILAR COMPANIES/PRODUCTS/SERVICES
Terms of Use/Privacy Policy Advertise Buy me coffee
Mactan Rock Industries, Inc.