Building Your Business From Steel Foundations to Fine Finish.
Tell us what you need to build, and we'll help you build it, from demolition, hauling, and excavation, through retrofitting and coring works to sealant works, IF, and flex bonds. Count on Flexicore Construction Services Corporation as your one-stop source for construction-related needs wherever you are in the Philippines. With quality service. Competitive pricing. And on-time delivery.
FCSC was built from the ground up. Seeing a booming demand in construction, a young professional sensed an opportunity and first ventured into demolition. And from single-specialty business, FCSC expanded to meet to the demands of a growing clientele — list a few clients here — satisfied with FCSC services and searching for specialized construction services. And so from demolition, the company thus moved into anchoring, retrofitting, concrete coring and cutting, concrete drilling and sealant application, as well as Civil and Architectural works.
Trust in Flexicore's technical expertise, industry know-how, and quality service. Whatever stage of construction you are in, we bring the latest and state-of-the-art tools, equipment, and technology that blends well with your operations, helps reduce downtime, improve the operational efficiency, ensure safety, and most importantly help you meet your deadlines without compromising quality.
Services
Demolition
Flexicore Construction Services can handle all of your demolition needs from garages and houses to commercial properties. Our experienced crews can handle them all thru chipping and jack hammering of reinforced concrete, deconstruction as safe and easy as possible.
Walls and floors of varying thickness can be either crunched or broken out with minimum disruption.
Controlled Demolition
Diamond Wall Sawing

The Diamond Wall Saw has a variety of uses from cutting off or in segment form of reinforced concrete walls to forming doors, escalator or lift shaft openings. We use handheld and hydraulic cutting machines. It is capable to be used in multi storey buildings such as residential, commercial and industrial establishment, on either walls or floors is capable of multiple cutting segment is easily achieved.

Diamond Wire Sawing

For extremely thick and heavily reinforced structures, the wire saw is an effective method of cutting. Due to its portability and very low noise and vibration levels, this machine can be used in sensitive areas.

The wire is run through a series of pulleys and around a powered feed wheel and literally pulled through the concrete cheese wire.
Drilling Works
Concrete drilling of walls, ceilings and floors.
For electrical services, cabling, slab and road way for dowels and anchors for penetration.
We can easily make cable routes using diamond drills, which cut carefully through concrete and reinforcement without generating dust on the construction site.
If you need concrete floors drilling up new machinery foundations in production buildings, we can also handle this work.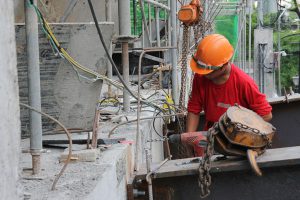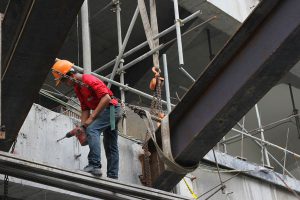 Coring Works
Core Drilling (Coring Works) is dust-free, quiet and capable of cutting through reinforced steel. Unlike rotary percussion tools, there is no vibration when core drilling.
Flexicore Construction Services has developed special equipment to cut any depth, diameter or angle with ease and accuracy. Inside or outside work is easily accomplished using a choice of electric or hydraulic powered machinery.
Core Drilling is an economical, quick and clean process whose applications have greatly expanded in recent years. Special equipment enables the drilling of holes up to desired diameter.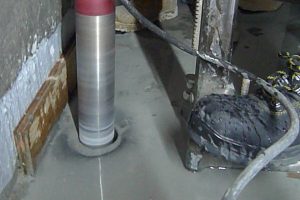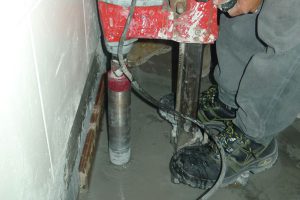 Hauling and Excavation
Our experienced truck drivers and heavy equipment move soil and debris thousand cubic meter every year. With various ranging from backhoes, dozers, dump trucks, Flexicore Construction Services can handle any size project that you have.
Whether it is hauling soil, broken concrete, rock, asphalt, general demolition debris or tree/vegetation waste, one can be assured that all material loading and hauling is done with the greatest speed and efficient possible. Flexicore Construction Services offers a full line of dirt and debris boxes for drop off at your site.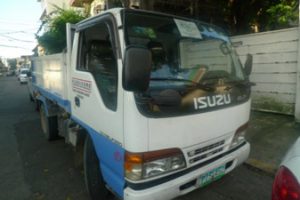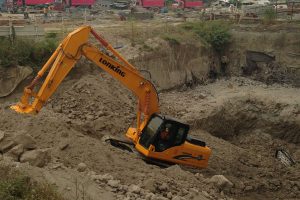 Retrofitting | Steel Works
Flexicore Retrofit works will improve your existing building stack, creating new opportunities for the construction industry, and benefits to property owners, based on the delivery of high quality retrofit and steel works services.
The company designs steel buildings solutions and undertakes the task of supplying and erecting the steel structures. This is typically done for large steel projects such as bridges, underground tunnels, etc.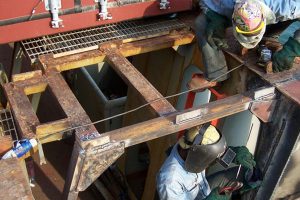 Infrastructure and Civil Works
Flexicore Construction Services, Inc. provides a complete line of commercial maintenance and construction services.
We carry out forms of Civil Works such as Drilling and Cutting, Infastructures like bridges, railway tunnels, drilled tunnels.
Another Flexicore Construction's field of activity is reconstruction and renovation of buildings. Impressive experiences in the field allow us to work even on the most complex objects that need reconstruction or renovation. Flexicore Construction also engages in modernising and re-planning buildings. Construction works for restoring the building's former appearance, renewing the structure and improving other qualities of the building are performed. When performing restoration works, the building is treated as a whole. We start with the developing of the design and finish with handing the building over to the contracting authority.
Renovation works of buildings and facilities may require new planning, renewal of the building or its utility systems in order to improve their qualities, changes in interior finishing or exterior. Flexicore Construction helps you with all works related to renovation: development of the design, legal coordination and full execution.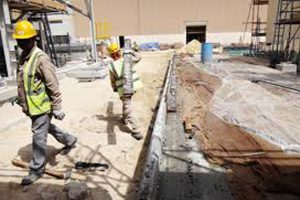 Sealant Works
Sealant is a one-part, neutral-curing silicone exhibiting superior performance in applications where sealing openings in walls and floors are needed to control the spread of fire, smoke, toxic gases, and water during fire conditions.
Sealant reacts with atmospheric moisture to form a high-strength, durable seal that will adhere to most building substrates without the use of primers.
Firestopping

Flexicore offers a broad range of firestop products and solutions to help contain fire, smoke and toxic gases to the area of origin by sealing around penetrations and construction joints in fire-rated floors and walls. The fire protection products features sealants and intumescent devices.

Specialized in Sealant Application (Exterior & Interior)

Flexicore Construction Services also specializes in the installation of joint sealants to ensure a watertight seal is achieved for exterior and interior applications. Joint sealants are a critical component in all modern buildings, as they prevent water damage to both the exterior and interior of a building. Correct installation is imperative to ensure that the sealant does not fail, avoid leaks and extensive damage to buildings. Professional installation of sealants by our firestop experts is also essential so that the building remains aesthetically pleasing to both the owner and the public.
Flexbonds
Flexbonds (epoxy crack injection products) are specifically designed for machine application, 100% solids and contain no solvents or fillers. We make and stock the industry's widest selection of concrete crack repair adhesives with specialized materials for architectural precast panels, underwater, low and high application temperatures, underwater concrete crack repair, high structure temperatures, chemical and radiation resistance, large voids, narrow cracks, plate bonding, wooden (laminated) beams, slab delaminations and structures subject to vibration during cure. For cracks where the backside cannot be sealed (including some floor slabs), we offer a special slump pumping (very fast-set) resin or alternative non-slumping structural paste adhesives.
Flexbond epoxy injection services for industrial clients to help them restore and protect their concrete structures. However, before epoxy injection can be applied to fix cracks, the source of the cracks must be identified. Otherwise, the issue will go untreated and will continue to cause more cracking in the future. Our expert technicians will analyze your structure to get to the root of the problem and will perform the necessary repairs. Then they will apply the epoxy injection to strengthen and restore your concrete.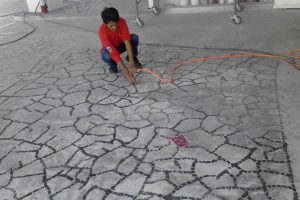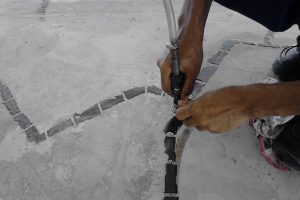 Fit-Out
Interior finishing consist of architectural installation of wall, floors and ceiling, with this installation, consist also the plumbing works, hvac, electrical, and structural steels.
Paseo Heights Condominium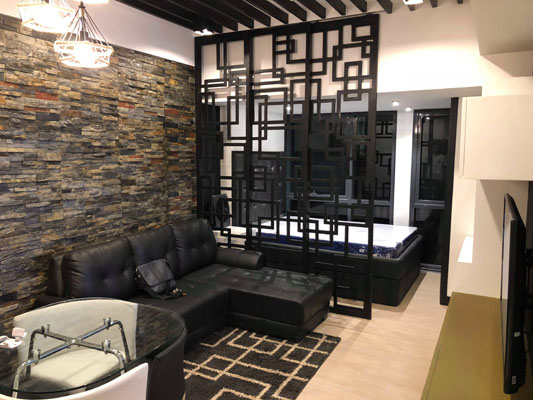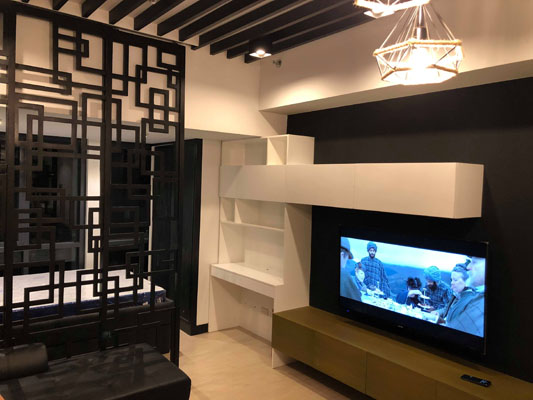 Ayala Westgrove Heights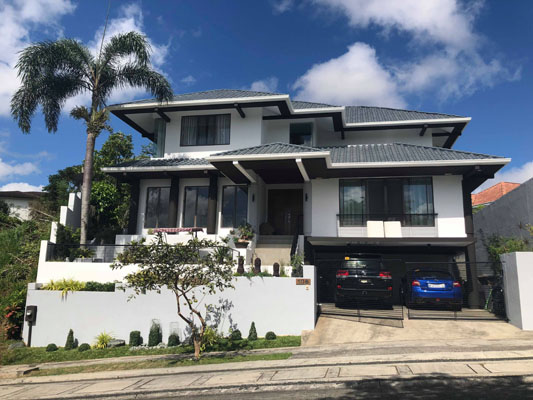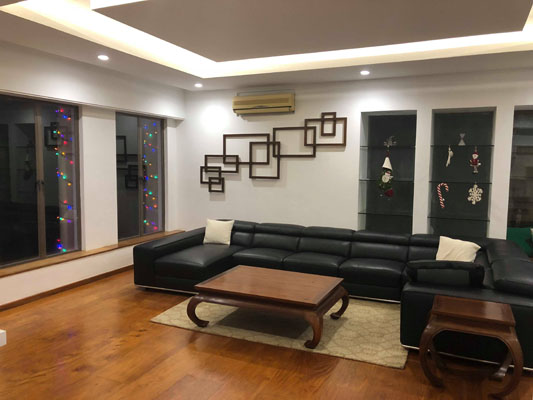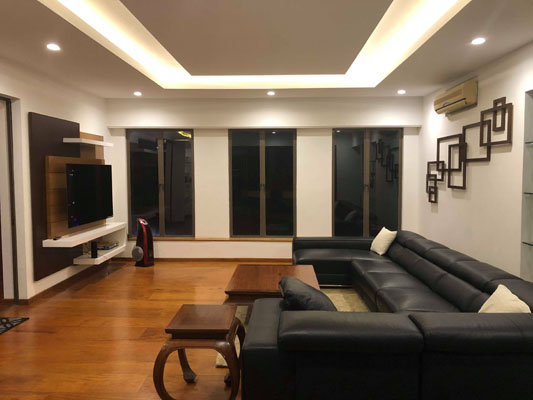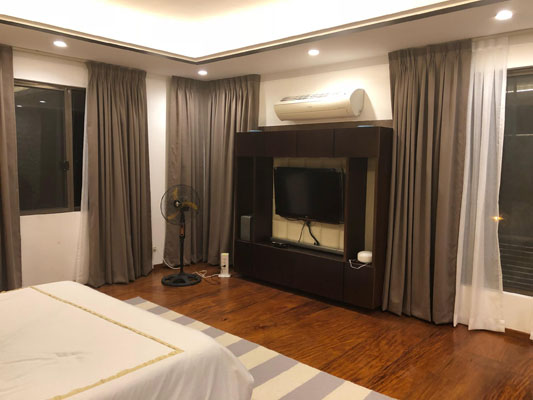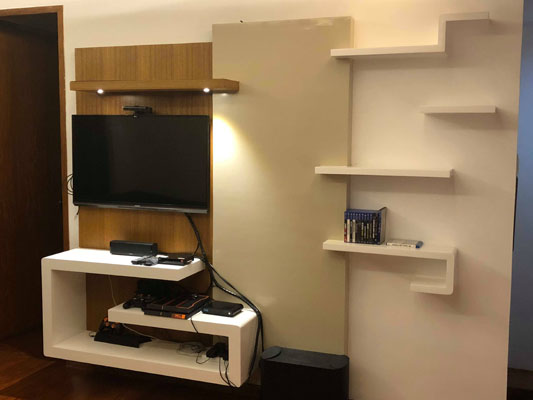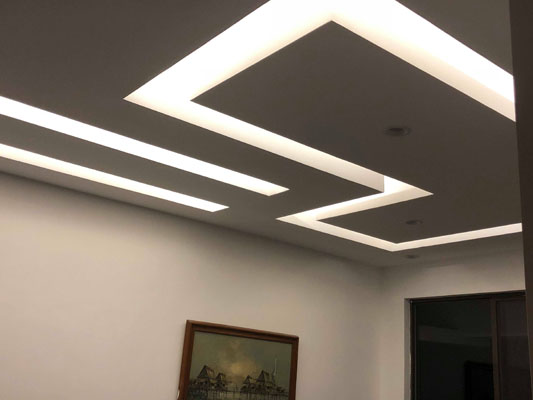 Nuvali Ridgeview Estates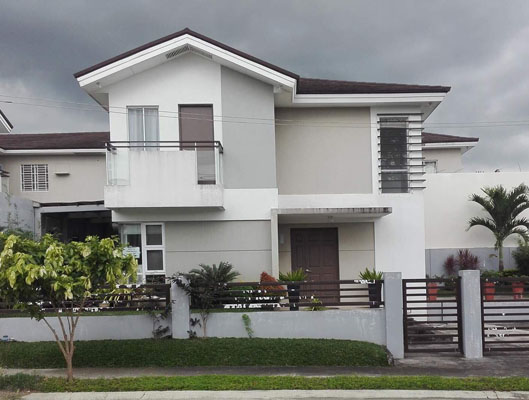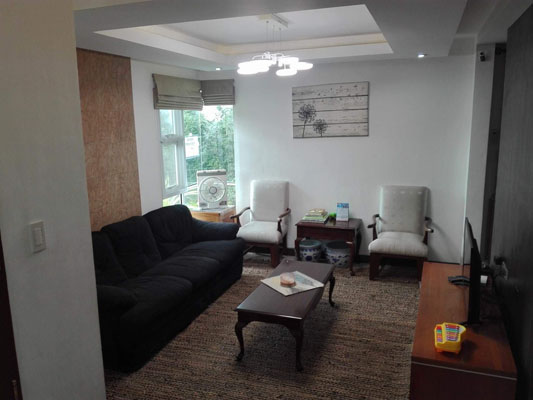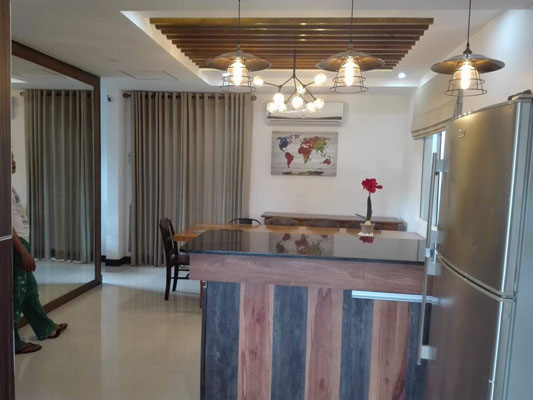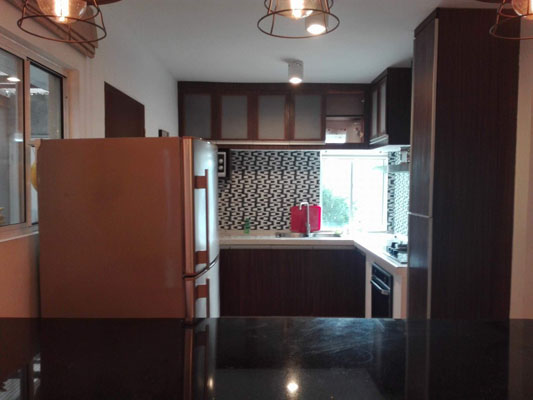 Ooma Japanese Restaurant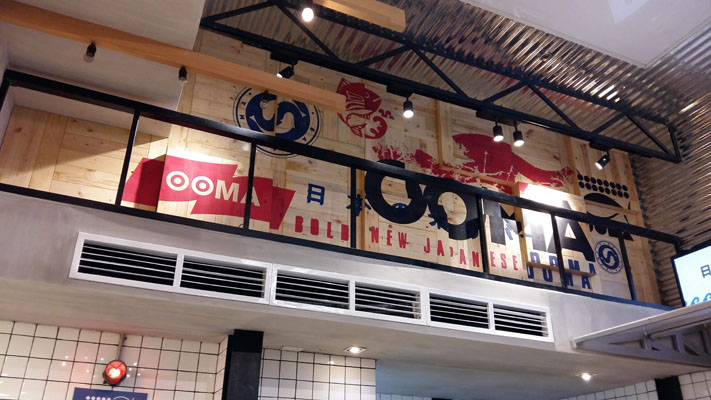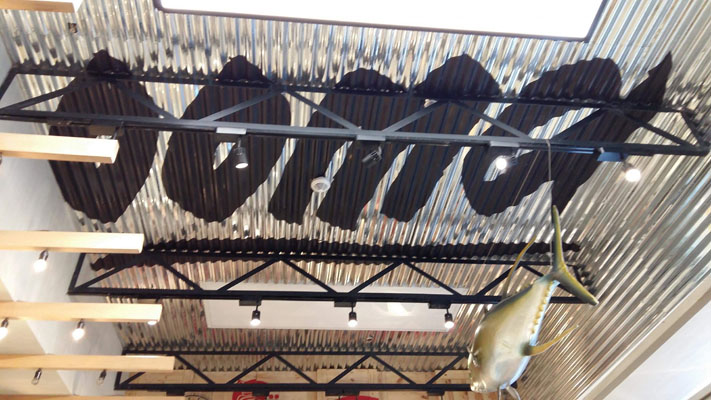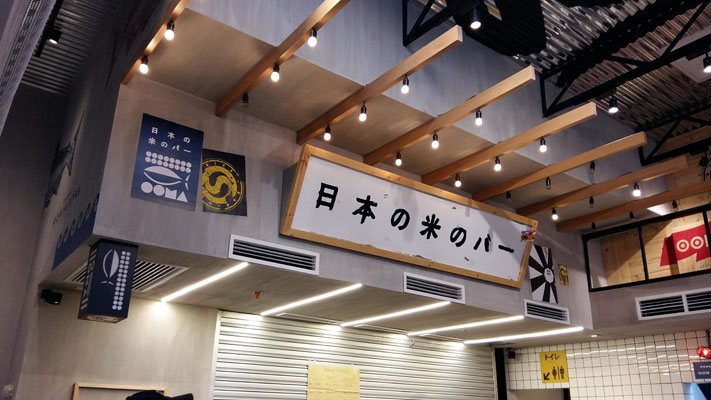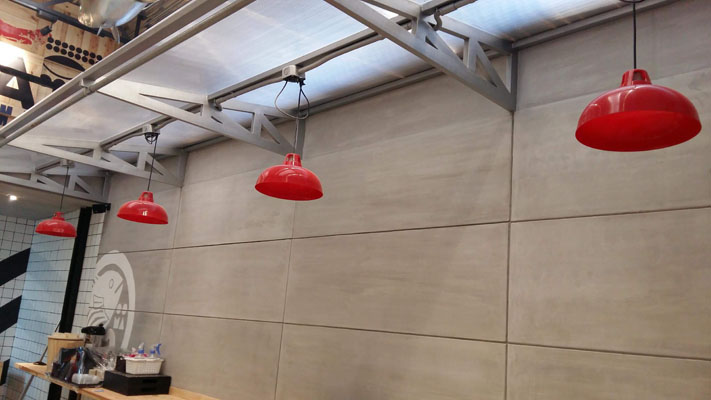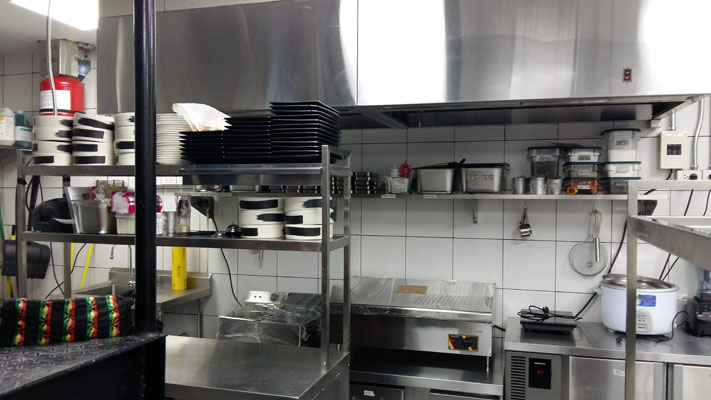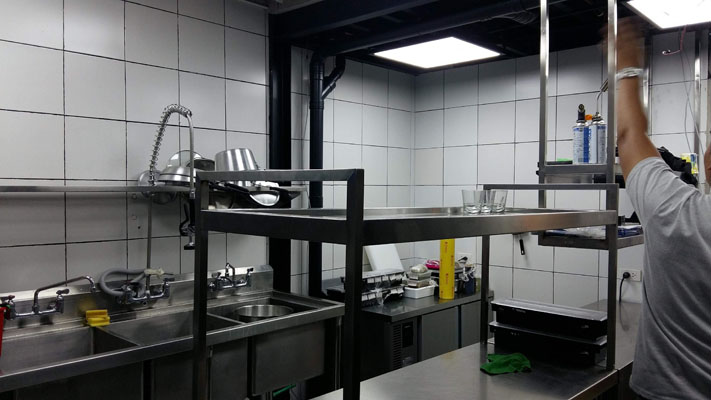 Contact Us
Flexicore Construction Services
Makati Office: 1492 Galvani St., Brgy San Isidro, Makati City
Phone: (02) 358-8686 | (02) 843-5517 | (02) 869-5569
Fax: (02) 843-5517
Email: admin@flexicoreconstruction.com
Quezon City Office: 102 Tandang Sora Ave, Bgy Pasong Tamo, Quezon City
Phone: (02) 919-0256 | (02)843-3414
Fax: (02) 843-5517
Find us on Google Maps

Makati Office

Quezon City Office
sponsored links
back to business directory home page