1. About Us / Our Products

TAILORED SOLUTIONS. CUSTOMIZED APPROACH.
We offer full engineering support, solution orientated design, high-end training and government-mandated accreditation.
ONE-STOP-SHOP FOR RENTAL OF EQUIPMENT IN CONSTRUCTION
We provide everything from scaffolding to construction cranes, scaffolding for working at heights and from concrete casting systems to formworks, all for sales or rental. Coffral's strength lies definitely in its huge rental fleet.
OVER 60 YEARS OF EXPERTISE. THE EXPERIENCE YOU CAN TRUST.
From the master of formworks himself, Mr. Jules Goudsmit, who developed the STAFLEX shoring system, that propagates the formworks system into a more flexible and safe usage. A concrete slab shoring solution that sustains quality and is one of industry's finest. Now, combined with our world class engineers who mastered the flexibility of formworks system through in depth analysis of each project, to come up with a pertinent and economical design for ALL your projects.
Coffral Access and Shoring, Inc. (founded in 2010) now known as the COFFRAL FORMWORKS & SCAFFOLDS, INC., is the reactivated entity of Coffral Phil, corp. (founded in 1979) and is a spin-off from the Coffral Benelux group. Specialized in Rental of construction tools, Coffral has been a partner of choice in providing high quality and innovative construction equipment to hundreds of contractors in the world. Our Technical Team has the highest expertise in formworks, tower-cranes, access and scaffolding system that will highly contribute to any type of architectural design to create a cost effective and safer construction in the Philippines.
Coffral provides complete solutions from rental/Sales of construction equipment to specialized training:
Rental services, Sales or Buy-back option for most of its equipment.

Biggest rental fleet in the Philippines.

Custom engineering design and full technical support.

Professional training from certified engineers for scaffolding, formworks and shoring. These trainers are the pride of the Philippine's construction industry. All training are TESDA certified.

On-site supervision and inspection.

Coffral can provide --> Full package = equipment + design + engineering + manpower for Installation.
COFFRAL STAFLEX CONCRETE SLAB SHORING
Staflex is the original H-Frame system for the creation of ceilings, developed by the founder of Coffral. Staflex is a shoring system widely used over the globe and is perfect for the creation of sealing up to 12m high. It is by far the most economical, safest and efficient construction tool for flat or uneven (slab & beams) ceilings. Ideal for in-situ concrete pouring, precast or trans-slab.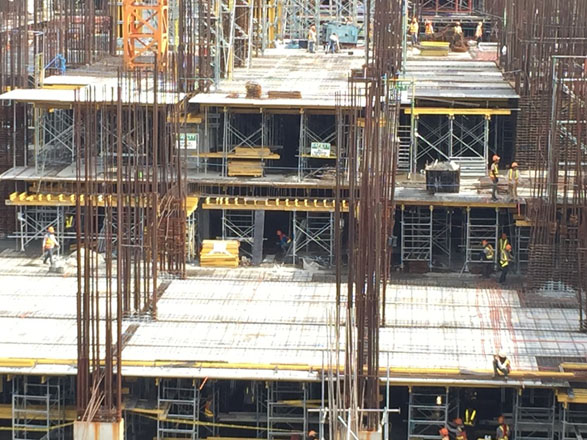 COFFRAL SUSPENDED SCAFFOLD "GONDOLA"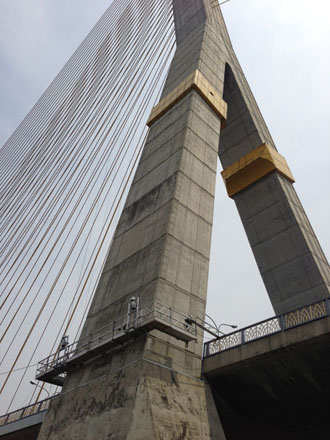 COFFRAL STAFLEX TABLE SYSTEM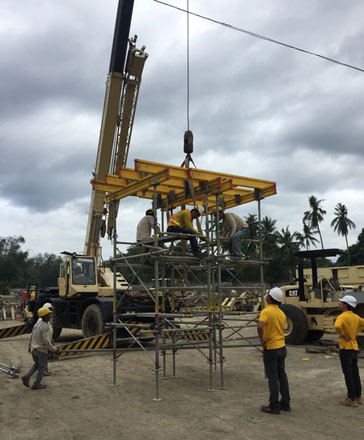 COFFRAL ATLAS HEAVY DUTY SHORING aka "BIG BOY"
To expand certain portions of the 84-kilometer NLEX where there is traffic buildup in order to decongest the expressway, particularly in key toll exits, the Manila North Tollways Corp. is implementing the construction of lay bay lanes and U-turn slot in every 2km of the 6km stretch highway that connecting the Bulacan and Pampanga. COFFRAL will support the column and slab of the pier cap using the COFFRAL ATLAS HEAVY DUTY SHORING a.k.a. "BIG BOY" which can shore concrete slab up to a maximum thickness of 7.50m and reach beyond 20.00m.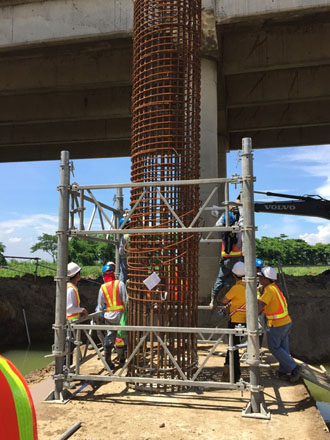 TRENCH SHORING OR TRENCH LINING
The trench boxes or horizontal shoring system from ThyssenKrupp Bauservice subsidiary "E+S Verbau & Krings Verbau" are suitable for deep excavations up to 14 meters deep with a maximum width of about 20m and as long as needed. It performance in all type of soil type. The only thing you need in order to be able to install different trench-shoring system is a bulldozer of 20 or 50 ton and two workers. Perfect for sewer and pipe laying works. Even pipes bigger then 5m diameter can be installed with "E+S Verbau & Krings Verbau" solutions.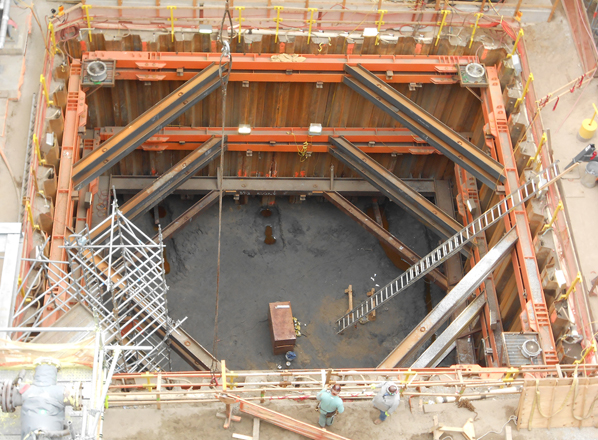 TOWER CRANE: POTAIN MCT 205
The Potain, MCT-205 is 10-ton construction crane with a tip-load of 1.75-Ton at 65 m jib length. This topless crane's has a modern design and is very quick and is easy to erect. This is the best tower crane to withstand the demanding weather condition of the Philippines and can reach up to a maximum height of 220m.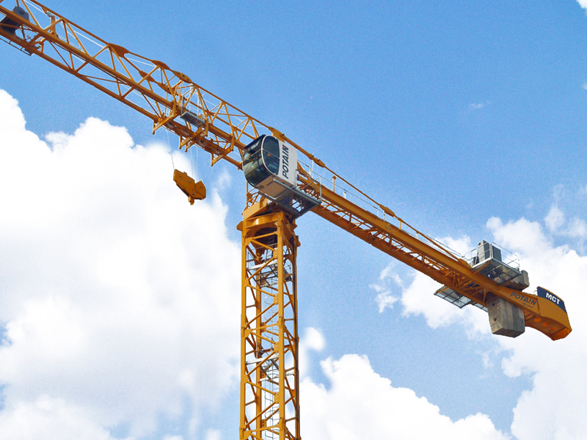 COFFRAL MODULAR RINGLOCK SYSTEM
Ringlock is the number "1" access system in the world. That can be expanded in all directions and can reach heights up 150m. The Ringlock access system can be adjusted in many ways. Ringlock is the quickest, most efficient and best scaffolding solution suited for your company's "working at heights" requirement. Its unique rosette ring is the heart of Ringlock scaffolding system. This scaffolding system is the future for all off-shore and on-shore industrial activities.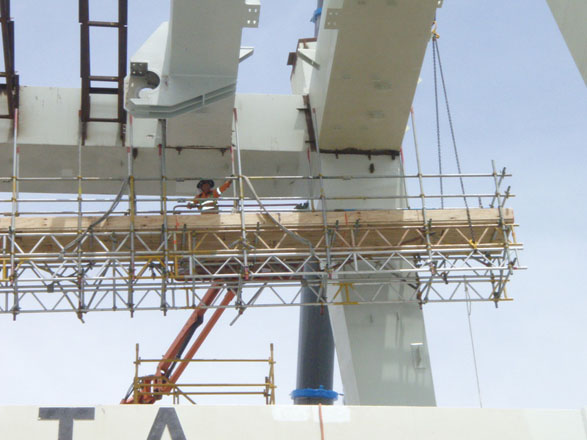 SHORING JACKS/PROPS
Coffral telescopic shoring is a European Standard (EN 1065) prop, with high load bearing capacity. Easy to be install and strip. All shoring jacks are made of galvanized steel for long life and safe construction design. All Coffral Shoring jacks are available in two (2) types: Shoring Jack 10KN and 20KN. It is perfectly suitable for re-shoring of ceilings up to 5.50m high. Coffral huge rental stock is a combination of Hunnebeck, Peri and Doka shoring Jacks.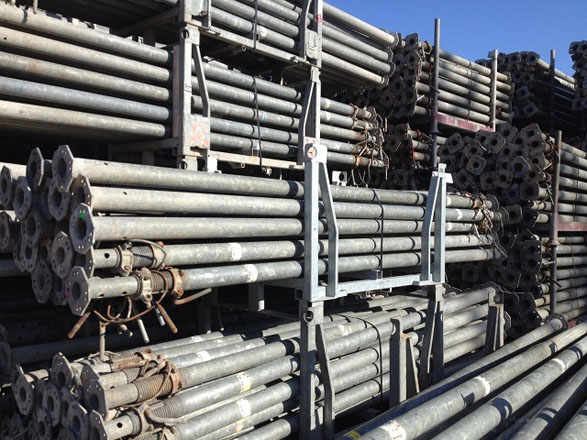 SCAFFOLDING AND FORMWORKS TRAINING
Coffral provides for all industry offshore or onshore international scaffolding training. Coffral provides NC2 training necesair for the Philippine industry. Coffral provides ForMworks training.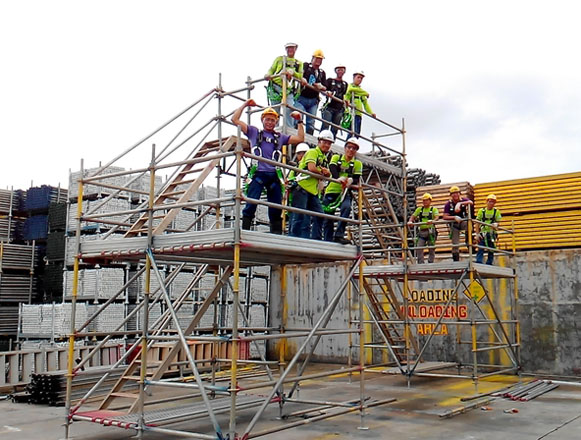 INTERVIEW WITH CUSTOMER
Coffral for safety, quality & expertise...beyond compare.
Coffral Staflex Table System
Coffral Staflex Table System with a height of 4.5m. A table form that could be assisted by tower crane to make it fly and easier to transfer from one side to another. It is pre-assembled formwork that makes forming a fast construction for large floor layouts. The fully assembled units can be transferred quickly into place and it will lessen the manpower needed at site.
sponsored links
SIMILAR COMPANIES/PRODUCTS/SERVICES
Terms of Use/Privacy Policy Advertise Buy me coffee