Aqua Treatment Technology Corporation specializes in water and waste water treatment. Since 1998, we have been a leader in the field, experienced in providing the best possible water treatment solutions to suit all budgets for residential, commercial and industrial water treatment needs.
Our Services
Aqua Treatment Technology means service excellence for residential, commercial and industrial water pre-treatment; pure and ultra-pure water for drinking and special purposes; we also provide non-chlorine swimming pool water purification and supply swimming pool equipment, products and services.
Safe Water Specialists
Aqua Treatment Technology Corporation specializes in water and waste water treatment to ensure safe water for everyone. With almost two decades of experience, it is the market leader in safe water that can provide the best possible water treatment solutions.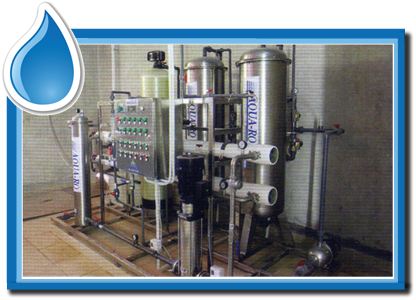 Treatment solutions to all problems
The core business of Aqua Treatment Technology is supplying integrated water treatment solutions to all problems, to large and small projects using the latest equipment and technology. The company constructs and manages advanced waste water treatment plants and provides a range of water purification treatment solutions, deploying products and services to support its customers in widely diverse fields of operation.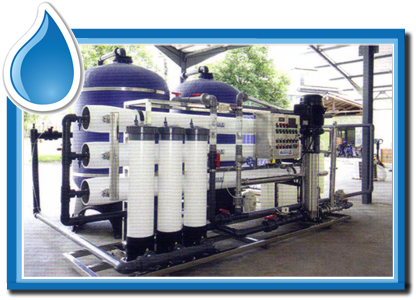 Aqua Treatment Technology offers the best available treatment solutions for residential, commercial and industrial water pre-treatment; pure and ultra-pure water; water for drinking and special purposes; and waste water treatment. These include automatic water filtration systems, our AquaShield solution to address groundwater well bacteria and other challenges, swimming pool systems, sewage treatment plants and many other special treatment solutions.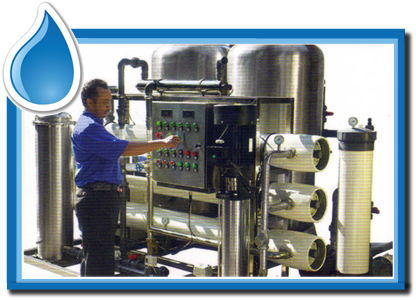 Clean water guarantee
Aqua Treatment Technology provides a clean water guarantee - safe, clean water supply with first stage filtration from deep wells, water mains and other sources. This guarantee applies to domestic and commercial applications including: water stations, households, hotels, hospitals and restaurants.
Iron bacteria problems? Whatever your water problem . . . there is a solution. Everybody deserves a clean water guarantee . . . only Aqua Treatment Technology provide the guarantee.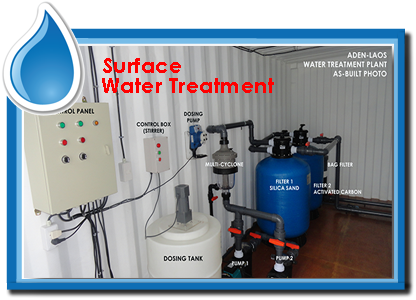 Desalination Systems
Desalination systems are the perfect solution to water shortages where there is access to seawater or high-salinity ground water. Desalination systems can be scaled to produce sufficient water for residential use or for businesses such as resort and hotels.
Aqua Treatment Technologies is proud to be able to offer Australian designed & patented membrane desalination systems that are made in the country. The Australian patented design delivers a low-maintenance membrane desalination solution and local manufacture ensures the lowest cost. Now everyone can afford salt-free water!
Case Study: Desalination Systems In Puerto Galera
An increasing problem with the development of any tourist destination is the provision of potable water for resorts and hotels. Many locations have limited rainwater catchments or they rely on ground water that becomes increasingly saline due to ingress of seawater - because of high volume freshwater extraction. In Puerto Galera, in the areas of Sabang and Lalaguna beaches, the dramatic increase in the number of resorts and dive shops since 1980 has exceeded the capacity of available piped water from the mountain reservoirs.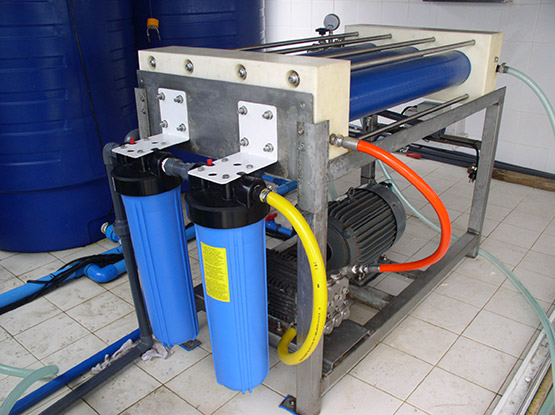 For the El Galleon beach resort the short supply of water became a challenge and a desalination system was determined to be the best solution. An additional challenge was that, because the resort is right on the beach, the sea-air causes increased corrosion of most metals. Further, because Puerto Galera is relatively remote from desalination system suppliers in Metro Manila, maintenance and replacement of parts would be an ongoing issue.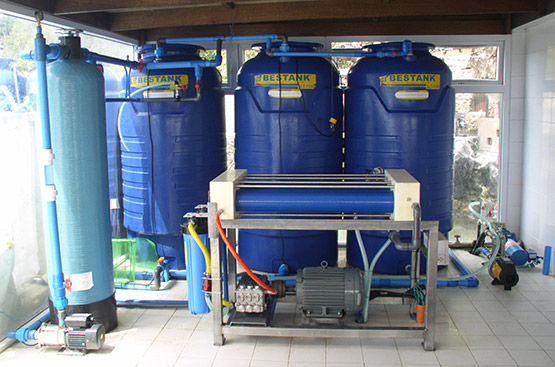 Low Maintenance
A low maintenance solution, with minimal metal parts (principally connectors for high and low pressure hoses), was sought to minimize spares stocks and maintenance. The Aqua Treatment Technology membrane desalination system was chosen because the water channels are all combined into a simple molded end-cap - doing away with all but one high-pressure hose and connectors - and the unit is thus noticeably a more compact unit than desalination systems producing similar capacities. Low maintenance, compact unit = happy customer.
Scalable Desalination System
El Galleon beach resort guests currently consume up to 20 Cubic Meters of freshwater a day during the peak season; further expansion of the resort is planned. The Aqua Treatment Technologies scalable membrane desalination system meets the current water capacity needs of the resort, with water to spare. The desalination system is a scalable solution, and excess water in low-season can be sold to adjacent resorts to help them overcome the same challenges.
AquaShield
Treatment Solutions For Iron, Manganese and Sulphates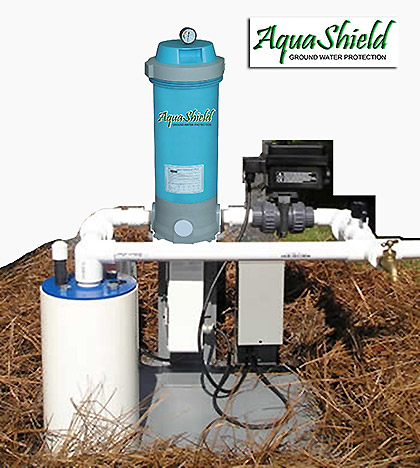 Iron, Manganese & Sulphate Bacteria Control
Water treatment system for control of iron and sulfate reducing bacteria in water wells and associated equipment.
Aquashield Ground Water Protection
AquaShield eliminates iron and sulfate reducing bacteria problems in ground water and water wells, preventing damage to associated equipment such as water treatment peripherals, irrigation systems and household appliances.
AquaShield prevents the formation of hydrogen sulfide gas by eliminating sulfate reducing bacteria.
AquaShield also enhances filter performance by preventing bacterial deposits of organic compounds and mineral hydroxides.
Aquashield Benefits
Controls bacteria in wells and water tanks
Eliminates clogging and blockages caused by iron bacteria in pipes, pumps, micro irrigation lines, filters and softeners
Prevents odors caused by iron and sulfate bacteria in wells
Simple, low-cost and maintenance free
Available in a broad range of sizes—residential, agricultural, industrial and municipal
Replaces manual chlorine disinfection routines
Easy to refill
Maintain sanitary well environments
Increase Yields and Profits
Reduces organic carbon thereby reducing chlorine demand in finished waters and lowering disinfection byproducts
Reduces biofilm in distribution
Minimal chemical usage for low ongoing cost of operation
Commercial Waste Water Treatment
Water is becoming a scarce resource in this progressive world. Treating water waste as a recoverable commodity that has an increasing value is becoming an imperative for successful business. Industries that adopt efficient methods of waste-water recovery, to supplement the need for fresh source water for various applications, will be the long-term winners.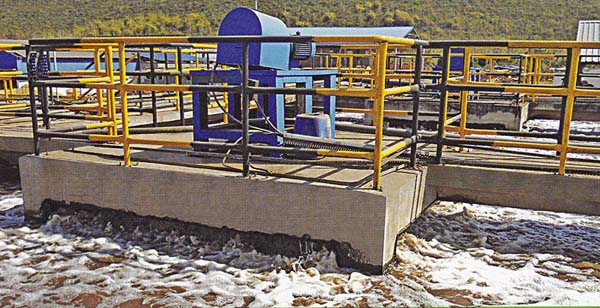 Aqua Treatment Technologies partners with Praj Industries to offer its wide range of technologies to assist you in successfully tackling industrial waste-water treatment issues. Whether your business is Textiles, Food & Beverage, Pharmaceuticals, Power, Paper & Pulp, Chemical & Process Industries and CETP, you can benefit immensely from these offerings.
Physico-chemical Treatment
For achieving high water quality, Physico-Chemical treatment plays an important role in water and waste-water treatment.
Physico-Chemical treatment may include one or more of the following water treatment technologies:
Sedimentation
Clarification
Flocculation
Filtration
Anaerobic treatment
Anaerobic waste-water treatment is a process whereby bacteria digest organic matter and biosolids in the absence of oxygen. One major feature of anaerobic digestion is the production of biogas, which can be used in generators for electricity production or in boilers for heating purposes.
Aerobic Treatment
Aerobic waste-water treatment refers to the removal of organic pollutants in waste-water by bacteria that require oxygen to work. Water and carbon dioxide are the end products of the aerobic waste-water treatment process.
Waste Coolant Recovery & Reuse System
Praj is a process engineering company with deep understanding of various industrial processes and related systems. Praj delivers End-to-End solutions in Water & Waste-water Treatment for varied applications in Pharma, CPI, Textile, Automobile and F&B Industries.
In a scenario where Non-renewable resources are depleting fast, Praj takes this opportunity to introduce an innovative Waste Coolant Recovery & Reuse System with Waste-water Technologies Pvt. Ltd.
This System treats the waste coolant & recovers it to the extent where it can be reused again as a fresh coolant for machines thus achieving a step towards Zero Discharge & saving of valuable cutting Oil.
Non-Chlorine Swimming Pools
Chlorine has finally met its match with Aquatreat's non-chlorine technology for swimming pools. New ozone technology as the natural purifier, as it is in Nature, combined with copper / silver ionization provides immediate and residual protection, continuously sanitizing your water without the harmful, smelly chemical: chlorine.
Ozone / Ionization
The combination of ozone and ionization sanitizes the swimming pool water effectively and removes bacteria, body oils, urine, deodorants and soaps - no chlorine required.
Ozone and ionization technology is economic (costs only a few cents a day to operate) and can be applied to swimming pools, problem drinking water, aqua culture and cooling towers.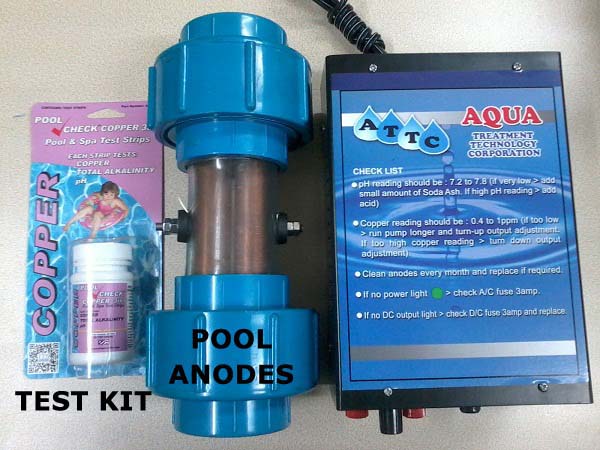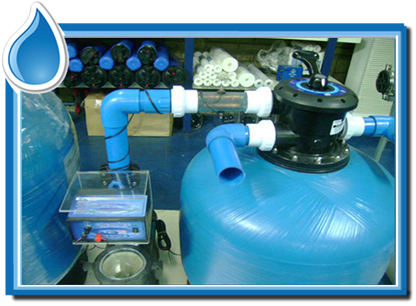 Releases very small quantities of positively charged semiprecious metal into the water. These metals attack and kill the negatively charged macroorganisms resident of the water.
The quantity of metals being released into the water fall well below the maximum recommended by World Health Organization (WHO) for potable water.
90% NON-DETECTABLE CHLORINE PROVIDING RESIDUAL PROTECTION CONTINUOUSLY SANITIZING THE WATER FOR DAYS.
ENJOY SWIMMING LIKE BATHING IN PURE POTABLE WATER!
NO MORE SORE OR RED EYES
NO MORE STICKY SKIN OR HAIR
NO MORE UNPLEASANT ODOR
SO EASY TO INSTALL . . . JUST AN ADD-ON TO YOUR EXISTING FILTRATION / PUMP SYSTEM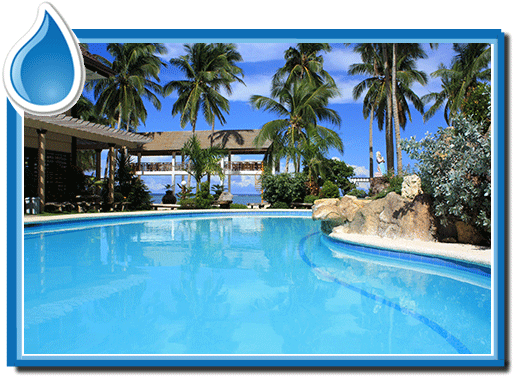 Swimming Pool Equipment Supply
Aqua Treatment Technologies is proud to be the exclusive Philippine distributor for Jazzi Pool and Waterco products for swimming pools, spa pools and Jacuzzis.
We supply a complete range of: swimming pool heating, filtering and cleaning, equipment and solutions. Whether you want a new swimming pool or Jacuzzi or need to renovate Aqua Treatment Technologies can provide not only the equipment but also a complete design or re-furbishing service.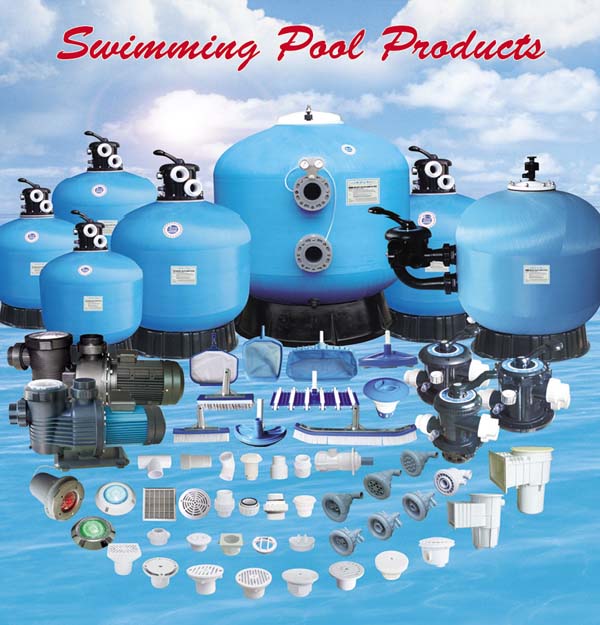 Contact Us
Aqua Treatment Technology Corporation
Address: #1690 Dian Street (Near Corner Finlandia), Brgy. San Isidro, Makati City 1234
Phone: +63 (02) 845-0682
Telefax: +63 (02) 845-0558
E-mail: aquattechcorp@yahoo.com | murphy.mjm@icloud.com
Find us on Google Maps
sponsored links
SIMILAR COMPANIES/PRODUCTS/SERVICES
Terms of Use/Privacy Policy Advertise Buy me coffee