AQUASOLV PHILIPPINES INC. has been in the water and wastewater treatment business since 2001.
We pride ourselves to be one of the leading suppliers of high quality water treatment chemicals and services, with materials imported from leading manufacturers in the United States, India, Thailand, and Europe.
Our company is also involved in the design, construction, operation, and maintenance of industrial and commercial wastewater plants.
BLENDING and WAREHOUSE FACILITY
Our company has its own blending and warehouse facility that can store 4 tons of specialty chemicals and can store 100m3 of blended products sufficient enough to supply the demand of our customers.
Products
WATER TREATMENT CHEMICALS
Cooling Tower
Low Pressure Steam Boiler
Power Plant Steam Generating Plant
Condensate Lines Treatment
Waste Water Treatment Plant
WASTE WATER TREATMENT CHEMICALS/STP CHEMICALS
Cationic, Anionic, Non-ionic, Polymer (Flocculant)
Organic Coagulant
Enzyme for Bioremediation
Liquid/Powdered Chlorine
BIO-TREATMENT PRODUCTS
Garbage Disinfectant, Sanitizing Agent and Deodorizer
Bio-enzyme (for grease trap and drain line treatment)
POWERPLANT CLEANING SERVICES (VALENCE, THAILAND)
Pre-operational Cleaning of Newly Installed Steam Boiler
Chemical/Mechanical Cleaning of Steam Boiler Tubes
INDUSTRIAL EQUIPMENT and LABORATORY SUPPLIES
FILTRATION EQUIPMENT AND SUPPLIES
B/E Water Softener
Solar Grade Industrial Salt for B/E Softener (India)
Vortisand Filtration System (Canada)
Cat ion Resin for B/E softener (Dowex)
Reverse Osmosis Plant
Anti-Scalant for Reverse Osmosis
Reverse Osmosis Membrane Cleaning Chemicals
OIL REFINERIES AND PETROCHEMICAL PLANT SERVICES (VALENCE, THAILAND)
Industrial Chemical Cleaning
High Pressure Pulse Cleaning
Pipeline Pigging and Pig Train Technology
Tank Cleaning
Hydrocarbon/Pyrophoric/Mercury Decontamination
Ambient Ideal Cleaning Services
Oil Flushing
Services
PREVENTIVE MAINTENANCE
All Types of Steam Boiler
Cooling Tower System
Air Conditioning Unit (Split Type)/PACU
CLEANING SERVICES
Shell & Tube Condenser/Evaporator
Evaporative Condenser
Boiler/ Deaerator
AHU/FCU
OHT/Cistern Tank
Reverse Osmosis Plant
LEGIONELLA (TREATMENT AGAINST BACTERIA)
WHAT IS LEGIONNAIRE'S DISEASE?
Legionnaires' disease (also known as Legionellosis or Legion fever) is a form of pneumonia caused by any species of Gram-negative aerobic bacteria belonging to the genus Legionella. Over 90% of cases of Legionnaires' disease are caused by Legionella.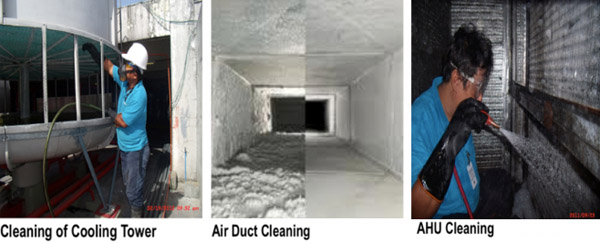 Contact Us
Aquasolv Philippines Inc.
Address: 7th Floor, Alscophil Building, 2053 Edison Street, San Isidro, Makati City 1234
Phone: (632) 330-1127 | (632) 330-1128
Fax: (632) 889-0037
Find us on Google Maps
DAVAO OFFICE
Address: A3 B3 Villa De Davao, Townhouse Uzada Drive, Lanang, Davao City
Phone: (0942) 598-8412
sponsored links
SIMILAR COMPANIES/PRODUCTS/SERVICES
Terms of Use/Privacy Policy Advertise Buy me coffee
Aquasolv Philippines Inc.