For 15 years, Mr. Ramil Ting, CEO and President, has been a trusted service provider in the field of construction and distribution, specializing in wood and other finishing materials. Holmix Trading and Lafexcim Enterprises were born out of his desire to provide the best products and services in the field. With the goal of continuous innovation in mind, he travelled around the globe to learn from and partner with multinational companies in order to bring truly world-class engineering and methods to the Philippines. And so, together with his brother-in-law, respected Architect Engelbert Chua, Ramil Ting founded Acquaproof Specialists, Inc. – the latest member of the Innovitech Group of Companies.
Why choose us?
OUR STRENGTHS
Value-centered Services
At the core of our company is our commitment to bringing more durable, longer-lasting, truly value-for-money results for our clients.
World-class Standards
We believe in sharing knowledge and expertise with various notable partners from around the world in order to uphold world-class standards for all our projects. We are in continuous exchange with international applicators based in Singapore and Malaysia, in particular, regarding new methodologies and technical applications.
Innovative Collaboration
Well-respected multi-national companies with years of relevant experience have provided the company with invaluable support and guidance, allowing the group to come up with suitable solutions for every need. We consistently consult with renowned architects in order to be more pro-active in waterproofing and coating failures.
Continuous Training and Education
We believe that in order to bring our clients the best products and services, every member of the company must continuously be trained and educated in the developments in the industry.
Careful and Constant Supervision
For all projects but most especially for delicate projects, constant supervision and inspection by the owner himself is guaranteed. Well-trained engineers are always on-site to ensure that all workers abide by the stringent waterproofing standards set by the company.
OUR QUALITY AND SERVICE POLICIES
EOTA European Organization for Technical Assessment
Certified 25 years life span
Quality Over Quantity
We only take a maximum of 6 small projects with only less than 2 weeks work duration or 2 big projects with more than a month work duration.
World-class Products, Fully-acclimatized for you
We only use world-class products in our application, carefully ensuring that clients are truly getting what they pay for. These products have been fully tested and acclimatized for local conditions.
5-Year Warranty
Our work comes with a standard 5-year warranty period, excluding paint fading and normal wear and tear of coating systems.
OUR SAFETY PROTOCOL
In order to establish truly effective safety protocols, a company must be vigilant and must have foresight. Each worker on sight has a "buddy" – at any given time, there is a minimum of 2 workers on the job.
Prior to actually start of work, we mobilize a team to inspect the sight and identify any and all potential health hazards. All workers are always and repeatedly oriented in the company's safety protocols.
Services
Waterproofing
Our main service is waterproofing. We cater to basic home waterproofing services to more technical, challenging ones.
We understand that water damages due to weather exposure or leaks from pipes, can cause major repairs on any construction in the long run. Waterproofing is a way to prevent the water from seeping into surfaces exposed to these elements. It also serves as protection against mold and mildew formations, which can trigger respiratory ailments such as asthma and allergies. Adding waterproofing to your homes or buildings will help preserve its value by keeping them as pristine as it was first built.
Coatings
We also provide aesthetic waterproofing, thereby going beyond just prolonging the life of façade elements.
Thermal Engineering
Applying thermal engineering in any structure, especially in homes or office buildings, is vital to control the temperature in its enclosed or open areas. We provide polyurethane foam sprays and thermal reflecting paints as alternatives to traditional building insulation. The advantages of these methods range from increasing the structural stability of your spaces to providing acoustical insulation and better permeability rating, among others.
Flooring
We provide and install self-levelling mortar flooring finishes for rapid levelling of interior sub-floors, as well as polyurethane and epoxy floor finishes. Using these materials will achieve the optimum protection that your flooring needs against stains or wear and tear. With our world-class products, we can ensure that your flooring stays durable and maintains its aesthetic value.
OUR EQUIPMENT
As soon as we are commissioned for a job, we make sure we have the appropriate equipment for the requirements. We use power tools to accomplish all our task, as this ensures quality and efficiency at all times.
Here is a list of our equipment:
2 industrial vacuums
3 industrial air ventilators
Portable chipping hammers
Paint shaver Pro (USA) dustless removal of paints
4 concrete plainers for coating removals
Standard mixing drill and grinders and weighing scale
Laser leveler for slope corrections in concrete screeds
2 Laser meter with 80 meters max
Coating thickness meter
Concrete scanner for metal and electrical conduit detections
Standard trolleys for debris hauling
1 unit of Cement mixer (1 bagger)
On site Personnel locker for good warehouse keeping
10 industrial safety harness with fall protection
3 orbital sanders
Safety goggles and masks
2 LED industrial lamps with tripod for night shifts
Tri fold aluminum heavy duty ladders
Waterproofing Myths & Facts
MYTH: Waterproofing System is as simple and easy as "A,B,C".
FACT: Waterproofing System is not just about getting a BRUSH and applying….there is science in waterproofing.
Different projects has different approaches on waterproofing systems. A lot has to be considered when choosing the right system for a particular project. That is why every project has to be inspected and examined to provide the correct waterproofing system.
THINGS TO CONSIDER WHEN CHOOSING THE RIGHT WATERPROOFING MATERIAL AND SYSTEM:
Do not apply acid based concrete neutralizers on concrete or mortar surfaces. By applying this compound, it only accelerates concrete and mortar CARBONATION and rebar's deterioration.
Take in consideration RELATIVE HUMIDITY (RH) LEVELS of the project's location when deciding what type of waterproofing materials should you apply.
Construction COLD JOINTS should be detailed and treated correct and proper.
MYTH: Waterproofing materials are all and the same.
FACT: Using the right waterproofing material for the right area of application, careful study of area functions can provide us hints on what correct type of waterproofing system can be used.
There are a lot of waterproofing materials flooding the market, but only a handful of these materials can surely solve water leak damages. Always be cautious in choosing the right waterproofing material that will only provide the end-user a short service life span for an expensive repair works.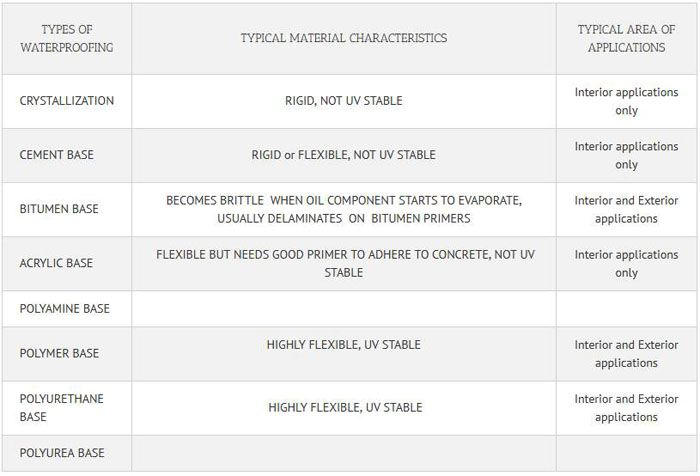 NOTE: Epoxy Tank Linings is not a waterproofing material. It is in fact, a finishing coat for cistern tanks as an alternative to ceramic tiles.
MYTH: After a quick waterproofing application, you're already protected. Anyone can apply this.
FACT: A good waterproofing system includes not only a good and correct type of material, but most of all, a correct application methodology and an expert applicator.
80% of waterproofing failure occurs during surface preparation and 20% after completion and turn over of the area to the general contractor.
FAILURES ON SURFACE PREPARATIONS
A. ON NEW CONSTRUCTIONS

Inability to detect structural instability. Always make a strategic inspection of the areas where water leak problems might occur.
Failure to address cold joint detailing and surface cracks.
Non-compliant to the phrase "CLEAN SURFACE…"
Failure to assess slope preparation to prevent water ponding.
Non-compliant to the waterproofing manufacturer's surface condition requirements.

B. ON REPAIR AND RESTORATION WORKS

Inability to detect structural instability on why the leak problem occurred.
Failure to correct cold joint detailing and repair surface cracks.
Applying new waterproofing material on top of an old and deteriorated waterproofing material.
Use of harmful compounds (to concrete and mortar substrates) to remove existing deteriorated coatings.
Failure to provide a proper cleaning methodology before application of new coatings.
FAILURES AFTER COMPLETION OF TURNED OVER AREA
Rectification or additional works of contractors after application of waterproofing. It is recommended that before waterproofing work starts, the general contractor or the project management group should make sure that no more rectification works will be done on the waterproofed areas.
Failure to address punctures and scratches made on the waterproofing materials by other trades.
NOTE: After the turnover of waterproofed areas, the general contractor or the project management group will be responsible for any water leak problems that will occur later on. Warranties should only be on material failure due to delamination and emulsification.
MYTH: A waterproofing material should be hard, tough and stiff is better.
FACT: Building structures move. It expands and contracts due to extreme thermal variations. It also vibrates since the ground on which it stands is constantly moving. Hence, building cracks are natural and cannot be prevented.
That is why we need to consider a building coating that is strong and flexible to adapt to these building movements and vibrations. This coating should bridge cracks on building surfaces.
CRACK BRIDGING PROPERTY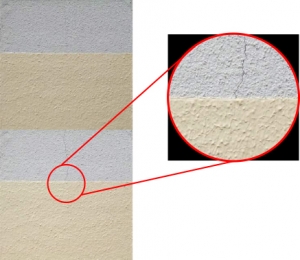 MYTH: Providing horizontal waterproofing on decks and wall painting is enough to provide long term protection.
FACT: Building protection requires more than just waterproofing applications on walls and floors. It also requires sealing off all openings like windows, doors, roofs and all utilities protruding the exterior walls of the building. This complete system is termed BUILDING ENVELOPE.
BUILDING ENVELOPE is comparatively equivalent to human skin. A structure must be enveloped from top to bottom to prevent intrusion from nature's elements into the interior spaces and to protect the structural components from weathering and deterioration.
Prevent Water Infiltration
Control Water Vapour Transmission
Control Heat And Air Flow, Into And Out Of Interior Spaces
Provide A Shield Against Ultraviolet Rays And Excessive Sunlight
Limit Noise Infiltration
Provide Structural Integrity For The Façade Components
Provide Necessary Aesthetics
Prevent Mould Formation And Growth
MYTH: Our mentality of beautiful aesthetics over building protection.
FACT: It is always a problem when home owners choose beauty over protection specially when they are already fed up with endless cost on repairs.
It is the designer's responsibility to inform and provide proper protection and aesthetics to their clients. A long service life span of their creation will give the home owner a better spent for their investment and hopefully a good name for the designer.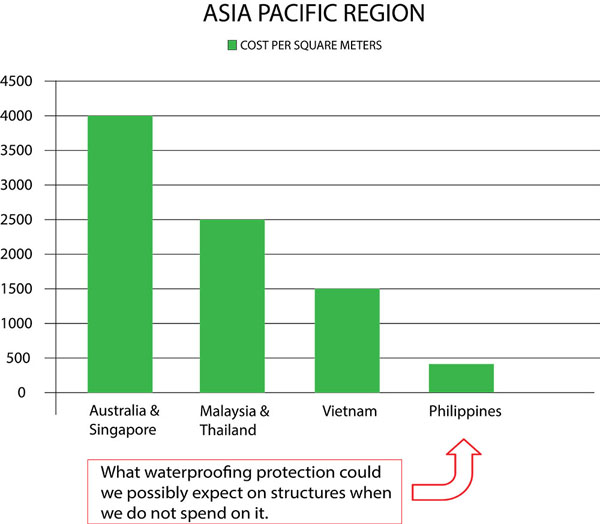 Some of our projects
Frabelle Residence
Balcony and facade protection
Lorenzo Residence
Urdaneta Village
Concrete roof deck repair using Mariseal system
Lor Calma Residence
Forbes Park
Concrete gutter repair
Upton Fairways
Cavite
Aesthetic waterproofing
Makati Ave. Lumber Building
Aesthetic and basic waterproofing applications
Contact Us
Acquaproof Contracting Specialists, Inc.
Address: JBD Plaza No. 65 Mindanao Avenue, Quezon City, Philippines
Phone: 928-5179 / 929-7399 / 455-5569
E-mail: info@acquaproof.com
Find us on Google Maps
sponsored links
back to business directory home page
Acquaproof Contracting Specialists, Inc.