Founded in 1993, Ahnex Builders was first registered in the Department of Trade and Industry (DTI) as a single proprietorship with a paid up capital of Php 500,000.00. It was established to offer innovative and quality services essentially with concentration on Land Development.
With reliability attached to its proven quality services, it was recognized as an accredited member of the Philippine Contractors Accreditation Board (PCAB) with an "AAA" rating and engaged in general construction that eventually entered into both private and public/government contracts, particularly with the Department of Public Works and Highways (DPWH).
An overwhelming demand initiated by proven track record urged Ahnex Builders to establish a business partner carried by the name of Ahnex Ready Mix in December 2002. Modified with the modern and advanced technologies, its batching plants (Cavite and Iloilo) provide ready mix supply directly to our own projects and business partners as well.
Embarked with the irresistible requisites, Ahnex Builders & Ready Mix Corporation was recognized under the Security and Exchange Commission (SEC) on March 22, 2004, now with an authorized capital of Ninety Million Pesos (PHP 90,000,000.00).
Ahnex Builders & Ready Mix Corporation and its subsidiaries are fully committed in providing high quality construction products and services in an injury free, safe, secure and responsible manner with the minimum impact on the environment and minimal risk of pollution. The Company applies, maintains, and improves the Integrated Management System (IMS) in Quality (ISO 9001), Environment (ISO 14001) and Health and Safety (ISO OHSAS 18001) and ensure compliance to relevant QEHS applicable statutory and regulatory requirements, regulations and laws, and best practices.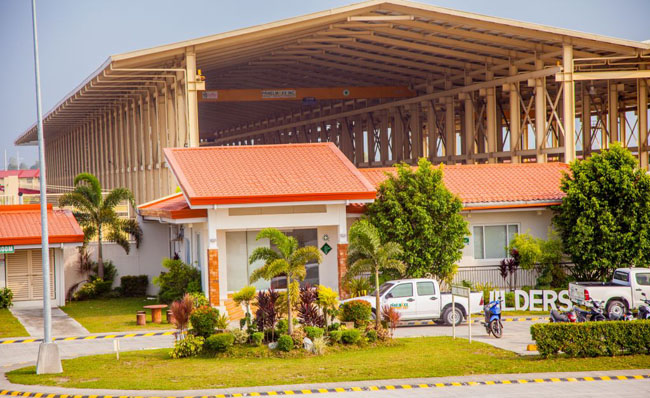 Products & Services
With combined efforts of dedication and determination, Ahnex Builders & Ready Mix Corporation continuously soars the competitive world of construction industry.
Recognized to have the sophisticated and advanced facilities, our batching plants produce and offer only superior quality products and services that made us different from the others.
Aside from supplies of ready mix, Ahnex Builders & Ready Mix Corporation is also engaged in other General Construction services of Land Development and House Constructions. It also deals with projects related to Engineering art works and structural designs.
GENERAL CONSTRUCTION
Planning and management of the construction of structures such as buildings, highways, railroads, bridges, dams and reservoirs. Each type of construction project requires a unique team to plan, design, construct and maintain the project. Thus, Ahnex Builders and Ready Mix Corp. has highly qualified engineers engage in the design of structures, quality assurance and control, building and site layout surveys, on-site material testing, concrete mix design, cost estimating, planning and scheduling, safety engineering, materials procurement, and cost engineering and budgeting.

Land Development
Earthworks
Roadworks
Waterline Distribution System
Drainage System
Roads
Bridges
Slope Protection (riprap)
Housing
Building & Industrial Plants
Electrical Works
QC LABORATORY
Ahnex Builders & Ready Mix Corporation - Quality Control (QC) Laboratory located at Barangay Pasong Camachile II, General Trias, Cavite is duly accredited by the Bureau of Research and Standards (BRS) to undertake materials testing for government infrastructure projects.

Tests conducted are:

Test on Soils and Soils Aggregates

Grading, plastic/liquid limit, wash loss, moisture content, unit weight, fractured face, compaction (MDR) field density and abrasion

Test on Fine Aggregates

Unit weight, grading, wash loss, specific gravity, moisture content, absorption and clay lumps

Test on Bituminous Mix

Coring for thickness and density determinations of asphalt concrete pavement

Test on Concrete Hollow Blocks

Compressive strength, moisture content, thickness and absorption

Test on Concrete

Compressive/ flexural strength, slump test of fresh concrete and coring for thickness and strength determinations of Portland cement concrete pavement and design mix.
SUPPLY OF READY MIX CONCRETE
Supplier of quality ready mixed concrete providing quality products and services to the construction industry. This is manufactured under computer-controlled operations and transported and placed at site using sophisticated equipment and methods.

SUPPLY & FABRICATION OF CONCRETE PRECAST
Precast Concrete is a construction product prefabricated in a plant. It is casted horizontally in a mould; cured in the plant's controlled environment to achieve necessary strength; and delivered on site for installation.
Facilities & Equipments

Completed Projects (partial list)

Contact Us
Ahnex Builders & Ready Mix Corporation
Address: 3F AA Corporate Plaza, Civic Drive, Filinvest City, Alabang, Muntinlupa City
Phone: 02 8555 1347 | 02 8555 1348 | 02 8555 1351 | 02 8869 6731
E-mail: info@ahnexgroup.com
Find us on Google Maps
sponsored links
SIMILAR COMPANIES/PRODUCTS/SERVICES
Terms of Use/Privacy Policy Advertise Buy me coffee