Timberland Heights by Filinvest Land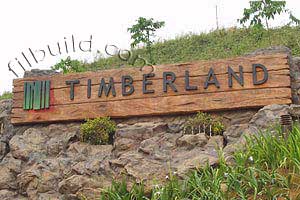 Discover an eco-sanctuary in which the restorative energies of nature meld with urban life's conveniences. Amidst rolling hills, forested valleys, and terraced farms, be simply a breath away from the modern comforts. Experience a natural habitat purely for everyday living: Timberland Heights.
This 677-sprawl of agroforest farm estates and residential resort communities is a mere 15-20-minute drive from the Batasan Pambansa in Quezon City. At an elevation twice that of Antipolo City, this effortlessly breezy mountain retreat affords a panoramic view from Laguna de Bay to Mount Arayat.
High above congested Metropolitan Manila, wake up to the wonders of clean, pure air and a cool, windy atmosphere permeating the tranquil, open spaces. Seek daily refuge amidst a backdrop of lush foliage and picturesque vistas. Bask in the essence of what is called life.
Nurture your family ideals. Together, realize the joys of adventure along the 24-km Nature Trails that winds through the scenic Greenways. Unwind and be pampered at the well-appointed Timberland Heights Sports and Nature Club. Immerse in the life-preserving atmosphere of the Agroforestry Center.
Sheltered by nature, surrounded by family and friends, you will be secure yet free. You will thrive in a balanced, sustainable community teeming with freshness and radiance. Here, find an everyday paradise you can naturally call home.
Price range: P3M - P15M
Timberland Heights at a Glance
Residential
Farm
Mandala Residential Farm Estates
Leisure
Timberland Heights Sports and Nature Club
Location
How to get there
From Quezon Memorial Circle, go northeast via Commonwealth Avenue, past Ever Commonwealth Center. Turn right before Sandiganbayan to Batasan Road, then turn right again to Batasan-San Mateo Road. Cross the bridge over Marikina River, then turn left to Gen. Luna Avenue. After passing Tropical Hut and Mercury Drug, turn right to De los Santos Street. When the road begins to slope up, turn left into the highway going to Timberland Heights.
Well Within Reach
Timberland Heights is an exclusive, nature-friendly community that keeps you close to the choicest of everyday destinations, from Metropolitan Manila's premier health and learning institutions to its prime shopping and social hotspots.
Schools within 30 minutes drive
Ateneo de Manila University
University of the Philippines Diliman
Miriam College
New Era University
St. Paul College
Our Lady of Perpetual Succor College
St. Mary's College
St. Bridget's School
Trinity College
Philippine Science High School
Our Lord's Grace Montessori School
Stella Maris School
St. Scholastica - Marikina
Marist School
St. Matthew's Academy
Hospitals within 30 minutes drive
Philippine Heart Center
Lung Center of the Philippines
National Kidney & Transplant Institute
Veterans Memorial Medical Center
National Children's Hospital
Philippine Orthopedic Center
FEU - Dr. Nicanor Reyes Medical Foundation,
Medical City
V. Luna Hospital
St. Luke's Medical Center
East Ave. Medical Center
Capitol Medical Center
Cardinal Santos Medical Center
Philippine Children's Medical Center
Quirino Memorial General Hospital
Malls within 30 minutes drive
SM North EDSA
SM Fairview
Robinsons Metro East
Robinsons Novaliches
Eastwood City Walk
Araneta Center, Cubao
Sta. Lucia East Grand Mall
Ever Gotesco Commonwealth
Marikina Riverbanks Mall
Churches within 30 minutes drive
Nuestra Señora de Aranzazu
The Parish Church of St. Peter
Christ the King Church
St. Joseph Parish Church
Church of the Risen Christ
Church of the Holy Sacrifice - UP Campus
Sto. Domingo Church Mount Carmel Church
Monasterio de Sta. Clara
The Church of Jesus Christ of Latter-Day Saints
Iglesia ni Cristo Central Temple
Nuestra Señora de Buenviaje - Antipolo
Golf Courses and Country Clubs within 30 minutes drive
Forest Hills
Capitol Hills Golf & Country Club
Valley Golf & Country Club
Camp Aguinaldo Golf Course
Celebrity Sports Plaza
Quezon City Sports Club
Tivoli Royale Country Club
Veterans Golf Club
Government Offices within 30 minutes drive
Batasan Pambansa
Sandiganbayan
Commission on Audit
Civil Service Commission
Quezon City Hall
Department of Environment and Natural Resources
Central Bank of the Philippines
National Housing Authority
Department of Agrarian Reform
Department of Agriculture
Housing and Land Use Regulatory Board
Land Transportation Office
Land Transportation Franchising and Regulatory Board
National Statistics Office
Manila Seedling Bank
National Power Corporation
Social Security System
Government Service Insurance System
Bureau of Animal Industry
Bureau of Mines and Geo-Sciences
Bureau of Internal Revenue
Philippine Coconut Authority
Philippine Information Agency
National Food Authority
Parks and Wildlife Bureau
Entertainment Centers within 30 minutes drive
Entertainment centers along Libis, Tomas Morato, Timog, and Quezon Avenues composed of hundreds of.
fine dining restaurants
coffee shops / cafés
bars
health clubs (spa, fitness center)
fastfood restaurants
hotels
beauty salons
sports centers
Parks and Wildlife within 30 minutes drive
Avilon Montalban Zoological Park
Ninoy Aquino Parks and Wildlife
Major Infrastructure within 30 minutes drive
Light Rail Transit 2
Light Rail Transit 4
Metro Rail Transit
EDSA
North Luzon Expressway
Circumferential - 5 Road
Circumferential - 6 Road
Commonwealth Avenue
Quezon Avenue
Macro Views
Towering over the crowded and polluted metro city at 350 meters above sea level, this master-planned, eco-social neighborhood reveals that beauty and quiet need never be inachievable luxuries.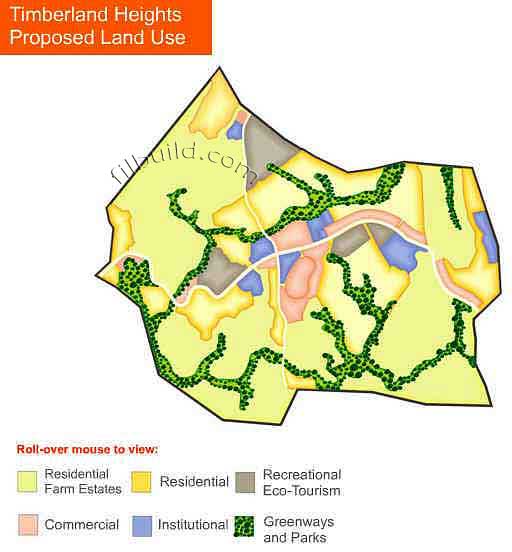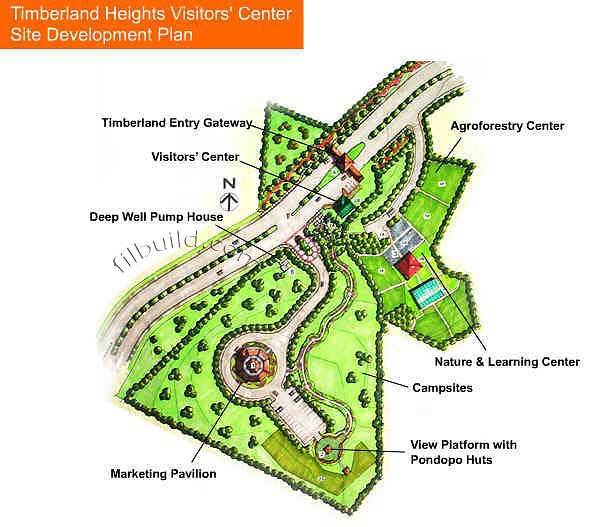 Banyan Ridge
Redefine living in natural luxury at the exclusive residential subdivision of Banyan Ridge. Be among the select owners of only 87 open lots offered for prime home sites. Strategically situated on a ridge that affords a panoramic vista of the city and mountains, it provides the ideal setting for such amenities as a multi-purpose clubhouse with a view deck, swimming pool, and children's playground. Embrace life's finest rewards in the premier residential resort and nature haven that is Banyan Ridge.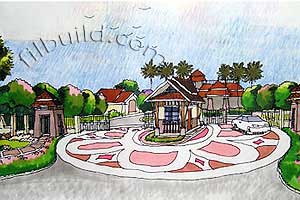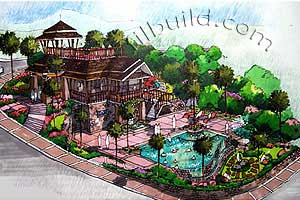 Gate & Guardhouse Clubhouse & Amenities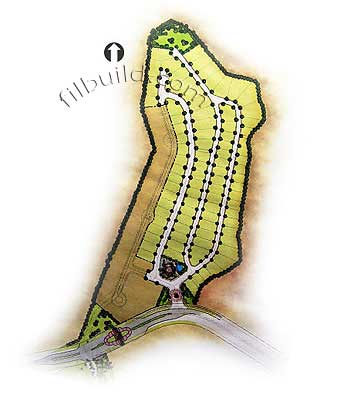 Site Development Plan
Banyan Ridge Quick Facts
Views:
Metro Manila
Laguna
Manila Bay
Provinces to SW and N
Elevation: 260 Meters Above Sea Level
Total Lot Area: 4.83 Hectares
Ave. Lot Size : 388 Square Meters
No. of Lots: 87 Exclusive Residential Lots
Lot Size Range: 220-787 Square Meters
Density: 18 lots per 1 hectare
Amenities:
Landscaped Gateway with Guardhouse
Multi-purpose Clubhouse with View Deck
Swimming Pool
Playground
Centralized Water System
Perimeter Fence
The Ranch
The Ranch is a 5.7-hectare community located inside Timberland Heights. Nestled on mountains higher than those of Antipolo, it gives you picturesque views of Laguna de Bay and the Sierra Madre Mountains. The Ranch Also offers convenient access to institutions and organizations found in the city. Anticipating the residents' needs, there are schools, churches, and commercial and socio-civic centers mapped out in the township. Cool, clean air and lush greenery, coupled with modern house designs and other amenities give you the experience of being at the peak of country living at The Ranch.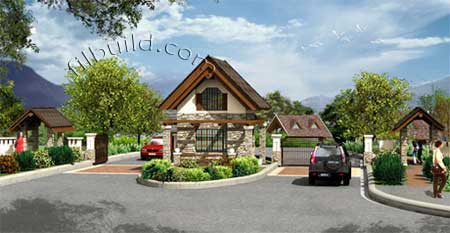 Gate & Guardhouse

Site Development Plan
The Ranch Quick Facts
Views:
Metro Manila
Laguna
Marikina
Elevation: 250 Meters Above Sea Level
Total Area: 5.74 Hectares
Community Size: 113 Households
Lot Size Range: 216-845 Square Meters
Development Density: 20 lots per 1 hectare
House and Lot Package:
Upland (243 sqm. usable floor area)
Hartford (186 sqm. usable floor area)
Ridgedeck (191 sqm. usable floor area)
Amenities:
Landscaped Gateway with Guardhouse
Parks and Playground
Centralized Water System
Perimeter Fence
The Ranch Model Units
Hartford
Perfect for growing families who love the outdoors, while enjoying the comfort of a cozy home.
Ground Floor - 97.75 sqm
2-car Covered Garage
Covered Porch
Living Area
Dining Area
Kitchen
Powder Room
Maid's Room with Toilet and Bath
Landscaped Garden
Second Floor - 85.25 sqm
Master Bedroom with Toilet & Bath Tub
Bedrooms 2 and 3 with common Toilet and Bath
Family Room (Convertible to Bedroom 4)
Balcony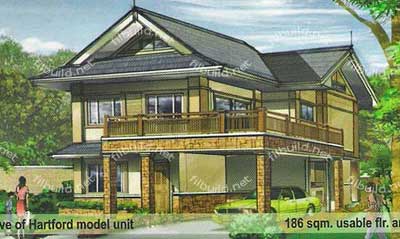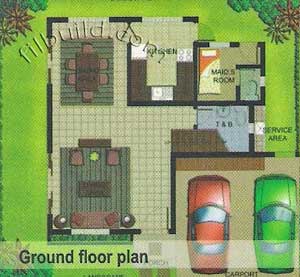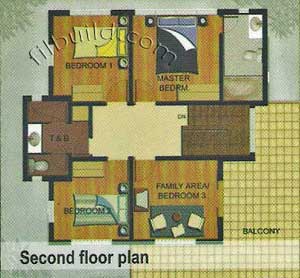 Ridgedeck
Designed for a downhill type of terrain, this house model is for the active and nature-loving family. Wide windows invite the lush views of follage inside the house, giving a feeling of being in the midst of nature.
Lower Ground Floor - 102.00 sqm
2-car Covered Garage
Porch and Vestibule
Living Area
Dining Area
Utility Area
Kitchen
Maid's Room with Toilet and Bath
Landscaped Garden
Upper Ground Floor - 89.00 sqm
Master Bedroom with Walk-in Closet, Toilet & Bath Tub
Bedrooms 2,3 and 4 with common Toilet and Bath
Family Area/Hall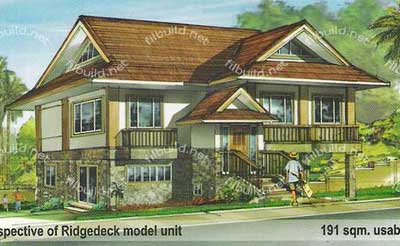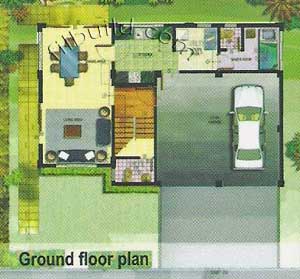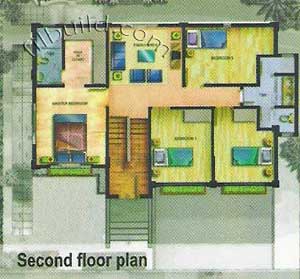 Upland
An ideal home for large families to cherish more bonding moments. It is designed and built for the uphill type of terrain.
Lower Ground Floor - 142.00 sqm
2-car Covered Garage
Living Area
Dining Area
Kitchen
Powder Room
Utility and Service Area
Maid's Room with Toilet and Bath
Outdoor Lanai
Landscaped Garden
Upper Ground Floor - 101.00 sqm
Master Bedroom with Walk-in Closet, Toilet & Bath Tub
Balcony
Bedrooms 2 and 3 with common Toilet and Bath
Family Area (convertible to Bedroom 4)
Common Toilet and Bath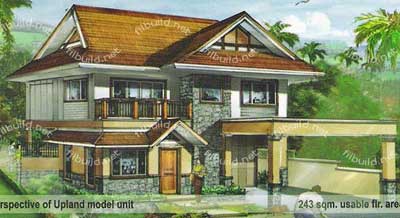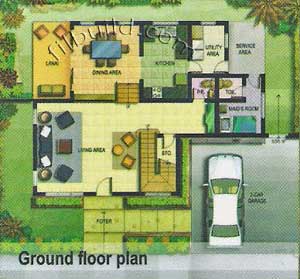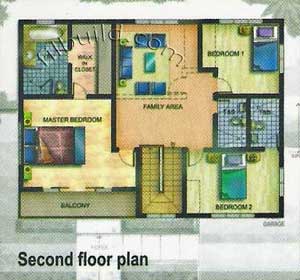 Mandala Residential Farm Estates
Every breath of life counts at the Mandala Residential Farm Estates. Themed with the tropical-Asian elements of harmony, it comes replete with scenic views and the gift of lush earth. Truly, this immaculate hideaway inspires the perfect setting to rediscover what we have always been blessed with.
Carefully tucked away within Timberland Heights, this agroforest farmlot estate comes complete with such community amenities as clubhouse, seminar rooms, farm supply and machinery depot, produce market, swimming pool, parks, and playgrounds.
Build your dream house in a verdant nature paradise then sit back and enjoy what you have created - a safe and blissful environment in which to grow vegetables, fruit trees, and flowers; raise children who know how to embrace nature's grace and splendor; cultivate a new-found passion for everyday living.
Farmlot owners are assured of full service support for farm design, programmed farm development, developmental implementation, and produce marketing assistance.



Bench Terracing in Slopes Free-range Chicken Raising



Composting & Vermiculture Orchard Crops



Protected Cropping Spice & Herb Garden
Mandala Residential Farm Estates Quick Facts
Views:
Metro Manila
Laguna
Manila Bay
Provinces to SW and N
Elevation: 285 Meters Above Sea Level
Total Lot Area: 40 Hectares
Ave. Lot Size : 1,200 Square Meters
No. of Lots: 213 Lots
Lot Size Range: 750 Square Meters - 1.3 Hectare
Density: 5 lots per 1 hectare
Amenities:
Landscaped Gateway with Guardhouse
Multi-purpose Clubhouse with View Deck
Swimming Pool
Playground
Picnic Area with Tree Park
Centralized Water System
Perimeter Fence
Our Agroforestry
WHAT IS AGROFORESTRY?
Agroforestry is a land-use management system that combines the production of trees with agricultural crops, animals and/or other resources in the same area. It aims to increase or sustain productivity while maintaining ecological stability. It also hopes to increase income for improved quality of life.
WHAT CAN WE GET FROM AGROFORESTRY?
Agroforestry promotes self-sufficiency. You can optimize land use to increase production and satisfy needs. Trees and other plants supply life-giving oxygen and help purify the air. They also sequester carbon by absorbing CO2 from the atmosphere and incorporate them in their biomass.
Trees also provide us with fuel wood, raw materials for construction and other needs. They also serve as barriers for protecting food crops against soil erosion and destructive wind; and provide fodder to animals and materials for organic fertilizer. Animal wastes could be used as fertilizer while food crops provide for subsistence and cash needs. Good interaction among these components serves as the primary step in attaining agroforestry's twin goals of production and protection.
Ecologically, agroforestry helps rehabilitate and preserve the environment through soil and water conservation in sloping lands. Tree roots hold the soil together thus minimizing erosion and eventually the occurrence of floods during rainy season. Tree canopies also help conserve the soil from the erosive impact of raindrops. It does not only intercept large amounts of rainfall but also the incoming radiation depending on the percent of canopy coverage, leaf structure and crown stratification. The leaf litter and humus built up under the tree stands control the flow of water and allow it to percolate into the soil.
While contributing to conservation strategies, trees also serve as "nutrient pumps" and improve soil fertility. Nitrogen-fixing trees are able to fix nitrogen gas from the atmosphere and convert them to ammonia. These nutrients are then returned to the soil through the litter fall or when the prunings are applied as mulch or green manure (organic fertilizer).
During decomposition, the prunings release the nutrients and increase organic matter in the soil thereby improving soil fertility, soil structure, infiltration and moisture-holding capacity.
Efficient utilization of water and nutrients in the soil profile is achieved by intercropping deep-rooted crops with shallow-rooted species. This enables the trees to minimize competition for water and nutrients far below the soil surface.
All the protective and ameliorative roles of agroforestry discussed could result to long-term benefits particularly in the overall improvement of the socio-economic conditions of the subsistence upland farmers. As the upland ecosystem is properly conserved through agroforestry, it follows that improved productivity would be sustained through time. The stable production of goods and services, in turn, ensures self-sufficiency in food, fuel, fodder and other necessities. The extra income could also be used for other social benefits such as clothing, shelter, medical care and education of their children. All of these can contribute to the general improvement in the quality of life of the farmers.
WHAT MAKES A GOOD AGROFORESTRY SYSTEM?
Agroforestry systems should be productive
Generates direct benefits such as food, fodder, feed for fish and livestock, fuel, polewood/wood, other products such as gums, resins, latex, oil, herbal medicine, etc.
Produces Indirect benefits or "service roles" such as soil and water conservation, fertility improvement, microclimate amelioration, live fencing, etc.
Increases income
Agroforestry systems should be sustainable
Employs soil and water conservation strategies to ensure long-term productivity
Can withstand sudden changes in weather, epidemic and market prices
Requires putting some forms of incentives into the technology to ensure the adoption of conservation practices especially those that are operating close to the margin of subsistence
Agroforestry systems should be easily adopted and socially acceptable
Technologies should be culturally acceptable and easily adoptable
Directly involves the farmers in the design and planning of agroforestry systems to ensure adoption
Consistent with technical, financial and manpower capabilities of the local people/target clients
SOME OF PRACTICED AGROFORESTRY IN THE PHILIPPINES
Alley cropping system
Also known as hedgerow intercropping system, the alley cropping system is most often practiced in gently to moderately sloping areas. It involves the planting of leguminous trees or shrubs as hedgerows along contours. Aside from serving as physical barriers against soil erosion, the hedgerows provide beneficial effects on the associated crops. The leaves can be pruned for organic fertilizer, used as fodder for livestock, or serve as mulch to control moisture loss.
However, trees compete for sunlight, space, water and nutrient uptake of the food crops. Hence, trees that could withstand frequent pruning are used to allow greater light penetration for the crops planted along the alleys. Deep-rooted trees are also preferred to minimize competition for water and nutrients in the soil. Nitrogen-fixing trees or shrubs are also preferred as hedgerows.
This system is also best exemplified by the Sloping Agricultural Land Technology (SALT 1) developed by the Mindanao Baptist Rural Life Center (MBRLC) in Bansalan, Davao del Sur.
Multistorey system
This system comprises the production of mixed species of trees and food crops occupying different canopy levels. Trees and shrubs often occupy the upper layer while the lower layer is made up of shade-tolerant crops like banana, coffee, pineapple and others.
The series of canopy layers protect the soil against the erosive impact of rainfall thereby reducing soil erosion and surface run-off. However, the upper layer of the tree canopy reduces light penetration for the crops underneath. Thus, shade-tolerant crops are grown underneath and branch pruning or thinning of overstorey trees are applied when necessary.
Tree-crop grazing system
Cattle, goats, sheep and other animals are allowed to graze freely in between the large trees in the relatively mature tree plantations of the tree-crop grazing system. This system may also be adopted in coconut plantations provided that the dungs of large ruminants are regularly collected for organic fertilizer. Regular collection should be done because dungs serve as breeding areas of rhinoceros beetles which are pests of coconut.
Live fence system
Trees can serve as fences by growing rows of palatable trees or shrubs around a certain grassland area enclosing the grazing animals inside. Aside from the trees' role as fence, they can be managed (e.g. regular top pruning to encourage more lateral branching) such that the enclosed animals can browse on the low-lying branches serving as fodder supplement.
Protein bank system
This involves the intensive planting of fodder trees/shrubs and pasture grasses on a small plot. Leguminous fodder trees or shrubs (e.g. ipil-ipil, kakawate, Desmodium, etc.) serve as supplementary source of protein for livestock. In this system, the fodder trees or shrubs may be established as small plots on certain portions of the farm or pasture areas. These areas are planted intensively for maximum fodder production. The areas are also fenced off and regularly pruned. The top and branch prunings are fed to the animals through the "cut and carry" system.
Frequently Asked Questions about Mandala Residential Farm Estates
Q: Will the water distribution be enough to supply the entire development?
We have a water tank dedicated to Mandala Residential Farm Estates with a capacity of 167,200 liters.
Q: How soon can I start?
Right now, farm lot owners of Mandala Residential Farm Estates of West & North phases can start farming. As soon as the land titles are turned over to lot owners of Mandala Residential Farm Estates of South & East phases, they can also start farming.
Q: What is the elevation of Mandala Residential Farm Estates?
Mandala Residential Farm Estates elevation ranges from 200 to 225 meters above sea level.
Q: Is it possible to grow fruit trees in Mandala Residential Farm Estates?
Yes. We prefer local or endemic species of fruit trees.
Q: Can I grow Robusta and Arabica coffee?
Yes. You can grow Arabica coffee but not Robusta because it grows best at an elevation of 800 meters above sea level and higher.
Q: What farming method is used at Mandala Residential Farm Estates?
Organic farming is practiced at Timberland Heights. Plant nutrition is done by applying vermi-compost (decomposed organic material using worms) to the soil. Disease prevention and pests are controlled utilizing botanical and biological methods. Mechanical control such as green house or netted garden beds is also practiced to prevent insect attacks.
Q: What can I do in Mandala Residential Farm Estates in Timberland Heights?
Your property in Mandala can be used for residential and farming purposes. You may go into organic farming, bee farms, coffee farms, fruit orchard, flower farming, aqua culture, etc., aside from this, amenities will also be available like a multi-purpose clubhouse, swimming pool, and outdoor recreational facilities.
Q: How much space could be allotted for residential and for farming in Mandala Residential Farm Estates?
A minimum of 80% of the total property area must be devoted to farming activities and the maximum buildable area/house is 20% of the total farm lot area property.
Q: Do we have a free hand in designing and lay outing of our farm lot and residential house?
Yes, as long as the design will consider the Deed of Restrictions, as well as the Design and Farm Guidelines.
Q: What farm services does Timberland Heights provide to lot buyers of Mandala Residential Farm Estates?
Timberland Heights Farm Management Services team of experts can provide farm planning and design, investment costing, design implementation, farm production management, and soon, marketing of produce.
Q: Who will teach me how to farm?
Well-trained Farm Services Management Staff of Timberland Heights can give hands-on training to lot owners on farming. There is also an existing tie-up in the field of Agroforestry between Timberland Heights and University of the Philippines Los Baños - Institute of Agroforestry (UPLB-IAF). Regular seminars on various farming modules and hands on training will be conducted to assist owners in the development of their farmlot.
There are pool of experienced farm workers who can assist our lot owners in their farming needs, from land preparation up to harvesting. We also offer a wide selection of planting materials of local origin such as ornamentals, fruit trees & forest trees.
Q: What high-value crops can I plant in Mandala Residential Farm Estates?
Some high value crops already grown at the site were vegetables such as tomato, lettuce, cucumber, cauliflower, broccoli, cabbage, mustard and pechay. Additionally, some of the culinary herbs also successfully grown are basil, mint, rosemary, black pepper, oregano and tarragon.
Q: Can I raise both fowls and livestock animals?
Yes. The number of heads of fowls, livestock animals or a combination of both that is allowed in a lot shall be based on the area devoted to farming activities.
Q: How much money do I need to set up a farm development in my property?
The initial investment needed to the development of your farm lot depends on the technology and the extent of utilization of the property.
Q: How much money can I make if I seriously consider farm lot development in my property?
Profitability varies depending on the technology you choose, ability to control cost and how you manage your farmlot. Questions and concerns will be discussed to the client in detail as soon as you avail of the farm management services to start farm development.
Q: Can you help me with the feasibility study for my farm development?
Yes. In Mandala, the feasibility of farming varies from lot to lot depending on your chosen technology, the required farm developments and the crops you select. The Farm Services Management will be available for consultation to discuss details if the client is now qualified for farmlot development. A feasibility study can be requested at a cost mutually agreed upon once you have determined the type of farming suited for you.
Q: Who will implement the rules and guidelines for farm lot owners in Mandala?
The task of the subdivision management is the responsibility of the Subdivision Administration, while farm management is a task by the Farm Services Management.
Q: What type of soil does Mandala Residential Farm Estate have?
Our soil structure is clay loam.
Q: What will I do with all the excess produce harvested from my lot?
You can sell the excess quality produce from your farmlot c/o Timberland Heights Farm Management Services. Later on, when there's an economic volume of quality produce to be sold from lot owners at Mandala, we will put up a Kumbasari market to sell to the market.
Q: What kind of animals can I bring to my farm?
Animals, with the exception of swine, may be allowed as long as they are properly contained and do not interfere with the normal enjoyment of a safe environment. Pets and livestock should be properly vaccinated. Fowls, livestock or a combination of both may be allowed but with consideration to the policies as stipulated on the Deed of Restrictions of Mandala Residential Farm Estates.
Q: Who will implement the rules and guidelines for farmlot owners in Mandala?
This is the responsibility of the Subdivision and Farm Management Group.
Sports & Nature Club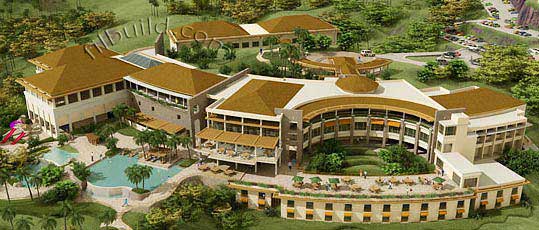 Restore your rhythm at the Timberland Heights Sports and Nature Club, a family-oriented country club replete with amenities for all ages and personalities. Indoors or outdoors, be empowered to choose your own sport, recreation, and relaxation. From vast, open fields to sheltered, restful grounds, be primed to carve your own dream adventure.
Perk up or wind down; swim, shoot hoops or bowl; freedom is yours to indulge in health and leisure. Basketball and racquetball courts or bowling and game rooms - take your pick for reclaiming your well-being. Gym or spa - explore your options in finding your balance. Bars or fine dining restaurants - suit your idea of making friends and good conversation.
Enjoy exclusive membership privilege to this top-class, family-friendly club complete with various recreation and outdoor facilities. Amenities extend outdoors to the nearby picnic grounds, hiking trails, camping grounds, view decks, pocket parks, and swimming holes.
Renew your senses. Get back to basics. Reintroduce yourself to a life lived in harmony with nature.
Close to the city, but a world away from the traffic, noise, and bright lights, you'll find Timberland Heights Sports & Nature Club.
Just 15 minutes from Batasan Pambansa, Quezon City, will bring you to this exclusive mountain resort where you and your family can commune with nature without giving up the convenience and comforts of home.
At Timberland Heights, getting back to nature comes naturally.
Hemmed by breathtaking panoramic vistas of the Sierra Madre mountain ranges is a dynamic lifestyle hub where natural indulgences fuse with urban conveniences.
Timberland Heights Sports and Nature Club is a first-rate private membership club that offers a wide range of activities and amenities for the entire family. It is just a 15-minute drive from the Batasan Pambansa in Quezon City. The club is situated within the masterplanned Timberland Heights, a vast 677-hectare resort town development of Filinvest Land in San Mateo, Rizal.
The 9-hectare sports and recreational development has an elevation of 345 meters above sea level, affording a fabulous view of Manila Bay, Makati, and Ortigas skylines. From gourmet dining to poolside relaxation, scale the peaks of luxury in a postcard-perfect club setting.
Membership to Timberland Heights Sports and Nature Club is by invitation and referral. Members have the privilege of participating in this process by sponsoring friends and business contacts. Prospective members are subject to review by the Membership Committee and approval by Timberland Heights Sports and Nature Club's Board of Directors.
The owner, developer, and controlling stockholder of Timberland Heights Sports and Nature Club is Filinvest Land Inc. All membership shares are proprietary.
Nurture strength and beauty in a selection of world-class facilities where a myriad definition of pleasure serves to invigorate your zest for the good life.
Unwind in the horizon-edge swimming pool or sweat it out at the multi-purpose courts - the freedom is yours to indulge in health and leisure. Hike along nature's trails or rappel by the indoor climbing wall- take your pick at your own dream adventure. Chill out at the al-fresco bar or celebrate milestones at the grand ballroom - make friends and enjoy good coversation. The choisest amenities for all ages and personalities await at the exclusive, family-oriented milieu if Timberland Heights Sports and Nature Club.
Nature Activities
Hiking Trails
Camping Grounds
View Deck
Heb Garden
Ropes Course
Sports & Recreation
Swimming pool
Multi-purpose covered courts (badminton, basketball, volleyball)
Badminton courts
Covered tenis courts
Indoor climbing wall
Table tennis
Billiards
Bowling
Spa & Fitness
Dip Pool
Sauna
Steam Rooms
Treatment Rooms
Relaxation Lounge
Beauty Salon
Children's Activity Center
Toddler's Room
Arts & Crafts Room
Computer Interactive Center
High Slide & Spiral Slide
Mini Rock Climbing
Events & Meeting Facilities
Grand Ballroom
Function Rooms
Private Dining Rooms
Outdoor Party Area / Function Deck
Garden & Barbecue Areas
Food & Beverage Outlets
Family Restaurant
Private Dining Rooms
Music Bar & Sports Café
Pool Bar
KTV Rooms
Library Lounge
Overnight Accommodations
Family Suites
Deluxe Rooms
Site Seeing
At twice the elevation of neighboring Antipolo City, this ecologically balanced, self-sustainable locale is blessed with temperate, cool climate ideal for nature and nurture. Journey to the possibilities that await at Timberland Heights.
Greenways
Remembrances are destined to be created and retraced at the Greenways. Possibilities abound in over 50 hectares of winding, wooded pathways and invigorating landscapes scattered throughout Timberland Heights. Set against nature's own canvas, birds fly, butterflies flutter, and time stops momentarily to preserve it all.
Winding through the Greenways, the 24-kilometer Nature Trails presents a fascinating array of quests and opportunities: contoured trails for walking and jogging, adventure trails for biking and trekking, and extreme trails for climbing and rappelling.
Live in the present at the botanical gardens, butterfly house, aviary, and bee farm. Make memories at the campsites, picnic grounds, view decks, and pocket parks. Amid streams, waterfalls, fishing holes, swimming ponds, and other water features, your journey becomes your destination.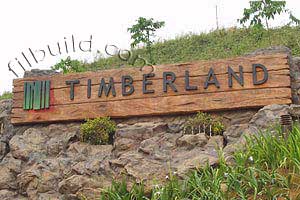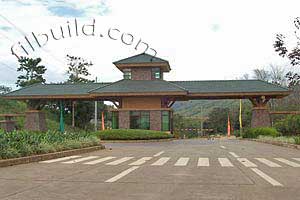 Entry Marker Gateway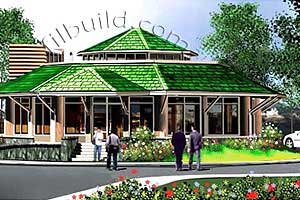 Marketing Pavilion Agroforestry Center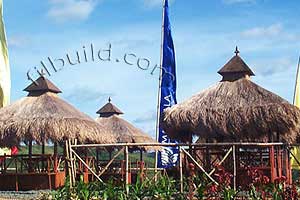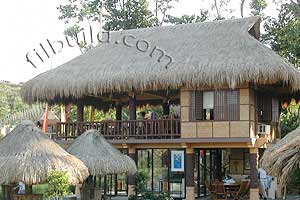 Pondopo Huts Visitors' Center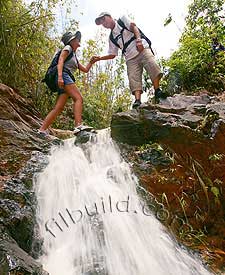 Nature Trails
Frequently Asked Questions
Q: What is the elevation of Timberland Heights?
Timberland Heights is a mountain haven settled at 250 meters to 450 meters above sea level.
Q: Who is the developer of Timberland Heights?
The owner and developer of Timberland Heights is Filinvest Land Incorporated, a full range property developer. Throughout the years, Filinvest Land has built up a solid reputation as a developer of master-planned communities and other successful real estate projects all over the Philippines. The development of Timberland Heights harnesses the expertise of various local and international consultants - from designers, architects, and master-planners to specialists and institutional partners.
Q: What type of house should be built in Timberland Heights?
Every home in Timberland Heights is encouraged to be designed utilizing Tropical-Asian inspired architecture. The color of the main structure/house should tend toward earth tone-brown, beige, terracotta and green.
Q: Are there any restrictions in the use and enjoyment of property in Timberland Heights?
Yes. For the purpose of enhancing the value and attractiveness of Timberland Heights and every subdivision projects in it, there has been an established common development and architectural scheme and plan for the controlled development of the project.
All properties and improvements in Timberland Heights would be subjected to some limitations, conditions, restrictions, and easements regulations.
Q: Can I have more than one (1) house and is there any required easement to be considered in the development of the property in Timberland Heights?
Yes. Multiple structures of single dwelling-units shall be allowed as long as they do not exceed the maximum allowable floor area respective of the project you choose.
For Banyan Ridge and The Ranch, the buildings and improvements shall have a distance of not less than three (3) meters from the boundary line facing a street and two (2) meters from any boundary line which distance shall be computed also from the building line. Outside edges of the roofs and/or eaves must also have a setback.
Q: Are there any height restrictions in Timberland Heights?
Yes. The buildings and improvements shall not be more than nine (9) meters high, measured from the elevation of the street to the highest protruding part of the roof in cases of flat or nearly flat lots. For lots, which are elevated or slanted upwards, the 9-meter maximum height shall be measured beginning from the highest point of the building down to the natural ground below it. The building and improvements to be constructed must not be more than two (2) - storeys.
Q: What are my limitations in the use of my property in Timberland Heights?
All properties in Banyan Ridge and The Ranch shall also be used exclusively for residential purposes only.
Commercial activities in Timberland Heights shall take place only in areas designated for the purpose.
Q: What should I know when improving my property and constructing a house?
The cost of construction of the houses in the Project should be approximate to the price of the lot.
The lot owner/occupant shall follow the steps in improving the property as provided in the design guidelines to be provided by the Estate Management of Timberland Heights.
Q: Can I subdivide my lot?
No. The lots cannot be subdivided into smaller parcels.
Q: Would there be a Homeowners Association in Timberland Heights and how much will be you charge for the association dues?
Yes. For the purpose of maintaining roads, traffic control, security, and all common facilities and services of every kind and nature in every subdivision project in Timberland Heights, respective homeowners association for every project would be formed. And since Timberland Heights is composed of several projects, a Federation of Associations would also be formed subsequently.
We will be able to give you information on the amount of homeowners' dues once we have assessed all the costs for consideration. The association dues will cover expenses for the maintenance of green spaces, landscape easements, road network, electrical and water distribution system - including tanks and deepwells, common area, sanitary, security and garbage collection for the parks and streets. Rest assured that we would keep the association dues as minimal as possible.
About the Developer
The name Filinvest Land has become synonymous with property development.
For over 50 years, Filinvest Land has been a leader in property development. Guided by the Gotianun tradition of integrity, quality and service, it forges ahead with renewed dynamism and the promise of even greater triumphs.
Beyond building homes and communities for Filipino families, Filinvest Land comes to the fore of building a bright future for the Filipino.
Developed over 1,800 hectares of land, home for over 100,000 families
Created over 400,000 square meters of prime office, residential and retail spaces
50 years in business and P30 billion in equity
Built on the Gotianun tradition of integrity, quality, and service
Contact Us
FLI HEAD OFFICE
Filinvest Building
79 EDSA, Mandaluyong City
1550 Philippines
Trunkline (connecting all departments) (02) 918-8188
For Product Information:
Metro Manila and Luzon projects
(63 2) 850-0888
(63 917) 877-0888
Cebu projects
(63 32) 232-1394
(63 917) 545-7788
Davao projects
(63 82) 227-0946
(63 917) 595-7788
Accredited Brokers/Agents: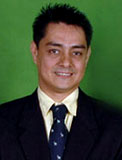 Contact: Ralph Alcazar Jr., REB ZAM 13-07(R)
Mobile: +63 908 896 5800
Email: ralph0913@gmail.com
Attention Our Valued Users
The particulars and visuals shown herein are intended to give a general idea of the project and as such are not to be relied upon as statements of fact. While such particulars and details on present plans which have been prepared with utmost care and given in good faith, buyers are invited to verify their factual correctness and subsequent changes, if any. The contents herein are subject to change without prior notice and do not constitute part of an offer or contract. For more information please see our Terms of Use.