Avida Settings Nuvali by Ayala Land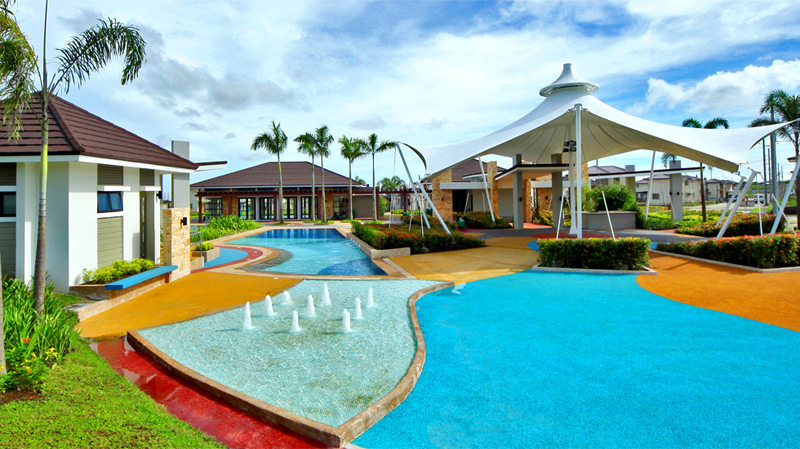 Avida Settings Nuvali is the latest residential development of Avida Land Corp. It offers affordable house-and-lot and lot packages with more open space and greenery, giving the subdivision a more spacious feel and its residents a more relaxed and peaceful environment.
Ayala Land's Development shall feature a unique block development—a mix of green ribbons and courtyards, plus regular lots to suit the needs of the Filipino Family.
Avida Setting's green ribbons and courtyards give family members the opportunity to bolster relationships through a novel design for homes that incorporates nature in residential living. Avida Settings is quite affordable to the working class and with the amenities offered at Nuvali, one is surely going to acquire a high rate of return on their real estate investment.
Forty-five percent of the property is dedicated to open space which includes bike trails, jogging path, exercise station, orchards, open fields, pocket parks, and common amenity areas.
The houses have modern designs and you can choose from various neighborhood patterns, including the exclusive green ribbon, which gives you instant access to a garden through your backyard. Traditional block and courtyard neighborhood patterns are also available.
Price range lot only: P12K - P13K per sqm
Price range house and lot: P2.4M - P4.1M
Location
Nestled within the South's picturesque surroundings, it is only 15 minutes from Sta. Rosa Exit, 30 minutes from Alabang, and 50 minutes from Makati. Shuttle services are also available so commuting is never a problem.
Nuvali is a 50-minute drive from Makati through the Sta. Rosa Exit of the South Luzon Expressway (SLEX). It is along the Sta. Rosa-Tagaytay Road. By the first half of 2008, a road will connect Nuvali directly to the Mamplasan Exit of the SLEX.
From Metro Manila, it is accessible via South Luzon Expressway with the following exit points:
Exclusive Access at Mamplasan
Sta. Rosa-Tagaytay Road
Malitlit (Asia Brewery)
Silang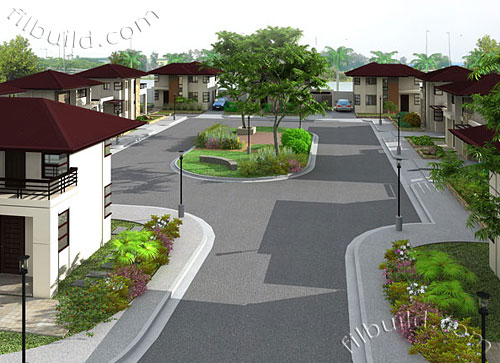 Courtyard Neigborhood Pattern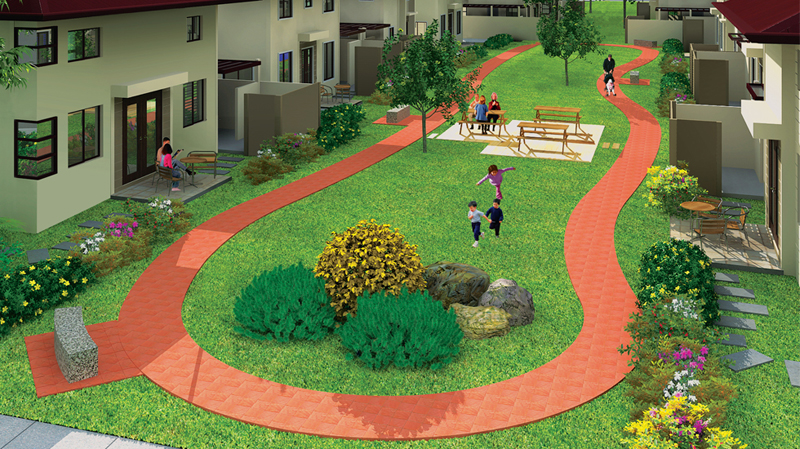 Green Ribbon Neigborhood Pattern
Lot Plan


Lot Plan (click to enlarge)
Features & Amenities
Neighborhood Patterns

Traditional - the classic "next-door neighbor" type of layout.
Courtyard - for those looking for a private yet intimate neighborhood.
Green Ribbon - this innovative and exclusive design literally brings the garden to your doorstep.

Central Amenity/Area

Clubhouse
Central Park & Picnic Area
Swimming Pool
Basketball
Children's playground
Open field areas

Phase Amenities

Gazebos
Pocket Parks
Bike Trails
Jogging Trails
Open field areas
Exercise station
Orchards

Subdivision Features

Landscaped entrance gate & Guardhouse
Tree-lined Avenues
22 meter wide spine road and 8m 10m 11m, 12 m and 16 m wide main roads.
Concrete Perimeter Fence for a well-secured subdivision
Reliable power facilities
Electricity, cable TV & Telephone facilities
Overhead water tank & deep well
Sewage Treatment Plant
24-hour security and Village Management Support
Architecturally-themed neighborhoods
House Models
Celena
Premium - 68 sq.m.
Standard - 53 sq.m.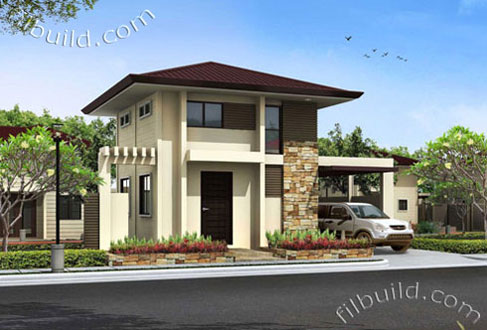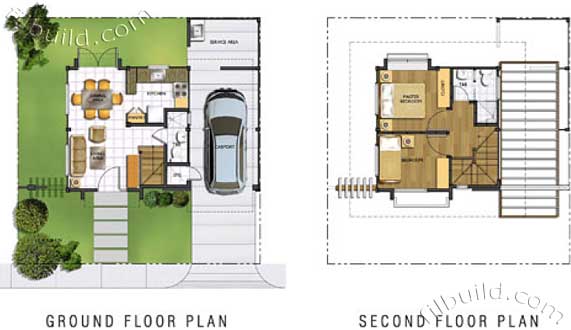 ------------------------------------------------------------------------------------------------
Maia
Premium - 80 sq.m.
Standard - 66 sq.m.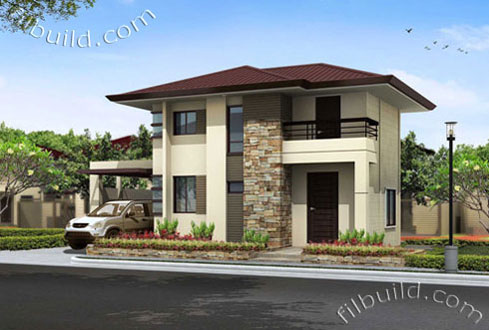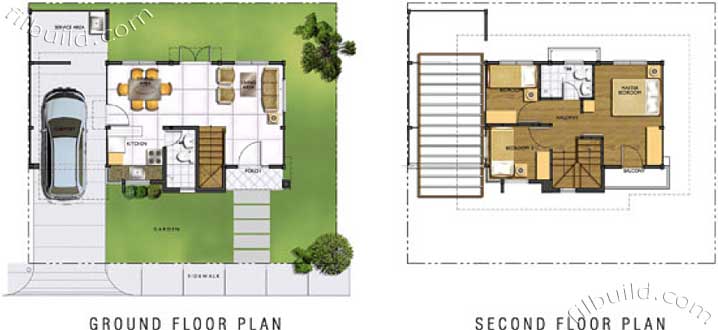 ------------------------------------------------------------------------------------------------
Thea
Premium - 98 sq.m.
Standard - 83 sq.m.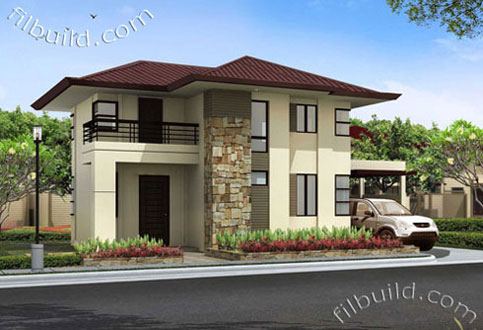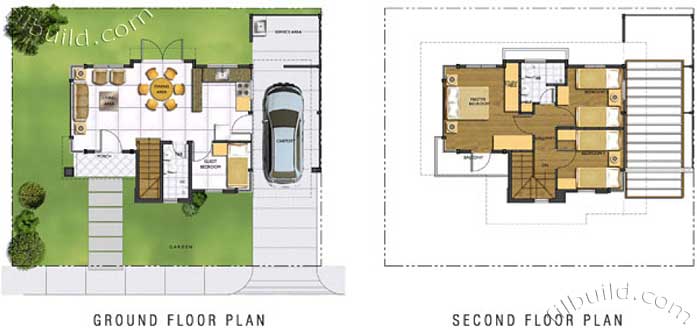 About Nuvali Evoliving

Named simply Nuvali ('nouveau' or 'new' venture of Ayala Land, Inc.), the supra-development will be a vast complex of low-rise structures that integrates all the dynamics of working, living, and playing in a serene and close-to-nature setting.
Nuvali is a development backed by the expertise and heritage of Ayala Land, the same people behind the country's leading and thriving business districts in the Makati CBD, Bonifacio Global City, Alabang and the Cebu Business Park. Ayala Land's newest development showcases how the metropolitan lifestyle can in fact enhance rather than erode the natural environment and the social ties that bind a community.
Masterplan
Nuvali is a self sufficient community in Laguna that covers all major areas — residential, business, commercial, recreational, and educational. Homes, office buildings, shops, restaurants, and schools are attuned to each other through the rich natural environment, technological hubs, and people-oriented infrastructure. It is a harmony of productivity and sustainability, where family, work, and leisure are seamlessly integrated in a diverse vibrant landscape.
Location
Nuvali is a 1,600 hectare development envisioned to be the country's next urban center. It is located in Laguna and is covered by the cities of Sta. Rosa and Calamba. It is only 40 kms away from Makati (50 minutes) and 25 kms from Alabang (30 minutes). Nuvali is along the Sta. Rosa-Tagaytay Road.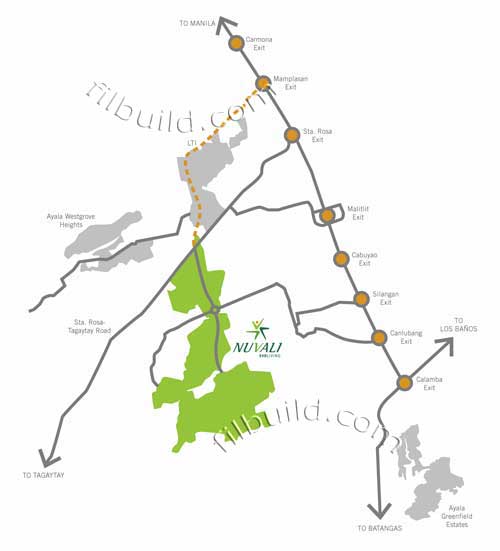 From Metro Manila, it is accessible via South Luzon Expressway with the following exit points:
Exclusive access at Mamplasan, Sta. Rosa
Sta. Rosa - Tagaytay Road
Malitlit (Asia Brewery)
Silangan
Canlubang
Project Concept
As the next urban center, Nuvali will integrate a mix of land uses which are vital to support a modern metropolis. It will have a central business district with traditional office buildings and business process outsourcing campuses, retail centers, residential developments, schools, institutional and civic areas, among others.
Nuvali will redefine urban living by hinging itself upon sustainability to distinguish itself from cities as we know them — highly dense urban centers. This means that Nuvali will contain the elements that bring forth economic prosperity, while keeping check of social needs to foster true community building, all in an ecologically sound environment.
Ayala Land believes that only in striking this balance will it assure the value appreciation of Nuvali for generations to come. This is the same long-term outlook in large scale developments that enabled the company to shape the Makati Central Business District, Ayala Alabang and Madrigal Business Park, Cebu Business Park, and Bonifacio Global City. With this vision of sustainability, Ayala Land finds assurance in its plans for Nuvali as the up and coming metropolis.
The Nuvali 2.5-hectare Grand Central Park
1,200 sq.m. Grand Clubhouse
Lounge
Juice bar / concessionaire's area
Function rooms with outdoor spill-out areas
Game room
Fitness gym
Theatre
Kids pavilion and outdoor play area
Retention pond
40-meter lap pool, with tree-shaded pool deck
Kiddie pool integrated with an interactive cascade and water play area
Football / Multi-purpose field
Basketball court
Jog path
Gardens, courtyards, open fields
Linear parks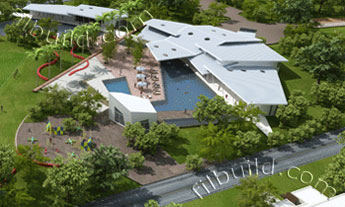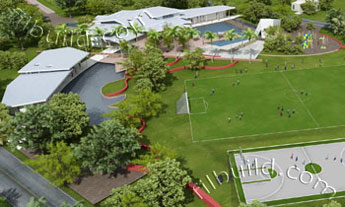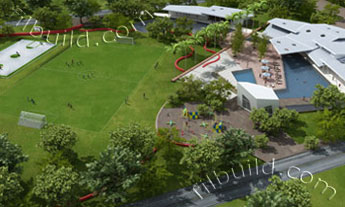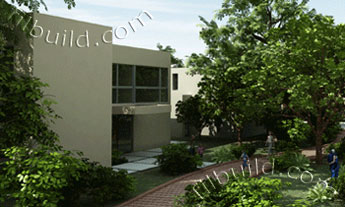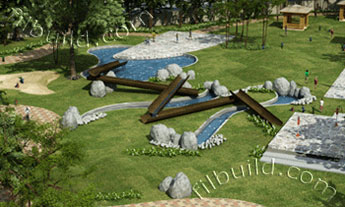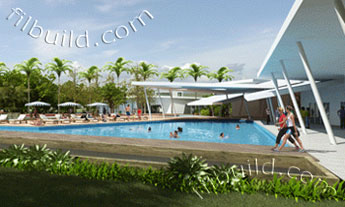 Nuvali Evoliving Components
Business and Technology Campus – located near the main entry along Sta. Rosa Tagaytay road, this will spur the growth of the Nuvali community
Retail center
BPO Office Campus (starting with the 1st Technopod building)
Campus apartments
Multi-functional lake feature
Parks and open areas with wireless internet in selected areas
Multi-purpose open field
Nuvali Visitors' Center
Residential: A thriving hub

Nuvali benefits from many amenities present in the local area. Existing shops, restaurants, parks, schools, and sports centers are open to the community. The area also enjoys a rich cultural heritage, making Nuvali part of an active tourism district.

All three brands of Ayala land will be building at Nuvali: Ayala Land Premier for high-end residences (through the Abrio), Community Innovations for upper middle-class homes (through the Treveia), and Avida for middle-class housing (through Avida Settings).

The Abrio will be priced at around 10 thousand pesos to 11 thousand pesos per square meter. The area to be opened for Abrio is 70 hectares, comprising 379 lots in total.

The Treveia will be alloted 60 hectares which is envisioned for future residents to be in touch with urban living. With the development are 4 nature themed parks and a main clubhouse.

The Avida Settings will devote 2 hectares to open spaces. Avida Setting's green ribbons and courtyards give family members the opportunity to bolster relationships through a novel design for homes that incorporates nature in residential living. The house design is modern contemporary with a timeless appeal.

Institutional
Xavier School (Elementary and High School) – occupying a 15-hectare property in the central portion of Nuvali, targeted to be opened by 2012.

Other features

Tree lined pedestrian lanes, jogging paths and bike lanes
Privately managed transit system circulating within Nuvali and linking to Metro Manila. Only environmentally friendly vehicles will be used in this transit system.
Environmental Sustainability Features
Approximately 50% balance between built and open areas
Bioswales and permeable surfacing to help recharge groundwater (aquifer)
Double piping for option to use recycled water in selected areas
Multi-purpose lake feature for rainwater harvesting; fire reserve; and recycled water reservoir for use in landscaping irrigation and other uses which do not require potable water
Use of low flow water fixtures in Nuvali structures
Use of energy efficient lighting fixtures, appliances, and equipment in Nuvali structures
Efficient privately managed transit to reduce dependence on private vehicles
Maintenance of tree to house ratio for better environmental air quality, reduce soil erosion, and improved water retention
Tree lined pedestrian and bike lanes to encourage walking and a healthier lifestyle, while reducing emissions from use of motor vehicles
Sewer treatment plants enhanced with green wetlands for more efficient sewer management
Proven waste management system by Ayala Property Management Corporation (APMC), from segregation at source to disposal
Design and construction will comply with the standards of the U.S. Green Building Council's Leadership in Energy and Environmental Design
Economic Sustainablity Features
Connectivity through road networks: spacious roads and well thought out road network inside Nuvali and as connection to adjacent areas
Complemented with a privately managed transit system to discourage use of private vehicles. Buses to be used will also be ecologically friendly.
Connectivity through hi-speed internet: valuable to business and residents alike. Will also provide wireless internet in selected open spaces surrounding the lake feature
Mixed-land use with all components as catalysts to economic growth: seen as key to ensure enhancing land value in the long term
Social Sustainability Features
Masterplan and design that encourages community interaction: open spaces and recreational areas accessible to all residents and users of Nuvali to strike the live-work-recreate lifestyle balance
Providing continued support to Nuvali Community through property and estate management services to help Nuvali citizens organize themselves into associations and continue taking care of Nuvali through sustainable practices
NGO engagement for community organizing and training: working with I-serve, an NGO with reputable track record in community organizing and transformation to train neighboring communities on values, skills, leadership and community structures
Local hiring: targeting 40% of workforce for property management to come from residents of surrounding communities
Sponsorship of internet for some neighboring schools: sponsored GILAS to bring internet to some schools around Nuvali
About the Developer
Ayala Land, Inc. is the real estate arm of the Ayala Corporation, one of the Philippines' biggest and well-established business conglomerates. Established in 1834, Ayala Corporation consists of five major subsidiaries and three affiliates that are leading players in the areas of banking, insurance, automotive, real estate, telecommunications, information technology and water utilities.
Its real estate interests are consolidated under its full-owned subsidiary, Ayala Land, Inc. whose projects include:
Development of prominent high-end and middle-market residential subdivisions and condominiums;
Construction of high rise commercial and residential buildings;
Conversion of vast tracts of land into industrial business parks; Development and management of shopping centers;
and Management of cinema, hotel and entertainment operations.
Through its over 50 years of experience in real estate, Ayala Land, Inc. has earned a reputation as the country's leading real estate developer. It is primarily credited for Makati City's metamorphosis from grasslands back in the 1940's into the premiere business district it is today. To this day, it is the preferred business location of the most prestigious corporate, commercial and residential addresses, site of many international hotel chains and home to exclusive high-end residential areas developed by the Ayala group over the past 50 years.
Contact Us
Ayala Land Premier
Within Metro Manila (+632) 848-5000;
Outside Metro Manila 1-800-10-848 5000
Email: ask@ayalalandpremier.com
Alveo
Within Metro Manila (+632) 848 5100;
Outside Metro Manila 1-800-10 848 5100
Email: cii.sales@ayalaland.com.ph
Avida
Within Metro Manila (+632) 848 5200;
Outside Metro Manila 1-800-10 848 5200
Email: info@avidaland.com
Amaia
Within Metro Manila (+632) 403 7433 or (+632) 403 7644
Attention Our Valued Users
The particulars and visuals shown herein are intended to give a general idea of the project and as such are not to be relied upon as statements of fact. While such particulars and details on present plans which have been prepared with utmost care and given in good faith, buyers are invited to verify their factual correctness and subsequent changes, if any. The contents herein are subject to change without prior notice and do not constitute part of an offer or contract. For more information please see our Terms of Use.
Your FB likes, tweets, G+ shares, Pinterest pins inspire us to work harder. If you enjoyed this page please help us spread the word:-) Thank you!
back to Real Estate Philippines - New Homes by Property & Land Developers homepage