Monterrazas de Cebu by Genvi Development Corporation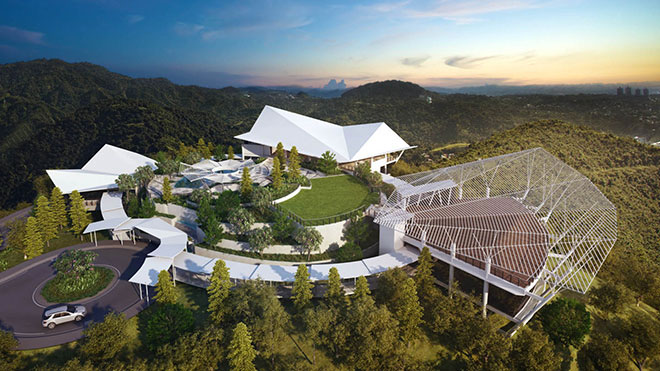 Verandas at The Peaks clubhouse
Prime Residential Lots with Mountain, City and Sea views at Guadalupe, Cebu City

BEHOLD
Rising over a thousand feet above sea level. An eminence commanding Cebu, Mactan and Bohol. Straddling eight hills looking out to the east. Hidden for generations.
BENCHMARK
The last, and the largest of any contiguous mountain property available in the heart of Cebu City. Unparalleled. Exclusive. And absolutely magnificent. Monterrazas is like no other.
BELONG
Shared passions. A circle defined by taste. Perspectives befitting royalty. Thrive in an environment with a truly global lifestyle. This is where the love for life brings people together.
A PROJECT LIKE NO OTHER, A DESIGN LIKE NO OTHER
A rare gem kept with the Villalon family for generations, this is the last and largest of any contiguous mountain property in the heart of Cebu City. Rising majestically in Guadalupe with a commanding view of the Cebu, Mactan and Bohol, Monterrazas de Cebu is envisioned to be the premier residential community of the Queen City.
BUILD YOUR DREAM
In what is probably the last of its kind in Cebu, the land on which Monterrazas was to be created had to be nothing short of spectacular. It was after all meant to be the crowning glory of the Queen City. Everyone in the project agreed: this would be the landmark that the whole of Cebu would be proud of.
THE PEAK OF LUXURY
Monterrazas de Cebu aims to ensure the creation of communities with shared passions and tastes to provide real estate options every discriminating lifestyle deserves. Taking note of the global significance of Cebu, Monterrazas de Cebu will also feature condominiums, townhouses and house and lots. To ensure that every need and whim in the future will be satisfied, the masterplan provides for commercial lots and spaces for business, service and convenience stores, schools and healthcare facilities.
Price Per SQM Lot Only
The Peaks: P12.6K - P16.5K
NorthRidge: P10.5K - P13.8K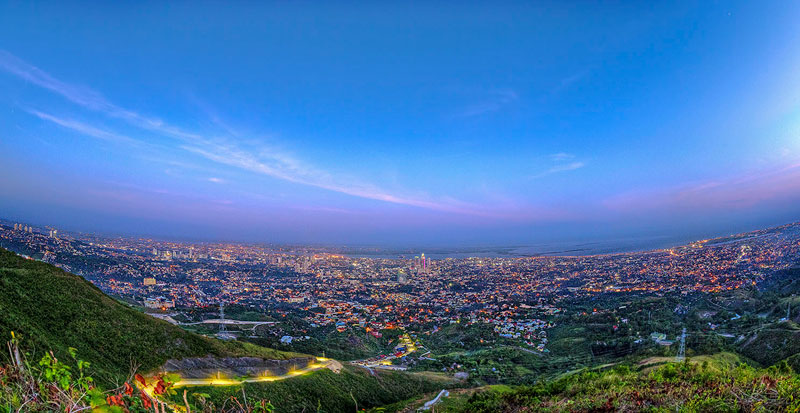 City view from Monterrazas de Cebu
Location
Site Development Plan - The Peaks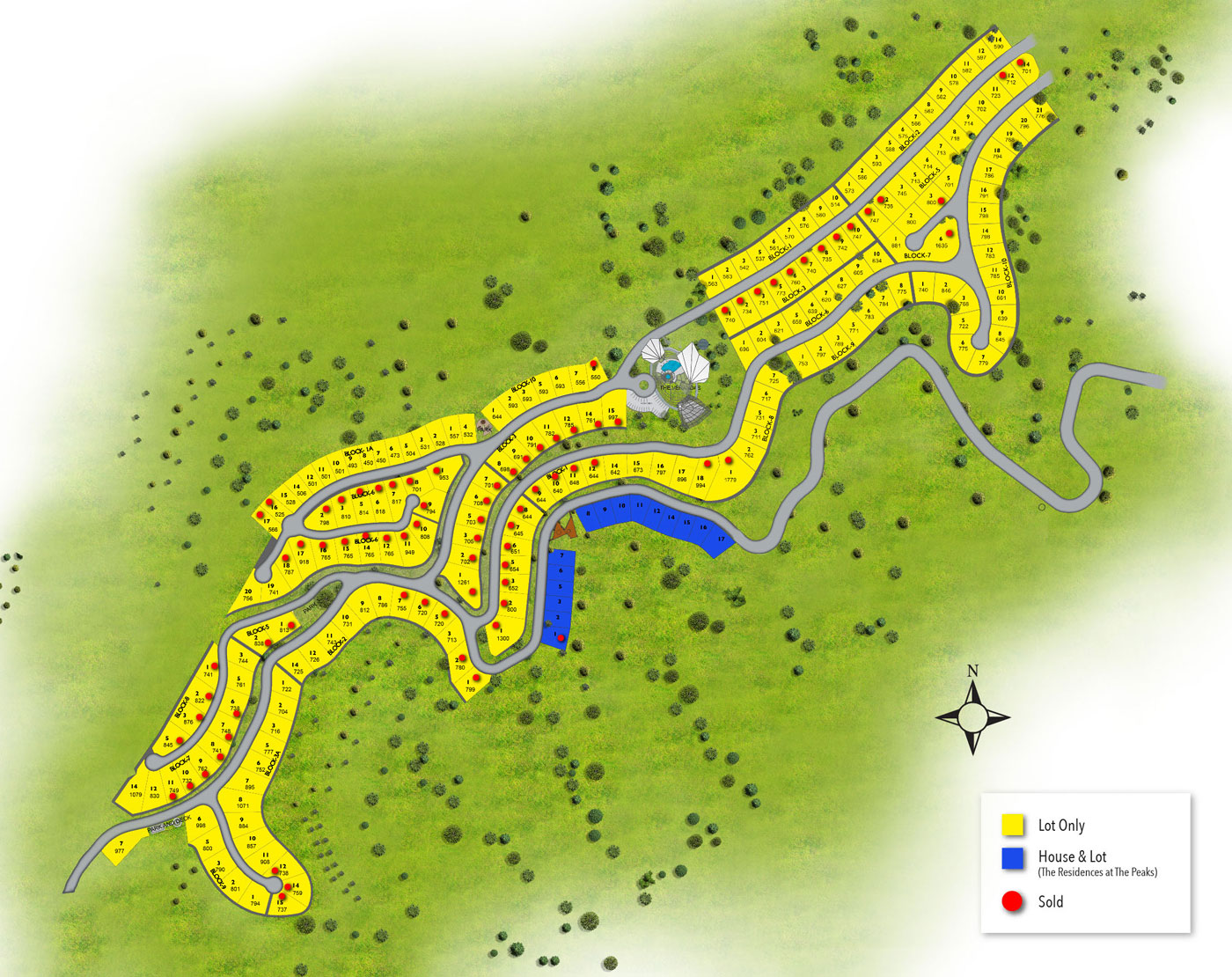 Click to view full size
Site Development Plan - NorthRidge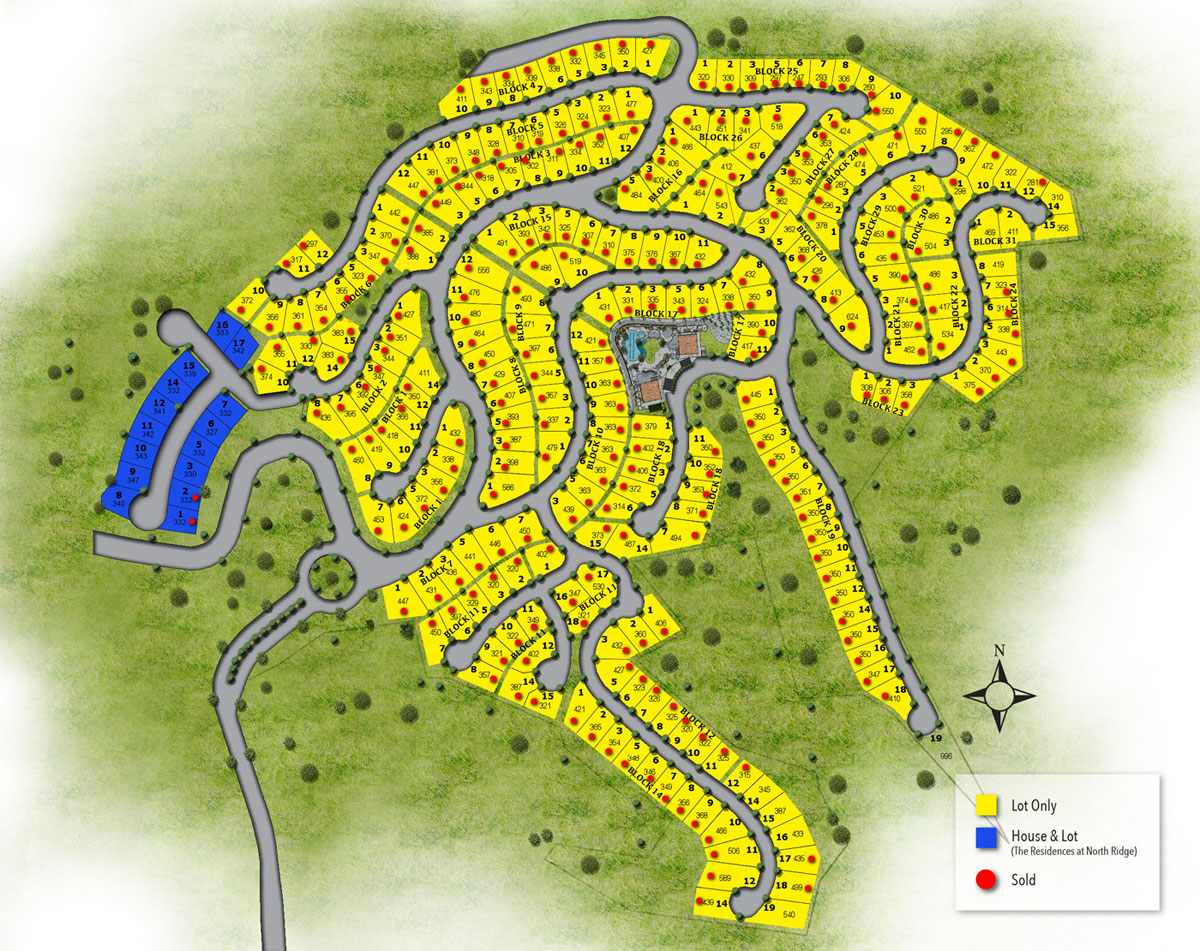 Click to view full size
Development Features, Facilities & Amenities
Resort type clubhouses at The Peaks and North Ridge
Multi-sport courts
Trails for walking or jogging
Clustered communities
Scenic view deck
Playgrounds and pocket parks
Leisure areas
Village administration
Village town centres
Cluster gates and guardhouses
Commercial areas
Fully concreted road network
Electrical distribution system
Centralized water distribution network
Integrated drainage system
Telecommunication and cable TV network
Professionally managed maintenance
24 hour security services
Minimal ecological disturbance
Nature protection provisions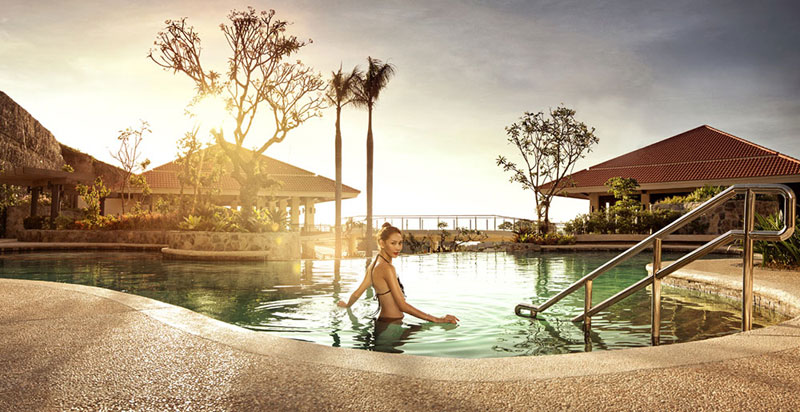 The Residences at The Peaks
Embody the finest available luxury living in the heart of the city. With large windows everywhere, everyone enjoys an almost 180-degree view of the city's skyline. This work of art brings to life the luxury of a five-star resort right at home, with the pool deck opening into a stunning view of the city and the island of Mactan.
Model A
Showcases a towering ceiling in the living and dining spaces, providing the upper living area a direct view to the main living section below, and the city skyline beyond. Large curtain windows flood the interiors with abundant natural light all day.
Lot area: 510 sqm 
Floor area: 412.19 sqm
Price range: P32M - P32.2M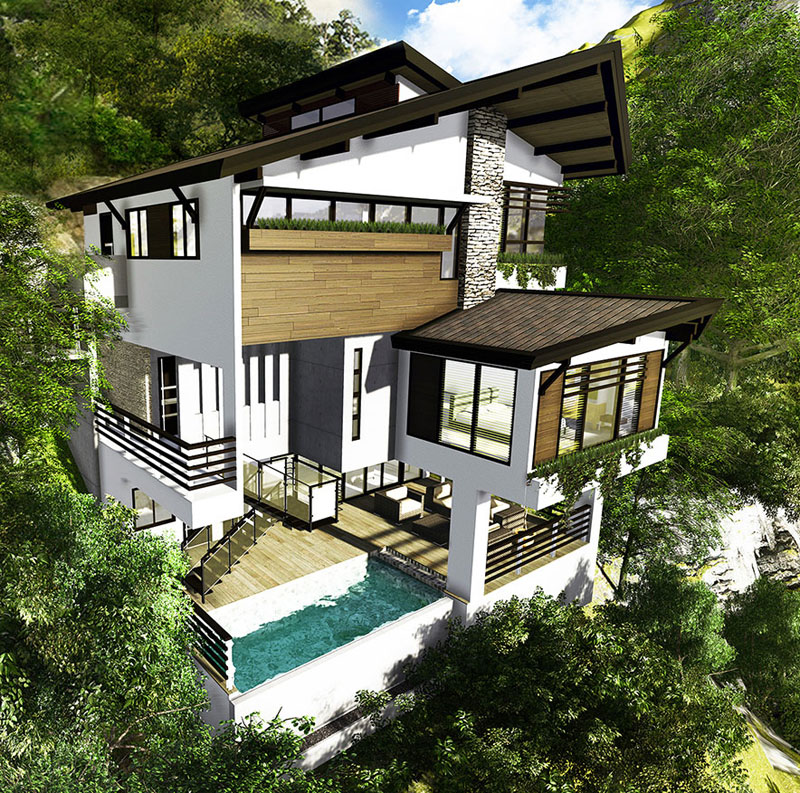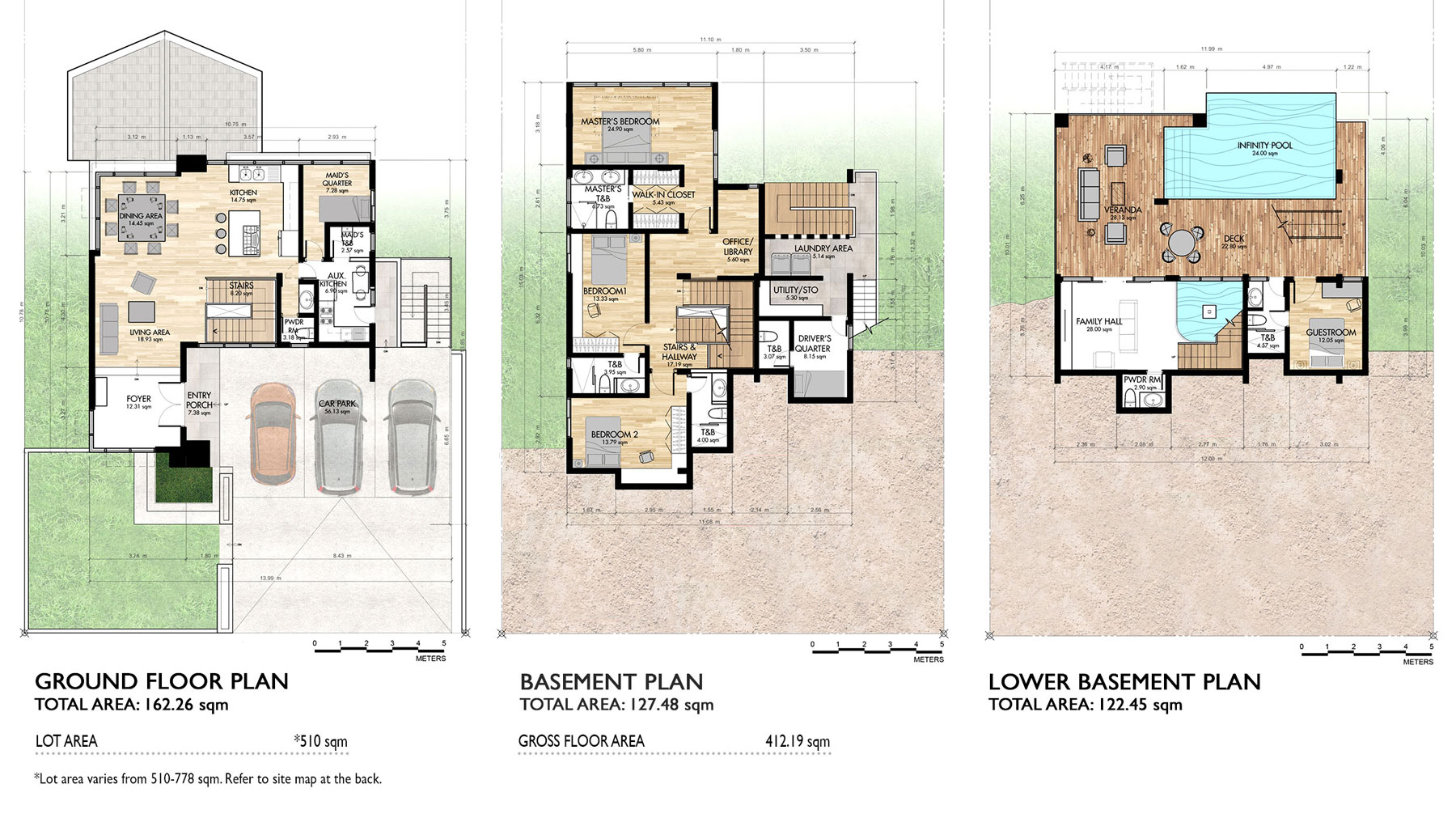 Click to view full size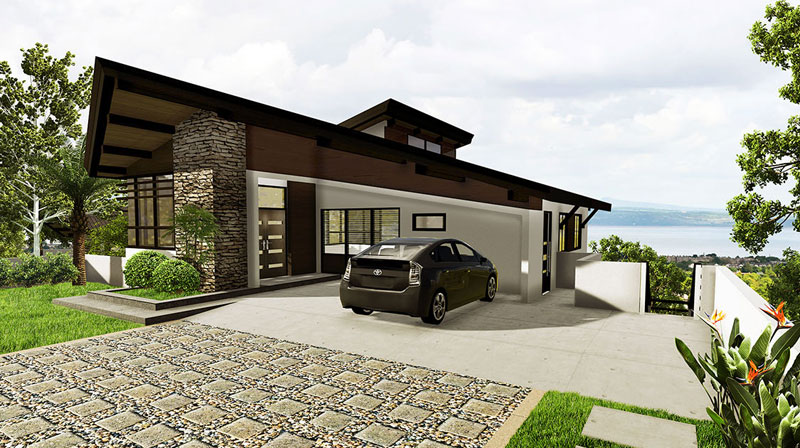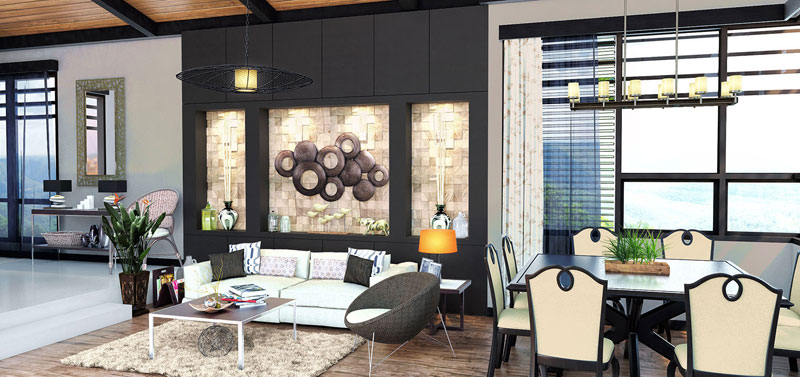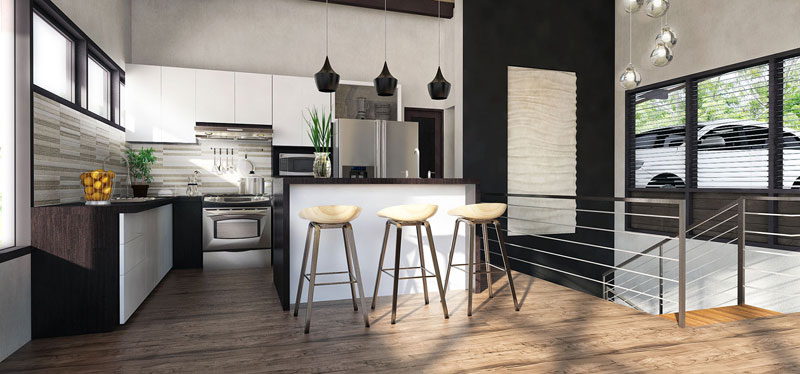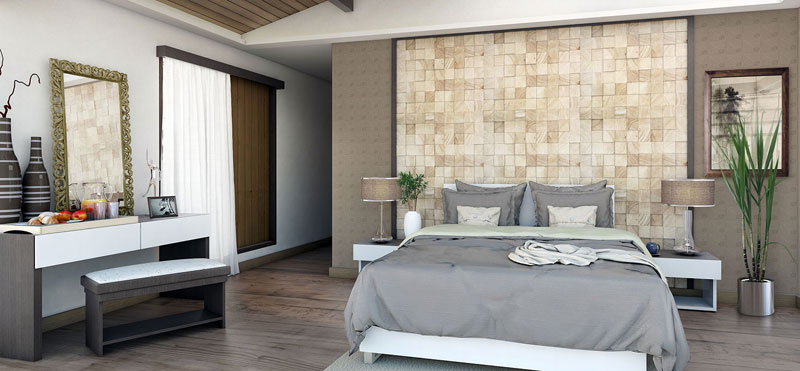 --------------------------------------------------------------------------------------------------------------------------------------------------
Model B
Features a zen-inspired pond right at the entrance. Spacious communal areas create two separate activity spaces with the living room on the ground floor, and the pool on the lower basement. The luxurious pool deck, the biggest among the four residences, overlooks the city.
Lot area: 509 sqm 
Floor area: 435.33 sqm
Price range: P33.4M - P33.6M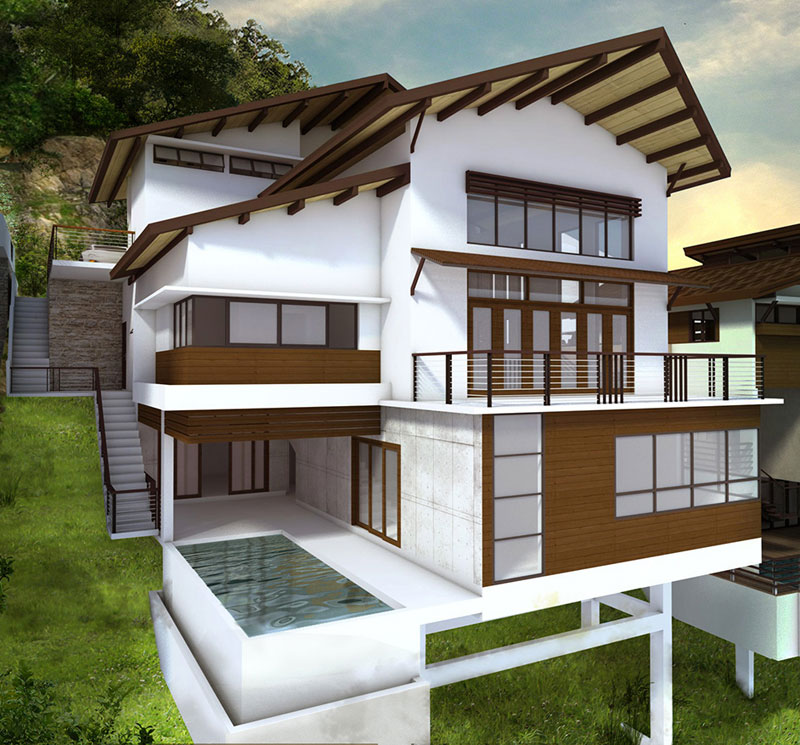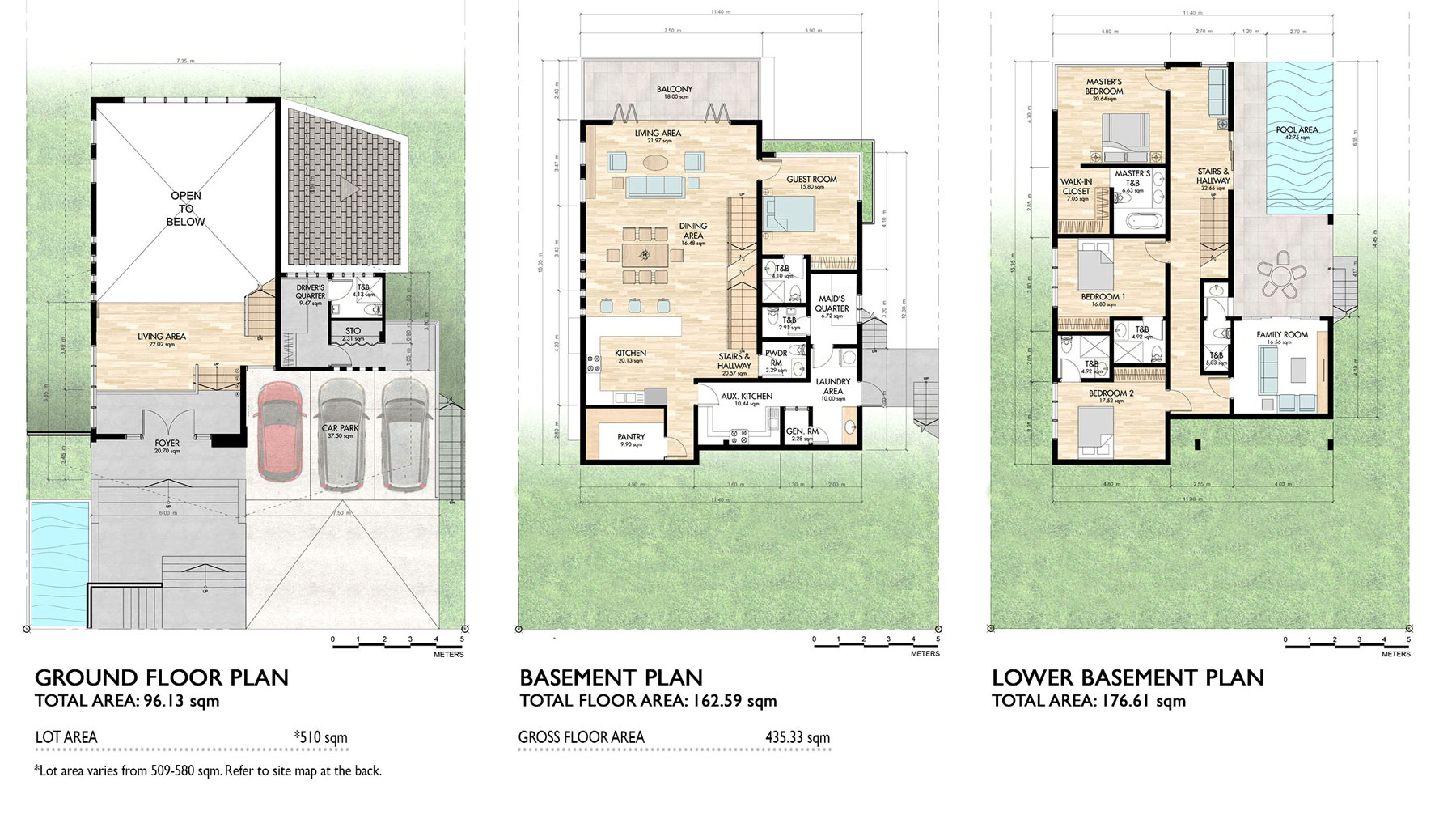 Click to view full size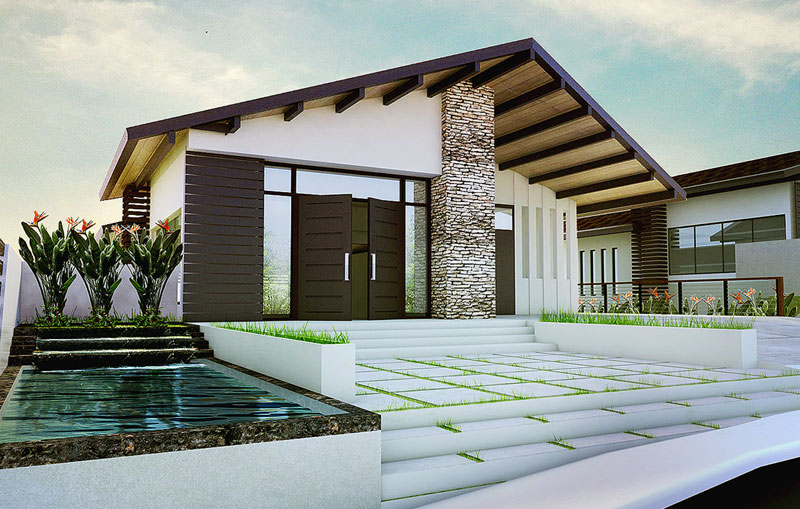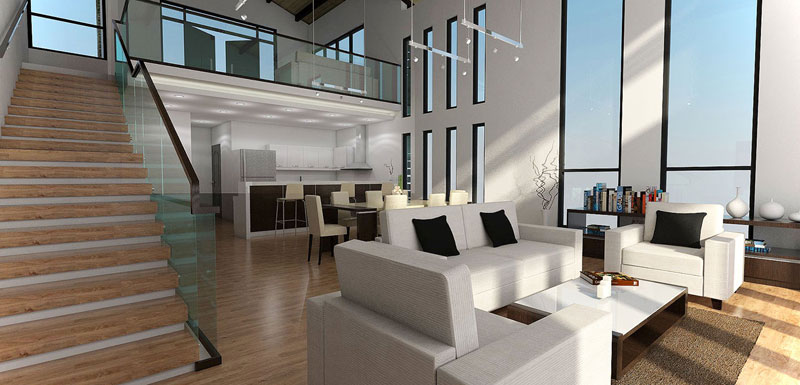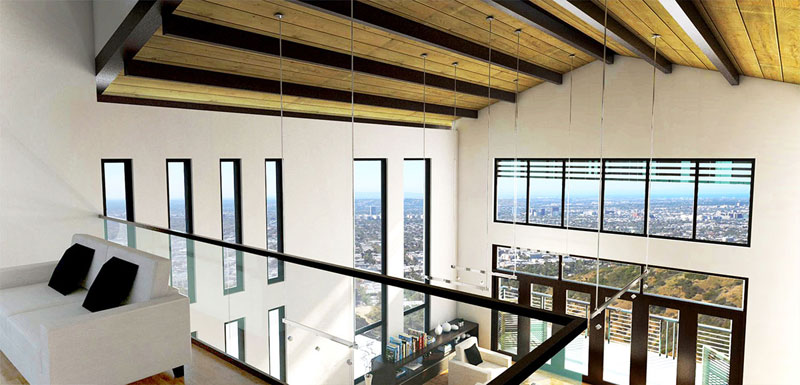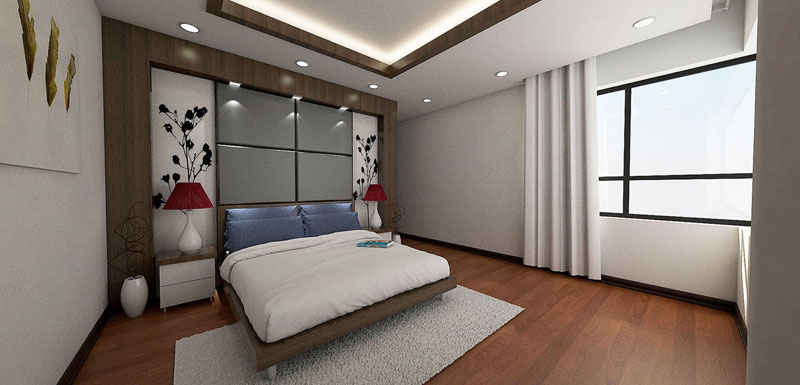 The Residences at NorthRidge
Enrich the core Filipino value of family. The communal living, dining, and kitchen spaces are arranged in an open plan, blurring boundaries to create one big open area without walls and partitions. This openness is perfect for intimate gatherings, creating timeless memories against the backdrop of the skyline and the islands beyond.
Model A
Opens directly to the pool and garden, letting the outdoors into the house. With the living spaces directly connected to the outdoors, the interior space seems optically more spacious, and provides a seamless transition between all the communal sections.
Lot area: 332 - 347 sqm 
Floor area: 257.06 sqm
Price range: P20.4M - P20.7M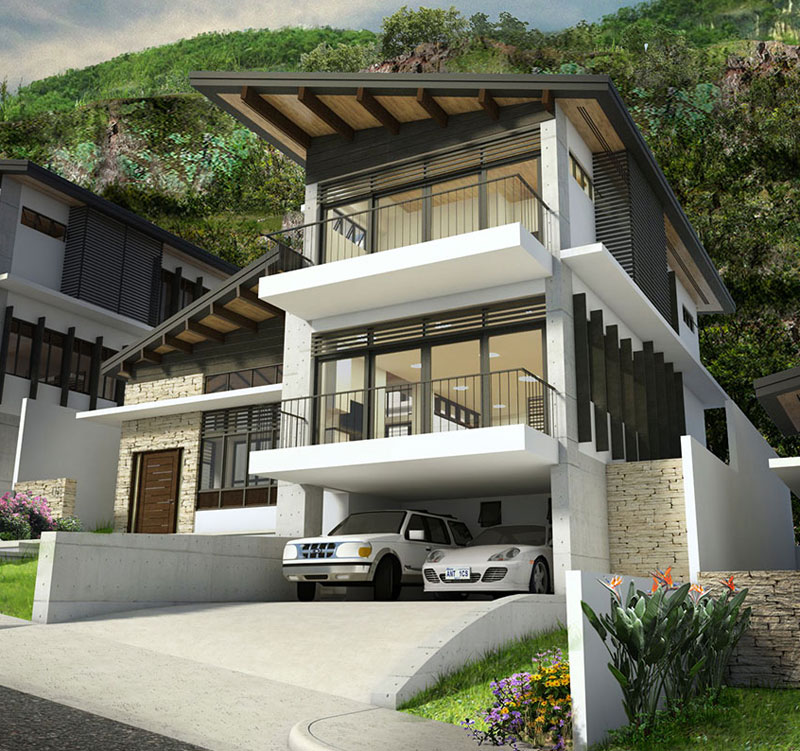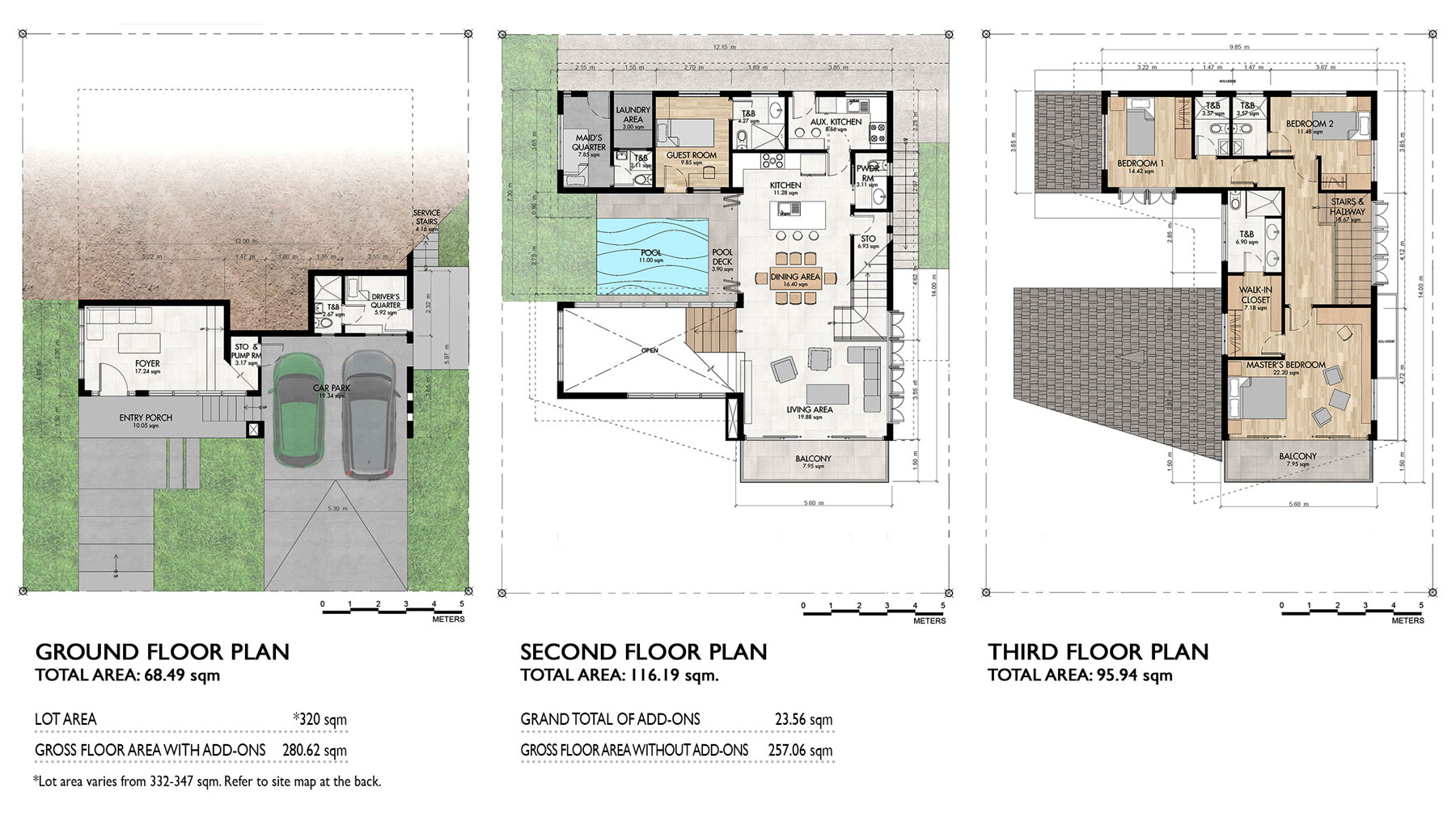 Click to view full size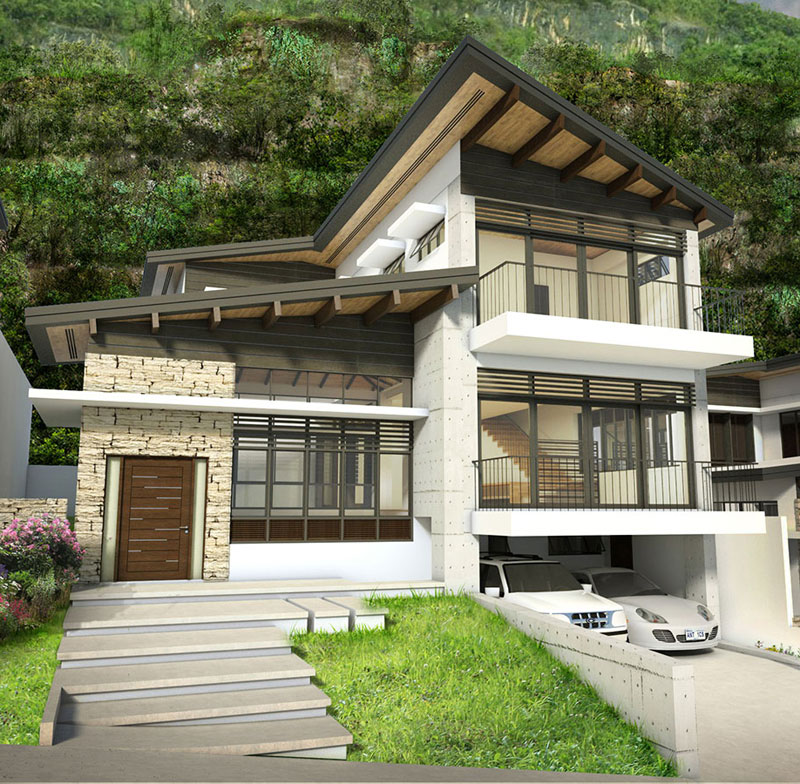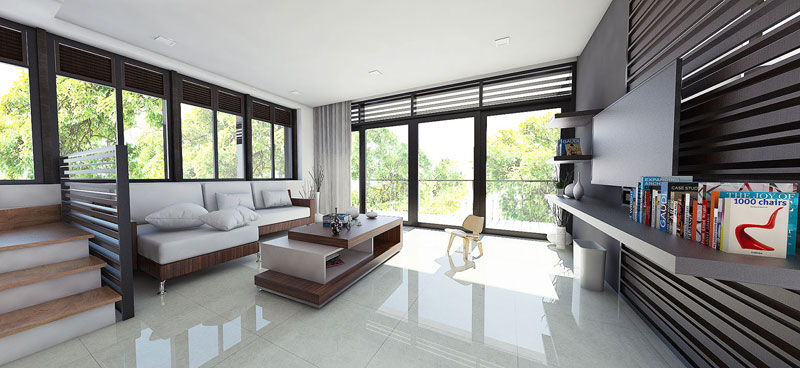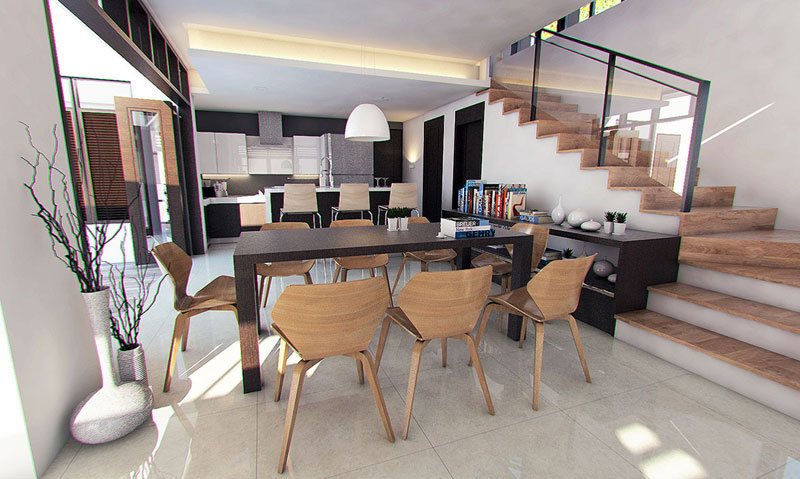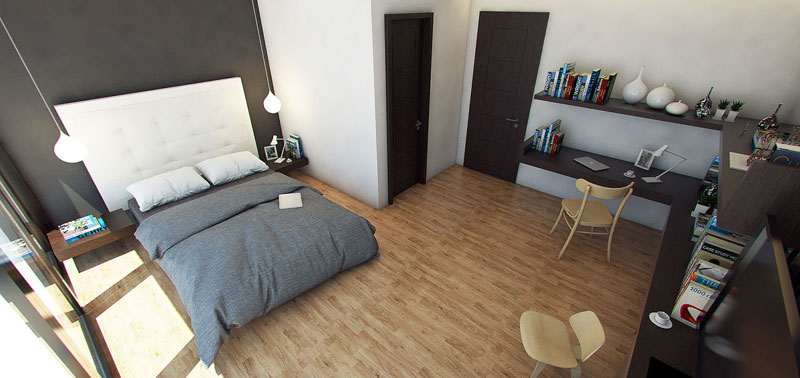 --------------------------------------------------------------------------------------------------------------------------------------------------
Model B
Offers two communal spaces for simultaneous yet separate gatherings, whether for entertaining or relaxing. First on the ground floor, right at the living room, which connects to the kitchen and dining spaces. And second on the pool deck at the lower basement, which opens to the garden and to a stunning city view.
Lot area: 330 - 327 sqm 
Floor area: 231.78 sqm
Price range: P18.8M - P19M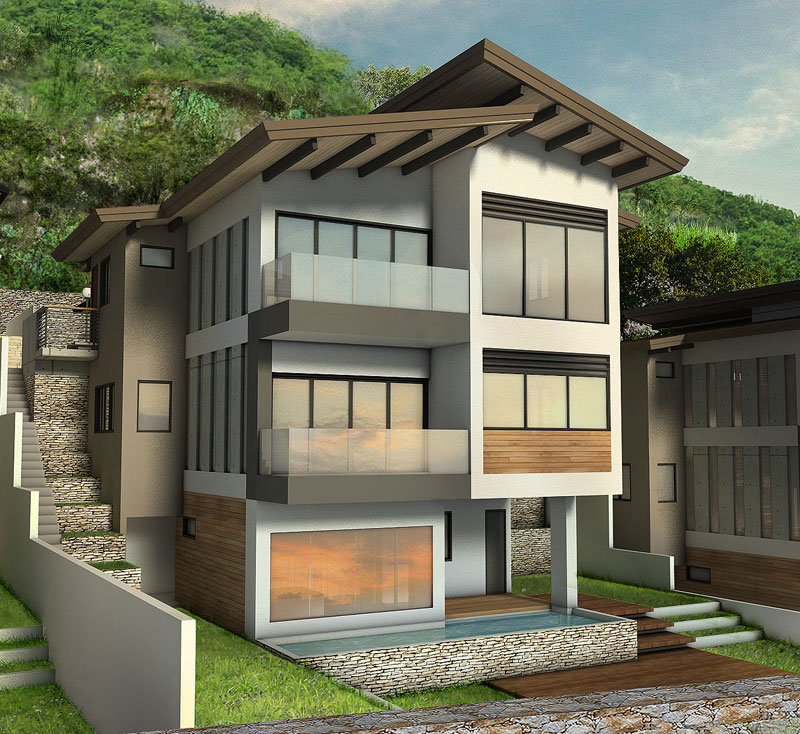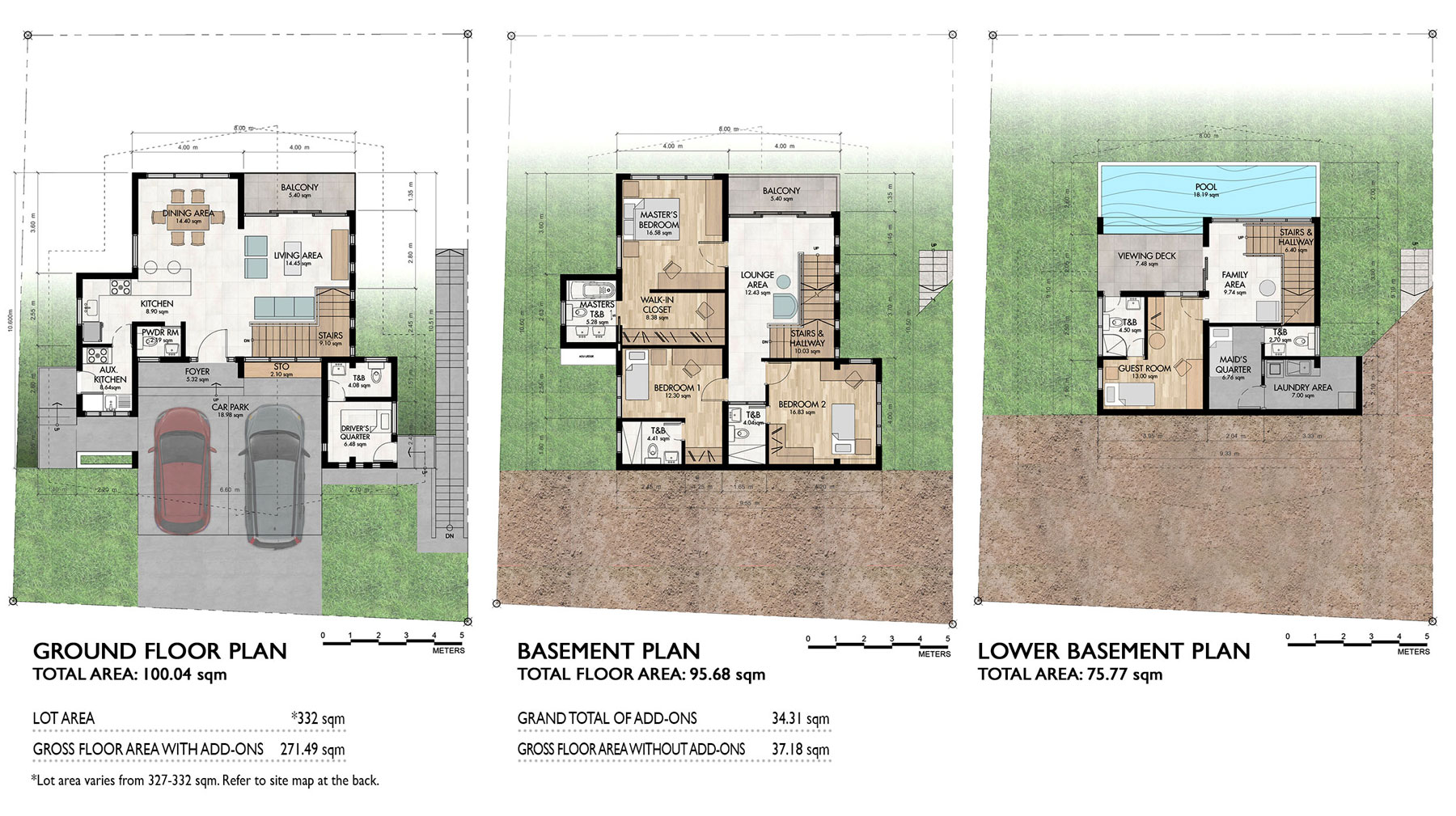 Click to view full size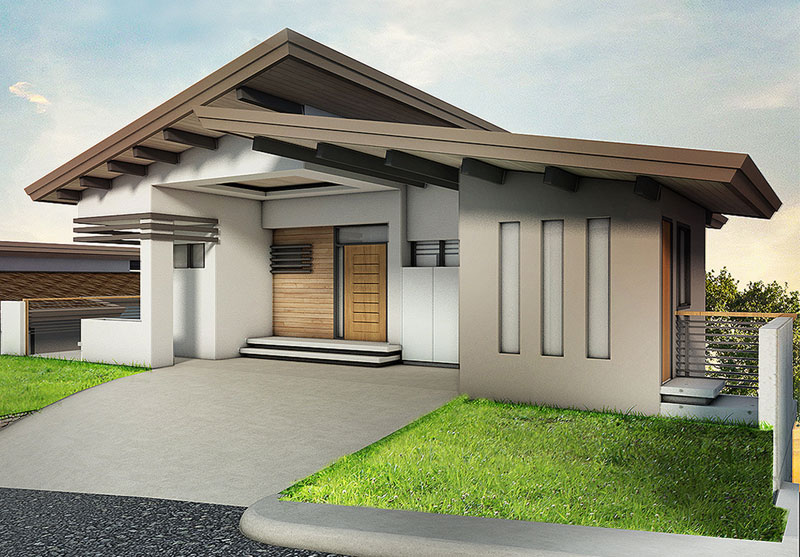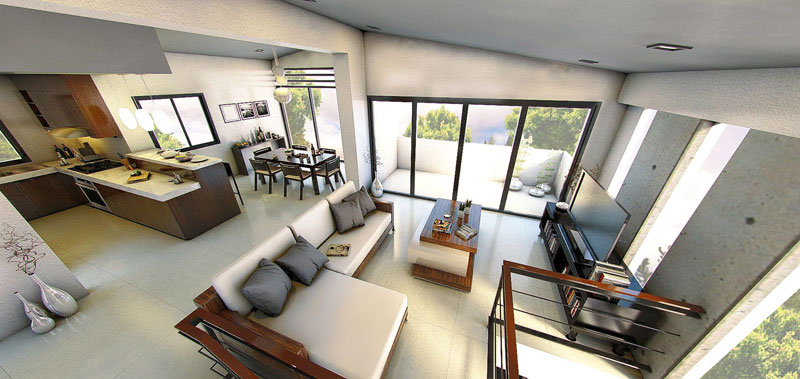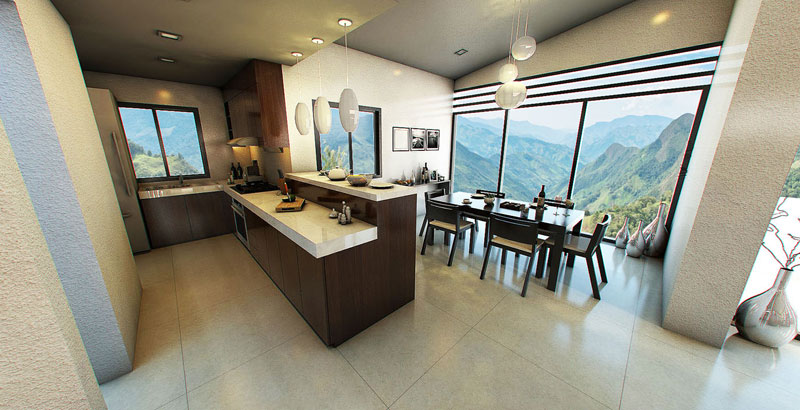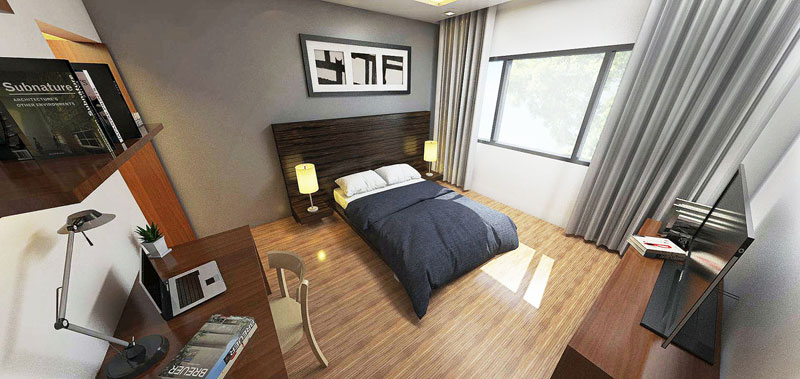 About the Developer
Genvi Development Corporation (Genvi) was originally incorporated as Genvi Agro-Industrial Development Corporation in Cebu City, Philippines in 1974 with Genoveva S. Villalon, matriarch of the Villalon family as major shareholder. Doña Genoveva was the granddaughter of Nicasio Ch. Veloso, one of Cebu's prominent businessmen at the turn of the 20th century. Doña Genoveva amassed nearly two thousand hectares of property from the 1930's through the 1970's in the Province and City of Cebu and the City of Manila. Genvi's assets at the time of incorporation in 1974 included over 220 hectares of land in Cebu City.
In 2003, two grandchildren of Doña Genoveva, Augusto F. Villalon and Margarita Villalon Binamira took full control of Genvi's shares. Today Genvi is managed and run by a team of professionals with over 20 years experience in real estate.
Genvi's first major venture into real estate began in 2006 with the development of the corporation's flagship property in Guadalupe, Cebu City. Monterrazas de Cebu (MdCebu) is a master-planned, high–end mixed use development of the 200+ hectares of Genvi. It is envisioned to be an integrated community with residential, commercial and institutional clusters. The MdC development initially covers approximately 90 hectares of land in Baranggays Banawa and Guadalupe.
Contact Us
Genvi Development Corporation
5th Floor, Skyrise 2 Building
Cebu IT Park, Cebu City 6000
Philippines
+63 (32) 236-1515
Attention Our Valued Users
The particulars and visuals shown herein are intended to give a general idea of the project and as such are not to be relied upon as statements of fact. While such particulars and details on present plans which have been prepared with utmost care and given in good faith, buyers are invited to verify their factual correctness and subsequent changes, if any. The contents herein are subject to change without prior notice and do not constitute part of an offer or contract. For more information please see our Terms of Use.
If you are a licensed broker/agent authorized to sell the products described on this page, feel free to introduce yourself in the Comments section.
comments powered by
LINKS
Latest in Philippine Architecture, Home Interior Design
House Construction Contractor, Home Builder Philippines
Architecture, Interior Design Latest Trends
Construction Materials, Home Depot Philippines
New Homes For Sale by Property Developers Philippines
RFO Philippine Homes For Sale by Owner
Home Depot, Building Materials Suppliers Philippines
Machinery & Equipment Importers Philippines
Your FB likes, tweets, G+ shares, Pinterest pins inspire us to work harder. If you enjoyed this page please help us spread the word:-) Thank you!
back to Real Estate Philippines - New Homes by Property & Land Developers homepage