Ayala Greenfield Estates by Ayala Land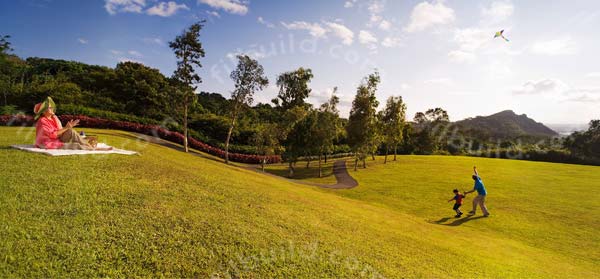 A wide expanse of blue and green, where the sky meets countless trees, foliage and exotic plants, a historic mountain that looms majestically over the southern sky, a golf course that brings together the best of the elements to create a world-class challenge.
Some would call this prime subdivision located in Calamba, Laguna, a personal paradise that combines nature at its grandest and leisure at its most luxurious for the most discriminating of residents. But we call it by another name — Ayala Greenfield Estates.
The perfect way to spend the best years of your life, Ayala Greenfield Estates is your personal paradise. This is luxurious living amidst the grandness of nature.
Price range lot only: P6M - P12M
Our Value Proposition
Living in Ayala Greenfield Estates is putting together in one immense relaxing environment all the wants and needs that you and your family take pleasure in. That is why for those looking for a respite from stressful living, Ayala Greenfield Estates is the closest they can get to perfection.
For the heads of the family who are well-established, control their own time and love nature, Ayala Greenfield Estates is a high-end, exclusive residential subdivision in Calamba, Laguna designed to exist in partnership with the environment through a nature-based masterplan and the most extensive range of country-club type amenities.
Experience the Grandeur of Nature
Ayala Greenfield Estates is the perfect reward for those who have persevered to experience what the world has to offer and who, in turn, expect only the best.

It is time for you to stake a claim on your dream home at Ayala Greenfield Estates - after all, having your home right in the middle of the grandness of nature is the greatest privilege and reward.
Living Amidst Nature's Bounty
Ayala Greenfield Estates is a community that caters to individual passions and at the same time nurtures the happiness and pleasure of your whole family with its varied amenities and with its awe-inspiring environment.
With 360 degree views of the grandness of nature, each day is truly something to look forward to at Ayala Greenfield Estates.
Location
Ayala Greenfield Estates is 50 kms. south of Makati and 35 kms. south of Alabang via the South Luzon Expressway. With a direct access through the SLEX, take the Batangas exit and follow the National Road down towards Batangas. This prime subdivision is just a few minutes away.
Ayala Greenfield Estates provides a view of grandness anywhere you look. From Mt. Makiling to Laguna de Bay and the Tagaytay Ridge - the nature-landscaped grounds are a masterpiece. The flora provides a magnificent backdrop to any family scene. And the cool mountain breezes comfort both body and mind. And it's just a short drive from Metro Manila.
Phase Plans
Open up to a depth of living experiences unlike any other neighborhood in the country: with the spectacular view of lush greeneries and the finest recreational facilities. Truly, living in Ayala Greenfield Estates is experiencing nature at its finest!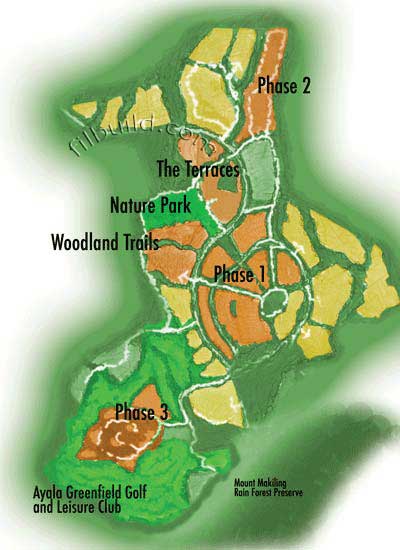 Phase Map
------------------------------------------------------------------------------------------------------------------------------------
Phase 1
Phase 1 sits at the highest point of the development. It offers panoramic views of Laguna de Bay, Mt. Makiling and the Tagaytay Ridge.
Land Area: 50 hectares
Lot Range: 513 - 1,833 sq.m. with an average of 698 sq.m.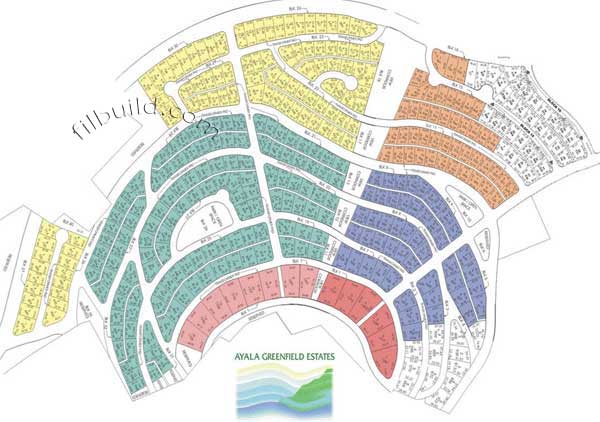 Phase 1
------------------------------------------------------------------------------------------------------------------------------------
Phase 2
Facing Laguna de Bay, Phase 2 features a dramatic view of the lake.
Land Area: 16 hectares
Lot Range: 451 - 806 sq.m. with an average of 566 sq.m.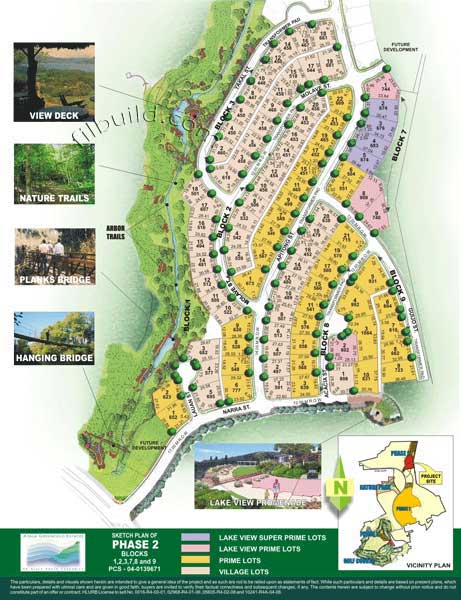 Phase 2
------------------------------------------------------------------------------------------------------------------------------------
Phase 3
With views of the golf course, especially holes #10 & #13, Phase 3 is a walking distance to the Ayala Greenfield Golf & Leisure Club. This is the first phase to offer lots of around 300+ sq.m.

Phase 3
------------------------------------------------------------------------------------------------------------------------------------
Phase 4
Phase 4 (The Terraces) has terraced lots within walking distance to the Village Clubhouse and the Nature Park. It has outstanding views of Laguna de Bay and Mt. Makiling and offers smaller lot cuts.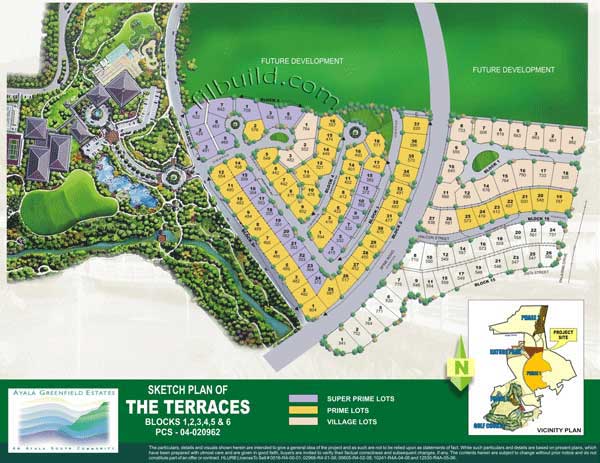 Phase 4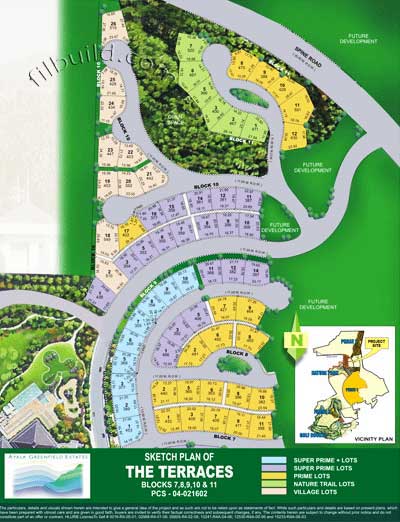 Phase 4B
------------------------------------------------------------------------------------------------------------------------------------
Phase 5
Enveloped by forest parks with tree lined streets that surround the area, you can only feel enchantment at the blossoming sceneries around you. Phase 5 (Woodland Trails) is also adjacent to the Nature Park where you and your family can choose to go walking or biking.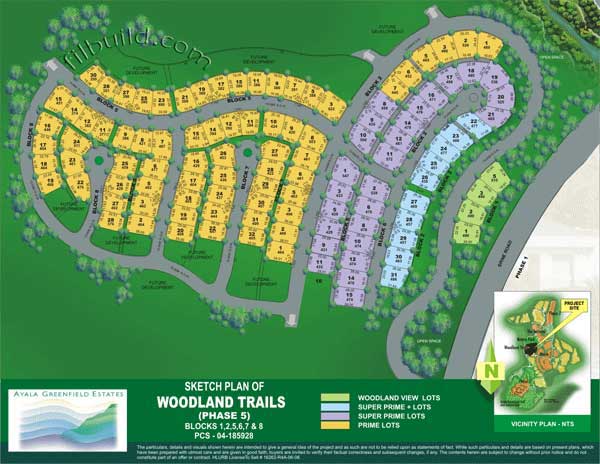 Phase 5
Scenic Drive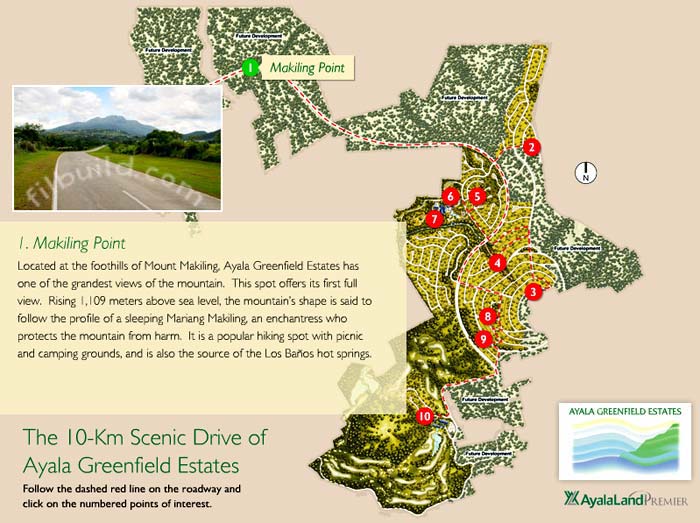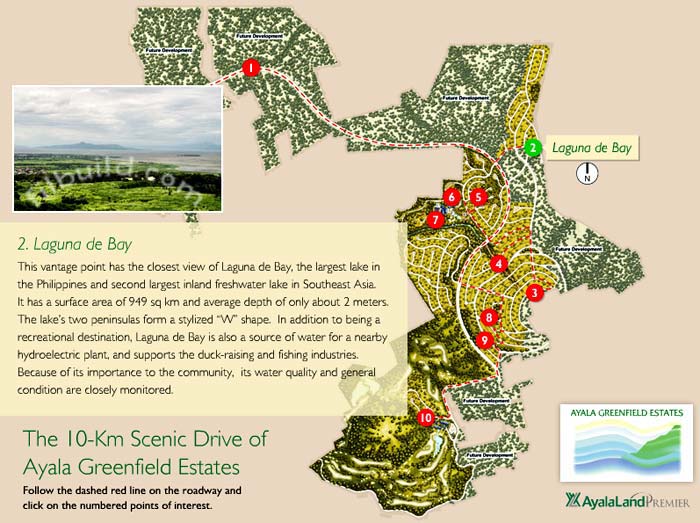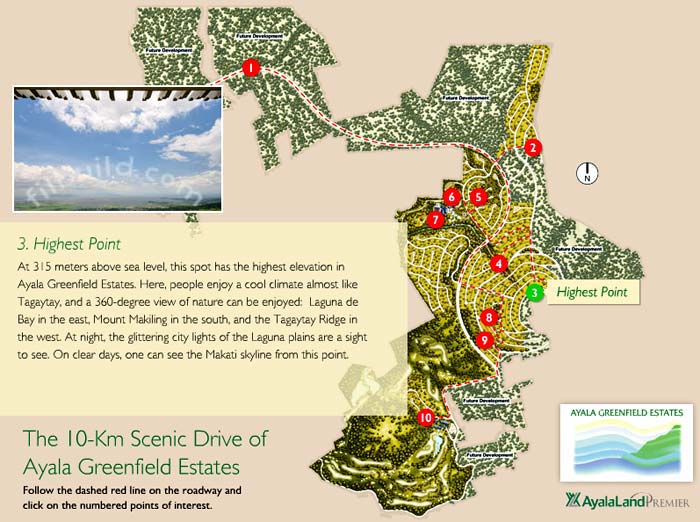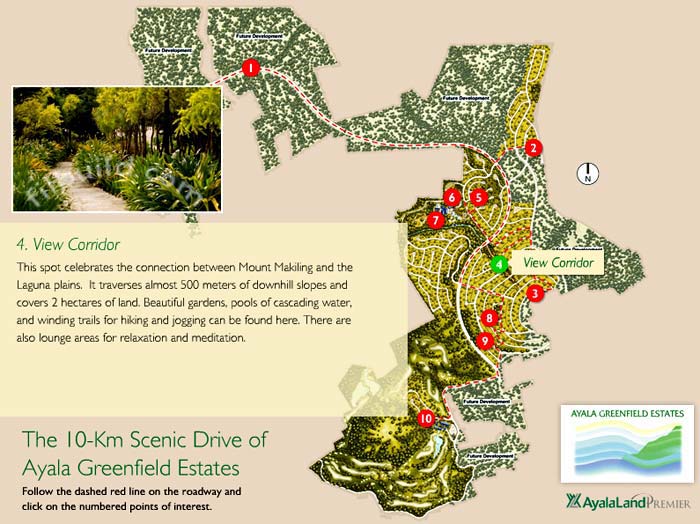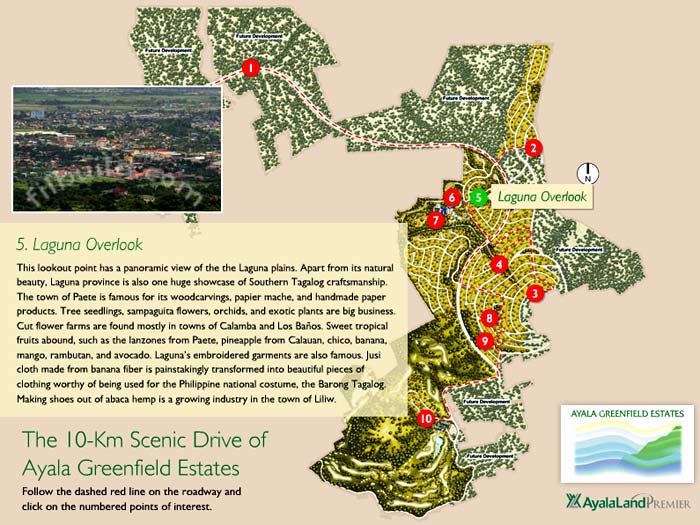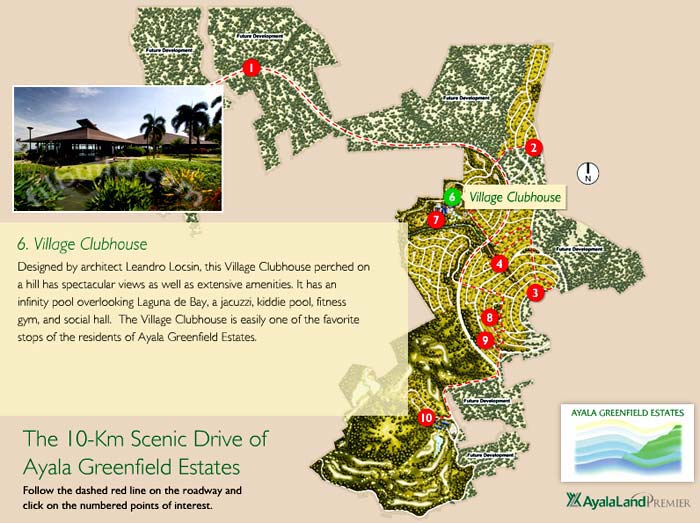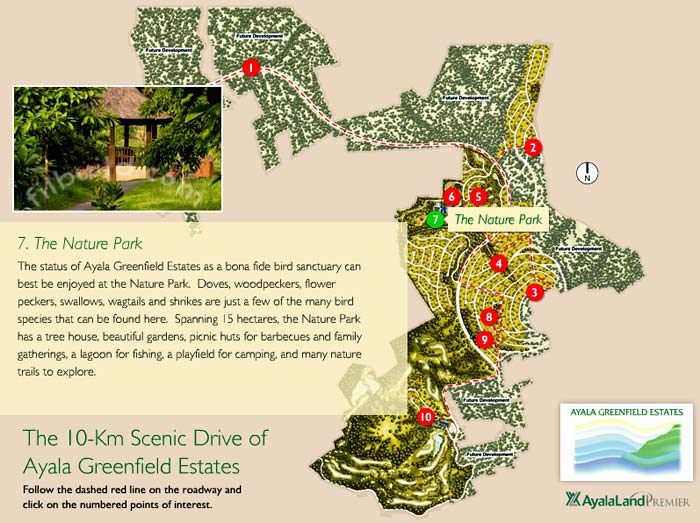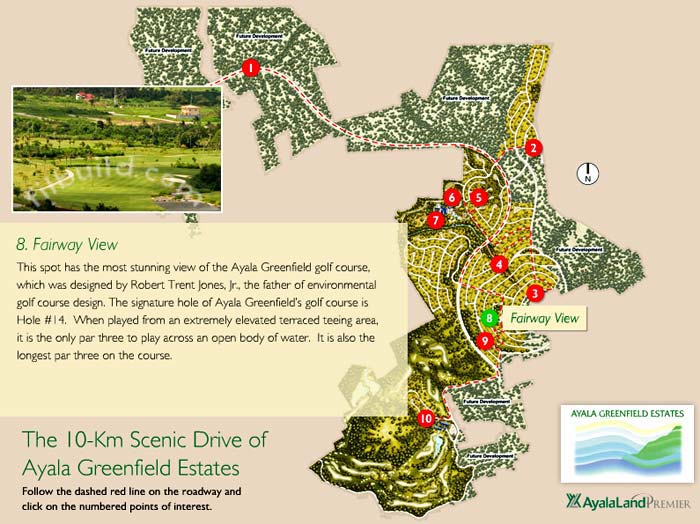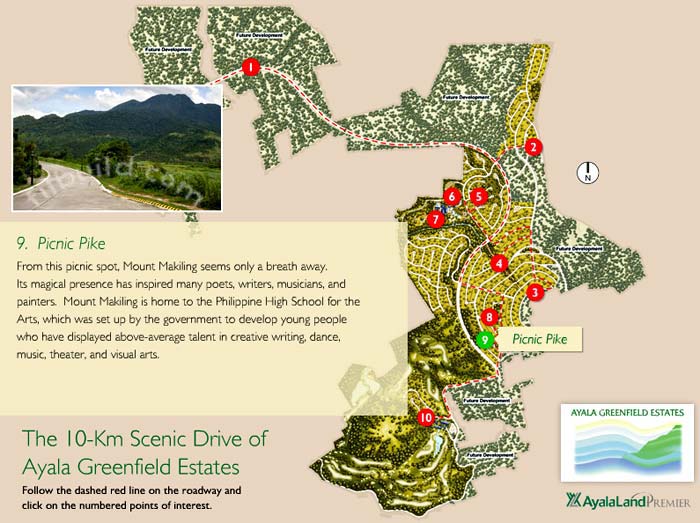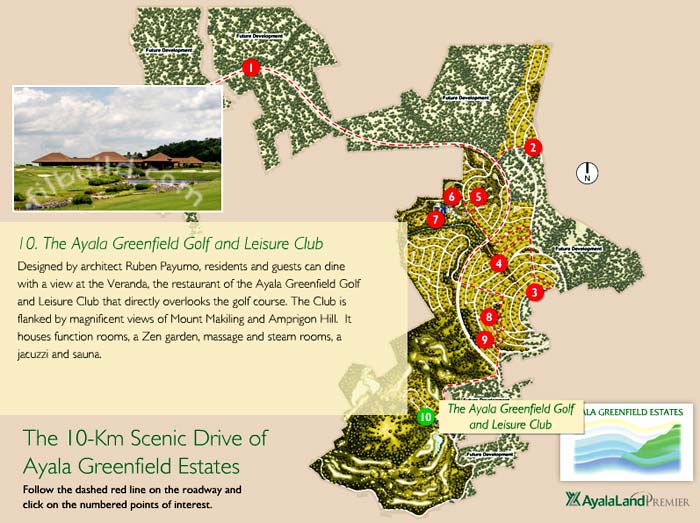 Photo Gallery
Village Clubhouse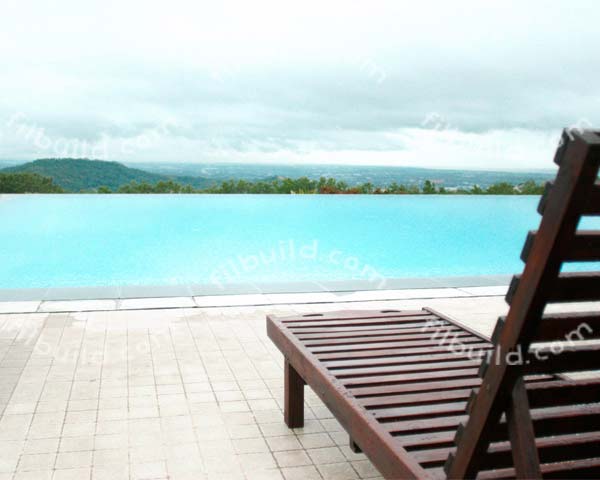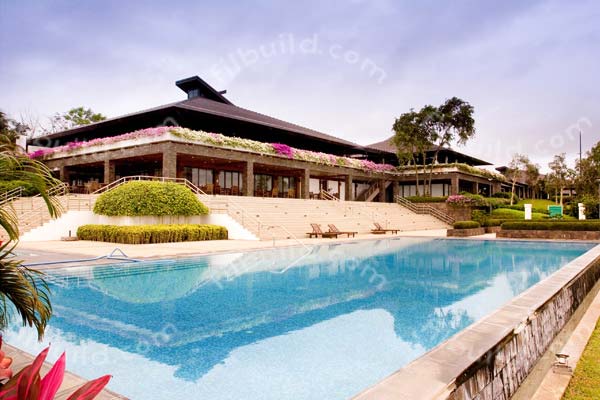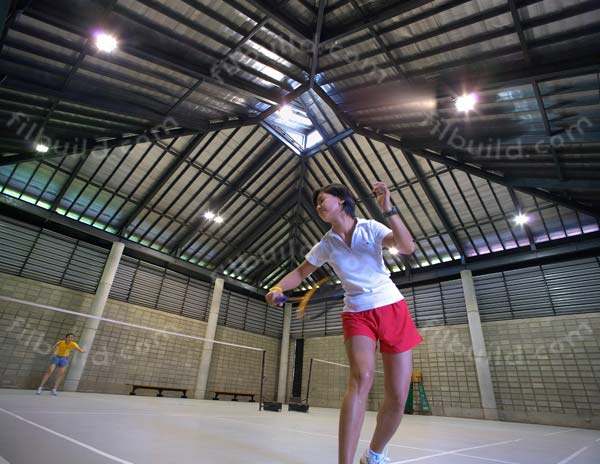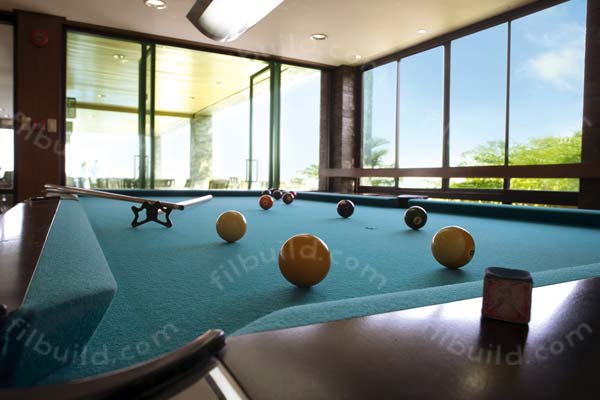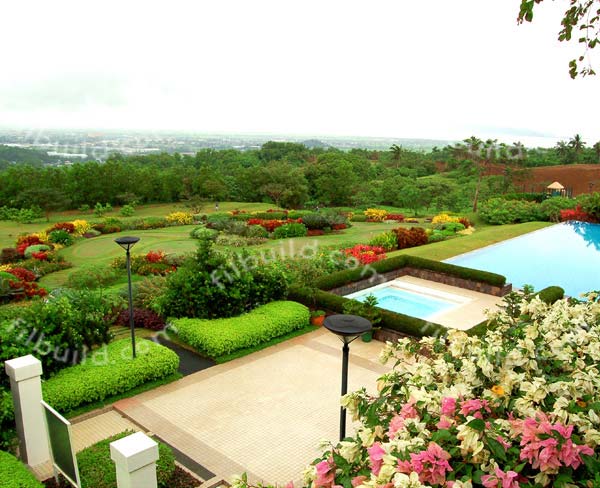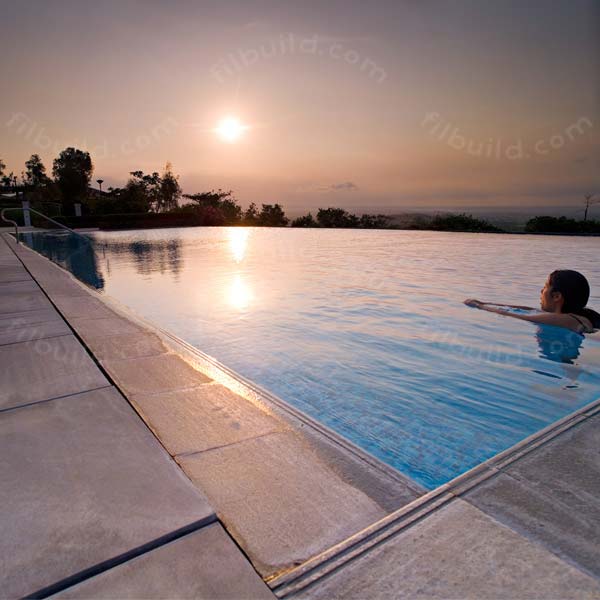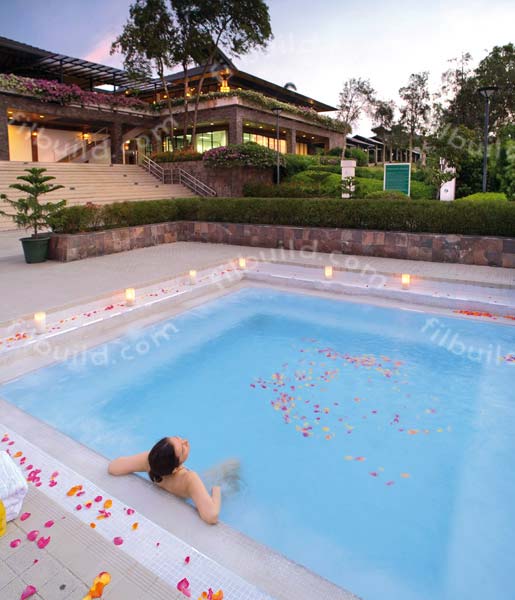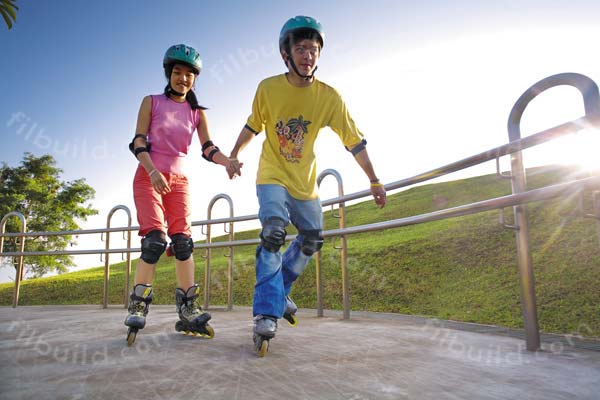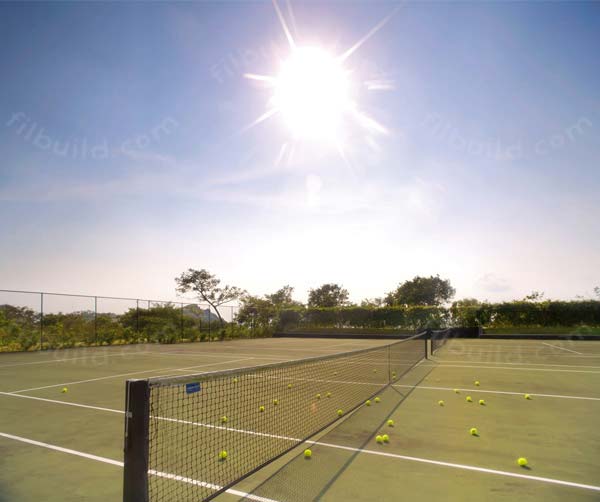 Golf & Leisure Club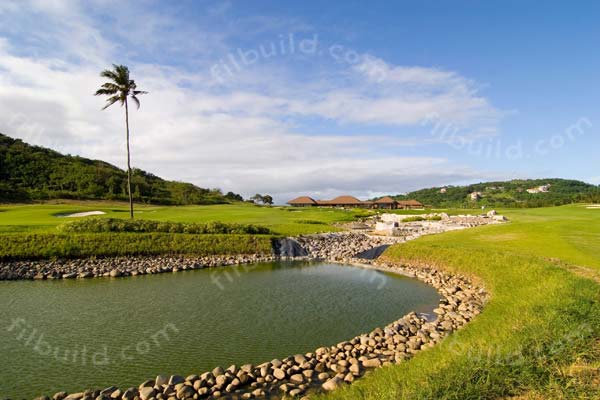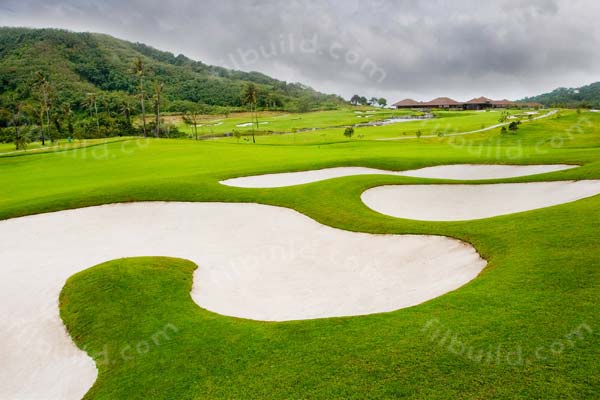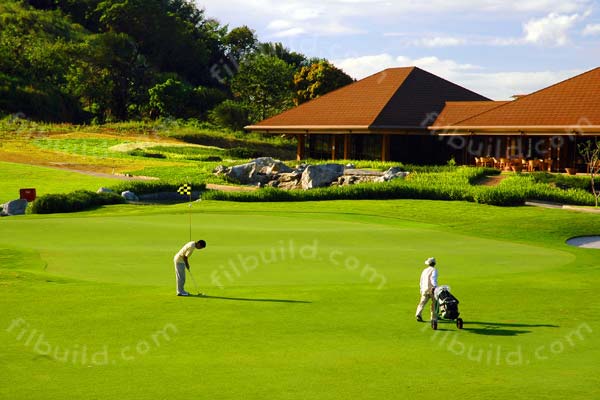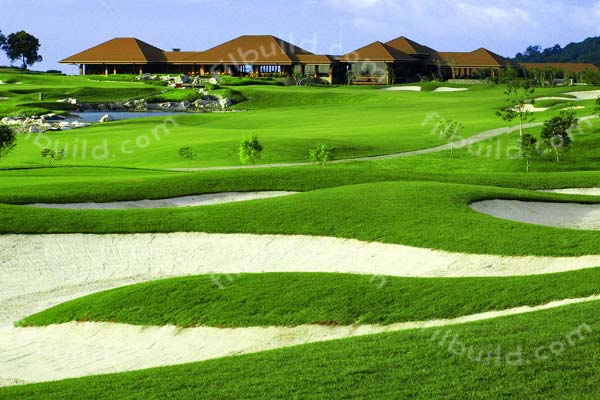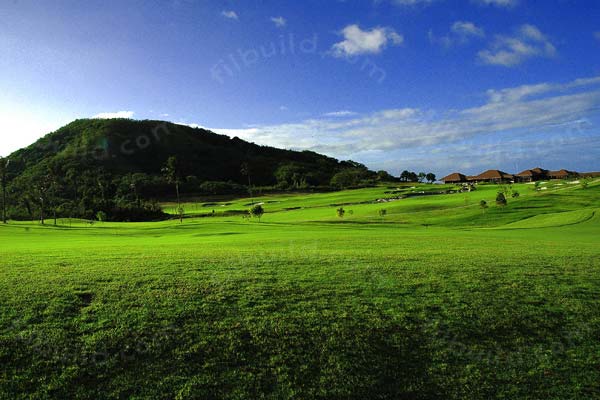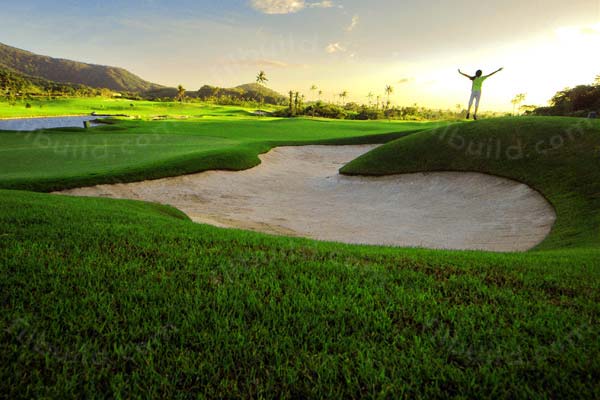 Nature Park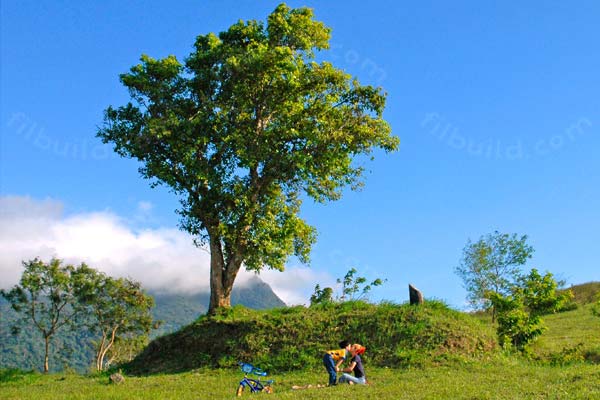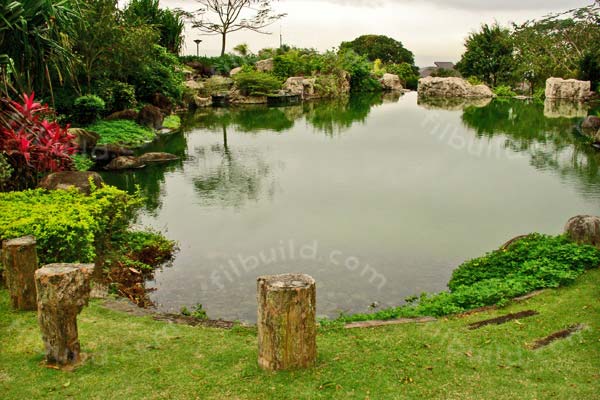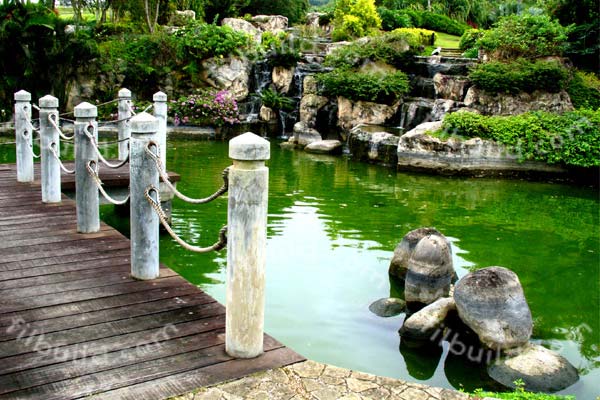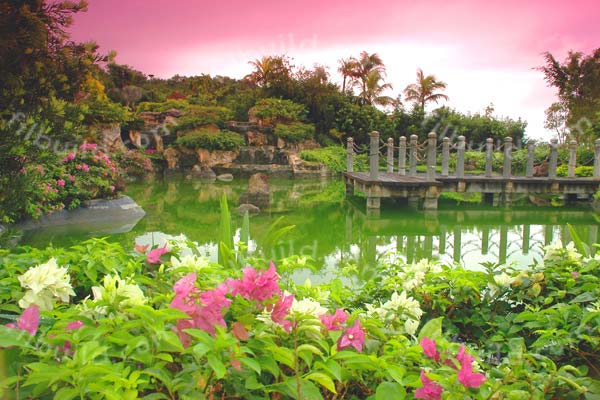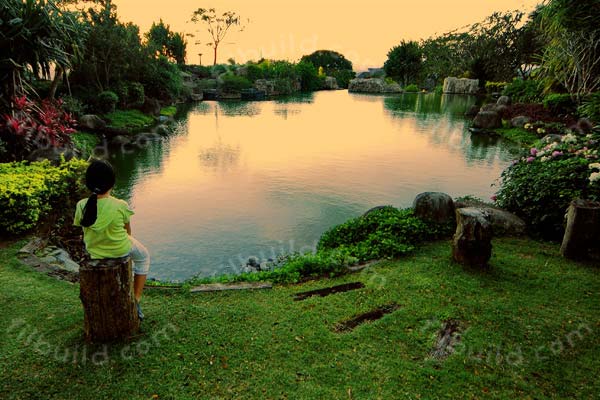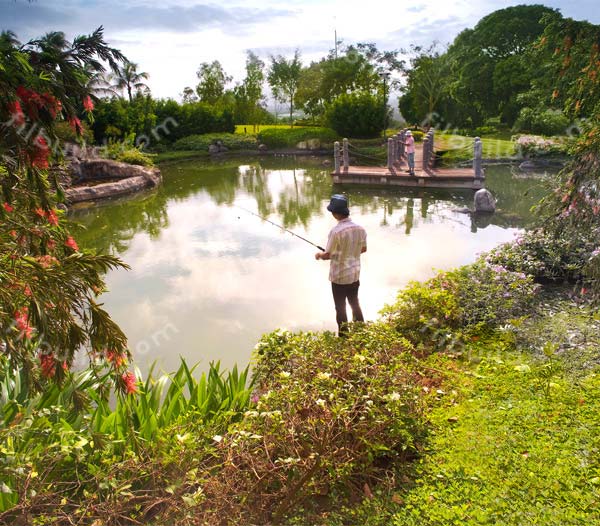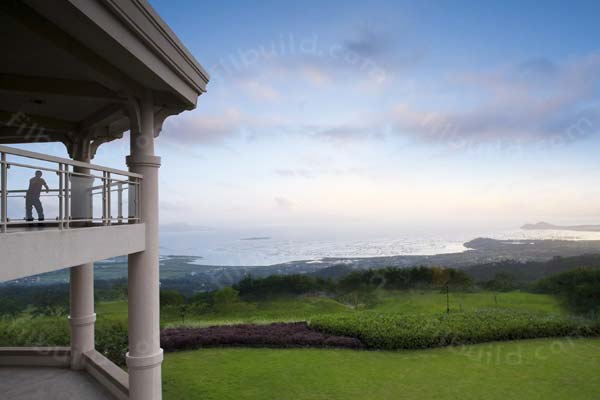 Ayala Greenfield Estates Audio Visual Presentation
About the Developer
Ayala Land, Inc. is the real estate arm of the Ayala Corporation, one of the Philippines' biggest and well-established business conglomerates. Established in 1834, Ayala Corporation consists of five major subsidiaries and three affiliates that are leading players in the areas of banking, insurance, automotive, real estate, telecommunications, information technology and water utilities.
Its real estate interests are consolidated under its full-owned subsidiary, Ayala Land, Inc. whose projects include:
Development of prominent high-end and middle-market residential subdivisions and condominiums;
Construction of high rise commercial and residential buildings;
Conversion of vast tracts of land into industrial business parks; Development and management of shopping centers;
and Management of cinema, hotel and entertainment operations.
Through its over 50 years of experience in real estate, Ayala Land, Inc. has earned a reputation as the country's leading real estate developer. It is primarily credited for Makati City's metamorphosis from grasslands back in the 1940's into the premiere business district it is today. To this day, it is the preferred business location of the most prestigious corporate, commercial and residential addresses, site of many international hotel chains and home to exclusive high-end residential areas developed by the Ayala group over the past 50 years.
Developer Audio Visual Presentation

Ayala Land
Contact Us
Ayala Land Premier
Within Metro Manila (+632) 848-5000;
Outside Metro Manila 1-800-10-848 5000
Email: ask@ayalalandpremier.com
Alveo
Within Metro Manila (+632) 848 5100;
Outside Metro Manila 1-800-10 848 5100
Email: cii.sales@ayalaland.com.ph
Avida
Within Metro Manila (+632) 848 5200;
Outside Metro Manila 1-800-10 848 5200
Email: info@avidaland.com
Amaia
Within Metro Manila (+632) 403 7433 or (+632) 403 7644
Accredited Brokers/Agents: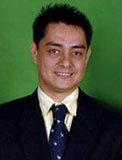 Contact: Ralph Alcazar Jr., REB ZAM 13-07(R)
Mobile: +63 908 896 5800
Email: ralph0913@gmail.com
Attention Our Valued Users
The particulars and visuals shown herein are intended to give a general idea of the project and as such are not to be relied upon as statements of fact. While such particulars and details on present plans which have been prepared with utmost care and given in good faith, buyers are invited to verify their factual correctness and subsequent changes, if any. The contents herein are subject to change without prior notice and do not constitute part of an offer or contract. For more information please see our Terms of Use.
If you are a licensed broker/agent authorized to sell the products described on this page, feel free to introduce yourself in the Comments section.
comments powered by
LINKS
Latest in Philippine Architecture, Home Interior Design
House Construction Contractor, Home Builder Philippines
Architecture, Interior Design Latest Trends
Construction Materials, Home Depot Philippines
New Homes For Sale by Property Developers Philippines
RFO Philippine Homes For Sale by Owner
Home Depot, Building Materials Suppliers Philippines
Machinery & Equipment Importers Philippines
Your FB likes, tweets, G+ shares, Pinterest pins inspire us to work harder. If you enjoyed this page please help us spread the word:-) Thank you!
back to Real Estate Philippines - New Homes by Property & Land Developers homepage