Product Information
A stylish, discreet solution which delivers entertainment to every room of your home.
The Multi-Room Entertainment system links your home entertainment equipment via a discretely situated master control unit (MCU) to a number of zones around your home (e.g. bedrooms or reception rooms) and sub-zones (e.g. en-suite bathrooms). These are individually accessed and controlled using Wall Control Units and System Remote Controls. To connect these components together, a specially developed, balanced transmission cable is used, which, unlike most multi-room systems, requires only a single run of cable to carry audio, data and power to and from each zone.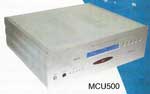 MCU500 Master Control Unit
A single control unit allows you to listen to up to six AV sources (DVD, single or Multi-changer CD, VCR, Mini Disc etc) including the system's built-in sensitivity three band RDS tuner. Up to four zones and four sub zones (eight rooms in total) may be driven by a single master control unit (MCU). By adding extra MCUs, the system may be extended further up to a maximum of 24 zones plus 24 sub zones (48 rooms in total).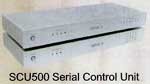 Seamless Integration
The addition of an SCU to your system allows the Opus 500 Series to be integrated with a number of control systems such as AMX, Creston and Teletask, thus allowing the addition of touch-screens, and integration with heating/lighting/CCTV and other systems. USB, RS232 and RS422 connections are available.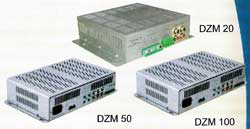 Zone Application Module
Opus continues to break new ground with state-of-the-art digital 'Class T' zone amplifiers. Their simple exterior hides a masterpiece of amplifier design. Essentially containing separate pre and power amplifiers, the various functions such as volume, bass, treble, balance etc. are micro-processor controlled while the high-efficiency power output stage generates very low levels of heat, making it ideal for locating in confined spaces such as ceiling voids.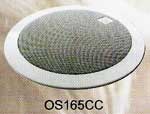 Loudspeakers
Mordaunt-Short's 30+ years of expertise in the design and manufacture of high quality speaker systems has been brought to bear in the development of the OPUS OS165CC and OS165CLP multi-room loudspeaker. Renowned for their exceptional detail, transparency and musicality, Mordaunt-Short has produced a speaker capable of delivering spacious and dynamic production anywhere in the home.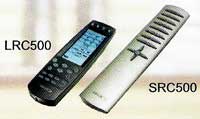 Remote Control Headsets
SRC500, a further refinement of the system is that the Opus 500 series can also be operated by use of this beautifully styled diecast aluminum remote control and the LRC500 which simply learns the infra-red codes from your TV, video recorder, CD player, DVD player and other source component functions.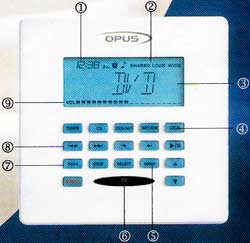 Wall Control Unit
The Opus WCU500 wall control unit is an object lesson in design, combining functionality with elegant simplicity, resulting in a system interface that provides every zone with full system control. Status is confirmed via a large easy to read liquid crystal display that clearly indicates the source selected as well as other system functions.
Built-in clock with alarm and sleep timer
Indication that selected source is shared
High contrast wide viewing angle backlit display clearly indicates system status
Local input allows connection of a local source, such as a bedroom TV or DVD for every room
Menu system conveniently hides less frequently used functions such as the setup of bass, treble, balance, etc.
Wide angle IR receiver allows full remote control of all system functions
One touch access to your favorite radio station or disc
Frequently used CD/Multi-changer/tuner source for function control
Volume bar gives a permanent display of current volume level
back to top