It took several months of experimentation, product sampling and planning before the first ZAGU store was launched in April of 1999. ZAGU was pioneered by a young enterprising lady with a degree in Food Science from the University of British Columbia in Vancouver, Canada.
To this date, Zagu has blended millions of pearl shakes, a pretty good number for something that was widely predicted as a passing fad. Now, ZAGU has grown from tiny kiosk to current network of over 500 stores nationwide and in UAE. Zagu has also gained recognition locally through awards such as the National Consumers Quality Awards.
From these humble beginning to its present success, ZAGU has proven that is not a passing fad, 85% of our current stores have been occupying the same leased space for more than three years. ZAGU foods can be found in malls, supermarkets and roadside location. Behind the success of every ZAGU store is our professional management team and dedicated employees committed to putting the customer first and achieving excellence in everything.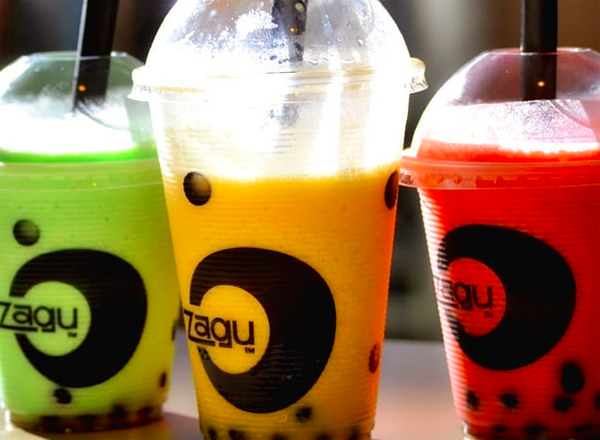 Dealership
What's in it for an authorized dealer
Instant Market
Additional Source of Income
Use of ZAGU Trademark and Logo
Proprietary Recipes, Ingredients and Procedures
High Profile National Presence
Discount on Purchases
Ongoing Training and Operational Support
Marketing and Advertising Support
Exclusive Product Distribution
Contemporary Design and Decor Package
Assistance with Site Selection
Customized Operational System
Continuous Research and Development
Authorized dealership features
P650, 000 – P850, 000 approximate investment package depending on the type of store operation.
No Franchise fee, No Royalty Fee
Will Carry the well established ZAGU trademark and logo
Specially discounted price for purchases exclusively for Authorized dealer only
Continued marketing support through event participation, Sponsorship and other marketing approach
High Profile National Preference
No Defined territory
Participation in events
Zagu Standard Uniform
Service Crew Training
Frequently Asked Questions
When was Zagu established?
The innovative drink was conceptualized and was turned into reality by a young enterprising lady with a degree in Food Science from the University of British Columbia in Vancouver, Canada in April of 1999, with its first Authorized Dealer awarded in October 1999 in Manila.
How many Zagu outlets are there?
ZAGU has more than 446 stores strategically located throughout the country.
What exactly does Zagu look for in a partner?
ZAGU looks for dynamic people who are willing to do business with ZAGU – People who are:
Dedicated
Hard Working
Competent
Customer Oriented
Do I need any experience to become a Zagu Authorized Dealer?
Our family of Authorized Dealers is from all walks of life. They range from housewife to bank executive, student to retiree, some of whom have no prior experience in the food and beverage business. We seek those with willingness to work as a team and desire to succeed long term as our prime candidates.
What process is involved in the application?
It starts with completion of the Initial Questionnaire Form then followed by interviews, meetings, payment of cash bond, filling up of application form, submission of requirements, payment of package, signing of agreement and lastly training. (Kindly refer to Flowchart).
*Note – It will take approximately 15 - 30 days from the date of submission of Initial Questionnaire Form for the result of the Initial Evaluation.
How much is the investment to become a Zagu Authorized Dealer?
The approximate investment package is between P650, 000 – P850, 000 and business is already fully operational.
What are the types of Zagu store?
Two (2) types of stores namely:
Indoor Outdoor
Stall Roadside Stall
Kiosk Roadside Kiosk
Standard Cart
How much is the royalty fee?
No Royalty fee.
What other expenses will I incur?
Initial Investment will highly depend on the expenses for the following:
I. Investment Package with Zagu (Inclusive of the following)

Operational expense
Cart Construction Cost
Equipment Package
Initial Inventory (good for 1 week)
Crew Uniform
Signage
Insurance
Service Crew Training

II. Start-up Capital (Not included in the Investment Package)

Security Deposit
Advance Rental
Construction Bond
Government Permits (Business Permits, Mayor's Permit,etc.)
BIR
Salary
Will Zagu provide the location for us?
Authorized Dealers must look for their own location. ZAGU will only assist in the evaluation (Ocular Inspection) of the proposed location. We do not encourage our Authorized Dealer Applicants to reserve a location when they are still in the process of application. Reservation of a location is the sole risk of the Authorized Dealer and Zagu will not be liable in any way.
Are service crew included in the package?
No. The applicant will hire and provide its own service crew. Training will be conducted by ZAGU.
Can I operate more than one store?
Yes, ZAGU encourages multiple ownership. However, each store is treated separately.
Steps
Completion of initial questionnaire form
1. Authorized Dealer (AD) Applicant must duly fill out and submit the initial questionnaire form.
Evaluation
2. AD Applicant will be thoroughly screened and evaluated based on his/ her accomplished Initial Questionnaire Form in order to be qualified and scheduled for the initial interview.
Initial interview
3. AD Applicant who qualifies in the first screening will be assessed by the initial interviewer.
Initial recommendation
4. After the initial interview, the applicant will be evaluated by the Initial Interviewer. Initial interviewer will recommend if the application is approved or disapproved. Sales Account Officer will inform the applicant of the result through mail and phone call.
Payment of cash bond
5. Once approved in the initial interview, AD applicant must pay Php10,000 in cash or dated cheque as cash bond. Cash Bond is fully refundable if the Zagu Outlet will cease operation and the Authorized Dealer Appointment Agreement is terminated.
Completion and submission of Application Form and requirements
6. In order to proceed with his/her application, the AD applicant must complete all necessary requirements requested during the initial interview. Incomplete requirements will result in the AD applicant's application to be put on "HOLD".
Application interview
7. Application interview is the second interview of the AD applicant. This is the stage wherein the applicant will be evaluated if he/she is qualified to continue his/her application, and to assess his/her capacity to handle a business.
Final interview
8. This is the last interview of the AD applicant conducted by the Working Committee.
Post approval meeting
9. Once application is approved, Expansion Division. will schedule the AD for a Post Approval Meeting,and will issue a Letter of Approval.
Submission of proposed location requirements / ocular inspection / approval
10. AD must submit proposed location together with Letter of Intent (LOI), photos and vicinity map of the said location. If proposed location is inside a mall, an endorsement letter for the establisbment will be issued upon request by the applicant, which will be valid 30 days from the date of issuance. An ocular visit to the proposed location will be scheduled accordingly. Once the proposed location has been approved, a Letter of Approval will be issued.
Payment of AD investment package / signing of AD agreement
11. Standard AD Investment Package will be discussed and must be paid in full. (List of Initial Inventory and List of Equipment and Supplies are included in the package). Payment can be in cash or dated cheque only.
12. Authorized Dealer Agreement must be duly signed by AD. Once signed, it will be notarized by ZFC. AD will be given a copy of the Notarized Agreement.
Construction / Fabrication (cart, kiosk, stall and roadside)
13. Cart will be fabricated by ZFC. However, construction of Zagu roadside is optional. Construction can be handled by ZFC or AD but design & layout must be duly approved by ZFC.
Completion of operating requirements
14. All necessary operating requirements must be secured and submitted to ZFC prior to start of operation.
Business orientation
15. Prior to opening of a Zagu outlet, Authorized Dealer must attend the Business Orientation to be scheduled by Sales Account Officer.
Service crew training
16. Training of service crew will be scheduled. Passing the training program is mandatory for all service crew prior to deployment and store opening.
Final ocular inspection and approval of construction
17. ZFC will inspect the Zagu outlet after construction for final approval. Standard specification for construction must be strictly followed.
Pick-up of stocks
18. Initial inventory, equipment, supplies and P.O.S materials may be picked up at the ZFC head office.
Store opening
19. A realistic target opening date will be set. Opening date will be highly dependent on projected schedule of both parties.
Submission of first week gross sales
20. Expansion Division will monitor the Gross Sales of the 1st week of operation.
NOTE: For every interview, the applicant must be accompanied by their spouse if married or business partner/s if there's any.
Apply
Authorized Dealer (AD) Applicant must duly fill out and submit the initial questionnaire form.
In order to proceed with his/ her application, the AD applicant must complete all necessary requirements requested during the initial interview. Incomplete requirements will result in the AD applicant's application to be put on "HOLD".
Contact Us
Zagu Food Corporation
Address: #52 West Capitol Drive, Bo. Kapitolyo, Pasig City
Trunk Lines:
(632) 687 - 4432 | 687 - 4430
(632) 687 - 4404 | 687 - 0140
Dealership: Local 150 OR 113
Mobile Number:
0918 - 888 - 9248 (SMART)
0917 - 809 - 8043 (GLOBE)
0923 - 456 - 3586 (SUN)
Find us on Google Maps
sponsored links
SIMILAR COMPANIES/PRODUCTS/SERVICES
Terms of Use/Privacy Policy Advertise Buy me coffee