WestRim, Inc. is a full service MEP engineering design firm building for the future from the heart of Metro Manila.
Since 2006, we have prided ourselves on bringing an unparalleled level of experience and creativity into each and every one of our projects. With the passing of time and the evolution from blue prints to 3D computer models, we have continued to uphold the very same attention to detail and a commitment to our clients that have cemented us as a leader in the design-build world.
Services
MEP Engineering
HVAC, plumbing, electrical, lighting, and control systems, building automation, mission critical systems, emergency generator and UPS systems, fire and life safety systems, and waste disposal systems.
Consulting
Feasibility studies, strategic facility planning, master planning, peer design review, constructibility review, life cycle cost analysis, energy efficiency rebate studies, value engineering and cost mitigation.
Telecommunications Design
Voice, data, audio, CATV, CCTV, security, tele-video conferencing and paging systems, networking, campus communication distribution systems, backbone risers and horizontal distribution systems.
Sustainability Consulting
We implement sustainable design and green building practices. We provide consulting service for Leadership in Energy and Environmental Design (LEED) certification, energy modeling, alternative energy source, indoor air quality, water conservation, daylighting, site solar orientation, MEP commissioning, emerging technologies & distributed electrical generators.
Drafting
High quality, cost effective Computer-Aided Design and Drafting (CADD) Services for Architectural, Mechanical, Electrical and Plumbing.
Featured Projects
One Rincon Hill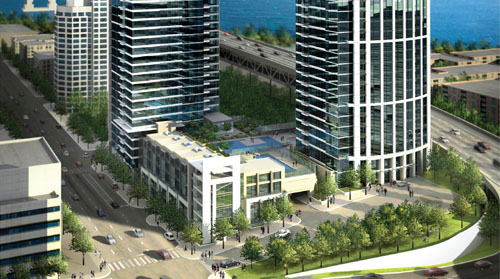 An ambitious residential condominium development, One Rincon Hill comprises a 60-story tower, a 44-story tower, and a 5-story podium. The project's 700 residences include townhomes and one-, two-, and three-bedroom units. It's outfitted with all the comforts that distinguish high-end living in the Bay Area, from a heated outdoor pool to a designer spa–fitness center to locally-planted rooftop gardens. WestRim worked alongside several teams—including architects Solomon Cordwell Buenz, structural engineers Magnusson Klemencic Associates, and contractors Bovis Lend Lease—to integrate the MEP design into the master plan. The central challenge here was that we came on well after construction had begun. We facilitated the entire building's engineering on a compressed timeline. We were able to slide seamlessly into the construction and energizing schedules, meeting both the project requirements and the tight deadlines for commissioning and occupancy.
Disney Aulani Resort & Spa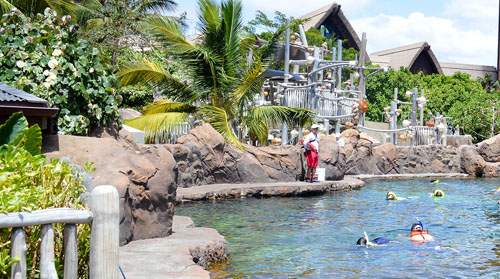 WestRim worked alongside Disney's Imagineering team, Architects Hawai'i, Ltd., and environmental experts on Oahu to produce a master engineering plan for their first LEED® certified resort.
WestRim implemented several notable energy conservation design strategies. Foremost among them is a cooling system that chills the entire facility with circulating groundwater drawn from two deep supply wells. The system simultaneously harvests the heat emitted from the resort's large chillers and diverts it to heat the whirlpool spas and swimming pools.
Square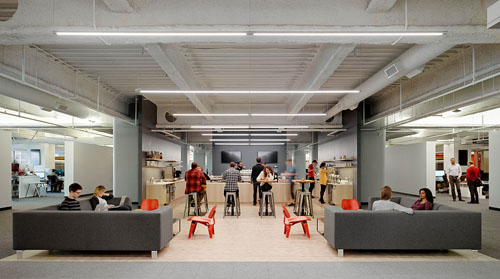 Alongside local architects Bohlin Cywinski Jackson, WestRim signed on to reconfigure and recommission the space. BCJ designed the office around a central "boulevard" with an assortment of standing desks, chairs, work tables, and semi-private "cabanas" for small meetings. The open layout was intended to encourage employees to move freely and to work together, regardless of team. Square is known for its clean, minimalistic design. We held ourselves to the same standards for the headquarters' MEP systems. To begin, we stripped the underfloor air circulation system. This facilitated a notable "hidden design" advancement: there are no exposed wires in the Square offices. All of the cabling and power cords are delivered to tables and workstations through floor outlets. Next, we repurposed the datacenter's air conditioning system into a modern Variable Air Volume (VAV) reheat system with Direct Digital VAV terminal units and overhead distribution. We connected a high-efficiency heating system to the building's steam plant and installed Direct Digital Controls across multiple zones. We then integrated an enhanced trending and troubleshooting system to improve temperature, comfort control, and energy efficiency. WestRim completed the project on an extremely short timeline: Square moved into the new space within a year. Since then, they have grown to more than 1000 employees.
NEMA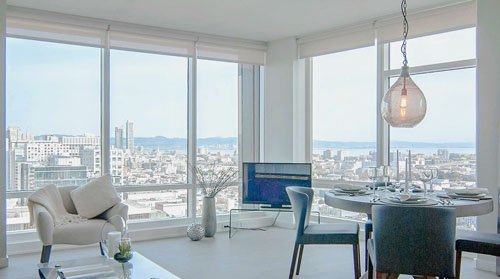 NEMA is part of a new generation of high-rise residential developments in San Francisco. The 754-unit complex lies in the center of the burgeoning Mid-Market neighborhood. It caters to a younger, tech-savvy crowd with a world-class array of services, amenities, and community-making experiences. Crescent Heights cycled through two architects—for whom WestRim delivered two full sets of MEP designs—before they settled on the right architectural lead. In 2009, San Francisco's Handel Architects came aboard. Their design included four connected towers, ranging from 10 to 37 floors. Our central engineering challenge was space efficiency. The planned amenities, which occupied a full 30,000 sq. ft., included a 60-foot saltwater pool and outdoor film screening area—plus a suite of tech conveniences, like full-coverage high-speed WiFi, keyless entry, and a digital mobile antenna. It was a feat to configure the requisite MEP systems to fit in the space that was left.
Contact Us
WestRim, Inc.
Address: West Tower #805, PSE Building, Exchange Road, Ortigas Center, Pasig City, Metro Manila, Philippines
Phone: (63 2) 914 0464
Fax: (63 2) 914 0466
E-mail: info@westrim.com.ph
Find us on Google Maps
sponsored links
back to business directory home page
WestRim, Inc.