Wacuman Incorporated is a waste custodial and management company that provides world-class services to address the waste disposal needs of local government units (LGU) and private entities in a safe manner. We take pride in high quality services, competitive pricing, timely disposal, safety and security.
Wacuman operates the Wacuman Sanitary Landfill in Norzagaray, Bulacan. Established in 2007, this landfill is a DENR-EMB Accredited Category 4 landfill. It operates under Category C for Treatment Storage Disposal (TSD), accepting household, domestic, and residual waste from private companies and LGUs. It also accepts treated non-hazardous waste, immobilized waste, and organic waste.
The company also offers sanitary landfill development services, waste hauling, environmental consulting, and material recovery processing.
Facilities
Landfill
Location: Norzagaray, Bulacan
Our sanitary landfill holds a Category 4 ranking from the Department of Environment and Natural Resources (DENR).
Wacuman is recognized as one of the most advanced waste disposal and management facilities in the Philippines. True to its design as a world-class facility, it operates at par with the most developed sanitary landfills in Southeast Asia, as well as other parts of the world. It follows the guidelines and provisions of Philippine Republic Acts 9003 and 6969. The landfill's design and construction team is composed of geological and ecological experts from the University of the Philippines, Los Baños, Laguna.
Inverted Pyramid Design
The landfill cell was constructed as an inverted pyramid, starting with a 14,000 square meter base. This inverted pyramid design, coupled with systematic layering, allows for greater holding capacity and a longer lifespan. To protect the land, the cell uses a multi-lining system that overlays a layer of gravel, sand, and clay, topped by a specialized liner. The cell has pre-installed gas vents to facilitate the safe release of accumulated gasses, and a pre-installed pipe system underneath the active cell to convey the leachate or waste fluid to the waste water treatment facility.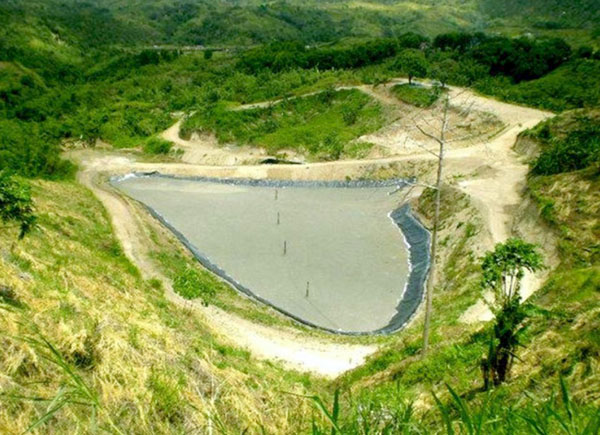 Waste Water Management Facility
MBBR Waste Water Treatment Facility: first in the country
The first of its kind in the country, Wacuman Incorporated uses a Moving Bed Bio-film Reactor (MBBR) Waste Water Treatment facility to recycle waste water into reusable water.
Waste water from the sanitary landfill cells are conveyed to the MBBR for treatment. It then undergoes a six-step method to treat the waste water and process it into clear recycled water that can be used for irrigation and industrial purposes.
MBBR technology utilizes polyethylene biofilm carriers that move freely through the aerated wastewater treatment basin. The non-toxic biodegradable biocarriers provide a highly effective environment for biofilm growth, that in turn, disinfects, deodorizes, decomposes, and disperses oil and grease in the wastewater. The process is safe and does not harm the ecological system and marine life. The process is flexible and cost-effective, easily adjusting to meet expanding waste water loads or more stringent discharge requirements.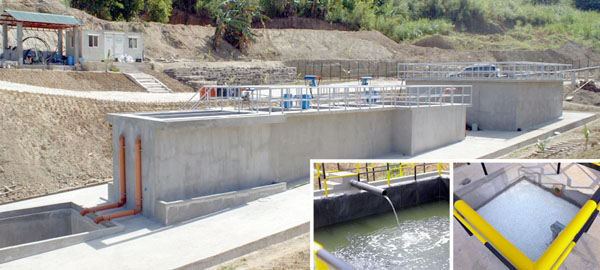 Other Facilities
Aside from the active cell and MBBR waste water facility, our landfill has a secure entrance gate, an administration office, a weigh bridge and documentation area, service roads and ample parking, a truck wash bay and fumigation area, a material recovery facility, a motorpool, and a waiting area for drivers.
Our facilities are well-maintained to ensure ease in operations. Selected stops have built-in checks to ensure that everything is properly weighed, classified, and possesses proper documentation.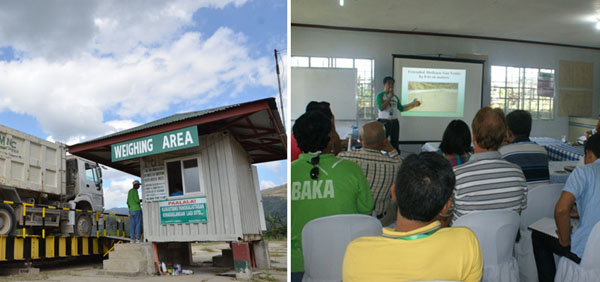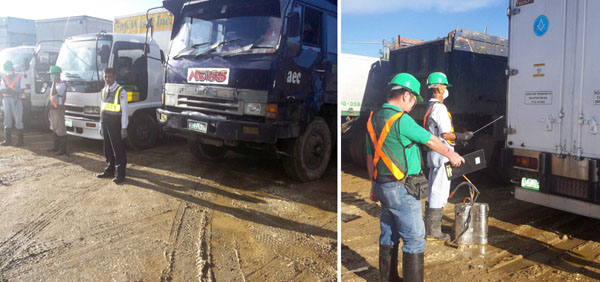 Services
Waste Disposal Facility
Our landfill ensures proper waste disposal, following the DENR-EMB's guidelines. This ensures safe and efficient disposal of all kinds of waste, from residual, industrial and commercial, to treated hazardous waste.
Waste Hauling Services
We also offer waste hauling services for clients who need help delivering their waste to our landfills.
Material Recovery Facility
To help conserve the planet's resources, we have a material recovery facility in place to salvage materials that can be recycled and repurposed for new uses.
Sanitary Landfill Development, Management, and Operations
For underserved areas, we can provide guidance and expertise to groups wishing to develop, manage, and operate their own landfills.
Environmental Consultancy
Our expertise also extends to environmental-related concerns in waste management. Using knowledge acquired from years of experience, we offer consultancy services to those who need it.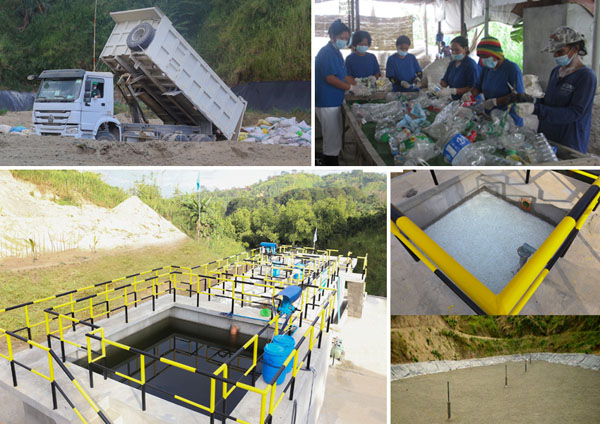 Types of Waste Accepted
Wacuman Incorporated is equipped to handle and properly dispose of various types of waste. These include:
Residual Wastes
Municipal Solid Wastes – Domestic and residual wastes from MRF
Biodegradable Wastes – Food and kitchen waste, green waste
Recyclable Materials – Bottles, plastic, paper, etc.
Composite Materials – Waste clothing, tetra packs, bulky wastes
Other Industrial and Commercial Non-Hazardous Waste
Ash
Light Materials – Styrofoam, insulation, etc.
Commercial & Industrial Wastes with Non-hazardous Materials and Components – organic sludge, filter cake, etc.
Organic Waste Water – Septic waste, sewage sullage, etc.
Treated Miscellaneous Wastes
M501 – Miscellaneous wastes (Pathogenic or infectious wastes)
M502 – Asbestos-containing Materials
M503 – Pharmaceuticals and Drugs
Putrescible and Organic Wastes
H802 – Grease Trap Waste from Industrial or Commercial Premises
Immobilized Wastes
K301 – Solidified and Polymerized Wastes K302 – Chemically-fixed
K303 – Encapsulated Waste
Contact Us
Wacuman Incorporated
Address: Unit E-F 2nd Floor Milleon Place, #031 Pontiac Street, Fairview Park, Fairview, Quezon City, Metro Manila, Philippines 1118
Telefax: 990-2613 | 938-4500
E-mail: info@wacuman.com
Find us on Google Maps
sponsored links
SIMILAR COMPANIES/PRODUCTS/SERVICES
Terms of Use/Privacy Policy Advertise Buy me coffee