Universal Glass Co., Inc. with its trademark Aguila Auto Glass, has been the most recognized name and most trusted brand in the Philippine glass industry for over six (6) decades. Now with over 20 branches across Luzon, the same virtues of quality, service, and commitment still shine proudly. Aguila Auto Glass is steadfast to serving the Filipino with its expertise and experience in automotive glass. We carry the most extensive range of windshields and glass-related products. Our automotive glass products proudly bear the ICC and BPS quality marks.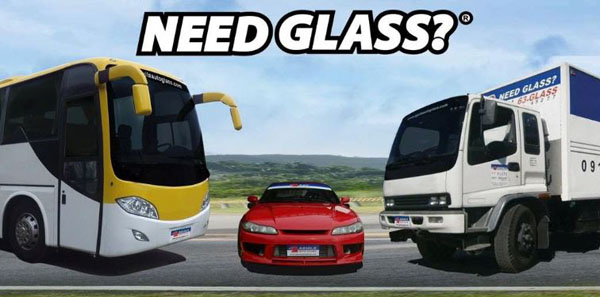 We'd love to hear from you. No one has a more extensive stock of replacement auto glass and its all ICC and PS Mark guaranteed for your safety. We can also accommodate custom auto glass applications. If you need help in finding the glass you need or an Aguila Auto Glass branch close to you, let us know and we'll get right back to you.
WE DELIVER!
Products
Bus
Aguila Auto Glass windshields and replacement glass is the Philippines leader in replacement glass for buses, serving both bus manufacturers and operators.
We currently carry 22 different brands of buses, spanning 88 different models. Windshields are available for both once-piece and two-piece models. And with over 20 different locations as well as onsite replacement, Aguila can help you keep those buses running.
Car
Aguila Auto Glass boasts the widest range of car windshields and windows. From sub-compact sedans to SUVs, we have it all! Combined with over 20 convenient locations, on-site replacement, as well as staff expertise, Aguila Auto Glass is the only choice for your auto glass needs.
Need glass? Dial 63-GLASS!
Truck
Aguila Auto Glass is the leader in truck windshields and all other replacement glass. With 48 models across 19 brands, we have the most complete lineup of truck windshields and truck glass in the country. With over 20 different locations as well as onsite replacement, Aguila Auto Glass is guaranteed to help you Keep on Truckin'!
Videos
Contact Us
Universal Glass Co., Inc.
Address: View branches
Phone: (02) 63-GLASS | (02) 63-45277
Mobile:
SUN Cellular: 0922-8-AGUILA | 0922-824-8452
GLOBE: 0917-88-GLASS | 0917-884-5277
SMART: 0918-9-AGUILA | 0918-924-8452
E-mail: inquiry@aguilaautoglass.com
HR: hrd@aguilaautoglass.com
sponsored links
SIMILAR COMPANIES/PRODUCTS/SERVICES
Terms of Use/Privacy Policy Advertise Buy me coffee
Universal Glass Co., Inc.