Uy, Nicolasora and Associates (UNA) is offering accounting services in Pasig and was set up only last May 2011 by two dedicated CPAs who both had a wealth of private and public accounting practice to back them up. Started in a small home- office, with only two full time accounting staffs.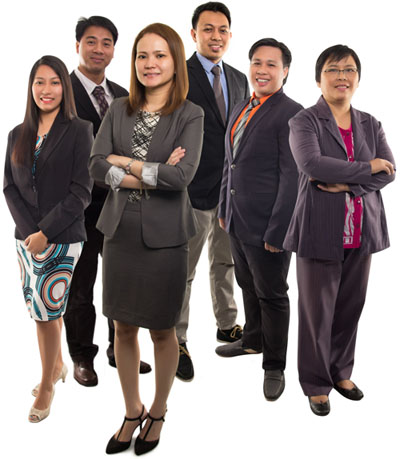 Our break was given to us when our very first client, a very large real estate development company offered to get our services, even if we did not yet have any established track record, but basing it only on the individual capabilities and reputation of the Partners. Proving our worth through the quality of our services, UNA's reputation spread among the other affiliated companies and soon we were getting more clients through word of mouth.
In two years time, were able to transfer to a bigger office and we now have the full complement of about twenty full time management staffs and several project employees servicing more than fifty large, small and medium sized enterprises for their accounting, internal audit and tax needs, both in the Philippines and abroad.
WE CARE therefore we exercise DUE CARE
Each individual client is important to us. Our clients are treated more as business partners rather than mere clients. By business partners we mean we care about their business, their growth and expansions, their strengths and weaknesses and their company status in relation to their industry. We make it a point to research about their industry and to obtain a firm grasp of the nature of their business as soon as we engage with them. This way, we not only provide their monthly financial status but we also provide management advisory services. We can only do this by maintaining professional competence through continuing awareness and understanding of relevant technical, professional and business developments in relation to their business.
No client or business is too small for us
Big or small, we treat each business that we handle with utmost professionalism. We apply the same principles, we conduct the same procedures to learn more about their business and industry, and we render the same kind of attention to each of them. Our client may belong to the top 20,000 corporations and may be classified as IFRS or it may be an SME or even a newly established sole proprietorship, as long as they approach us and specifically ask for our services, then we immediately treat them with due care and professionalism. We know that if a previous or existing client referred them to us, then we must render the same treatment we gave the others in order to maintain our reputation and integrity.
UNA is a One Stop OFFICE
Knowing that many of our clients are SMEs, we realize that they may want to deal with only one office to take care of all their accounting, tax, internal audit, systems and procedures and even sometime certain legal needs and requirements. It is because of this that we have established connections with appropriate agencies and professionals so that our clients need only to deal with us and we offer solutions based on the professional advice and recommendations of our legal associates and other connections in other fields. We endorse them directly to our legal associate should they require in depth discussions regarding their legal issues.
Markets we serve
Accounting
Brokerage
Construction
Financing
Hospitals
Hotel Industry
Manufacturing
Paper Industry
Real Estate Development
Restaurants
Trading
Vehicle Industry
Services
GENERAL ACCOUNTING SERVICES
Generally, when a client comes to us for their accounting needs, we evaluate exactly what their needs are and tailor fit a specific process for them so that we maximize whatever resources they have and complement whatever they lack to be able to generate the necessary accounting data. We design a seamless process of exchanging documents and information to and from our office to theirs. Our services can start from the actual preparation of source documents from our office for approval by the clients' signatories or it can be generation of Financial Statements and management reports based on information that the client has already prepared.
INTERNAL AUDIT
More often than not, when clients approach us for Internal Audit services, Peace of Mind is what they are looking for. Unless the client specifically asks for only a specific cycle to be audited, say only the Revenue cycle, we normally do an overall evaluation of their internal control processes to include Financial, Operations, Tax and Compliance audit for those whose internal controls are supposed to be in place already, in order for us to determine what internal audit procedures need to be undertaken.
TAXATION SERVICES
Sometimes, even if the client has a full accounting and audit department, they still request for our Tax Compliance services. Our staff is constantly updated with the new rulings, computations, documentations and deadlines to ensure that our clients are aware and are compliant with the new regulations and rulings. We can prepare the tax forms, based on their business transactions, for approval by the client management or they can prepare the tax forms for review and checking by our firm.
COMPANY REGISTRATION, INCORPORATION AND SEC AMENDMENTS
We assist clients in registering and incorporating their new companies from SEC (or DTI) to obtaining licenses and permits from various local government agencies. We also assist them should they need to amend their original incorporation papers to increase their authorized capital stock, change their office address, or make some conversions to equity.
BOI REGISTRATION
We can assist in preparing the necessary research, documentation, projections and cash flows, in order for the client to be registered and accredited by BOI, if their business is qualified. We will be involved from start of project to actual completion of accreditation. We handle all comments and revisions that need to be made based on initial evaluations by appropriate agencies.
PROJECT FEASIBILITY STUDIES
Knowing the importance of research and feasibility studies before embarking in any project, we provide the client with enough materials, financial computations and market research for them to make a decision on whether the project is worth pursuing or not.
LOAN PROCESSING AND PACKAGING
Given that most companies generally need the facilities provided by banks and private lending companies in order to expand their business or provide working capital, we work closely with banks to present our clients' requirements and needs and help our clients to obtain the necessary funding by helping them with the documentation and loan packaging.
MANAGEMENT CONSULTANCY SERVICES
Realizing the needs of several clients, we have expanded our services to include management consultancy services related to:
Small business management and development
Financial management
General Corporate Strategies – to include corporate strategies, procedures, systems and structures, corporate cultures and management style
Marketing and selling strategies and direction – especially for our real estate clients
Operations Management. Generally, our engagement involves:

Identifying the problem/s;
Analyzing the problem/s;
Recommending solutions;
Helping the client arrive at a conclusion;
Assist in the implementation (if the client so requires).
INTERNATIONAL Bookkeeping & Outsourced CFO Services (U-N-I)
Expanding our operations to International markets, specifically the USA, we specialize in real estate & construction industries. Our partners' extensive experience in this industry enables them to help our clients increase their profits and cash flow to as much as 30% from within 60 to 90 days. Through strategy sessions conducted during the initial interview cycle, the partners determine how they can help the client achieve the improvements. Should the prospective client and the U-N-I partner come to an agreement after the strategy sessions, further assessments are made on the business and an overall strategy is presented.
U-N-I can also help in the implementation of the strategies. For clients who are already enjoying the profits and desired cash flow, we offer our outsourced bookkeeping services. Our accountants are CPAs (Philippine certified) and quality control is done both by the Philippine team leader and the USA based Senior Partner. Furthermore, our USA based Business Development Manager will always be available for client related concerns and will ascertain that the concerns are addressed within a 24-hour turnaround time. We'd like to say, "Things get done while our clients sleep!"
Contact Us
Uy, Nicolasora and Associates
Address: 5/F-B RCC Center, 104 Shaw Boulevard, Kapitolyo, Pasig City 1603
Phone: +63 2 975 0862
Mobile: +63 917 596 6748
E-mail: clientcare@una-acctg.com
HR: jobs@una-acctg.com
Find us on Google Maps
sponsored links
back to business directory home page