Our mission first and foremost, is to make business easier in the Philippines. Working with a wide array of business across different industries, Triple i focuses in consulting foreign companies that are expanding into the Philippines. With over 10 years of experience in this market, our customer-centric consultants show an unflagging desire to simplify business in the Philippines and excel in the areas of incorporation, immigration, accounting and regulatory affairs.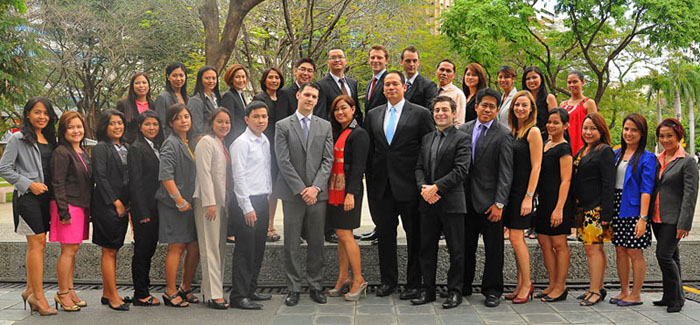 Founded in 2007 by both Filipino and Western businessmen, Triple i Consulting Inc. focused its primary consulting services in three areas:
Incorporation - to assist clients with the company formation process in the Philippines and deciding the appropriate corporate entity.
Immigration - to help clients choose the best visa for their needs and process applications with the Bureau of Immigration.
Investment - to research areas of interest and consult on preferred investment.
Our aim: to help investors quickly mobilize their investment within the country.
Today, Triple i Consulting offers over 30 business services including
accounting outsourcing
corporate compliance
call center office setup, and
management consulting.
Triple i is steadily becoming one of the fastest growing consulting companies in the Philippines offering marketing and regulatory affairs consulting for any company looking to access the Philippine market. We cater to a client list of both International and Domestic companies with a wide variety of development requirements. From small, single businesses to large, multi-national organizations, Triple i presents tailor-made strategies to meet each of our clients' needs.
ISO Certified
In 2011, in an effort to better service the needs of our clients, Triple i Consulting received its ISO 9001:2008 certification from Royal Cert International, making it the first and only ISO Registered Business and Management Consultancy in the Philippines. This is our commitment to constantly improve services to our clients for the years to come.
Philippine Business Expertise
Triple i Consulting understands the Philippines. With extensive experience in the country handling business development, marketing, company incorporation, tax advisory, and start-ups, Triple i provides real solutions for starting-up and overcoming obstacles in the Philippines. Utilizing a network of qualified professionals, specializing in marketing consulting, environmental compliance, FDA registration, business development, BIR compliance, company incorporation, visa processing, BOI and PEZA incentive registration, and many other fields, Triple i Consulting can help any company reach its goals for business in the Philippines.
Business Registration
Our consultants can help you register the most suitable structure for your business in the Philippines.
The Philippines provides great opportunities to both local and foreign entrepreneurs. But before you even finalize your business plan and schedule your company launch, you need to understand and comply with existing laws and regulations in the country. You can't just operate a business without first obtaining all the legal documents. Registering your business is one of the first things you need to do.
Triple i Consulting provides expert services and assistance in setting up a company. Having registered and dealt with hundreds of multinational and domestic businesses in the Philippines, we understand all of the aspects of starting a new business. By working quickly and systematically in our document evaluation, compilation and filing procedures, we are able to reduce entry time for companies looking to enter the Philippine market. So whenever you need help with anything related to business registration in the Philippines, call Triple i Consulting immediately.
Tax Incentives for Businesses in the Philippines
The Philippine government has created an excellent plan to encourage investments in the Philippines in the form of tax and non-tax benefits to certain sectors. A business either exporting its products and services or operating a domestic industry listed in the 2012 Investment Priorities Plan could qualify for tax benefits from the Board of Investment (BOI) or Philippine Economic Zone Authority (PEZA).
Benefits include:
Income tax holiday
Duty-free import of capital equipment
Reduced wharfage fees
VAT exemption
Employment of foreign nationals
Special investors' visa
Additional Regulatory Permits for Certain Operating Businesses
Certain businesses will require extra licenses and registration requirements, depending on their exact nature. The business consultants at Triple i can determine if your company needs other licenses and guide you through the entire process. With our experience in business registration services in the Philippines, we can help companies submit their documents and receive a fast turnaround on processing.
Businesses in the Philippines requiring licensing:
Mining and mineral processing
Import and export trafficking
Online gaming and amusement
Security-related industry
Cosmetic or pharmaceutical industry
Manpower or recruitment agency
Agricultural production
Energy-related services
Oil and gas sector
Visa and Immigration Services
Working closely with the Bureau of Immigration, our immigration consultants will help you secure the right visa.
Visas Provided under the Immigration Act
Tourist Visa
Open for 21 days to most nationalities, the tourist visa is generally for short visits. A tourist visa holder may not participate in continuing business in the Philippines; otherwise, he may violate Philippine Immigration Law and will be subject to its rules.
9(g) Pre-Arranged Employment Visa
The PIA allows for several types of employment or working visas depending on the exact nature of your business. This visa allows the holder to work as a non-immigrant within a period of six months from the date of admission. Open to most countries, this is applied with a Special Work Permit for visiting athletes and musicians.
9(d) Treaty Trader Visa
This visa is given to a person who is a national of a country with which the Philippines has in place an agreement for the admission of treaty traders or investors. (Currently only Unites States, Germany, and Japan.)
Alien Employment Permit
This document is issued by the Department of Labor and Employment, authorizing a foreign national to work in the Philippines. This permit is generally issued to foreign nationals who have been long-time working residents in the Philippines.
Special Investor's Resident Visa
This visa allows the holder to stay indefinitely in the Philippines, providing they have made a set investment to the Philippines.
Special Resident Retiree's Visa
Retirees wishing to gain multiple-entry privileges with the right to reside permanently in the Philippines may avail of this visa, as long as investment (varies depending on age) deposit subsists.
47(a)(2) Special Non-Immigrant Visa
This Special Non-Immigrant Visa is issued to foreign investors registered under companies qualified with BOI, PEZA, or DOJ. This visa is issued by the Secretary of Justice on the basis on public interest or public policy considerations.
Triple i can assist in the procurement or extension of any type of visa. Our staff's familiarity with the Bureau of Immigration, Department of Labor and Employment, and Philippine Retirement Authority's procedures and requirements ensures that we can minimize processing and waiting time in your visa applications.
Accounting Outsourcing Services
Tax compliance, tax preparation and filling are some of our tax services that will benefit your business.
Running a business is never easy. You have to deal with all the challenges involved, such as taxation, bookkeeping, accounting, and compliance issues. But there's always a better way to simplify things and resolve problems. At Triple i Consulting, we provide the business solutions you need.
Whether a small local business or a large multinational firm, your company can benefit from Triple i Consulting's outsourcing accounting services. Our accounting team understands the laws and regulations needed to assist any company in bookkeeping, tax, payroll, and auditing requirements. Work with us to see how the accounting outsourcing services in the Philippines can make a difference in your company.
Triple i offers services from basic company finances to advanced tax planning, so you can focus on other important matters. Our experienced staff, CPAs, and attorneys work under the ISO 9001:2008 Quality Management System. Our tax consultants can explain everything about the tax laws in the Philippines, demonstrate the pros and cons of different tax structures, and implement effective systems and practices to help your business succeed.
Services Offered
Payroll
Outsourcing payroll services can save time, money, and energy each month. Our strict compliance policies will ensure that our clients never overpay or underpay their employees. Our services help you grow not only your business, but also your relationships with team members. Triple i utilizes a cutting edge, cloud-based payroll software, which agents can access anytime. That's process automation at its best.
Bookkeeping
Every business in the Philippines is required to report monthly, quarterly, and annually to the Bureau of Internal Revenue (BIR). Proper bookkeeping and monitoring of company purchases and expenses will allow the management to focus on other important aspects of growing a business. We at Triple i Consulting can take some load off your shoulders by handling your bookkeeping requirements with our outsource finance and accounting services.
Audit and Assurance
It is mandatory to submit an audited financial statement (AFS) to both the BIR and the Securities and Exchange Commission (SEC) each year. Auditing is also an excellent way to determine the value of your business and check if there are any irregularities in the current accounting systems.
Tax Consulting
One on one tax consulting is the best way to analyze a company's current accounting practices and prescribe necessary changes. Our tax consultants can review applicable tax implications on your business, as well as provide you with updates on the most recent BIR rulings. If litigation and liaison services are required, our tax consultants may also act as your company's representatives and aid in resolving existing taxation issues.
Payroll Outsourcing Services
The complete outsource of your payroll will save you time, it is worry-free and ensures the satisfaction of your employees.
Whether you have 10 employees or 10,000, there are provisions guaranteed by the Department of Labor and Employment (DOLE) that must be included in payroll computation. As payroll service providers, Triple i Consulting can handle any business's payroll requirements – from large BPO corporations with hundreds of employees, to small office enterprises with just a handful of staff. Our accounting practices, in line with the ISO 9001:2008 standard, ensure that companies never overpay – or underpay – their employees, as well as provide them with the necessary employee benefits.
To provide employees with the highest amount of net income from their monthly salary, Triple i Consulting can use specific payroll structures allowed by the Bureau of Internal Revenue (BIR) to maximize tax shielding and minimize salary deductions.
Triple i Consulting works with a cutting-edge payroll platform specifically designed for Philippine requirements. With both client-based and online versions available, companies can opt for either an internet- or intranet-based system, which also allows the upper management to completely monitor and control payroll proceedings. The platform also features customizable restriction and access for different levels of staff, which can help reduce the time spent by HR personnel on payroll activities.
Our accounting and outsourced payroll services department can process your company's requirements bi-monthly and sends the necessary files to the management for verification. Payslips may be: emailed directly to the staff, accessed online, or printed out and delivered directly to your office premises.
Our payroll services in the Philippines include:
Provision of online access to payroll files
Web-based/online employee self-service
Workflow for Sick Leave, Vacation Leave, Overtime, and Expense Approval
Provision or integration of electronic Bundy Clock or Bio-Metrics
Settlement of withholding taxes and contributions to respective government agencies
Preparation of payroll-related summaries and reports
Payroll is one of the core accounting functions in any company or organization; it is, of course, necessary to pay employees for the work they have contributed to the business. However, internal payroll often drains a company's accounting and HR resources and leaves serious lapses in internal security and control. Triple i's tax lawyers and payroll specialists will sit down with you and help your construct a payroll plan that will meet all of your company's various needs.
Environmental Consulting Services
We ensure that our clients are able to operate with the right environmental certificates.
With the global acceptance of the negative effects climate change is placing on our planet, governments have raised guidelines on all activities that will have any impact on the environment. For effective environmental management, the Philippine government has increased its standards of regulation and the associated permits required for businesses.
Triple i's superb team of environmental compliance consultants work closely with the Department of Environment and Natural Resources (DENR), to ensure that our clients are able to operate within the set regulations.
Services Offered
Environmental Compliance Certificate
Any project that has the potential to cause damage to the environment must secure an Environmental Compliance Certificate (ECC) before its commencement. The project must be checked if it complies with the Environmental Management Bureau of DENR (EMB-DENR). The ECC is divided into three categories: Certificate of Non-Coverage (CNC), Small Scale ECC, and Large Scale ECC. Triple i's related environmental consulting services include reconnaissance surveillance, stakeholder consultation, impact assessment, and mitigation plan preparation.
Environmental Impact Assessment
It is vital to assess the environmental impact a project will have on its surrounding areas. Our team can conduct on-site inspection for environmental scoping, planning, and treatment facility layout, and determine the project's effect on its immediate environment.
Environmental Permits
Several permits are required for businesses that will: discharge waste water, operate a generator, or handle hazardous materials. Triple i's environmental compliance consultants conducts on-site testing to analyze the output of water, emissions, and other materials for necessary permits, proper monitoring, and compliance reporting.
Environmental Monitoring Compliance
Compliance reports must be submitted quarterly and semi-annually to the DENR by qualifying companies. Our environmental compliance consultants can assist any organization in doing thorough analysis of their current environmental compliance issues, and make sure they meet DENR's guidelines.
Pollution Cases
Facilities that have been operating without securing the proper permits or licenses will have a high probability of undergoing investigation by EMB-DENR. Generally, EMB-DENR will hold a hearing which will determine the sanctions and penalties awarded to the company operating without the necessary licenses. In such cases, Triple i's environmental consultants can represent any organization to the local DENR and oversee the gearing process.
These past few years, the role the environment has been playing in our daily lives has grown significantly. The increased regulation standards by environmental agencies require companies to be more attentive to the environment. With specializations in various sectors such as Oil & Gas, Mining, Urban Development, Piggery, and Food Establishments, our team can assist you with any environmental consulting services that you may need.
Labor Consulting
Strike the right balance and have the proper company manual and employment contracts in place.
Conducting business in any new environment can be difficult. Philippine labor practices vary greatly from other countries in terms of laws and best common policies prescribed by companies. Labor Laws in the Philippines are strict and complex and it is essential to ensure that you as the Employer are fully compliant to minimize your liability.
Triple i Consulting has a team of highly experienced Labor Lawyers and specialists HR who will assist with most aspects of a company's HR department. We will ensure that both Employee contracts and Employee handbooks are composed in accordance with Local Labor Laws. Our guidance and effort will aim to make your business more productive and reach a zero labor case goal.
Triple i Consulting will provide you with draft documents clearly detailing and explaining the parameters that may be changed by you whilst still complying with Philippine Labor Law.
Permits and Licenses
Our business consultants will guide you in securing licenses such as the import and business permits among others.
Depending on your business activity or industry, there are plenty of bureaucratic bottlenecks to overcome in the Philippines. The high number of government agencies and its complex requirements make it complex to fully grasp the permits you will be needing.
The vast majority of these local permits must be renewed every year and engaging triple i consulting can save you a tremendous amount of hours and ensure that you succeed in keeping your business up and running with no interruption.
If you are doing business in the Philippines, do not hesitate to engage with one of our business consultants to assist you with some of the mandatory licenses and corporate compliance processes such as:
Mayor's Business Permit
Barangay Clearance
Bureau of Internal Revenue
SEC Registration
Dole license
General Information Sheet
Contact Us
Triple i Consulting, Inc.
Address: 12F Sagittarius Building, 111, H.V. Dela Costa Street, Salcedo Village, Makati City 1227
Phone: +63 (02) 551 9012 to 13
Find us on Google Maps
Cebu Branch: Groundfloor Phil Phoenix Surety Worldwide Building, Ma. Cristina Street, Capitol, Cebu City, Philippines
Tel: +63-32-254-1723
sponsored links
SIMILAR COMPANIES/PRODUCTS/SERVICES
Terms of Use/Privacy Policy Advertise Buy me coffee
Triple i Consulting, Inc.