TouchPay™ is a duly registered corporation in the country since 2011 that launched a network of Automated Payment Machines (APM™). TouchPay™ accepts payment services in behalf of our clients – private businesses, government agencies, merchants, insurance companies, banks, and other service providers.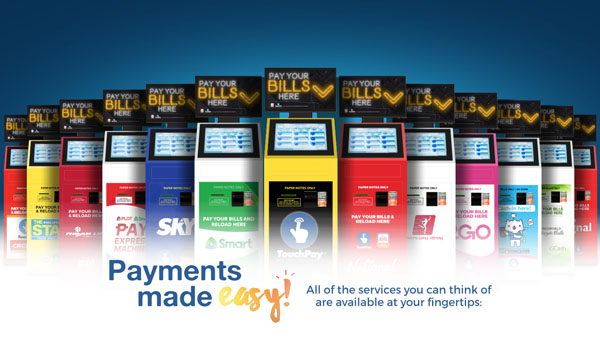 COMPETITIVE EDGE
Advantage that our product has over its franchise competitors:
Easy to deploy
The choice of location considers the amount of foot traffic and the security of the area to provide great convenience to the largest number of people.
Minimal space requirements
TouchPay APM requires a space size of less than 1sqm., an electrical outlet, and a dependable cellphone reception.
Low electricity requirements
APM power supply is 220v with monthly consumption (max: 300w) of Php350-Php500 on a 24 hours operation.
No manpower requirements
Eliminate the need for manpower while being assured to have continuous operations 24 hours a day, 7 days a week – even on weekends and holiday breaks without incurring additional cost.
On-line monitoring of sales
We provide you with a weblink so you can monitor your sales real-time, anytime and anywhere.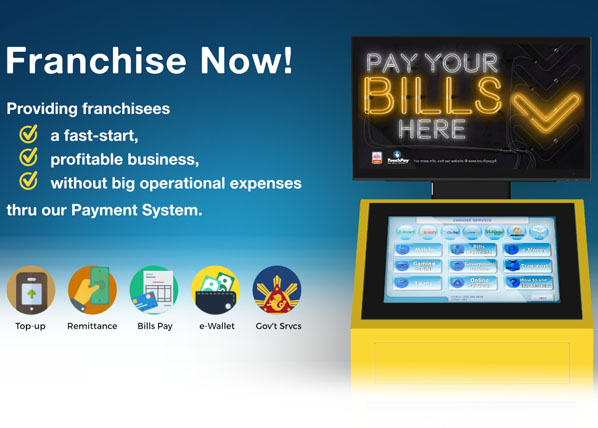 NOW FRANCHISING!
We are establishing a successful, effective and friendly express Payment System for people on the go. The program aims to provide an opportunity to franchisees a fast-start profitable business without big operational expenses thru our Payment System.
The Touchpay APM
TouchPay™ is the country's only…
Fully Automated
Highest encryption on all data and transactions – even exceeding, encryption and protection used by financial institutions nationwide.
Real Time
Send funds, pay bills, purchase prepaid cards, and load cards are performed instantly.
Stand-alone
With a user-friendly interface, say goodbye to long lines to make over-the-counter payments.
… payment terminal that offers the ultimate convenience in all sort of payments incorporating speed, safety, and security, 24 hours a day, 7 days a week.
EASY. SECURE. CONVENIENT.
It's always about simplifying payments and transactions. We focus on these core business segments: Top-up, Remittance, Bills Payment, Real-time Payment, e-Wallet and Payment Solutions.
PARTNERING FOR SUCCESS
To date, TouchPay™ already accepts payments from the following Partner Billers. This is just a slice of our client base and more are being signed up every day.

Further, as TouchPay™ is actively expanding its range of Partner Billers with local, international brands across multiple industries, more and more people will use the system, making the APM™ a valuable platform to promote and advertise products and programs – and our APM™ are equipped from day one to take advantage of this. Each of TouchPay™ APM™ are therefore equipped to promote products and dispense information as well as collect payments.
Franchise Process
Step by step procedures so you can grab your own franchise now:
Step 1. Submit letter of intent.
Step 2.
Preliminary Interview.
Site Evaluation for APM deployment.
Step 3. Franchise Grant.
Contact Us
Touchpay
Phone:
Metro Manila: (02) 232.8946 | (02) 232.8947
Outside Metro Manila: (63905) 327.7000 | (63908) 327.7000
E-mail: custcare@meps.ph
sponsored links
SIMILAR COMPANIES/PRODUCTS/SERVICES
Terms of Use/Privacy Policy Advertise Buy me coffee