We are engaged in the manufacturing of electrical equipment and trading of electrical materials.
Together with our dedicated and experienced engineers, we provide safe and dependable electrical control equipment and reliable services to maintain our satisfied clientele.
We employ state of the art Computer Numerical Control (CNC) machine in our manufacturing to build precise custom built electrical products.
This combination of skilled team and state-of-the-art technology enables us to produce high-quality switchgears & panelboards with the following innovative features:
Heavy-gauge galvanized structures & covers which guarantee longer panel service life
Busworks braced to withstand electrodynamic stresses during short circuits
High-conductivity, 99.9% ETP-grade copper busbars (for maximum electrical conductivity and efficiency)
Powdercoated & fully bolted frames / enclosures
Precision-cut parts
Lockable & claw-type side / rear covers (for maximum security); machine-formed covers (for maximum rigidity)
Hinged front door with 3-point locking system (for free-standing panels)
Our Products
Switchgear

s

Schneider Blokset Switchgear
Cooper System MV Switchgear
Eaton Xenergy Switchgear

Panelboards

Slim Panelboard
Thermo Plastic Lighting Panelboard
T-Line Panelboard
Easy Panelboard

Busduct System

Flanged End
Horizontal Elbow
Vertical Elbow
Straight Feeder
Power Joint
Straight Feeder with Plug-in Outlet

Cable Tray
Enclosed Circuit Breaker
Schneider Blokset Switchgear
A global design
Type tested and compliant with IEC61439-1 and IEC61439-2.
With a flexible and modular system, designed for maximum safety and reliability.
Exclusively designed for and type-tested with Schneider Electric components: guarantee of the highest performance and safest use of components from the world leader in protection and control.
Corrosive ambient protection.
Focusing on safety, reliability and adaptation to high-end needs.
Certified IEC61439-1 and IEC61439-2 compliance guaranteeing in-depth thermal rise effects and short-circuit withstand.
Internal arc withstand.
Earthquake / seismic withstand.
With all low voltage applications necessary in large industrial sites, large commercial buildings and infrastructure.
Both withdrawable and fixed designs available.
With Schneider Electric circuit breakers: busbar rating up to 6300A.
Completely centralised and modular motor control, using state-of-the-art Schneider Electric components: conventional and intelligent Motor control centres (MCC/iMCC), variable speed drives and soft-starters.
Power factor and harmonics compensation, with Schneider Electric capacitors: high performance, high safety and long lasting installation by design.

Cooper System MV Switchgear
Optimum protection for personnel and plant
Design verified by testing (type-tested) including arc fault containment
High operational reliability and availability
Maintenance-free busbar and frame construction
Simple retrofitting procedures
Unmatched safety for protection for personnel and plant
Simplicity and high functionality
Improved plant availability
Integrated communications
Flexibility in a standardized solution
Rapid fault detection and rectification
Tin-plated copper busbar 99.9% ETP Grade
100% Galvanized materials, offers better resistance to corrosion
All metal parts and busbars works manufactured using State-of-the-Art CNC Machines for accuracy and consistency
Painted finish using fully-conveyorized powder coating system

Eaton Xenergy Switchgear
The system's modular design allows for a wide range of intelligent combinations. That means you save time, money and space. And because you can also rely on Eaton's excellent reputation for safety, you can implement individual projects in functional buildings or office and industrial buildings simply, quickly and flexibly.
Fully tested systems: Components + Built-in systems + Enclosures + Tools/Service
Delivery as flat pack or as pre-assembled enclosure
Specially designed for the building infrastructure up to 5000 A

Powerbox Slim Panelboard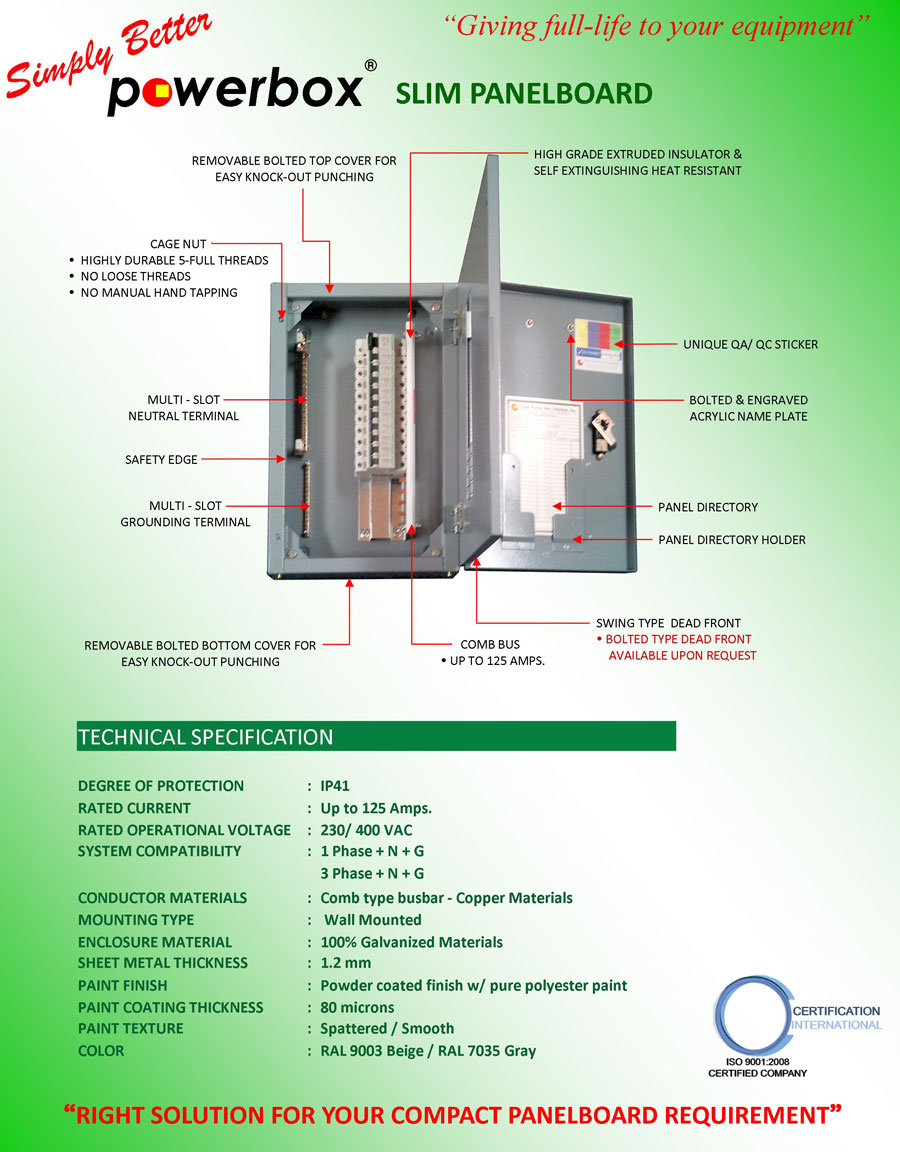 Powerbox Thermo Plastic Lighting Panelboard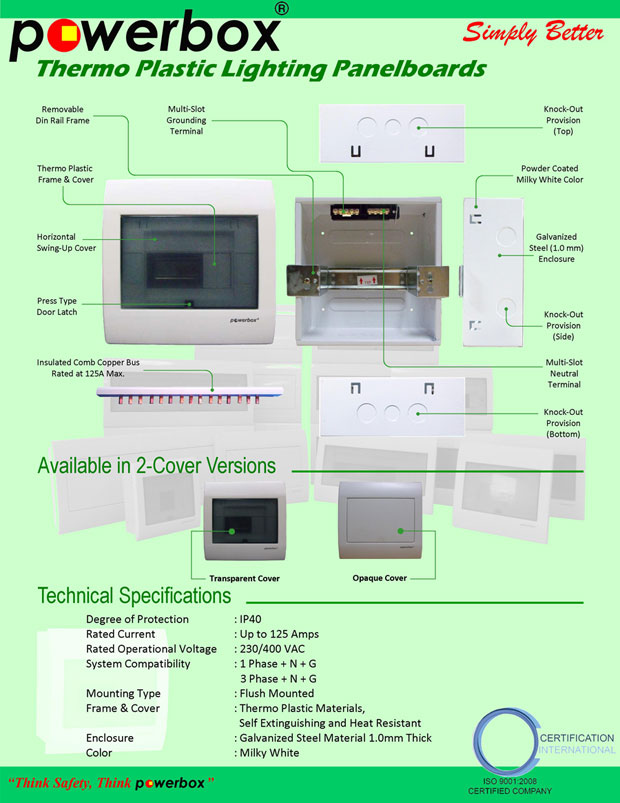 Powerbox T-Line Panelboard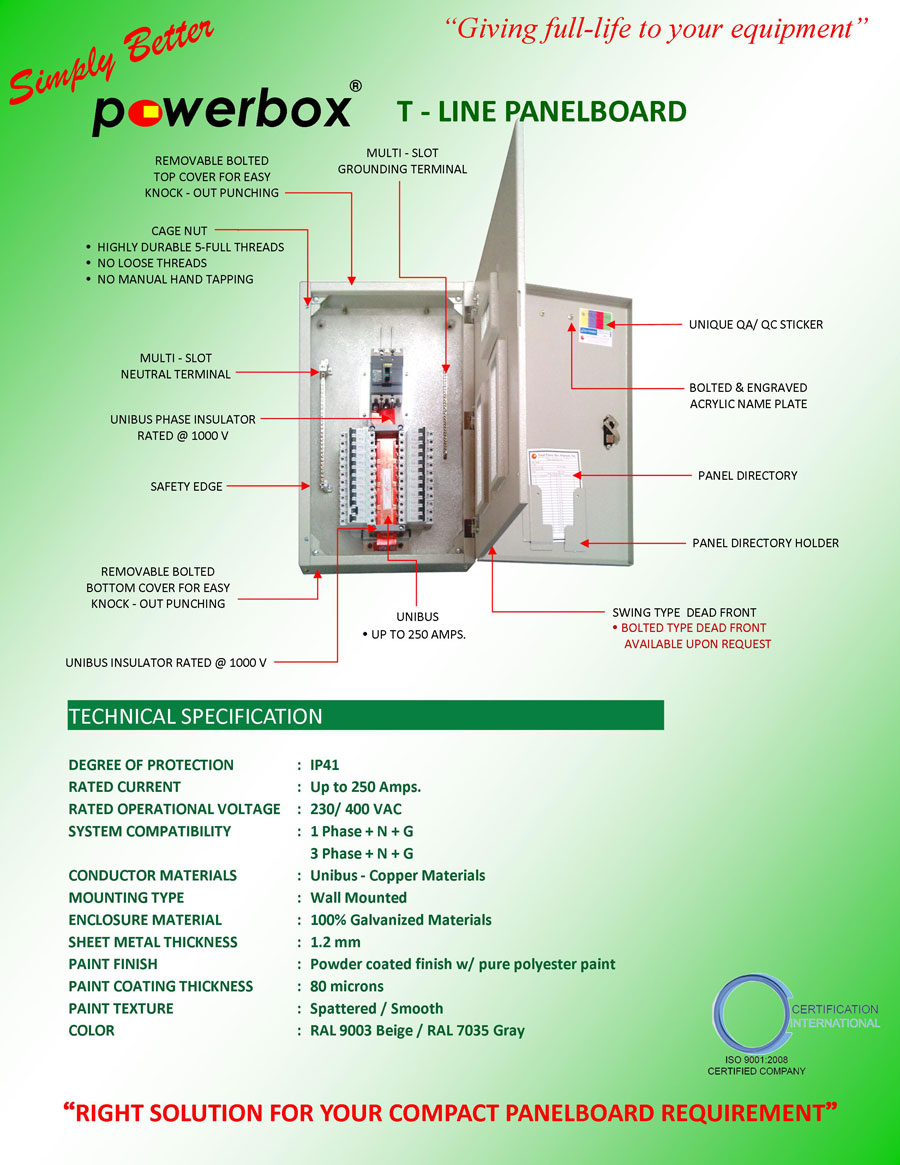 Powerbox Easy Panelboard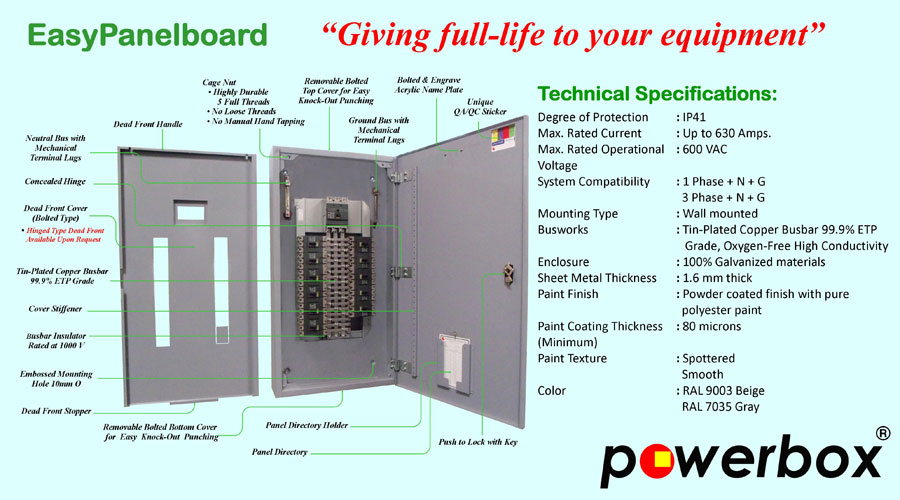 Powerbox Busduct System
Busduct System were UL Classified, Fully Type Tested design as per IEC61439-1 and IEC61439-6.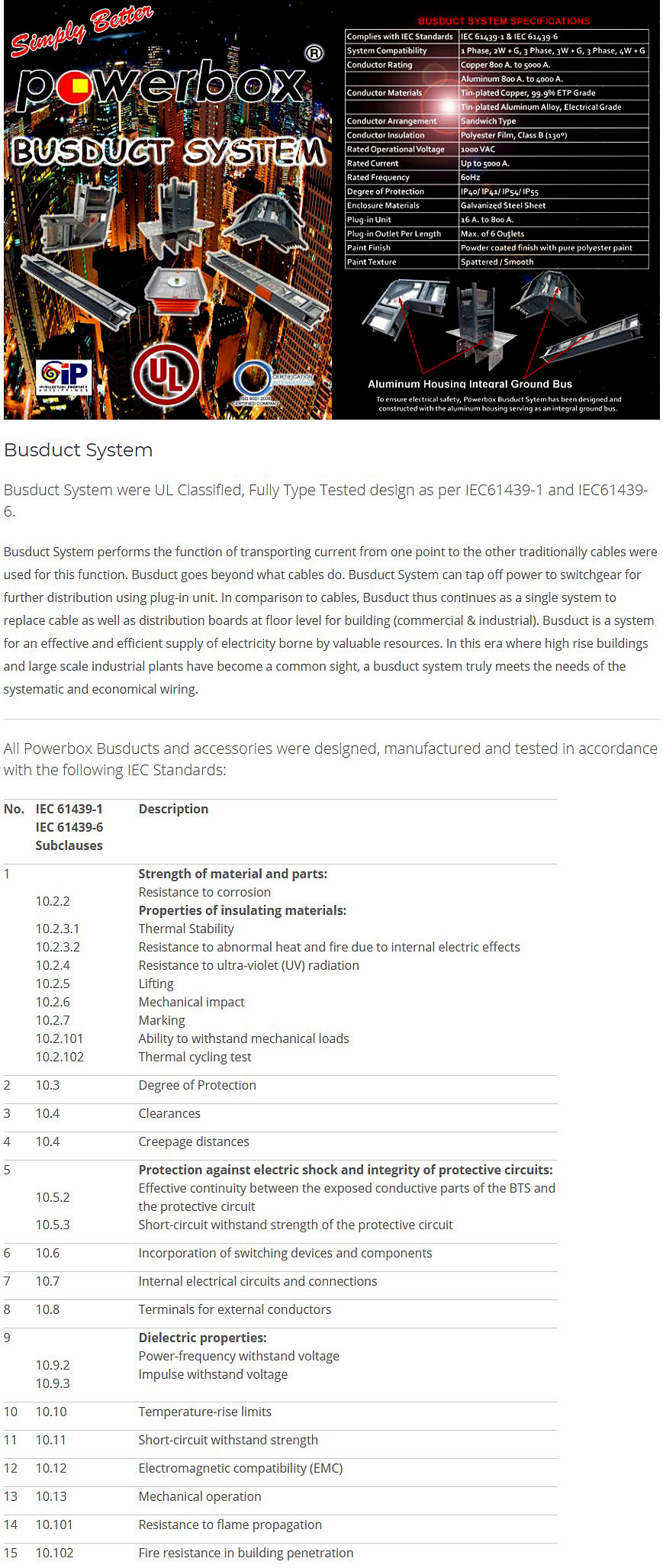 Powerbox Busduct System Flanged End
FLANGED END - the incoming unit of a Busduct. The power is fed at the flanged end to energize the Busduct System.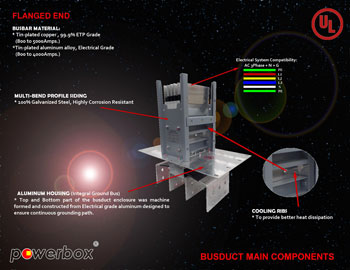 Powerbox Busduct System Horizontal Elbow
HORIZONTAL ELBOW- it is also an angle unit to change Busduct direction as per site requirement. It is composed of cooling ribs to provide better heat dissipation. It has aluminum which is integral bus to serve as earthing conductor.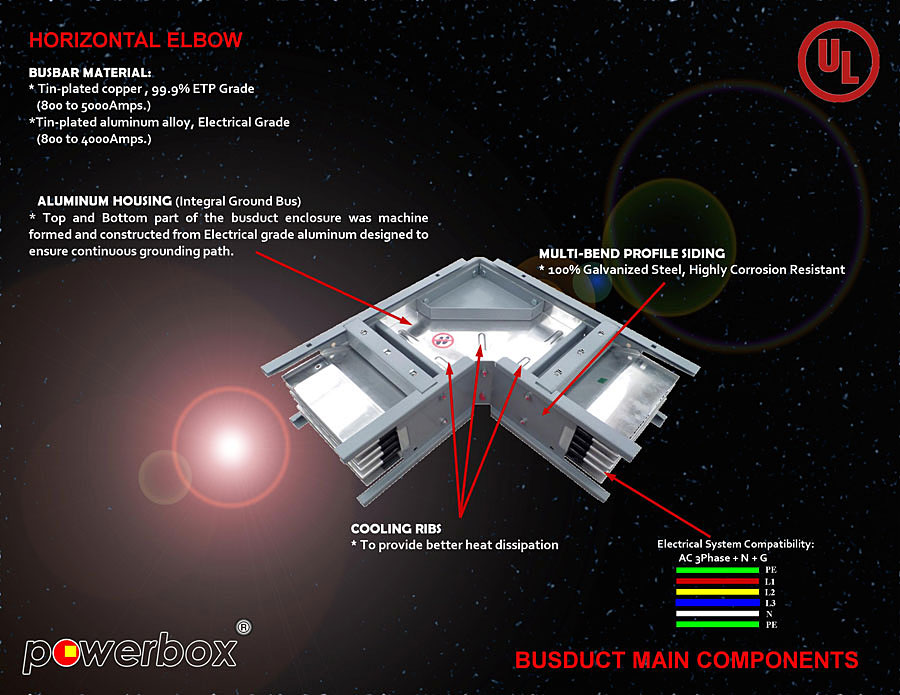 Powerbox Busduct System Vertical Elbow
VERTICAL ELBOW - enables the Busduct System to change directions during installation. Its aluminum housing consisting of two 3.00mm thick aluminum sheets, the top and bottom parts of the housing is designed to serve as earthing conductors to ensure continuous grounding all over the surface of the enclosure.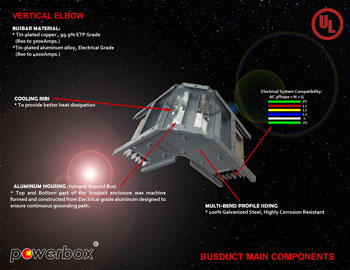 Powerbox Busduct System Straight Feeder
STRAIGHT FEEDER - runs along the length of connection and the body of the Busduct System. The design ensure that the integrity of the ground path is uniformly maintained throughout the entire Busduct System consistency pressure on the power connection is held by one or more Belleville (cupped washer) when properly tightened.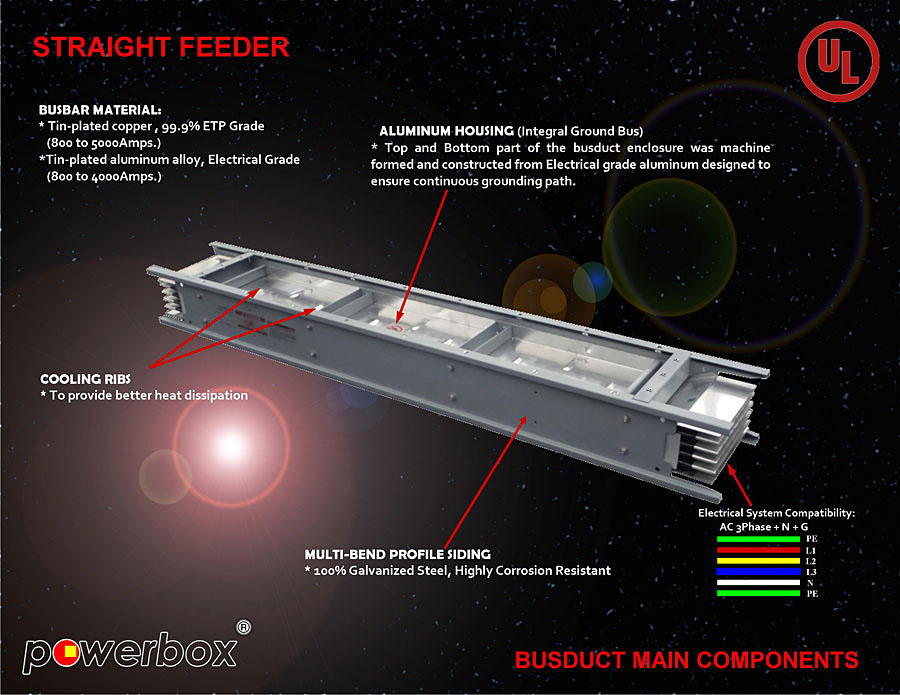 Powerbox Busduct System Power Joint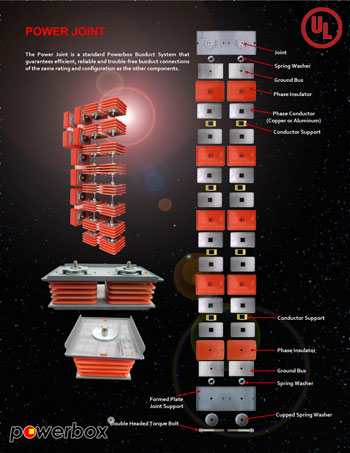 Powerbox Busduct System Straight Feeder with Plug-in Outlet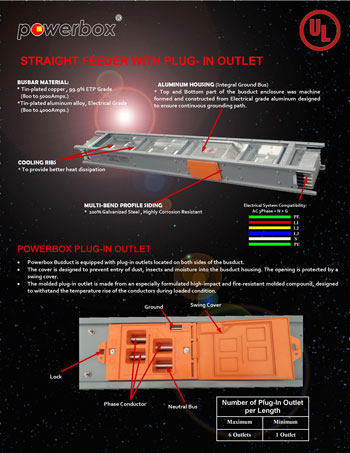 Powerbox Cable Tray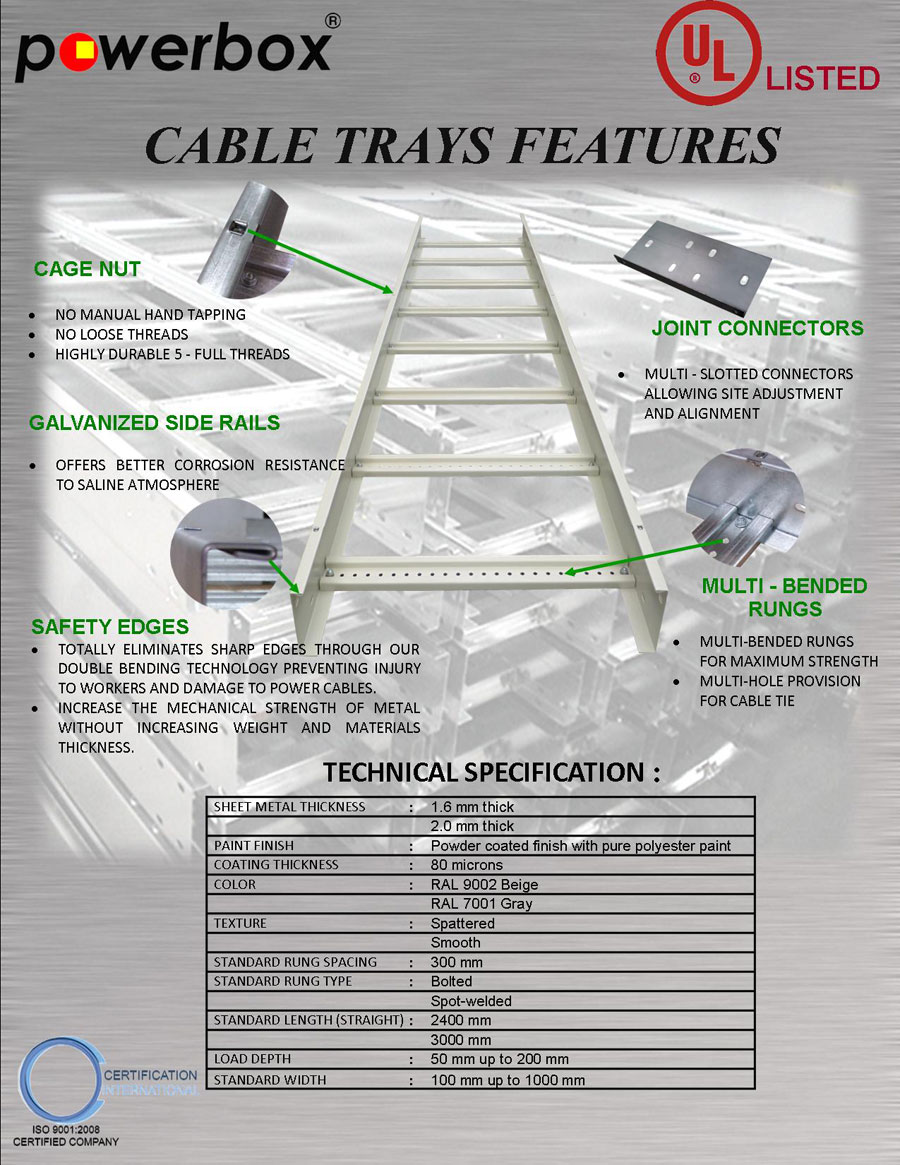 Powerbox Enclosed Circuit Breaker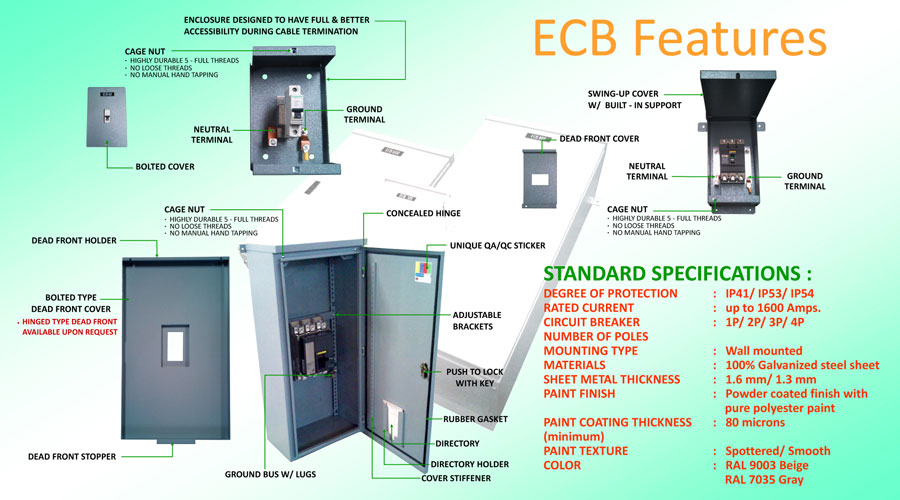 Contact Us
Tomelekt Power Systems, Inc.
Address: 1424 Labrada Avelino St. (formerely Labores Ext.), Pandacan, Manila
Phone: (632) 561-5102 / 564-9722 / 561-5106 / 564-9703 / 561-5188
E-mail: totalpowerbox@gmail.com
sponsored links
back to business directory home page
Tomelekt Power Systems, Inc.