Solar Philippines is Southeast Asia's largest solar company and only integrated Developer, Investor, Manufacturer, and EPC, with 700 employees; 300 MW in projects operating or under construction; the lowest cost solar Power Purchase Agreement in East Asia; a multi-GW pipeline, including the world's largest solar projects in off-grid, un-electrified areas; and an 800 MW solar panel factory, one of the largest and most advanced in the region.
Led by veterans from the solar, power, construction, and manufacturing industries, we bring a sense of urgency and long-term commitment to everything that we do. We are committed to growing the solar industry from 2% to a majority of the world's energy mix over the coming years, uniting with those who share our vision of making solar the least expensive source of energy and alleviating world poverty.
What we do
Our goal is to put solar panels on every single rooftop in the Philippines. We are your all-in one solar provider doing financing, custom engineering and installation. We are proud of the largest-scale rooftop deployments, with a growing pipeline of projects in the business community.
Why we do it
Solar Philippines is committed to sustainable development and renewable energy, going deeper than the services we provide. With the impending threat of price hikes and power shortages, we are here to help you reduce both your electricity costs and your carbon footprint.
Our suppliers
By sourcing materials directly from the most trusted manufacturers, we maximize the value of our investments and reduce long-term risk. Each the No. 1 supplier in volume in its field, our suppliers have inspired confidence in the world's biggest banks and solar developers. That said, we are brand agnostic, with no binding partnerships that would prevent us from recommending anything but the most ideal components for your specific project needs. Our holistic approach takes into account quality, price, and long-term warranties, allowing us to achieve the greatest possible return on investment.
Certifications
Solar Philippines Module Manufacturing Corporation (SPMMC) have establish/adequate implementation, maintenance and improvement of the management systems; meeting the requirements and certified in ISO 9001:2015, ISO 14001:2015 and BS OHSAS 18001:2007.
Giga Factory
Solar Philippines to Build One of World's Largest Solar Factories
Solar Philippines has announced that it will build one of the world's largest solar factories over the next three years. The facility will be located in Tanauan, Batangas, and be designed for an eventual capacity of 2 GW, with the first section operational by the end of 2016.
The company has received offers from several of the world's largest solar manufacturers to become partners in this venture. In the meantime, it has begun the procurement process for manufacturing equipment and will start setting up the facility in the third quarter of 2016.
The facility will use state-of-the-art German technology to produce high-efficiency solar panels at the lowest possible costs. Given the skills and productivity of Filipino workers, the country can become a solar powerhouse competitive on quality and cost. This will eventually create well over 6,000 direct and 20,000 indirect jobs, and operate on 100% solar power.
"Increasingly, solar manufacturing is moving from China to Southeast Asia, and we believe that the Philippines can lead that trend. Filipinos are among the best workers in the world, and the large local solar market can add to the demand for otherwise export-only factories," noted Solar Philippines President Leandro Leviste.
According to Leviste, the facility's objectives are to lower panel costs, take control of the supply chain, and support the new administration's agenda to bring manufacturing to the Philippines.
"This is the key step towards lowering solar costs, enabling us to produce electricity cheaper than coal. Instead of importing expensive fuel from other countries, we will manufacture here in the Philippines. Soon enough, our country can become the Saudi Arabia of solar, a leading energy exporter, and Made in the Philippines panels will be used around the world."
Initially, the panels will be used for the company's own projects, and later export to the US and Europe. The company forecasts a minimum demand of 500 MW by mid-2017.
Solar Philippines is the first and only company to combine project development, financing, and construction in-house in the Philippines. This venture marks a watershed moment on the company's path towards becoming Southeast Asia's first vertically integrated solar company.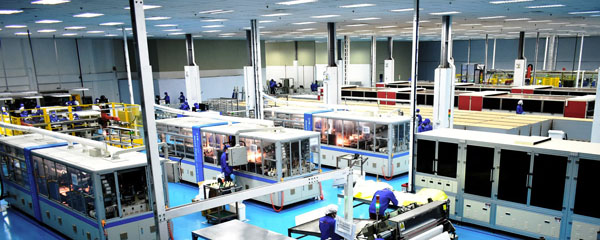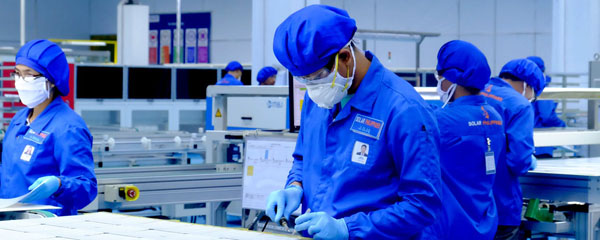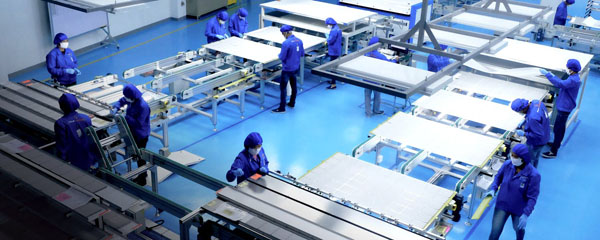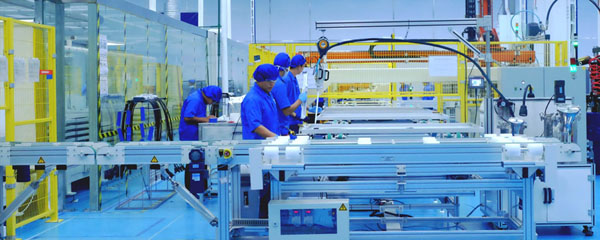 Zero Downpayment
Solar for Homes Now Available. As low as Php1,680/month!
Every Filipino can now own a solar system for zero downpayment and as low as Php 1,680/month. Our packages now start at 1.3 kWp for customers with bills from Php 1,250 to Php 2,400/month. Whatever you currently pay your electric utility, you can now save to own a solar system in 3, 5, 7, or 10 years, and enjoy free electricity for the rest of 25 years, by signing up now.
With the highest quality equipment, including high-efficiency panels made in the Solar Philippines Factory in Sto. Tomas, Batangas, your system is built to last over 25 years. While the standard solar panel product warranty is 10 years, we also offer the option to avail of the first locally available extended 25-year solar panel product warranty. Servicing of warranties for all system components and other customer support is free of charge.
Our Premium Package includes upgrading to a German inverter, extending the solar panel product warranty to 25 years, all costs associated with installation, and the cost and processing of Net Metering for an additional 15-20% over standard rates (depending on system size). We also offer a 25% lower monthly rate with a 20% downpayment, and 50% lower with 40% downpayment (i.e, Php 60K downpayment on 10-year 1.3 kWp package lowers Php 1,650 to Php 825/month, saving Php 99K; or you may purchase the solar system outright to realize the full value of your investment immediately while enjoying the service and warranties of Solar Philippines over 25 years. Final price may depend on factors including roof type, layout, Net Metering cost, and location. Our representatives will contact you to finalize your order and specifications.
This package will eventually be available in all 81 provinces of Luzon, Visayas, Mindanao. Listed prices are subject to change, especially in areas with fewer customers, and we will serve first areas with the most inquiries, so invite your neighbors to avail! Moreover, under our Solar Barangay and Solar Association programs, group orders above 1 MW can avail of special discounts, so we encourage communities, associations, and corporations.
Solar Philippines has limited capacity to reach all customers in person, but we are doing our best to serve all inquiries by email or phone, and are offering these rates for the rest of 2017 to customers that do not require a home visit by our sales personnel. For faster service, sales can be done through our Solar Partners for a minor additional fee.

Contact Us
Solar Philippines
Address: Suit 2A, L.P. Leviste Towers, 112 Legaspi Street, Makati City
Phone: +632 817 2585
E-mail: inquiries@solarphilippines.ph
HR: careers@solarphilippines.ph
Find us on Google Maps
sponsored links