Soil Philippines is registered under the Securities and Exchange Commission (SEC) as corporate service provider of geotechnical investigation that includes analysis, field and laboratory tests and other related works.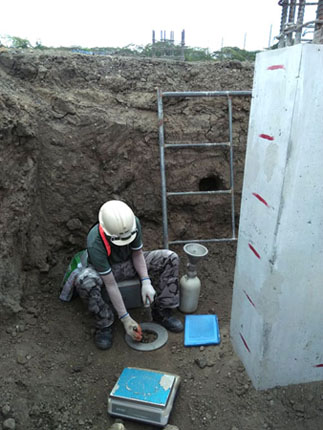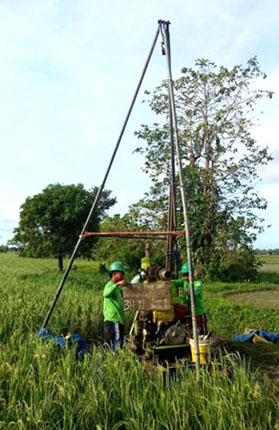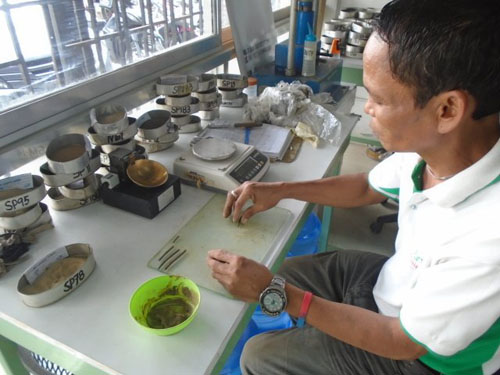 Soil Philippines has its own commercial testing laboratory which is strategically located at Las Piñas City. With accreditation from the DPWH - Bureau of Research and Standards (BRS), it is authorized to facilitate laboratory and field works for the government infrastructure projects as well as in private constructions.
Soil Philippines has invested on drilling machines and accessories to cater to the increasing number of satisfied clients with demand on geotechnical investigations. At its disposal are drilling machines available at any given time. All hydraulically operated with complete accessories and manpower to perform and deliver the services.
Soil Philippines put up its own engineering laboratory. It is equipped with properly maintained apparatus, as well as trained and skilled technicians to do the field and laboratory works.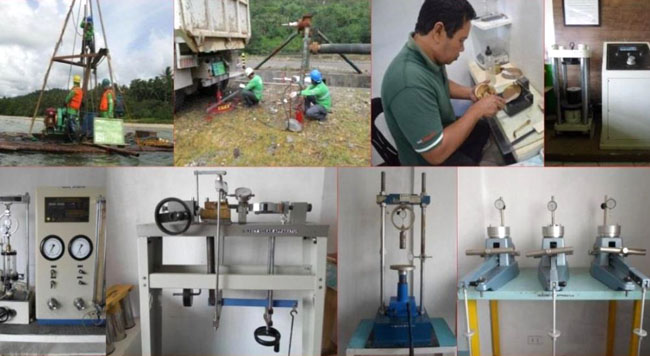 Soil Philippines, aside from doing soil tests, the laboratory is capable of performing other tests such as tests on concrete samples, concrete aggregates, sampling and assessment of existing buildings by concrete core extractions or the use of non-destructive test like rebound hammer.
Services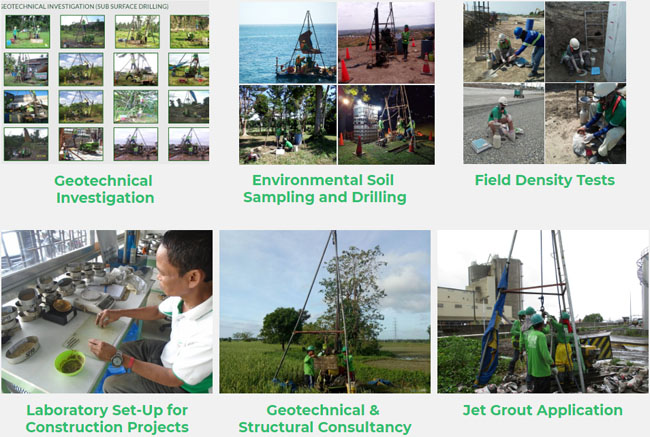 Completed Projects (partial list)
DESIGN & BUILD FOR REAHABLITATION, RETROFITTING AND PROCESS IMPROVEMENT OF LA MESA WATER TREATMENT PLANT 2
La Mesa Compount, Quezon City
D.M. CONSUNJI, INC.
ROCK BORING AT NSCR
Halrey and Angat Quarry, Bulacan
SUMITOMO MITSUI CONSTRUCTION CO. LTD.
RESIDENTIAL DEVELOPMENT (SABELLA)
General Trias City, Cavite
CITIHOMES BUILDER & DEVELOPMENT, INC.
NIGBU, DUMAGUETE GEOTHERMAL POWER PLANT
Dumaguete City, Negros Oriental
ANGEL LAZARO & ASSOCIATES INTERNATIONAL
PASAR ICSA GEOTECHNICAL INVESTIGATION
Isabel, Leyte
JCP GEO-EX SERVICES, INC.
PROPOSED 69KV SWITCHYARD
Brgy. Maragondon, Real, Quezon
AHD ELECTRICAL CONTRACTING ENGINEERING & TRADING
RESIDENTIAL DEVELOPMENT (SACAY PROPERTY)
San Jose, Pili, Camarines Sur (37.83Ha)
BRIA HOMES, INC.
RESIDENTIAL DEVELOPMENT
Mexico, Pampanga
AMH PHILIPPINES, INC.
RESIDENTIAL DEVELOPMENT
San Jose Del Monte, Bulacan
BRIA HOMES, INC.
SITE DEVELOPMENT
Sandiwa, Puerto Princesa, Palawan
IRISSANDIWA CORPORATION
DETAILED DESIGN STUDY OF THE METRO MANILA SUBWAY PROJECT
Depot, Station and Interval Tunnels [FTI St. to Quezon Avenue St.]
ORIENTAL CONSULTANTS GLOBAL CO., LTD.
PROPOSED 1X100MW COAL-FIRED POWER PLANT
Brgy.Pinamucan Ibaba,Batangas City
JG SUMMIT & OLEFINS CORPORATION
REDESIGN OF MWC PROJECT
North and South Pasig
AECOM PHILIPPINES, INC.
SOLAR FARM PROJECT (SUBSTATION)
Concepcion Tarlac
SOLAR PHILIPPINES COMMERCIAL ROOFTOP PROJECTS, INC.
ALL HOME CDO
Limketkai Center, Cagayan De Oro City
MASTERPIECE ASIA PROPERTIES, INC.
GEOTECHNICAL INVESTIGATION FOR MEGA MANILA SUBWAY
Various locations - Depot, North Avenue Station
ORIENTAL CONSULTANTS GLOBAL CO., INC.
3 STOREY SHOPPING MALL
Ponte Verde Brgy. Panacan Davao City
W.V COSCOLLUELA & ASSOCIATES
PROP. OFFSHORE DRILLING WORKS
JGSPC Batangas Plant Bo. Simlong Pinamucan Batangas City
HARBOUR STAR SHIPPING SERVICE, INC.
PROP. 16.7 ML CAPACITY STORAGE CAPACITY
Brgy. Salong Calaca Batangas
PHOENIX PETROLEUM PHILS. INC.
ORCHARD TOWERS CONDO 1
Manggahan Pasig City
STA. LUCIA LAND INC.
PROP. OFFSHORE DRILLING WORKS
Lanang, Davao City
HARBOUR STAR SHIPPING SERVICE, INC.
PROP. LIQUIGAZ STATION
Dasmariñas, Cavite
LIQUIGAZ PHILIPPINES CORPORATION
PREPARATORY SURVEY FOR MEGA MANILA SUBWAY
Various Locations
JICA STUDY TEAM
PROP. 68M LITERS CAP PETROLEUM TERMINAL
Coronan, Sta. Cruz Davao Del Sur
JETTI PETROLEUM INC
HYBRID LONG TERM PERFORMANCE BASED MAINTENANCE CONTRACT, PBM-3
Maharlika Highway,Sipocot-Baao Road Section Province of Camarines Sur
RENARDET S.A.JV & ASSOCIATES
SOIL INVESTIGATION FOR THE GROUND SETTLEMENT ALONG THE PIPERACK (OSBL)
Bo. Simlong, Pinamican, Batangas City,
JG SUMMIT OLEFINS CORP
PROPOSED 9-STOREY BLDG. WITH 1 BASEMENT
Daang Hari cor. MB Villar Ave
VISTA LAND & LIFESCAPES
PROPOSED STORAGE TANK
San Rafael, Calaca, Batangas
SOUTHBAY BULK TERMINAL INC.
MISCELLANEOUS SURVEY WORKS - ICX CONTAINER DEPOT
Canlubang, Calamba, Laguna
INTERNATIONAL CONTAINER TERMINAL SERVICES, INC.
PROPOSED 4-STOREY GO HOTEL
Balabag, Malay, Aklan
VANGUARD HOSPITALITY ASSETS PHILS INC
PROPOSED LIPCO 50 MWP SOLAR PANEL PLANT
Central Technopark, Hacienda Luisita, Tarlac City
CONERGY ASIA & & ME PTE., LTD.
CONDUCT OF PULL-OUT TEST, ASTM D3689 - PROPOSED BATAAN SOLAR PROJECT
Balsik, Hermosa, Bataan
SOLANA LAND DEVELOPMENT, INC.
PROPOSED TWIN LAKES PROJECT
Laurel, Batangas
AMH PHILIPPINES, INC.
RECLAMATION AREA
Simlong, Pinamican, Batangas City, Philippines
JG SUMMIT PETROCHEMICAL CORP
STUDY ON NORTH SOUTH COMMUTER RAILWAY, PHASE II
Solis to Tutuban, Manila
ORIENTAL CONSULTANTS GLOBAL CO LTD
PROPOSED LAGUNA LAKE DEVELOPMENT
Laguna Lake, Manila
JACOBS- Hongkong
PEER REVIEW OF GROUND IMPROVEMENT (LIQUEFACTION MITIGATION)
North Pasig Pump Station along Main Interceptor
AECOM PHILIPPINES, INC
PROPOSED IMPROVEMENT, OPERATIONS AND MAINTENANCE OF MARCOS HIGHWAY
Marcos Highway Alignment
J.F. CANCIO & ASSOCIATES
PREPARATORY SURVEY ON THE CLARK EXPRESS RAILWAY (COMMUTER SECTION)
PNR sites
JAPAN INTERNATIONAL COOPERATION AGENCY (JICA)
TANAWON POWER PLANT, TRANSMISSION TOWER & S-POST, BACMAN
Sorsogon, Albay
ENERGY DEVELOPMENT CORPORATION
Contact Us
Soil Philippines Index Testing, Inc.
Address: 441 Diego Cerra Ave. (former Real St. ), Perpetual Village 2, Pulang Lupa 1, Las Piñas City 1742, Metro Manila, Philippines
Phone: (632) 874 2654
E-mail: soil.philippines@yahoo.com | soil_philippines_inc@yahoo.com | queries@soilphilippines.com
Find us on Google Maps
sponsored links
SIMILAR COMPANIES/PRODUCTS/SERVICES
Terms of Use/Privacy Policy Advertise Buy me coffee
Soil Philippines Index Testing, Inc.