Sison Corillo Parone & Co. (SCP & CO.) is one of the top accounting firms in the Philippines. Since its inception in January 2001 as a general professional partnership providing various accounting, auditing, taxation, and other allied services, it has expanded its services to outsourcing, legal, recruitment, human resources, trainings and network membership, sales and marketing, software development, and IT services. As a result, SJC Group was born. SCP & Co. has 3 affiliated companies, Aktus Global, (an IT Firm) i4one, (a sales, marketing and training firm), Professionals of the Future and Moores Rowland Philippines (a consulting firm). We are One Brand, One Culture, One Team.
Some of our clients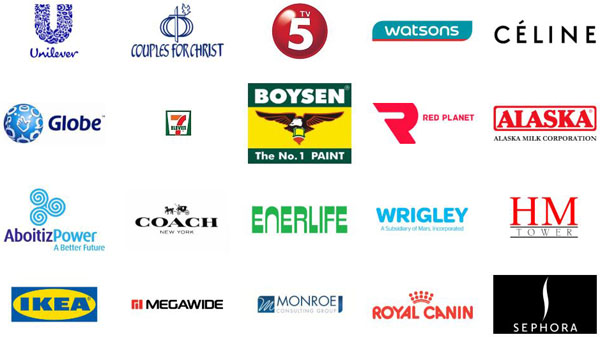 Services
Audit, Assurance & Risk Management
Provides quality audit and assurance services
Finance and Accounting
Ensure timely and reliable financial information for appropriate business making of the management.
Tax and Regulatory Compliance
We perform and evaluate client's tax related practices and procedures to ensure conformity wth current laws and regulations.
Advisory and Counsulting
Provides reports and recommendation that can vary from financial and accounting advice to a wider range of transactions and events.
Organizational Development
We will help you for the development and improvement of policies, power, leadership, control or job redesign of your Company.
Information System Audit and IT Services
We help companies for their Information System Implementation Readiness and Other IS Related Audit Services.
Recruitment & Staff Secondment
We will provide you personnel who will handle the tasks and functions agreed upon in the contract. As such, the client will provide the necessary resources (computers, accounting sysytem, etc).
Paralegal and Secretarial
We have a pool of legal advisors that can give recommendations to our client's legal cases. We also render corporate secretarial, legal retainership and corporate tax cases.
Property and Business Valuation
Decisions relating to the property or business are particularly exposed to financial/tax/legal are quite complex and to ensure customer's maximum benefits, professional property or business valuator as a strategic consultant.
Business Registration and Incorporation
We offer business registration and incorporation local and international because it allows companies to open/extend its services and make it easy for them to establish in new locations.
Mergers & Acquisition
Assistance and review some of the different kinds of financial transactions that occur when companies engage in mergers and acquisition activity.
Trainings and Certification
Our Company provides the avenue: guidance, tools, techniques, network, training, seminars and certifications for the professional to be extraordinary.
Business Valuation & Appraisal
Provide a more accurate assesment of total value.
US Taxation
Know about composition of State and Local Government Taxes in the U.S.A.
Systems & Tools
Unlibooks
Unlibooks is a simple and easy-to-use cloud-based accounting system for SMEs, Professionals, and Sole Proprietors. It is designed for use by non-accountants. It has integration options to tax preparation and tax filing systems for easy tax compliance.
Dashpayroll
DashPayroll is a PC-based payroll system designed for SMEs, Professionals and Sole Proprietors who wants confidentiality and control over their payroll computations. It has versions also for bigger companies like BPOs, Call Centers, Manpower and Security Agencies.
eTax
eTax allows you to accomplish all your tax returns comfortably at your most convenient place and time.
Professionals PH
Enjoy the hassle free filing of your Quarterly Income tax return anywhere, anytime! This app is specifically designed for those individual professionals and sole proprietors (not employed) availing the 8% income tax rate, it provides the easiest and fastest way to file your 1701Q. You can enjoy this app for free, without compromising the value of the products and its performance.
Contact Us
Sison Corillo Parone & Co.
Address: 2005B 20th Floor West Tower, Philippine Stock Exchange Centre Exchange Road, Ortigas Center, Pasig City, Metro Manila 1605, Philippines
Phone: 687-6649 loc 112
Mobile: 0908-227-5194
E-mail: scp@scp-ph.asia
Find us on Google Maps
sponsored links
SIMILAR COMPANIES/PRODUCTS/SERVICES
Terms of Use/Privacy Policy Advertise Buy me coffee
Sison Corillo Parone & Co.