Since 1967, SAFEGUARD INVESTIGATION AND SECURITY AGENCY, INC. (SISAI) has been earning the trust of its clients and the respect of the industry by providing unequalled security and allied services. From homes, high-rises, banks, malls, restaurants, schools, industrial and manufacturing plants, clients have entrusted their lives and livelihood to the SAFEGUARD name for almost five decades.
From its humble beginnings, SAFEGUARD has become a leader in the refined art of private security service. Generations of the PADILLA family have given their best to weave the company into a progressive, customer-driven enterprise. It has been adjudged the "MOST OUTSTANDING SECURITY AGENCY OF THE YEAR" many times by the prestigious Consumers Union of the Philippines, and has further been recognized by the National Product Quality Excellence Awards, Philippine Marketing Excellence Awards, Philippine Quality Awards for Business Excellence, National Quality Awards for Consumer Excellence, Philippine Awards for Customer Service Excellence, Golden Globe Annual Awards for Business Excellence and International Annual Awards for Marketing Excellence. These are a confirmation of the company's relentless pursuit to provide the best quality of service to its clientele.
As SAFEGUARD looks forward to the future, the Company made a commitment to continuously improve. It has transformed itself from a provider of traditional security services to a top-quality provider of "peace of mind" solutions. In line with this new vision, SAFEGUARD has invested in the latest firearms, the next generation communication equipment, hired top-of-the-line experts in different fields of security and enhanced the training of its guardforce to consistently surpass their degree of excellence.

Services
SECURITY SERVICE
Security guard services represent the bulk of business of the SAFEGUARD GROUP. Many businesses that began with SISAI, as their original security guard provider, still continue to insist on the high-quality of service experienced from years past.
But to prevent complacency, the Company initiated a program of continuous self-improvement in 2002 to keep up with the ever increasing demand from security threats. Gone are the days when security providers would succeed by just offering traditional security guards.
SISAI was early to notice the new trends, and was the first to embrace ways to improve its basic product, which in this case, was the actual guard. The challenge was to redefine the security guard's role as dictated by what was needed to meet the future demands of clients. Thus, the mission of the Company was first restated to provide not just security but "peace of mind" solutions, and then the attitude of its employees had to be changed to be more pro-active.
The company pioneered making mandatory first-aid as part of the training and licensing curriculum for every security guard applicant. We further hired local speakers to enhance customer service, and introduced a more comprehensive module for firearms handling and self-defence. On-site seminars were also initiated for such diverse topics as bomb threat, emergency response, coordination with local authorities, riot control, etc. Furthermore, retraining every two years for each guard at the Company's own Training Center was also made compulsory to better hone the their skills.
TRAINING CENTER
Safeguard Armor Training Center Inc. (SASTRAC) opened its doors in 1981 with the purpose of honing the company's security force to the highest standards of the industry.
It provides adequate education to prospective guards for them to be well-equipped in facing the challenges of their chosen profession through the Pre-Licensing Course. It also offers a Re-Training Course for experienced guards. All security personnel are required to undergo the course every two years to cope with the latest security techniques and procedures.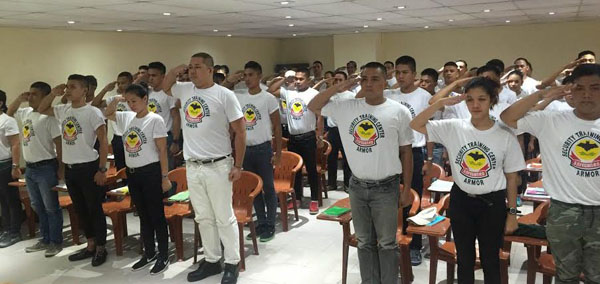 To further upgrade the licensed guards' know-how, SASTRAC also offers the Supervisory Course to improve the competence and skill level of each enrolee, and to develop the proper mental attitude. It indoctrinates first-line and prospective supervisors as the middle management component of the Safeguard Security Group. The course further aims to make security supervisors appreciate the value of their position, understand their management function and process the technical aspects of an officers' job. Supervisory development courses are also offered to all field officers and those earmarked for promotion.
The training courses of SASTRAC can also be availed of by non-Safeguard personnel. Every year a significant number of aspiring graduates enter and leave the portals of the training center well-rounded in the refined art of security service.
The SASTRAC is duly certified by the Philippine National Police – Supervisory Office for Security and Investigation Agencies (PNP-SOSIA), recognized by the Department of Education, Culture & Sports (DECS) and the Technical Education and Skills Development Authority (TESDA) and is rightfully registered with the Securities and Exchange Commission (SEC).
CONSULTANCY
The inventory of skills and experiences of Safeguard is also available on a consultancy basis. Risk/threat analysis, physical security surveys, surveillance, building planning or private investigation are just a few of the services that the Company can discreetly offer to private and corporate entities.The Company would be happy to tailor fit these packages to meet any requirements.
CCTV
Safeguard distributes in partnership with other local companies security-related devices such as CCTV cameras, radios, alarms, metal detectors and other equipment. It can also import specialize security equipment, like the latest generation stun guns, for customers should the need warrant.
POLYGRAPH SERVICES
In line with being more pro-active, Safeguard imported its own portable polygraph machine from the USA to service the investigative needs of its various clients. A group of seasoned investigators were then taught soon after by a US-trained instructor to learn how to properly operate the machine and professionally interpret the results.
The Company in 2004 became the FIRST private security agency to have an operating and portable polygraph machine, which could be transported on-site at a given notice. The service is also commercially available to non-clients for a minimal fee.
REPAIRS & MAINTENANCE
Repairs and maintenance of firearms are accepted at its in-house Repair Facility.Quality workmanship now serves even the requirements of other agencies. The Facility is open to accepting licensed private guns, and is equipped with specialize machines operated by highly skilled firearms technicians even for the most discerning gun-enthusiasts.
JANITORIAL SERVICES
The Company also offers janitorial and related services through its wholly-owned subsidiary, Superclean Services Corporation.
For Inquiries
Mobile: (+63) 917 583 7575
Telefax: (+63) 2 532 3703
Email: marketingsuperclean@gmail.com
Website: www.superclean.com.ph
Contact Us
Safeguard Investigation and Security Agency, Inc.
Address: Room 202 One Greenhills Shopping Plaza, 5 Eisenhower Street, Greenhills, San Juan, Metro Manila, Philippines 1504
Phone: +63 2 942 7129 | +63 2 942 7114 | +63 2 531 6990
Fax: +63 2 531 5126
E-mail: safeguard_group@hotmail.com | sisco@info.com.ph
Find us on Google Maps
sponsored links
back to business directory home page
Safeguard Investigation and Security Agency, Inc.