RTERRA, INC. is a construction materials distribution company and specialized installer providing a wide variety of innovative solutions to address the needs for landscape, civil, geotechnical, mining and environmental projects. Our solutions offer cost-effective and environmentally sound alternative compared to conventional solutions available in the market.
Products
We provide wide variety of high performance products to address the needs for landscape, civil, geotechnical and mining projects:
Gabions & Mattresses
Galvanized Steel Wire Ropenet (GSWR)
Reinforced Rock Net
Rockfall Barrier
Geotextiles
Geogrids
TerraNet
TerraLog
TerraMat
Glass Fiber Grids
HDPE Geomembrane
Geosynthetic Clay Liner (GCL)
TerraDrain Geocomposite
Geocell (Cellular Confinement System)
3D Geomat
Services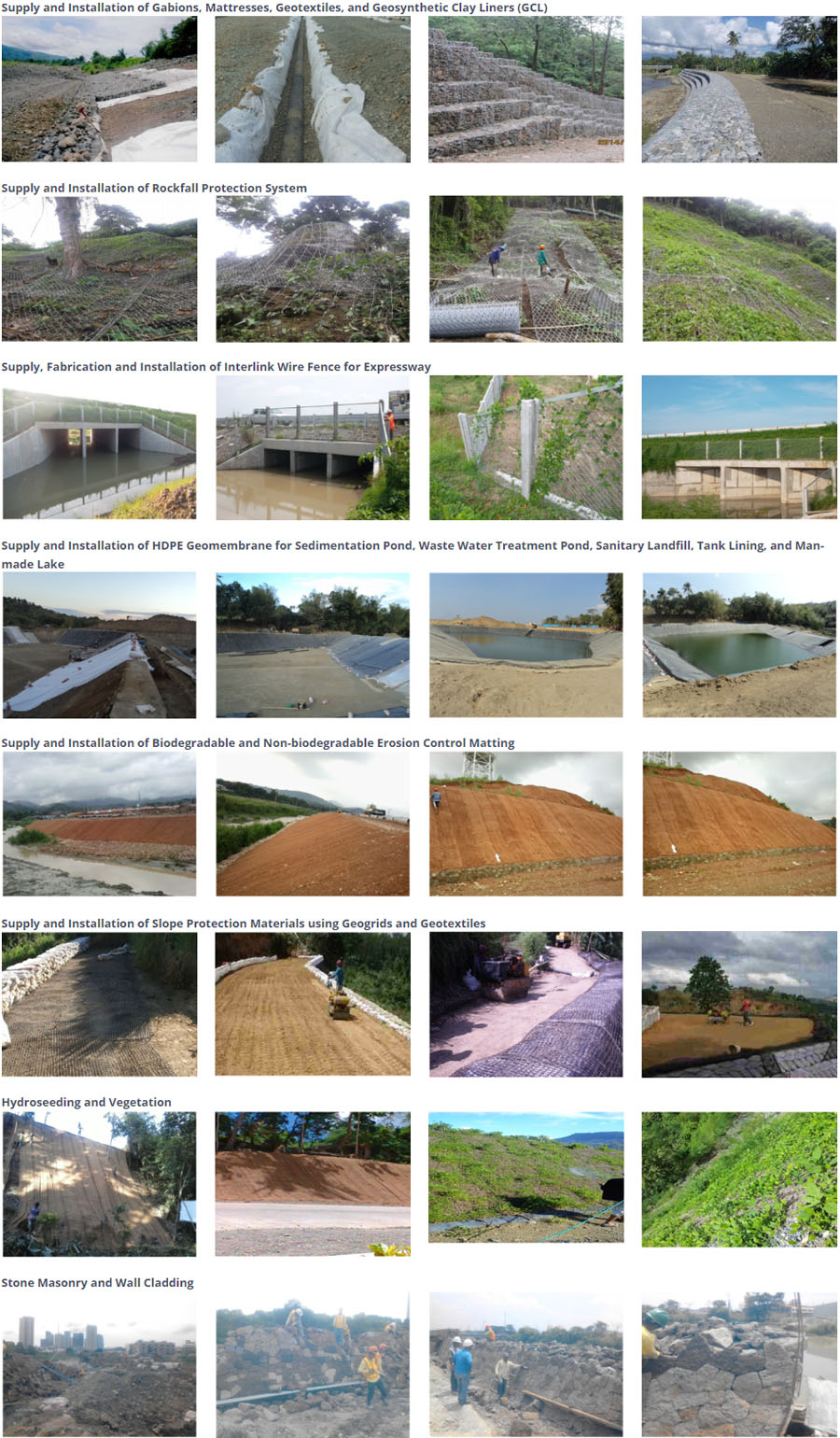 Featured Projects
D.M. Consunji, Inc. Tarlac – Pangasinan - La Union Expressway
D.M. Consunji, Inc. TPLEX is an 88.85 km Expressway project from Tarlac to La Union. This project, under a PPP (Private-Public Partnership) Service, aims to reduce the travel time from Tarlac to Rosario from 3.5 hours to 1 hour.
RTERRA, INC. was tasked to supply, fabricate and install the Interlink Wire Fence from Stations 49 + 144 to 24 + 775 North and South Bound for Package I.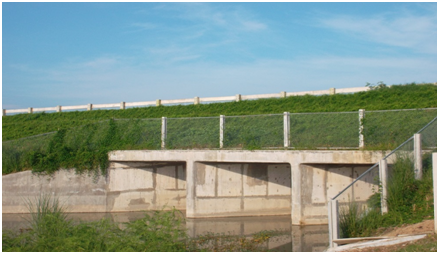 Hedcor Tudaya, Inc. Sibulan Powerhouse – Galvanized Steel Wire Rope for Rockfall Protection
Hedcor is a wholly-owned subsidiary of AboitizPower. It specializes in generating renewable energy from run-of-river hydropower systems. Currently, it manages and operates 21 hydropower plants and supplies the country with 170 MW of clean and renewable energy.
Pearl and Jade Construction and Development Corporation (PJCDC) was commissioned as contractor to mitigate the client's problem on falling rocks and debris. PJCDC appointed RTERRA, INC. as their partner to handle the supply and logistics of the materials for Rockfall Protection. Together with our Principal from India, Garware Wire Rope, LTD., we helped with the proper Construction and Installation Methodology to ensure best practices with optimal result.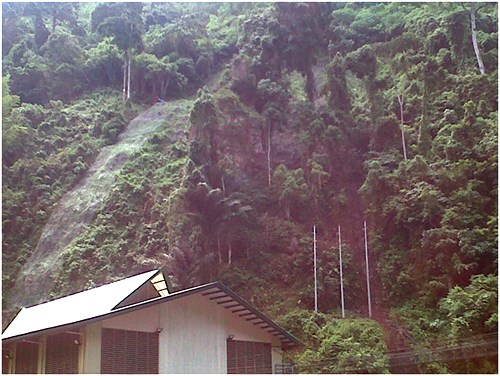 South Luzon Thermal Energy Corp Calaca Power Plant (Sedimentation Pond Lining)
The Calaca Coal Power Plant is located in Calaca, Batangas and has a rated capacity of 600 MW composed of two units of 300 MW each. The General Contractor, Granby Trading and Construction awarded to RTERRA, INC. the Supply and Installation of HDPE Geomembrane for the Sedimentation Pond Lining. This sediment pond catches water runoff from Ash Lagoon and the Power Plant and holds it while the soil and debris in the water settles out to become sediment.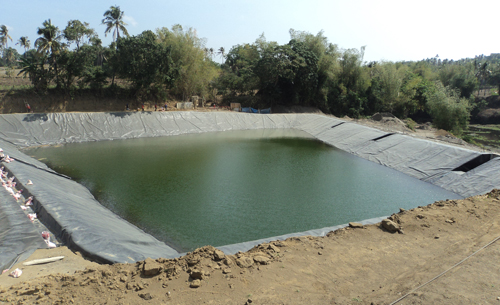 Circulo Verde
Circulo Verde is a master planned community in Quezon City established by Ortigas & Company. It is a 12-hectare premier residential development that conveys a suburban lifestyle that is close to nature and modern amenities. Safety of the people is one of the primary objectives in Circulo Verde Community. Therefore, they created a very comprehensive technical design in establishing this community, from an extensive flood protection system (i.e. one-kilometer retaining wall, automated floodgates, a back-up pump system on ground-level car parks, and a flood canal to collect storm runoff) to amenities & buildings.
RTERRA, INC. provided the Contractor, New Arcond Builders, Inc. the manpower for the stone masonry and wall cladding finish of the retaining wall.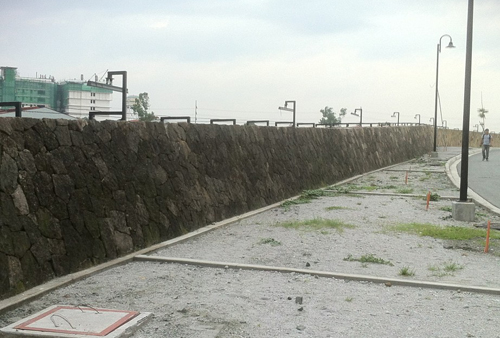 QINGJIAN GROUP CO., LTD. – Philippine Secondary National Road Development Project CP2
The contractor commissioned RTERRA, INC. to supply and install various materials for landslide mitigation. This includes hydroseeding, rockfall protection, geogrid, geotextile, turf reinforcement and erosion control nets.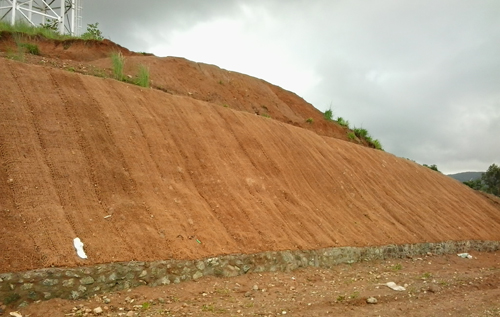 Department of Public Works and Highways (DPWH) & National Irrigation Administration (NIA) Projects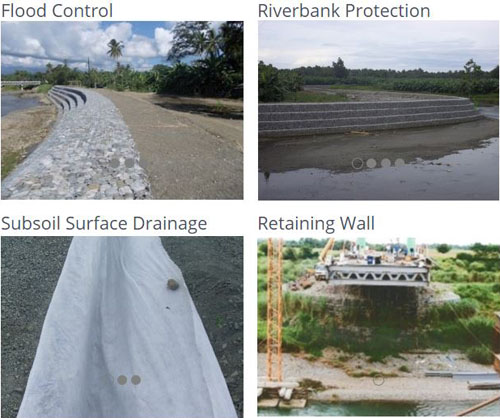 Contact Us
RTerra, Inc.
Address: Unit 403, JRM Building, 9 Scout Borromeo Street, Barangay South Triangle, Quezon City, 1103 Metro Manila
Phone: (02) 578-2093
Fax: (02) 373-1791
E-mail: sales@rterra.com.ph
Find us on Google Maps
sponsored links
back to business directory home page
RTerra, Inc.