Air Hose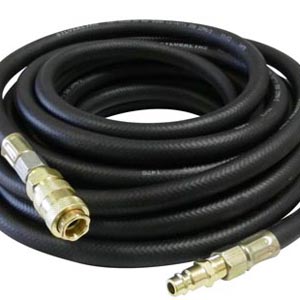 Air Hoses are usually cotton braided hoses that are typically used for compressed air conveyance. This is usually the seen in gasoline stations to pump air into cars. Air Hoses usually on have a working pressure of 300PSI. It's also applicable as a discharge hose and for other low pressure uses.
Air Hoses are also available in coiled form known as Trailer Hose used in the container vans, trucks and bus' compressed air brake system. We also supply a complete line of quick disconnect and compression fittings for air hoses as well.
Brass Fittings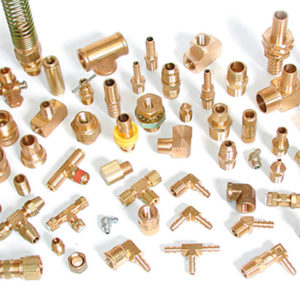 Brass fittings are the best used for air and water applications since they have a resistance to corrosion. We carry an variety of brass fittings including compression fittings, flare nuts, adaptors, tee adaptors, inverted nuts, ylets, rings, airless fittings, crowns, and more. We also accept special made to order or hard to find brass fittings.
Fuel Hose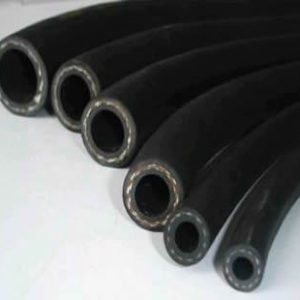 Fuel hoses are mainly designed to transfer all kinds of fuel or gasoline from one place to another. This is usually seen in fuel lines inside vehicles, gasoline pumps or other low pressure applications. Fuel hoses are made to resist the chemical effects that can usually damage regular hydraulic hoses.
Hydraulic Crimping Machine – S8 Ecoline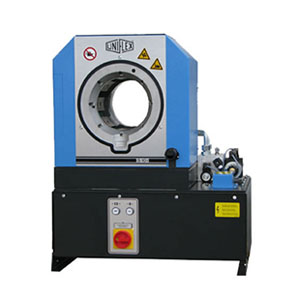 Uniflex-S8 Ecoline is our top of the line hydraulic crimping machine. Very high crimping force that can crimp hoses up to 2 inches in diameter. Durable and no maintenance required. Please see specifications below.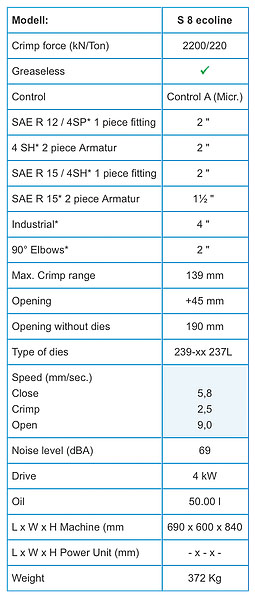 Steel and Seamless Tubes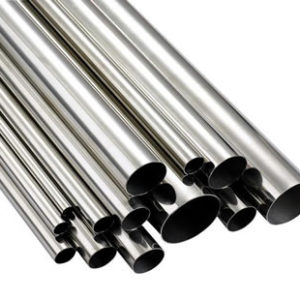 Steel Tubes and Hydraulic Seamless Tubes are of similar use to Bundy Tubes, but are more rigid and less malleable compared to Bundy Tubes. Though they are less malleable, Steel Tubes can withstand higher pressures than Bundy Tubes.
Black Nylon/Plastic Tubing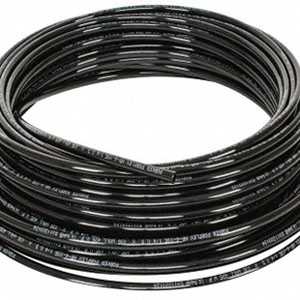 Nylon is best use for general pneumatic applications. Because of its more rigid nature, it has a higher pressure rating compared to other plastic tubings available. In addition to it's strength, Nylon is heat and light stabilized. Nylon's combination of high pressure rating, high flow rate, flexiblity, and toughness make it the ideal choice for most compressed air systems.
Bundy Tubes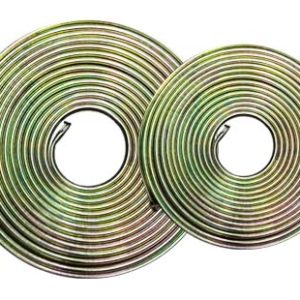 Bundy tubes, also known as bundy pipes, are specialist double walled tube with outstanding performance in high pressure vibration fatigue resistance applications. Our bundy tubes meets automotive brake tube specifications worldwide, and is also suited to high-pressure fuel injection lines, hydraulic lines and compressor lines.. Our bundy tubes are most commonly used in hydraulic brake conversions. We carry a complete range of sizes for bundy tubes.
Hydraulic Crimping Machine – HM 208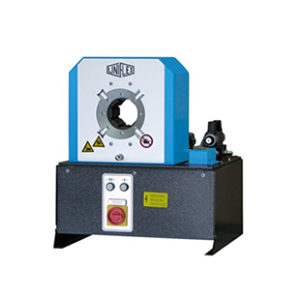 Uniflex-HM208 is our mid range hydraulic crimper, suitable for hydraulic hose workshops. Can crimp hoses up to 1.5 inches in diameter. Durable and no maintenance required. Please see specifications below.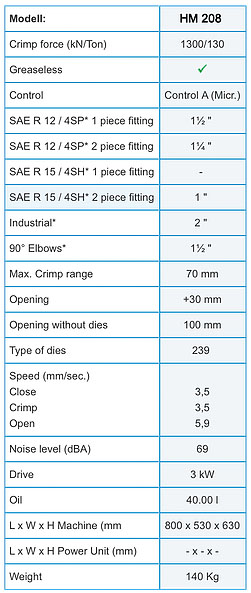 Plastic Pneumatic Fittings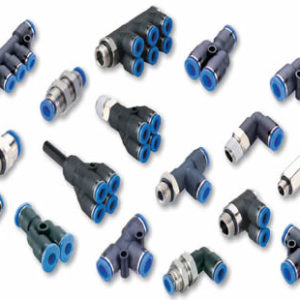 Plastic Pneumatic Push-In fittings offers easy assembly for pneumatic systems. We carry a wide range of fittings to cater to all sizes of tubings. It is made from Acetal copolymer, with a stainless steel collect design that ensures high quality clamping with various types of tube such as nylon tubes, polyethylene tubes and polyurethane tubes.With its quick connect and disconnect features, the fittings are easily reusable.
Steel Fittings and Ferrules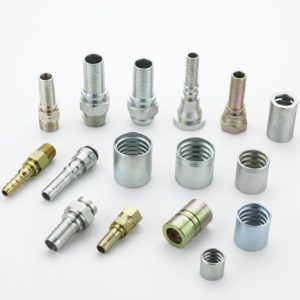 Rallyson Enterprises carries a complete range of hydraulic fittings for all your needs. All our fittings are also at par with Metric and American Standards; Millimetre, NPT (National Pipe Thread), BSP (British Standard Pipe Thread), and JIC (Joint Industry Council) sizes. Complete selection of male/female fittings, flanges, adaptors, ferrules, banjo bolts, and life savers, quick release coupling, hose mender and more.
Braided Hoses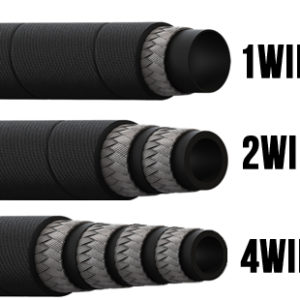 Hydraulic Hoses or Wire Braided Hose are mainly used in hydraulic systems, but due to its resilience and flexibility it is also used in large diesel power engines such as buses and trucks. Hydraulic hoses are also ideal for high pressure system.
Cable Wires, Housing & Accessories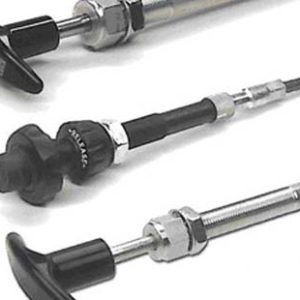 Rallyson Enterprises supplies a complete range of fabrication of your very own automotive cable assembly. Available also are cable fittings, inner cable, outer cable rubber boots and other push-pull cable accessories for all your cable assemblying and fabrication needs. For other hard to find or special fittings we also accept made to order requests.
Hydraulic Crimping Machine – S2M
Uniflex-S2M model is our most affordable and compact hydraulic crimper available.Its portable and light weight design makes it ideal for on site hydraulic hose fabrication. This model also does not require any electrical power source to crimp. Please see photo below for the specification.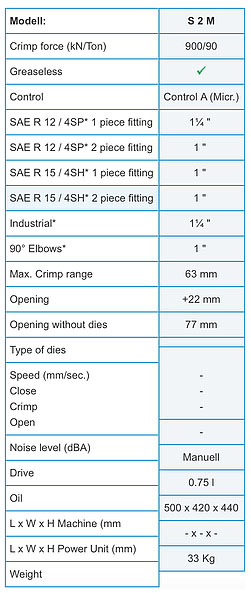 Pneumatic Hose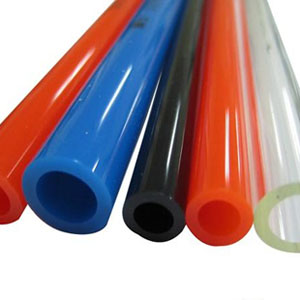 Pneumatic Hoses are flexible, chemical resistant hoses that are used for fuel lines, oil lines, lubrication lines, greasing sheaths, pneumatic controls, and petrol tank breather pipes. They are best suited to be used in lubrication lines that need to be bent in confined spaces without restricting the flow of liquid.
Teflon Hose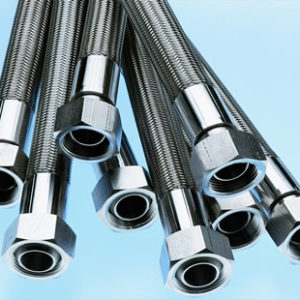 Teflon hoses (P.T.F.E) is an extremely durable type of hose that withstand demanding situations. Because of its resistance to high temperature, abrasion and chemicals, its the premier hoses for trucks, chemicals, hot melt, paper and pulp, hot presses, steam, packaging, paint, machinery and more.
It can be used for applications with temperatures reaching (+450 degrees Fahrenheit) and can work equally as well on extremely low temperatures (-65 degrees Fahrenheit). Can also withstand most commercial chemicals, acids, alcohols, coolants, elastomers, petroleum compounds, solvents, vinyls, synthetic lubricants, and hydraulic fluids. Its also highly resistant to vibration, flexing and impulses.
Thermoplastic Hoses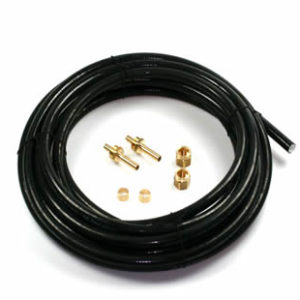 For special high pressure applications where low weight and size are a important thermoplastic hoses are highly recommended for the job. Abrasion resistant, compact OD, Small ID, lightweight, and non-conductive. Thermoplastic hose has both the advantage of a bent metal pipe and a flexible hose.
1. About Us / Products / Services
RALLYSON ENTERPRISES is a direct importer of trusted quality hydraulic hoses (EATON Duffield, EATON Winner, and RYCO) in the Philippines. We service / fabricate hydraulic hose assembly and special made to order fittings. We also offer power and fluid conveyance related products such as bundy / steel tubes, industrial hoses, pneumatic fittings, and accessories.
We serve a wide range of industries including mining, agricultural, manufacturing, construction, shipping, and drilling. We also serve non-hydraulic related systems such as trucks, buses, cars, and other large diesel-powered vehicles. We have a dedicated and competent staff in order to serve you every step of the way. We make sure that the best quality goes into our products.
Rallyson Enterprises has been in business since 1986. More than 30 years of providing quality hydraulic related products and services.
Our Products
Our Services
Fuel Injection Pipe and Tube Assembly
Rallyson Enterprises offers a complete assembly service, for fuel injection and hydraulic pipe/tube assemblies this includes bending, welding, swedging, flaring and providing the end fittings. We have in stocks a wide variety of tubes (i.e. bundy tubes, steel tubes, seamless tubes, and diesel tubes) and a complete range of sizes from 3/16 to 7/8 depending on the requirement.
Hose and Power Steering Assembly
RALLYSON ENTERPRISES  also currently produces and services all types of hose and power steering assemblies. We are committed in finding solutions to our customer's needs. We have years of experience making high quality assemblies in all kinds of configurations. Please contact us to inquire about our assemblies.
Fabrication of Special Fittings and Parts
For really hard to find and non standard fittings, the most practical way to get them is through fabrication. We specialize in made to order fittings and metal works in all sizes and orientation. We have a highly skilled technical team to understand and replicate your special fitting order based on your sample or schematic. We have a fully equipped machine shop with state of the art CNC machines to produce and manufacture your special fittings efficiently and accurately. For quotations and inquiries, kindly contact us. For quick service, please visit our office.

Automotive Cable Assembly
Rallyson Enterprises services, repairs and fabricates all types of control cable assemblies including throttle, clutch, latches, hitches, chokes, shifter, valves, dump and PTO (Power Take Off) cables. Our expertise can help you save on time and cost, especially for hard to find or discontinued cable models that are not readily available in the market.

Contact Us
Rallyson Enterprises
Address: 100 C-3 road Corner B. Serrano Grace Park, Barangay 116, Caloocan
Phone: (+632) 364-2267 / (+632) 363-5442
E-mail: rallysonenterprise@yahoo.com
Find us on Google Maps
sponsored links
SIMILAR COMPANIES/PRODUCTS/SERVICES
Terms of Use/Privacy Policy Advertise Buy me coffee
Rallyson Enterprises