Established in 1997, Philippine Vending Corporation is the largest vending operator and number one office convenience provider in the country. Since our inception, we have expanded rapidly and built a solid reputation for reliability and superior quality of service. We offer coffee service, hot & cold beverages, snacks and other refreshments to our diverse client base nationwide.
We are a proud member of International Vending Alliance (IVA), a global network of vending solution providers dedicated to setting the standard for quality vending programs.
What we offer
Free Vending
It is exactly what it sounds like. With our Free Vending program, your company pays for the items, and your employees pay nothing.
This program is perfect for your company for various reasons:
You keep your staff on-site during breaks and lunches thereby reducing lateness.
Employees love to relish their favored snacks and beverages during their workday.
Employees will see this as a generous benefit from your company and will show how much you value them.
By providing access to popular product brands at work, your employees will have a significant morale boost.
Subsidized Vending
With this program, you will pay for the portion of the costs so your employees can buy the products at a reduced price. If you are looking for inexpensive ways to reward & motivate your employees, this is a great choice. This option offers a good balance between providing employee incentive while keeping your company costs low.
While this program represents an expense to your company, it will lead to happier and more satisfied employees so the cost is well worth it!
Traditional Vending
With our traditional vending option, your employees will pay the full price of the products we supply. This is a great option if you would like to offer the convenience of on-site snacks and beverages to your employees but at no cost to your company.
We stock the machines with your choice of products, and we replenish the supplies on a regular basis.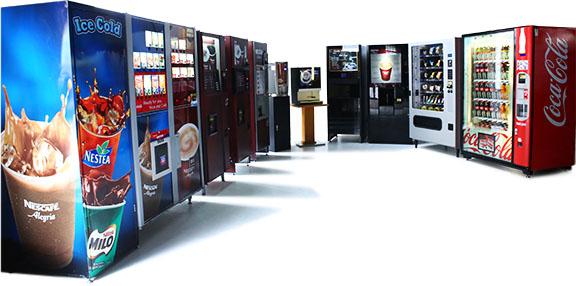 Why choose us?
We take care of everything for you.
From recommending the solutions specific to your needs to making sure that your machines are fully stocked and functioning to perfection.
Our service is second to none:
Free Site Inspection
Free Machines
Free Delivery
Free Installation
Free Replenishment
Free Maintenance
No Capital Outlay
No Hidden Cost
Above and Beyond Service
At Philippine Vending Corporation, we put you first. We take our service to the heart and our commitment to our clients seriously. We recognize that customer service is the lifeblood of any business, so we strive to provide you with nothing less than excellence.
What makes us different?
With over 16 years of experience in the vending industry, we know what you need, and we have the capacity to meet them.
We have extensive selection of the most popular brands of products.
We deliver reliable, prompt, & responsive services on any technical issues and requests.
Our team is on call 24/7 and ready to help you.
Frequently Asked Questions
Q: Is vending a franchise business?
A: Vending is not a franchise business. It is our understanding that it is not viable for companies to buy two or more vending machines.
Q: How much is the investment required to own a vending machine?
A: We operate our own vending machines and partner with site owners to take advantage of our services, but we do not sell them. We will provide the service and machine free of charge.
Q: How can I avail the vending machine service?
A: Call us to discuss the requirements you need so we can tailor fit the service to meet them. We will survey your establishment and install the machine within five days if your site meets our criteria.
Q. What is the minimum number of people required to avail the free on loan vending service?
A: If you want to avail our free on loan vending services, we require a minimum of 100 people.
Q: We only have a few employees in our company. Will you still install and service our size account?
A: We can still install machines for small-scale offices. We have customers who provide support and subsidies for this account so you can enjoy our vending services. We will try to custom fit our services for your needs.
Q: Do your machines accept coins and paper bills?
A: Yes, our vending machines accept payment like paper bills and coins and even dispense change.
Q: Do you service the vending machines on Sundays and holidays?
A: Yes. Philippine Vending Corporation is the sole company with people to serve you on Sundays and holidays. We are the only vending service providing true 24-hour servicing.
Q. Where should you place the vending machine?
A. The locations may vary depending on the type of business you have.
Contact Us
Philippine Vending Corporation
Address: 54 E. Rodriguez Jr. Avenue, Bagong Ilog, Pasig City 1600
Phone: +632 477 3333
E-mail: customercare@philvending.com.ph
Find us on Google Maps
sponsored links
SIMILAR COMPANIES/PRODUCTS/SERVICES
Terms of Use/Privacy Policy Advertise Buy me coffee