Pure O3 Philippines is the first company in the Philippines to provide a full line of Ozone products designed for a variety of applications and environments including households, hospitals, food establishments, schools, and industrial plants. Recently, we introduced to the market our Ozone injected water machine, another first in the country, which instantly produces high levels of ozone in water thus eliminating bacteria, odor, and chemicals that may be harmful to one's health.
About Ozone and Ozone Generation
Ozone (O3) is a form of oxygen, or what scientists call "activated oxygen", that consists of three oxygen atoms. Unlike O2 which is normally found in the air we breathe, Ozone is mainly used as a safe and effective disinfectant in many industries. When Ozone comes in contact with contaminants such as bacteria and pathogens, it causes an oxidation reaction that destroys the contaminants and breaks down the Ozone into two oxygen molecules.
On a global scale, Ozone generation has been tapped by a wide range of industries as a cost-effective and reliable alternative to harsh chemicals conventionally used in various cleaning and sanitation procedures. Because of its promising applications, ozone generation is seen as a powerful solution in creating a safe and healthy place for people to live and work.
Ozonizer Products
Pure O3 Philippines is the first company in the Philippines to provide a full line of Ozone products designed for a variety of applications and environments including households; commercial establishments such as hospitals, food businesses/restaurants and schools; and industrial plants.
Features overview
Kills Bacteria

Ward off illnesses by getting rid of bacteria, mold, and other pollutants.

Eliminate Viruses

Don't let allergies and infections prevent you from enjoying life.

Removes Chlorine

Easy-to-maintain pools that's safe for everyone to swim into.

Effective Deodorizer

Fresh and cleaner air that's free from odor and strong smells.

Prevent Skin Diseases

Maintain healthy skin without having to use tons of beauty products.

Remove Pesticides

Go organic in minutes with fruits and produce rinsed in ozone water.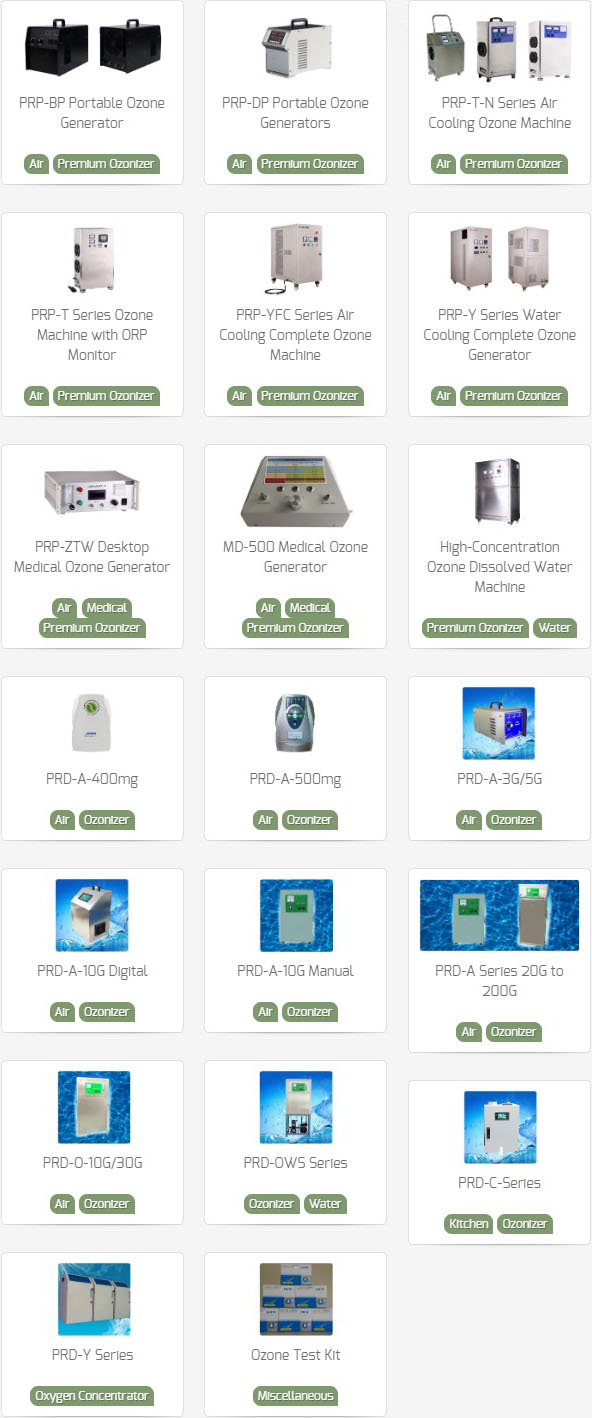 Solutions with Ozone
Air Deodorizer
Being chemical-free, Pure O3's Air Deodorizer requires no consumables in order to operate. All you need is the equipment itself. Our air deodorizer also does not do masking. Instead, it treats the air to let you enjoy cleaner, healthier oxygen. Our product is being used in industrial deodorizing, setting itself as the choice by businesses to provide clean and healthier air for their employees, products, and clients.
Air Disinfection
Pure O3's Air Disinfection injects ozone to cleanse the air you breathe. Molds? Viruses? Bacteria? Our machine can relieve you from these. Make your place cleaner and healthier, not only for your goods, but for your own health as well.
Air Filtration/Purification
Not only the water needs to be filtered. We also take in air in our bodies. Pure O3's Air Filtration purifies what you breathe with Ozone, not with other chemicals. With the ability to provide filtration grade of MERV 13, this product can help you reach the level of air filtration to suite your needs.
Ozonated Water Disinfectant
Pure O3's Ozonated Water Disinfectant lacks the need for consumables and harmful chemicals.
Water Disinfection
Pure O3's Water Disinfection also disinfects other water sources like water tanks and cistern tanks.
Applications
Discover the vast possibilities of Ozone, a natural oxidant highly regarded for its powerful germicidal properties and efficacy in sanitizing virtually all kinds of environment. Read on and learn how you or your business can get the most benefit from its versatile applications.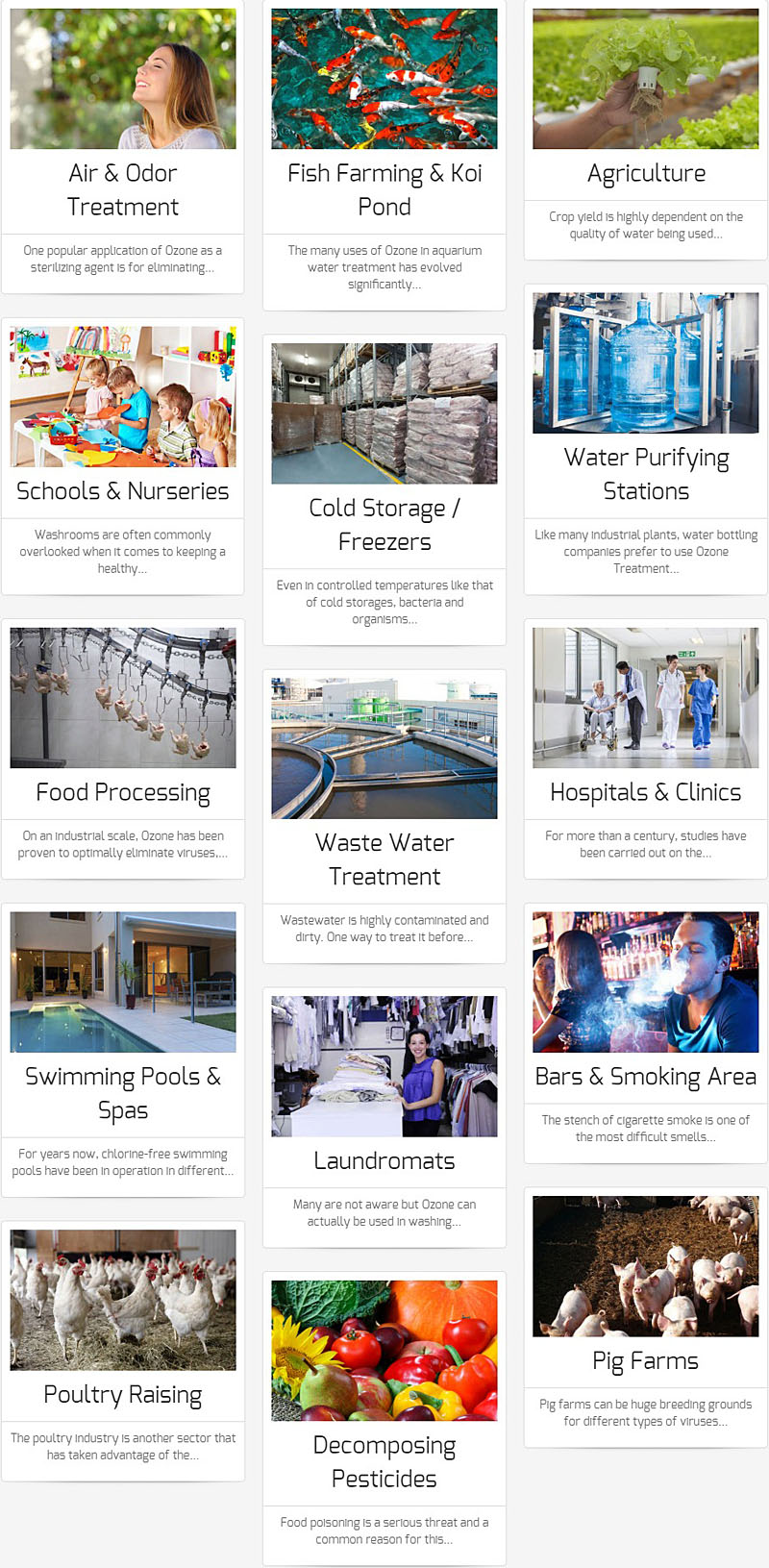 Contact Us
Pure O3 Philippines
Address: The Teoff Center, Room. 420 355 Escolta cor. T. Pinpin St., Binondo, Manila
Phone: +63 2 500 0879
Mobile: +63 915 962 0781 | +63 920 856 1668 | +63 917 521 7640 | +63 917 518 7640
E-mail: info.pure03@yahoo.com
Find us on Google Maps
sponsored links
SIMILAR COMPANIES/PRODUCTS/SERVICES
Terms of Use/Privacy Policy Advertise Buy me coffee