Organized as a sole proprietorship in 1993 with Php 0.5 M capitalization. In 1997, the company purchased lately two (2) properties, the Makati office where most of its key officers are holding office and the warehouse/plant in Montalban, Rizal where we store our inventories and fabricate/assemble our pre-moulded pipes and sandwich panels.
Business Lines
Supply of Polyurethane Chemicals, Component A and B to Manufacturers / Makers / Contractors of Cold Storages and Food Processors and other Cold Storage Equipments.
Supply of Labor and Materials for the insulation of Cold Storage / Tanks and Air Conditioned Buses using polyurethane rigid foam.
Supply of Labor and Materials for the insulation of CO2 tanks and other cold process tanks using rigid polyurethane foam.
Supply of Pre-moulded polyurethane rigid pipes for the insulation of chilled water pipe lines including labor and materials for metal cladding.
Supply of Labor and Materials for the insulation of roofing using the spray application of rigid polyurethane foam.
Supply of Labor and Materials for the application of Elastomeric Waterproof Coating as finish for the insulated roofing.
Product & Services
Polyurethane Insulation
Polyurethane Spray Foam Insulation is formed when two chemicals (Diisocyanate and Polyol) are mixed together in the presence of suitable catalyst and activators. In spray foams, this takes place in the small mixing chambers of the hand-held spray gun. The gun is fed by hoses from metering pumps placed in each component drum chemicals. On mixing, the reaction gives off heat which is used to vaporize a refrigerant blowing agent which causes the mix to expand to a foam some 30 times the volume of the liquid constituents. Thus, the normal density of the foam is in the range of 30 to 38 kg/m3, and by virtue of the low thermal conductivity of the gas entrapped within the foam cells, provides excellent insulation value.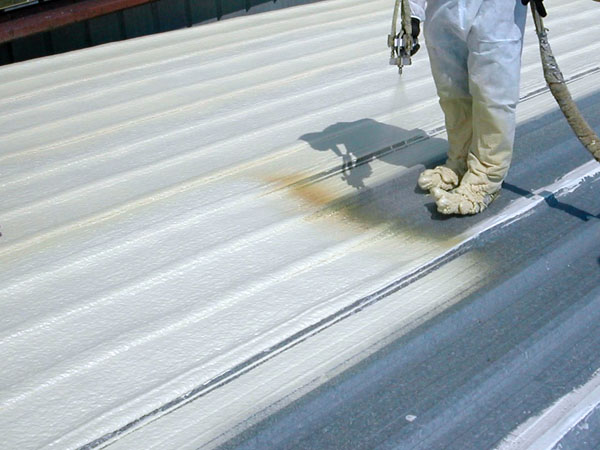 Rigid Urethane foam systems are the best insulating materials known to man ... Inch for inch they combine the lowest "K" factor with the highest "R" value resulting in significant energy savings as well as numerous other advantages such as:
Unequalled low thermal conductivity
High strength to weight ratio
Easy to apply and maintain
Low moisturelvapor permeability
Good dimensional stability
Last indefinitely when properly protected
Resists fungus mildew insects
Very little odor
Resist most chemicals and solvents
Provide excellent adhesion to properly prepared substrates
Excellent sound-proofing properties
Proven quick payback in energy savings
Design options in construction and architectures
Features & Benefits
Most thoroughly proven and thermally efficient insulation system commercially available.
Waterproof & Weather Resistant -including resistance to wind driven rains, salt spray and temperature extremes (180° F -70° F)
Lightweight - savings in load bearing materials and other construction costs
Seamless - no weakening joints or seams
Strong - effectively withstands foot traffic
Flexible - moves with structure in normal expansion and contraction conditions
Efficient - long term insulation retention
Ultra-Violet Resistant resist ultra violet attack, excellent color stability
Breathes permits the escape of moisture vapor from building exterior
Excellent Adhesion to most substrate ponding water does not affect the insulation due to protection provided by the top coat
Economy rapidly pays for itself in energy savings
Clean Application no messy tar, pitch, or asphalt
Speed of Application less time to apply than conventional, less efficient systems
Applications / Services
Spray For Roofs
Spray For Under Roofs
Spray For Concrete Decks
Spray For Cold Storages
Spray For CO2, Glycol, H2O Storage Tanks
Spray For Poultry Housing
Foam-In-Place Insulation Chilled Water Pipes
Foam-In-Place Insulation Pre-Molded Pipes
Foam-In-Place Insulation Sandwich Panels
Cladding Works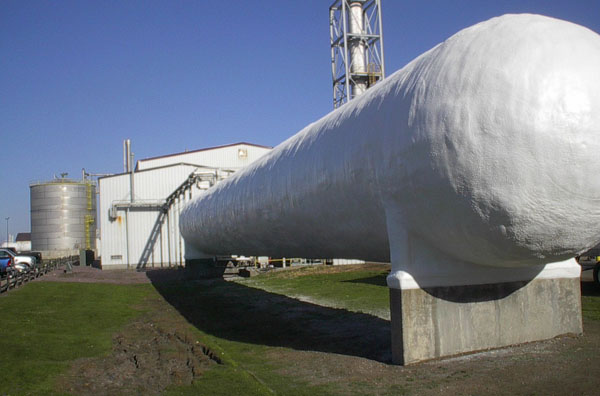 Some of our projects
Bangko Sentral ng Pilipinas

Roof Insulation of Money Museum (Main Branch) and Roof Insulation of Iloilo Branch

Sanctuario de San Antonio Forbes Park

Roof Insulation of the Main Church, Multipurpose Halls, & Crypt Areas

Ortigas & Co., LTD. Partnership

Roof Insulation of Silvercity, Tiendesitas, Pasig City

Pioneer Specialty Building Systems

Roof Insulation of Q-Plaza, Cainta
Roof Insulation of Robinsons Mall, Tacloban City

San Miguel Corporation

Insulation of Beer Tanks at San Fernando, Pampanga

Teleperformance Philippines

Roof Insulation with Elastomeric Top Coat at EDSA Central, Madaluyong City and Sucat, Parañaque City

C. C. Gagan Construction

Roof Insulation of Standard Electric Corporation at Bicutan, Parañaque City

Edward Keller Phils. Inc.

Insulation of Chilled Water Line & Vessels

Embassy of U.S.A.

Roof insulation at their Voice of America Relay Stations located in different parts of Northern Luzon. The contract includes final coating (Elastomeric) as finishing for the insulated roof. Several buildings were insulated.

GNQ Industrial & Contracting Corporation

Roof Insulation of Standard Electric Corporation at Bicutan, Parañaque City

Edward Keller Philippines Incorporated

Insulation of Tanks & Pipings and supply of Polyurethane Chemicals.

Park 'N Shop/Dah Chong Hong

Insulation of 9,000 m2 Ceiling for Park 'n Shop's cold storage/warehouse in Hong Kong.

MCL Construction & Supply

Roof Insulation of La Tondeña Distillery Inc. in Sta. Barbara, Pangasinan.

Balayan Distillery, Inc.

Insulation and Cladding of Digester Tank.

6750 Building

Re-Insulation of Chilled Water Lines at the 6750 Bldg., Ayala Ave.

Cardinal Santos Medical Center

Roof insulation with Elastomeric top coating at Cardinal Santos Medical Center.

Ortigas & Co., LTD. Partnership

Supply of Polyurethane Pipes for Air-Conditioning line at Virra Mall, Ortigas Center.

Coca-Cola Bottlers Phils., Inc

Insulation and Re-Cladding of Tanks for the following Plant: Sta. Rosa Laguna, Canlubang, Laguna, Bacolod Plant

EEI Corporation

Installation of Polyurethane Insulation and Cladding for Tanks and Pipings at DIET Plant II Philip Morris, Inc.

Grasso Phils., Inc.

Insulation of Cold Pipe Line and Vessel for Jollibee Project. Supply of Polyurethane Chemicals.

IKEBA Enterprises

Roofing insulation for the following NFA Warehouse Projects

Baguio
Valenzuela
DLSU Manila
Tali Beach, Nasugbu, Batangas
New Manila Residences

Supply of Polyurethane Chemicals

Jollibee Foods Corporation

Supply of Polyurethane slabs for the insulation of chiller water pipes lines including cladding.

Hayama Industrial Corporation

Installation and cladding of CO2 Tank Supply of Pre-moulded Polyurethane Pipes and Chemicals.

Harbour Yacht Trading

Insulation of Hull/Yacht Boat

Planet Infinity

Insulation of Gymnasium/Fitness Center

AMA Education System

Roof Insulation of AMA Warehouse at Pasig City

Far Eastern University

Roof Insulation of Nicanor Reyes Hall, Administration Building, FERN 2 Building, Arts 2 Building at FEU, Manila

Ortigas & Company Limited Partnership

Roof Insulation of Silver City at Tiendesitas, Pasig City
Contact Us
P.U. Rigid Insulation Contractor Inc.
Address: 148 Moscow St. Greenpark Village, Pasig City 1612
Phone: (63)(2) 661.7388 | (63)(2) 535.4612
Telefax: (63)(2) 576.1942
E-mail: purigid@yahoo.com
Find us on Google Maps
sponsored links
SIMILAR COMPANIES/PRODUCTS/SERVICES
Terms of Use/Privacy Policy Advertise Buy me coffee
P.U. Rigid Insulation Contractor Inc.