Premium A.C. Corporation leads in the manufacturing of a wide selection of high-grade activated carbon products for various applications. Equipped with state-of-the-art equipment, Premium A.C. utilizes coconut shell as base for its products. Our ISO certified plant operates in the premier location of Davao City, Philippines.
Premium A.C. Corporation employs a growing number of dedicated workers to maintain its commitment to quality. This includes a team of lab experts to match the company's state-of-the-art equipment and technology.
Our product line variants individually cater to the different needs of every client's liquid or vapor phase applications including, but not limited to, water treatment, odor control, solvent recovery, decolorization and air purification.
We are committed to meet customer requirements in quality, service and support and price competitiveness. This is done through continuous improvement in quality assurance, production innovation and comprehensive technical support.
Our modern facilities operate 24 hours a day all the year round and we continue to expand both our production and capacity and product line to meet evolving industry requirements.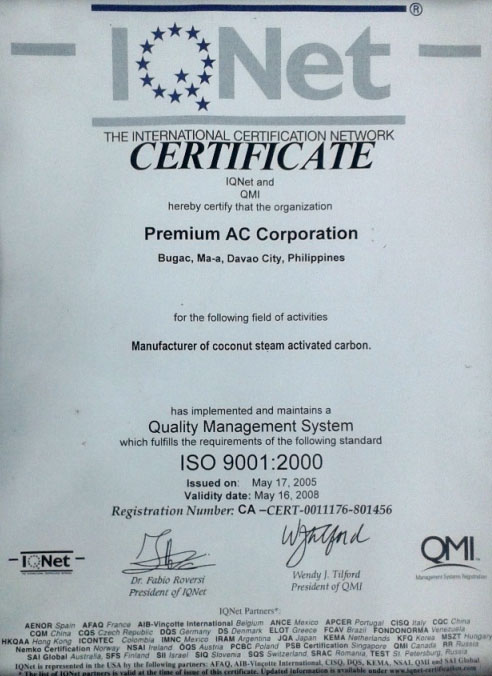 Contact Us
Premium A.C. Corporation
Address: Bugac, Ma-a, Davao City, Philippines 8000
Phone: +63-82-244-0452 | +63-82-244-1094 | 244-1249 | 244-1092
Fax: +63-82-244-0453
E-mail: sales@premiumaccorp.com
Find us on Google Maps
sponsored links
SIMILAR COMPANIES/PRODUCTS/SERVICES
Terms of Use/Privacy Policy Advertise Buy me coffee
Premium A.C. Corporation