Potato Corner, dubbed as the World's Best Flavored Fries, has been a leading brand in the food industry for 25 years.
Potato Corner opened its first outlet in the country in October 1992 and began franchising the year after. Today, it has grown from small carts into in-line stores found in almost every corner of the world – in malls, schools, hospitals, bus stations, amusement parks, and even tourist destinations in multiple countries. In every corner of the world, someone wants Potato Corner.
Throughout the years, Potato Corner has garnered numerous awards, mostly recognizing its excellent business model and well-loved brand. It has received the Franchise Excellence Hall of Fame Award by the Philippine Franchise Association and Department of Trade and Industry in 2003, won Best Franchise of the Year on three consecutive years, and most recently, bagged the Global Franchise Award recognized by the same institution. Potato Corner is truly an iconic brand for kids and kids-at-heart and a distinguished business venture for entrepreneurs.
Why Potato Corner?
CONSISTENTLY-FAVORED PRODUCTS
Potato Corner has been dubbed as the World's Best Flavored Fries – a unique concept that has easily become a personal favorite by new and existing customers alike, spanning different countries across the globe. Our product menu is also flexible to accommodate complementary great-tasting products to cater to the local market.
EASE OF OPERATIONS
We like to keep it simple. Potato Corner stores are easy to set up and operate. Training by our Franchise Support Team gives our franchisees the confidence to success fully open a number of stores in a short period of time.
25 YEARS OF BRAND LOVE
Over the past 25 years, Potato Corner has grown into an iconic brand and is the top-of-mind choice of flavored fries in the hearts and minds of its consumers. Potato Corner offers a delightful customer experience with its unique flavor and premium-quality fries.
Franchise Packages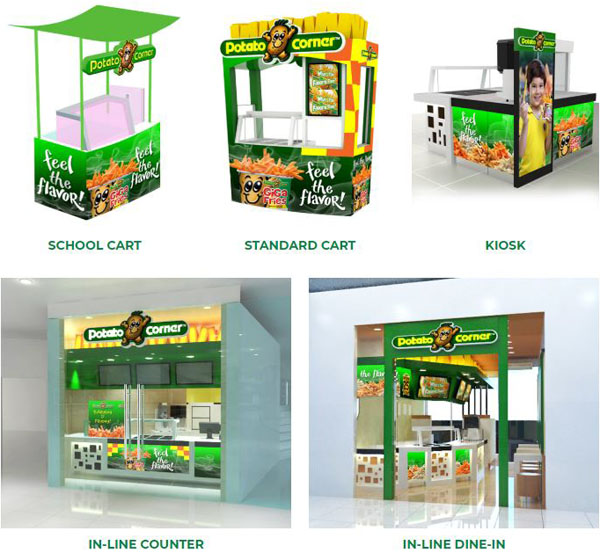 INCLUSIONS
Franchise Fee
Cart / Kiosk
Small Ware & Equipment
Crew Training
Initial Supplies
C/O FRANCHISEE
Frequently Asked Questions
Q: Can anyone apply for a Potato Corner franchise?
A: Of course! Anyone who is a registered resident of the Philippines or any of our locations can franchise a Potato Corner store, booth, or kiosk as long as all necessary documents are submitted and all necessary fees paid for.
Q: I am overseas, can I franchise a Potato Corner store/booth/kiosk?
A: We are open to franchisees in any of the countries we are present in. If you are overseas but wish to franchise in a location where we are already present, you may have to provide us an authorized representative who we can meet on your behalf. If you want to franchise in a country wherein we have no presence in yet, please feel free to send us an email so we could coordinate with you.
Q: What should I consider before I franchise?
A: The first thing we recommend for you to consider is if you have a location in mind for your preferred store, booth, or kiosk – we don't provide locations for our franchisees, so please make certain that you have a location in mind before going through the application process. The second item that you must consider is the investment. Our Standard Franchise Package is P350,000, for the standard cart, a pop-up, stand-alone cart that you are most likely to see of a Potato Corner. However it can range from Php. 200,000 – Php. 1,200,000, depending on the requirement of the lessor. The price will be dependent on the store type that you select.
Q: What are the store types of Potato Corner and how much does it cost to franchise for such?
A: We are proud to have multiple store type (franchise package) options at various price ranges. Please take note that the store type you get is hugely dependent on the location that you pick. Please see the details below or click here to see our brochure (these fees apply for the Philippines only):
School Cart: Php 230,000
Standard Cart: Php 385,000
Kiosk: Php 400,000 – 600,000*
In-Line Store: Php 600,000 – 800,000*
In-Line Dine-In Store: Php 800,000 – 1.2M
*Estimate Investment Depending On Area & Size
Q: What does the franchise package cover?
A: The Franchise Package serves as the initial investment that covers the following:
Cart/Kiosk
Franchise Fee
Small Wares & Equipment
Initial Supplies
Franchisee Training
Crew Training
Q: How do I apply for franchise?
A: The application process to get a Potato Corner Franchise is simple, we recommend that you prepare all documents necessary to speed up the process. The following will be asked from you once you have expressed interest:
Letter of Intent (please include your desired location and reason/s why you want to franchise)
Map of your desired location (a sketch will do)
Photos of your desired location
Resume/Curriculum Vitae
2 Valid IDs
Once we have identified your interest, our team will schedule a meeting with you. A location visit may be done within the same day, or may be scheduled at another time.
Q: How long is the approval process?
A: To ensure that we can get this done at the soonest possible time, it would be best to prepare the necessary documents upon confirmation of your interest. The approval process begins only upon visit of your desired location and submission of requirements. The process should take about a month to complete.
Q: Will I have to undergo training?
A: Yes! We take pride in the involvement of our company, and we would like you to know how to make your new business venture a success. You will be trained on how the best flavored fries are prepared, and how to make sure that these sell as you work hand-in-hand with your crew.
Q: Who can I talk if I have any further questions?
A: You may talk to our Franchise Officer, who will be guiding you through the process. Kindly send her an email at iwantfranchise@potatocorner.com or give her a call at (02) 534-5845.
Q: May I visit the Potato Corner Head Office?
A: Though we welcome walk-ins, we really recommend that you send us an email to request for a meeting, or give us a call to ask for an available time. It would be best that you do so first so that we can be sure that someone attends to you when you visit.
Requirements
Download the Application Form
Download the Market Study Form
Process

Contact Us
Potato Corner
Address: 869 Katarungan St., Barangay Plainview, Mandaluyong City
Phone: (02) 534-5845 / (02) 534-5846
E-mail: iwantfranchise@potatocorner.com
Find us on Google Maps
sponsored links
SIMILAR COMPANIES/PRODUCTS/SERVICES
Terms of Use/Privacy Policy Advertise Buy me coffee