Philkleen Services was established in 1988 as a Sole Proprietorship Organization by Civic Leader, Wilfredo "Willy" Paz Andrade, specializing in Home Cleaning Services to posh subdivisions and villages around Metro Manila. The company eventually expanded its operations to commercial groups and started manufacturing Cleaning Chemicals, and also offered services such as Termite Treatment and Pest Control for Home & Office Improvement.
On March 1997, Philkleen Services was incorporated carrying the same name Philkleen that depicts the company's vision of adopting the global standards of cleanliness for the Philippines.
Today, our company continues to provide internationally competitive, quality-focused products and services. Philkleen Industries Corporation is the trusted name in Janitorials, Interiors and Maintenance by many leading companies and several households in the country.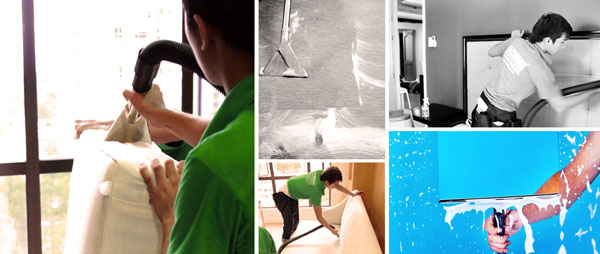 Services
We offer a wide selection of professional cleaning services tailored to your diversified needs for home or office.
One-Time or Regular Janitorial Services and Building Maintenance
Deep Cleaning, Vacuuming, and Shampooing of Rugs, Carpets and Fabric Upholstered Furniture
One-time Home and Office General Cleaning
Post-construction Cleaning
Marble Treatment & Crystallization
Wall to Wall Carpet Installation
Wood Parquet Sanding & Diamond Finish
Exterior Wall and Facade Cleaning
Curtain Cleaning, Laundry and Dry Cleaning
Termite Treatment
Pest Control Services
Get consistent professional service at an affordable rate with our Maintenance Package, minimum of six (6) months. We can customize the package based on your janitorial requirements - it's up to you to choose from the list of our services.
Top Quality Chemicals by Dowler Enterprise
Dowler Enterprise is one of the sister companies of Philkleen, maker of effective cleaning chemicals for home and offices. Using its own original techniques, Dowler Enterprise chemicals are water-based, low-toxic and non-hazardous. These are specially formulated to get the job done effectively yet safely, and at a lower cost compared to other brands.
Frequently Asked Questions
What makes Philkleen the best in the Philippines?
Our people, our commitment, our high quality standards and decades of experience in the business, make us the ideal choice in providing Janitorial or Cleaning Solutions in the Philippines.
What makes Philkleen different from other cleaning companies in the Philippines?
Philkleen is one of the pioneers in the cleaning industry providing services since 1988. Philkleen employs highly trained and competent personnel to ensure best quality of service. Philkleen embarks on continuous research and development to sustain the rapid change in cleaning technology. Philkleen manufactures its own cleaning chemicals on the day the service will be done to ensure best results which gives us also the advantage to be competitive in pricing. Most Philkleen clients are referred by our satisfied clients. Philkleen can dispatch service crew within one (1) hour from time of inquiry. Philkleen provides fast, efficient, and reliable services.
What does Philkleen guarantee?
We care about our service to you, thus we are not satisfied if you are not. If something was missed, and you are not satisfied with our work, you can notify us within 24 hours. Immediate action is assured upon notification.
How do you determine rates?
We periodically review our rates to ensure that we are competitively priced. Estimates are based on the actual area of the room/s or items for cleaning.
What days do you work?
We are available Mondays thru Sundays including Holidays depending on the Client's preference.
How many hours will it take you to attend to a Client's call?
We guarantee a one (1) hour expected time of arrival (ETA) within Metro Manila.
How do I make a payment?
Payment is due upon completion of service in Cash or Check Only.
Contact Us
Philkleen Industries Corporation
Address: 2nd Floor Parchouse II Condo., 21 EDSA, Guadalupe Nuevo, Makati, 1212 Metro Manila, Philippines
Phone: 882-1372 | 882-1374 | 788-4066
Mobile: 0918 936 6582 | 0920 922 0270
Fax: 511-0205
E-mail: admin@philkleen.com | sales@philkleen.com
Find us on Google Maps
sponsored links
SIMILAR COMPANIES/PRODUCTS/SERVICES
Terms of Use/Privacy Policy Advertise Buy me coffee